Google Search has evolved into an essential tool for internet users, offering various features, from a dictionary to a metronome and even a multi-sided die, constantly striving to improve the user experience. Among its recent innovations, users can now use the grammar checker on Google Search mobile and desktop platforms. This article will explore the details of using Google's grammar checker and discovering its functionalities. By analyzing sentences and phrases, the tool determines if they are grammatically correct, providing suggestions for improvement when necessary. However, it's important to note that the grammar checker supports only English. Despite potential limitations, integrating AI technology into Google Search reaffirms the company's commitment to aiding users in enhancing their writing skills.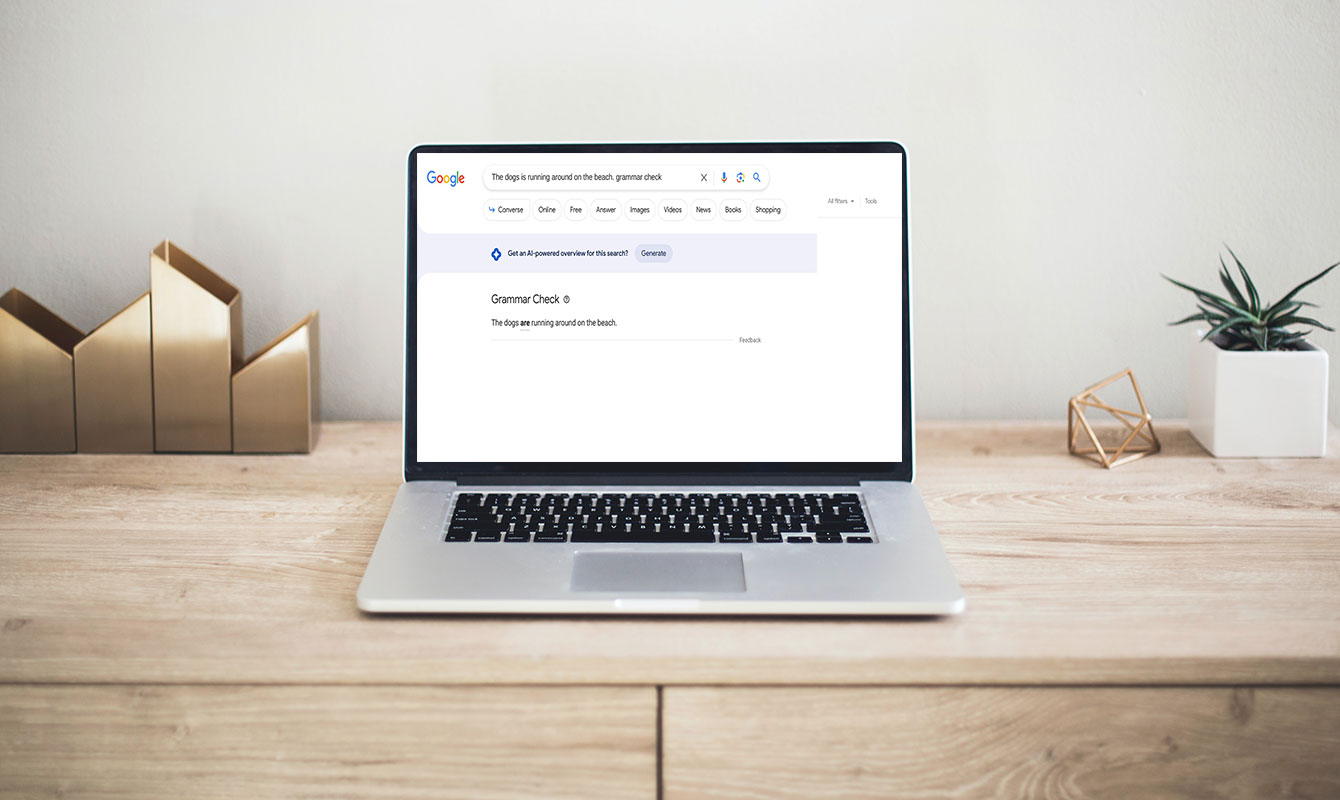 The Grammar Checker Feature
Google's grammar checker is designed to analyze sentences and phrases and determine if they are written in a grammatically correct manner. If errors are detected, the tool will suggest corrections to improve the sentence's structure and clarity. This feature is only available in English, catering to a broad user base.
How to Access the Grammar Checker?
Using Google's grammar checker is straightforward. To begin, enter a sentence or phrase into the Google Search bar. You can then add one of the following phrases to prompt the grammar check:
Although appending these phrases is not mandatory, it ensures that Google activates the tool consistently. However, if no grammatical issues are detected in your query, the "Grammar Check" section/card that appears as the first result will display a green checkmark, indicating that the sentence is error-free.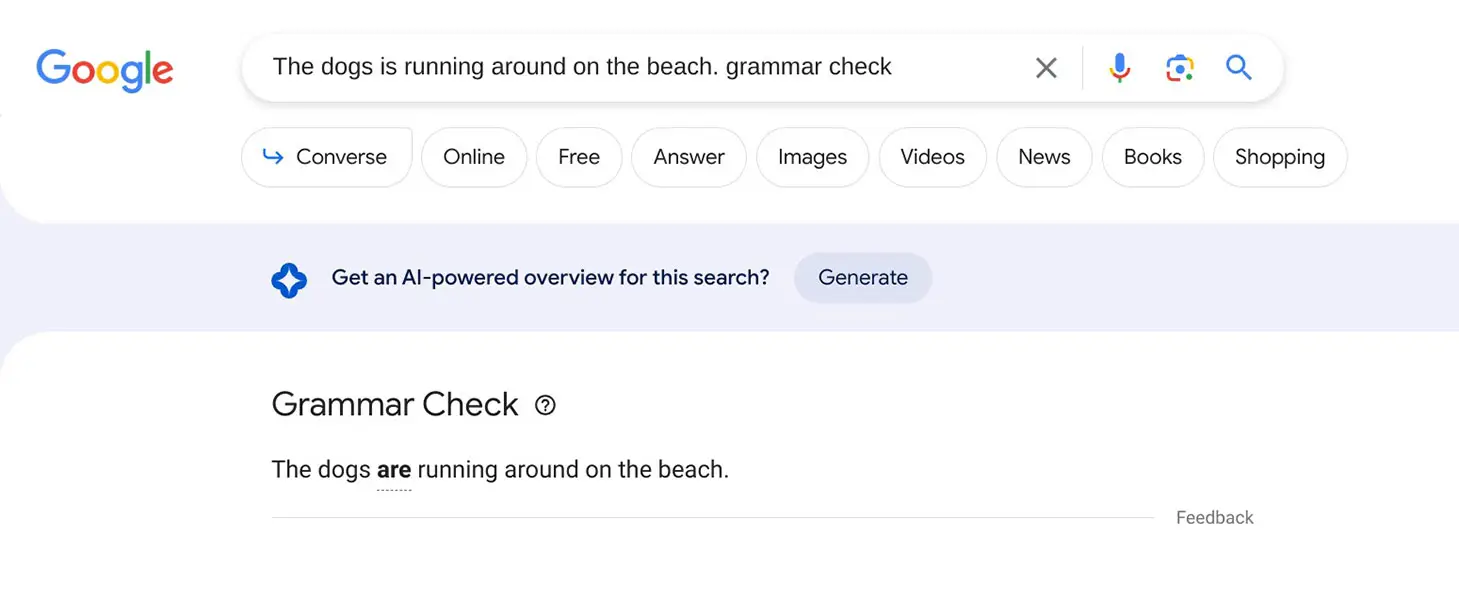 Reviewing Grammar Suggestions
If the grammar checker identifies errors, Google will rewrite the sentence and underline the corrections. Additionally, the tool can correct spelling mistakes, providing users with comprehensive language assistance. If you hover over the revised sentence version, a "Copy" button will appear, allowing you to utilize the corrected text conveniently.
The Power of AI
Behind the scenes, Google employs advanced AI systems to analyze language patterns and provide accurate grammar checks. While the company acknowledges that the tool might not be 100% accurate, especially with partial sentences, it still serves as a valuable aid in improving writing quality.
Integrating with Google's Ecosystem
Integrating grammar checks within Google Search marks another step forward in enhancing user productivity. Previously, grammar and spelling checks were available in Gmail and Google Docs, but their inclusion in the Search platform makes them more accessible and prominent.
Providing Feedback
Google actively seeks user feedback to enhance its features continuously. If you encounter any issues with the grammar checker or have suggestions for improvement, you can click on the "Feedback" option in the bottom-right corner of the search results. This allows you to choose from predefined options like "This is helpful," "This isn't relevant," "Suggestion is incorrect," or "Suggestion is offensive." Users can also provide additional comments and suggestions to help Google refine the tool.
Limitations and Policy Compliance
While the grammar checker is a powerful tool, its usage has certain limitations. Google has implemented policies to ensure that the feature is not misused. It will not run grammar checks on content that might violate Google Search's overall policies or specific policies related to Search features. This includes dangerous medical content, vulgar language, and profanity.
FAQs
Is Google's grammar checker available in languages other than English?
At the moment, Google's grammar checker is limited to the English language only.
Can I access the grammar checker on my mobile device?
Yes, the grammar checker is available on both mobile and desktop platforms.
How accurate is Google's grammar checker?
While the grammar checker is generally accurate, it may not be 100% precise, particularly with partial sentences.
What other Google products offer grammar and spelling checks?
Gmail and Google Docs are among the Google products that have offered spelling and grammar checks for some time now.
Are there any content restrictions for using the grammar checker?
Yes, the grammar checker will not run on content that might violate Google Search's overall policies or specific policies related to Search features, including dangerous, medical, or inappropriate content.
Wrap Up
Google's grammar checker proves to be an invaluable asset for individuals seeking to elevate their writing prowess and the overall quality of their content. By harnessing the power of artificial intelligence, Google effectively analyzes language patterns, bestowing its users with an array of valuable resources. The seamless integration of the grammar checker into Google Search exemplifies the company's dedication to delivering a user-friendly experience. This enhancement enables users to effortlessly access the grammar checker while conducting regular searches, encouraging the adoption of proper grammar and writing conventions.
As a result, writers, students, and professionals alike can rely on this tool to refine their compositions, ensuring clarity and coherence in their work. The ongoing commitment of Google to incorporate cutting-edge technology underscores its mission to cater to user needs and empower them in various aspects of their digital journeys.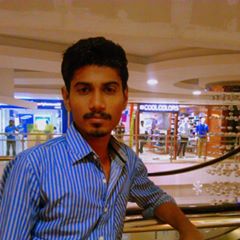 Selva Ganesh is the Chief Editor of this Blog. He is a Computer Science Engineer, An experienced Android Developer, Professional Blogger with 8+ years in the field. He completed courses about Google News Initiative. He runs Android Infotech which offers Problem Solving Articles around the globe.