If you are not in Apple ecosystem, or You are in a border of between Android vs. iOS. Yes, this article S10 vs. iPhone XR will you rescue you from your confusion. So far in 2019, the tech world has started recording some highlights which began with the release of new models of the Samsung Galaxy S10 series. Samsung took a new dimension this time around that many people did not see coming – it launched four new phone models under the S10 series. It may be hard to pick one out of these phones, but if you are looking for the one that costs the lowest amongst them, then you should consider the Samsung Galaxy S10e. It is as beautiful as the other S10 models, but it costs only a modest $750.
The only tithed flagship phone that compares and competes with the S10e is Apple's iPhone XR. The XR is the lower cost package of the XS series; therefore, it is only fair that we put the XR against the S10e for comparison.
Specs Comparison (Basic Models)
The below Direct specs comparison will give you some idea about both mobiles.
| | | |
| --- | --- | --- |
| Specs | Samsung Galaxy S10e | iPhone XR |
| Display | 5.8 inch Dynamic AMOLED (16M) | 6.1 inch IPS LCD screen (16M) |
| Display Resolution | 1080 x 2280 pixels | 1792 x 828 pixels |
| Battery | 3100 mAh | 2942 mAh |
| Processor | Snapdragon 855 / Exynos 9820 Octa-Core | Apple A12 Bionic Hexa Core |
| Camera | 12+16 MP Dual rear camera | 12 MP rear camera |
| | 10 MP selfie camera | 8 MP selfie camera |
| Body Size | 142.2 x 69.9 x 7.9 mm | 150.9 x 75.7 x 8.3 mm |
| Weight | 150 g | 194 g |
| RAM | 6 GB | 3 GB |
| ROM | 128 GB | 128 GB |
| Card Slot | Yes, Up to 512 GB | No |
| Wireless Charging | Yes | Yes |
| Charging Port | USB Type-C | Proprietary |
| NFC | Yes | Yes |
| IP Rating | IP 68 | 67 |
| OS | Android Pie 9.0 One UI | iOS 12 |
Performance and Battery Life
The two devices come with powerful hardware, so neither of them falls short in the area of power and performance. The iPhone XR uses the powerful Apple A12 Bionic Hexacore while the S10e uses the Qualcomm Snapdragon 855 Octa-core chip. Both chips are known to be highly efficient and fast.
These phones are also considered premium, and they should be able to deliver premium battery performance. The S10e has a slightly bigger battery (3100 mAh) than the XR (2942 mAh), but typically, both phones each have battery powerful enough to last you an entire day. They both can be hatched wirelessly and have fast-charge feature, but the iPhone does not come with a fast-charger so you will need to buy a fast-charger by yourself.
This category is quite tough because they edge each other out so carefully, and we have not had the chance to test the S10e extensively; therefore, this will be a tie between the two devices.
Design and Durability
The XR is designed in bright and colorful colors that we have not seen on an iPhone since the iPhone 5 series days. It has an aluminum body build and feels great to hold. The S10e is a bit smaller than the XR but make no mistakes; the S10e is not behind in terms of design either. It sports the new Infinity-O hole-punch display which gives the S10e a 93.1% ratio of the screen to the body.
The design of the iPhone XR is excellent, but opinions are divided, and even the most discerning eyes will see how sleek and clean the hole-punch display on the S10e is. At least we think it is. The S10e also comes with a headphone jack and an SD Card slot so that you can have an expandable storage memory. Both phones have limits in terms of physical durability as they have glass builds; there is a limit to what they can withstand; thus, you may want to consider a glass build. The S10e, however, beats the XR with its water-resistance ability as it comes with IP68-rating against the XR's IP67-rating.
The design is always subjective as the beauty of an object lies in the eye of the beholder. We love the front design on the Samsung Galaxy S10e while we also love the rear design of the iPhone XR; so, we are going to give a tie to them in terms of design. We leave you to it to decide who your winner is.
Display
The XR sports Apple's new Liquid Retina LCD technology and as beautiful as it is, it does not quite match what is obtainable in OLED screens. OLED screens have more vivid colors, and the backs are more in-depth than in any other type of screen. The XR also has a 6.1-inch screen which is quite okay, but for a premium phone, it has disappointing resolutions.
Samsung, alternatively, is at the top of the food chain in terms of display quality and the displays you will find in the new Galaxy S10 phones are the best in the industry right now. The S10e sports the new Dynamic AMOLED technology and its exciting features include delivery of the most incredibly accurate colors, crisp pictures, and an HDR10+ certification. With its 5.8-inch size coupled with the Infinity-O hole-punch display, the S10e trumps the XR in this department.
Camera
Apple hardly disappoints with its camera and with its single 12-megapixel lens with an aperture of f/1.8 and optical image stabilization (OIS), the iPhone XR still delivers excellent shots. An impressive feature of its camera is its ability to take pictures in portrait mode with a single lens. It also features the 7-megapixel TrueDepth selfie lens which is obtainable in the XS series.
We have done only a few shots with the S10e's camera, but we do not expect anything less than stellar from it either. It has two lenses in its rear camera – one 12-megapixel lens with image stabilization and an aperture of f/2.4 and f/1.5. The second camera at the back of the S10e has a wide-angle 16-megapixel lens with an aperture of f/2.2 and a 123-degree FOV. Its scene optimization is AI-powered, and the 10-megapixel secondary camera in front of the phone is capable of shooting videos in 4K resolution.
In Day both performed well. But in Night shots Samsung S10e Did well. Video quality is better in iPhone XR.
Special Features
The XR comes with Face ID, and this feature can be used across various Apple Services including Memoji Augmented Reality features and Animoji. It also features excellent gesture navigation, but 3D touch is missing in the XR.
The S10e on the other hand also comes with facial recognition software, but it is not as secure as Apple's. It also comes with AR emojis and its fingerprint sensor is placed on its side. It also has the PowerShares feature with which you can charge other devices wirelessly as long as they are Qi-enabled.
Price
The iPhone XR starts from $749 / AU$1,229 / £749 for 64GB variants while the Samsung Galaxy S10e starts from $749 / AU$1,199/ £669 for 128GB options. The S10e is the winner as you can get more for the same price.
Summing it up
The new Samsung flagship devices are undoubtedly superb and the year is obviously to a great start. The S10e and the iPhone XR tie on so many things but perhaps later, as we test the Galaxy S10e more extensively, we might see some other features. The iPhone XR is the best value iPhone you can buy, and if iOS is not something you fancy, the Galaxy S10e is an excellent alternative.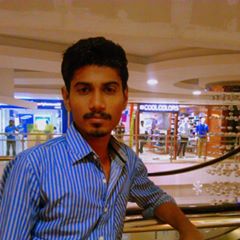 Selva Ganesh is a Chief Editor of this Blog. He is a Computer Engineer, An experienced Android Developer, Professional Blogger & addicted Web Developer. He runs Android Infotech which offers Problem Solving Articles around the globe.