Sequel to the recent rumors of how one can trick the face unlock security pattern on Samsung Galaxy S10 and its variants, Samsung has urged its customers who already bought the Galaxy S10 to start using the in-display fingerprint sensor as their default security option. The Korean giant assures that its all-new ultrasonic fingerprint sensor is more secure than you imagine. Well, we haven't seen any Samsung device features this fingerprint technology; so, it will be difficult to prove if the tech is as secure as Samsung has hinted. At the moment, S10 and S10+ users should switch to use the in-display fingerprint instead of face unlock.
Samsung's In-display Ultrasonic Fingerprint Sensor: all you need to know
The following smartphones all feature in-display fingerprint sensor; Samsung Galaxy S10 series, OnePlus 6T, Huawei Mate 20 Pro, and Xiaomi Mi 8 Pro. But, the technology behind the in-display fingerprint sensor on Galaxy S10 is "ultrasonic" in place of optical. This fingerprint technology is believed to be more effective than the former.
Qualcomm is the company behind ultra-sonic readers. The company took over "Ultra-Scan;" a smaller company that is renowned for manufacturing Ultrasonic readers for governments. In December 2018, Qualcomm announced 3D ultrasonic in-display fingerprint sensor, a technology that will go along with devices using the company's cutting-edge chipset – Snapdragon 855. However, not all devices using the Snapdragon 855 chipset will come with this technology by default; the inclusion of in-display ultrasonic fingerprint sensor from Qualcomm is dependent on a device is dependent on the device manufacturer.
Samsung has chosen to use this technology, and it is available on its Galaxy S10, hoping to be available on other devices if it works perfectly and attracts good reviews from users. But it will not work well with all Glass screen protectors. Only a few works better.
Galaxy S10 ultrasonic in-display fingerprint vs. OnePlus 6T optical in-display fingerprint- Review
Yes, I mentioned Face unlock is not secure in Samsung Galaxy S10. So, everyone doubted about in-display fingerprint scanner also. A YouTube video shared by Max Tech proved that the ultrasonic sensor on Samsung Galaxy S10 is much more secure than the optical in-display fingerprint on OnePlus 6T. This test was carried out using a popular fingerprint hack technique. From the video, OnePlus 6T was unlocked after a couple of trials with a fake dubbed-image fingerprint which wasn't the actual fingerprint of the device user. It didn't stop there anyway, subsequently; it became very much easier and faster to unlock the OnePlus 6T with a fake fingerprint.
On the other hand, when the Samsung Galaxy S10 was tested, it appears that only the verified fingerprint can be used to unlock the device. That is, once your fingerprint is registered on Galaxy S10, no other fingerprint (real or dubbed) can unlock the device. Thus, ultrasonic fingerprint sensors are better than optical fingerprint sensors.
How to Increase Samsung S10 fingerprint scanner Speed
Samsung S10's Fingerprint scanner is Two times faster than Optical scanner in OnePlus 6T. But to increase the speed further, you should add Two or three Fingerprints for the same finger. We tested this, and It gives good Result.
For Example, Add two fingerprints for the Same thumb. Add Two fingerprint for an Index finger also. It will be handy when you place your phone on a table.
Conclusion
If you use the Samsung Galaxy S10, ignore the face unlock feature and start using the all-new fingerprint tech – "UltraSonic," your device will be secure when you make use of this. Also, Samsung has assured its customers of this tech and has urged them to start making use of it.
On our side, we think this will be the end of Optical fingerprint sensor and dawn for Ultrasonic sensors.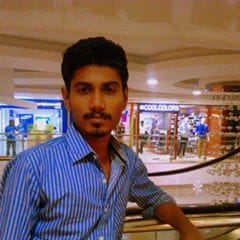 Selva Ganesh is a Chief Editor of this Blog. He is a Computer Engineer, An experienced Android Developer, Professional Blogger & addicted Web Developer. He runs Android Infotech which offers Problem Solving Articles around the globe.