It is too early to talk about this OS. The thoughts are purely my opinion, Based on our research. We Also talked with some IT techie guys, but they are not in the project. They give their advice on this OS. So, we try to give our best to satisfy you with your question. "Do the right thing" is Google's motto. Google is tired of Android and Chrome OS. In the business model, both are a successful OS. But, think Google is always number one when they enter into any category.
Some manufacturers don't bother about the security patches of Android, that affects the reputation. Google is a Software Giant. Now they are slowly entering into the Hardware section also. Honestly, they want to compete with  Apple and other Manufacturers. So, if Google wants to beat all the guys, Google needs Powerful OS that should work with all the Hardware efficiently. Like Apple products, iOS works flawlessly with all their cross devices. Google is preparing for the future. So, they need a Fuchsia OS.
When you talk about innovation, you see Google at the forefront. This time, Google is working to replace its existing Android operating system on their own devices. Android will remain forever. They will renew their consumer hardware OS. Google is working on its next operating system for Android and Chrome, which is called Fuchsia. The Fuchsia OS is an open source operating system in real time. Previously, the operating system was introduced only with commands, but now a new interface called Armadillo has been created.
Fuchsia OS is never a Linux-based operating system akin to Android OS as well as Chrome out there. The Android designed is primarily for smartphones as well as touchscreen phone types. This coming Fuchsia OS has concentrated on voice control (VC) as well as AI. The Fuchsia OS is calculated to accommodate speech interactions on devices better.
There Are Two Main Reasons Why Google Is Working On Fuchsia OS
Unlike Android and Chrome OS, Fuchsia is not based on Linux but uses a new microkernel developed by Google called Zircon. With Fuchsia, Google downloads not just the Linux kernel, but also the GPL: The operating system licensed under a mix of BSD-3 clause, MIT, and then Apache 2.0
People love to write cross-platform frameworks for two reasons: First, they want their applications to run on both platforms without duplicating the effort. And second, because Android programming is still so very painful even after Kotlin.
About Fuchsia OS
Fuchsia is based on a recently developed microkernel called zircon. The microkernel is essentially a reduced version of a traditional kernel (the kernel of an operating system that controls the underlying hardware of a computer). Fuchsia is partly written in Dart, an open source programming language developed by Google. Dart is compiled to JavaScript out there.
It has a new Interface
The Fuchsia OS interface is written in Flutter SDK, which includes multiple platforms and was also developed by Google.
Fuchsia has a new interface called Armadillo as said earlier, which has a different home screen with a start button, a keyboard, and a window manager. It is compatible with the vertical scrolling system, where the user can customize other icons such as profile picture, the battery, weather forecast, and so on. A user may also customize the applications displayed on the maps, depending on the frequency or perhaps recent use of the application.
There is no official statement yet
Google has made no official public statements about why Fuchsia OS exists or what it serves, but according to its documentation, it will overcome all the shortcomings of previous operating systems and provide high performance that cannot be implemented in existing operating systems. Operating system (Android).
The Fuchsia OS interface is written in the Flutter SDK, which generates a multiplatform code that runs on Android and iOS.
Running Android Applications
For convenience, Fuchsia will use a specially designed version of Android Runtime (ART) to run Android applications. This version of ART can be installed on any Fuchsia OS device employing a .far file, the Fuchsia OS equivalent of the Android APK.
It's still unclear how Fuchsia uses the Android Runtime. I include whether Android Runtime can work as expected to replace Linux kernel calls with equivalents of Fuchsia Zircon Kirel, or maybe whether ART runs inside a virtual Linux machine with what is known as Machina, the Fuchsia OS virtual machine structure.
In any case, it's clear that Fuchsia devices should run Android applications. This should not surprise anyone, as Android is the most popular operating system in the world, Supporting a large number of Android apps in the Play Store makes it easier for users to shift from Android to Fuchsia. In recent read me file from Android's Gerrit source code- device/google/fuchsia, Google mentions this OS will support Android.
Initially, this OS based on only commands
Formerly, Fuchsia was based on commands, but then the UI was designed in the language Google calls Armadillo, which is quite enjoyable right now.
Following The Image Of this OS UI, Here's How Things Work In Fuchsia's Case.
The center profile image is a clickable area that opens the menu similar to the Android Quick Setup. The battery and the connection icon appear in the top bar, there a horizontal slider for volume and brightness, as well as icons for trouble-free automatic rotation and even airplane modes.
At the bottom of Google Now opens a keyboard, which is not an Android keyboard, but a custom Fuchsia keyboard with the new dark theme. Fuchsia OS keyboard features are different from the Android keyboard.
Fuchsia works on all Google platforms without the need for a long optimization process. This means that programmers can create a messaging application that works from the beginning on smartphones, laptops, tablets, desktops, and even smart home devices.
FAQ
What Will Google Fuchsia OS Do Differently?
Imagine Fuchsia OS as a great technological unifier. Unlike MacOS and iOS, which work only on compatible devices, all devices would be compatible with Fuchsia; it will be a hybrid offering view designed for mobile devices and traditional desktop interfaces.
Users can interact with applications developed in Capybara and Armadillo, which are displayed as maps on a home screen. This framework enables multitasking, allowing you to contract various applications and work on them through a split screen interface!
What Does It Look Like?
Fuchsia is still in the process stages so that the end product could look completely different at the time of its release. Google made system code available online so that curious users can launch it on their very devices if maybe they want to take an early look.
The 9to5Google and ArsTechnica have provided insight into the appearance of previous versions of the operating system. The potential for a new era of application integration on platforms should not be overlooked. However, much remains to be done before Google has a mature product.
How Does It Work?
The heart of any OS is indeed a computer program called a kernel. This program controls every aspect of the operation of an operating system by telling the central processing unit how to process the data. Both Android and Chrome OS are based on Linux kernels, while Fuchsia OS will be based on a new microkernel called Zircon out there.
This allegedly facilitates the updating of the applications over time, so that specific programs are not outdated when the entire operating system is updated.
When Will Google Fuchsia Come Out?
There is no product release date for this Google Fuchsia OS. The whole thing we've heard and seen about the operating system indicates that it's still in the development phase. As it is, it is more of a concept than a product and is unlikely to be implemented for at least another two years.
How Long will it take for Manufacturing?
The existence of this Fuchsia OS was first revealed in August year 2016 when some news media found that the mighty Google had indeed uploaded its very own open source code to the well-known GitHub. This discovery triggered a series of rumors about the timing of the launch, which all turned out to be wrong. Since then, Google has shown signs that Fuchsia OS is still a reality.
In May 2017, Fuchsia's user interface was updated to its current familiar interface, and developers assured interested users that this is never a dumping ground for dead things out there. Recently, in February, Google's former Android security chief joined the Fuchsia OS team.
The change in the high-profile board has been understood as a great sign that the long-expected wheels are undeniably turning. However, without an exact release date for the Fuchsia OS, we have to wait a few years.
Is Google Killing Android With Fuchsia OS?
Simple answer. No. Google will maintain Android, in both separate ways. Several factors point in this direction. First and foremost, the source code released on said GitHub suggests that Google Fuchsia OS aims to implement everything from embedded systems such as automotive devices and the IoT to all PCs and of course tablets and also smartphones.
Like Windows as well as OS X, Fuchsia OS is indeed at the forefront of an internally developed microkernel called Zircon, instead of the current operating systems Android and Chrome, which are based on Linux. Also, the development kit facilitates the distribution of applications across multiple devices.
The second indication of Fuchsia's fate as a replacement for Android OS is the fact that its graphics engine has a specific volume rendering code that, according to popular Ars Technica, is especially useful for the Material Design user interface.
The third factor, of course, is the news that the operating system can run Android applications without any problems. This gives Fuchsia OS immediate access to a complete and mature application catalog.
The fourth factor is that As I already mentioned earlier, Google is tired of other vendors failing to maintain the monthly security patch. Fuchsia OS allows access to other devices, such as Google's Home or Chromebooks if implemented correctly.
Conclusion
Hence Fuchsia OS is a new Google project that may be the answer to how we're going to start writing Android if we have to end the era of a previously stable OS. The biggest challenge in introducing the new operating system may not be the development of the new operating system, but the risk of moving the world's most popular Android OS to a new operating system.
We cannot say anything about the future of Fuchsia OS. It can be successfully introduced to consumers by the end of 2020 (We expecting), as cited by another source, or Google can destroy it before it sees the light of day, but let's be on the lookout.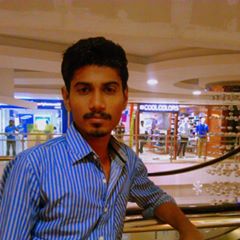 Selva Ganesh is the Chief Editor of this Blog. He is a Computer Science Engineer, An experienced Android Developer, Professional Blogger with 8+ years in the field. He completed courses about Google News Initiative. He runs Android Infotech which offers Problem Solving Articles around the globe.