Before beginning here, I am talking about lost, not theft. Theft is a different story. Oh, you will say using Android device manager. Can you? Do you think you can get that? In my opinion Nope. You can't find the exact location. It needs mobile data or Wi-Fi or GPS enabled. Here I am talking about without the Internet. Don't think it is a technology or Some gadget. You are using a simple Old school idea. Imagine, you put your hand in your pocket or purse, and you lost Google Pixel, or any other mobile phone is not there. What would be your reaction? Probably, you will get worried and start looking for your mobile phone to every possible place you remember you have been since you have used your mobile phone last time.
Every year, about 70 million Smartphone has been lost, and hardly 7 percent recovered. Remember, I am not talking about stolen mobile phones but only those who have been lost due to the negligence of the person. I am one of them, who lost my Google Pixel 2 XL not just once but twice. Lucky I got back because I have used the right way to get my mobile phone.
If you are the one who forgets your mobile phone at different places, then you need to read this article till the end because here I am sharing my true story that how I got back my lost Pixel 2 XL two time without using any device manager trick or even internet. Yes, this is possible and worked for me. Even Google Pixel does suggest some instructions to increase your chances to get your mobile phone back.
How to get back your Lost Google Pixel or any other devices
Did you know 80% of the time if you lost your mobile? The person who takes that mobile, Always tries to find you? If they can't reach you in two or three attempts like finding your number or you didn't make a call to that mobile, or you can't make the call, They own it. If all this method fails, they own your mobile. In rare situations you make a complaint to the police, there is a less chance to get back your mobile using your IMEI no.
Show display message on your lock screen
Most of the phone owners lock their mobiles using either a password or fingerprint sensor. The person who took that mobile can't get your related contacts so that they can return your mobile. But they can't so you lose your mobile.
What does your display screen say to the person hey I am lost take me to my owner..:) Ah, It can't talk. Google assistant is a different story. I give another idea. Instead of putting Probably a funny message like "Don't touch my phone," "Touch me if you dare" or It is Blake phone.
In the lock screen, What, if you use this place to put a message which can help you to find your mobile phone if you lost somewhere? I have used this technique and found my mobile phone on the same day. Don't put your Same number that is on the lost phone…:). I put my secondary mobile number.
I had no idea that we can use this on the mobile lock screen. I used this trick when I have purchased Google Pixel 2 XL.
A short story of my Certifications lost
When I go to an interview, I Lost My file, the person who got this Call me because I have my Resume in the file. So, After this incident, I Put some contact info in Important things, Which take it outside. I make a habit of putting contact information in my document files like certification files, after this incident. First I decided to use it for fun and put there a random message then I realized that I could utilize this feature in a positive way. So, I decided to put a note there along with my friend number.
"If you found this mobile phone, please call +91-xxx-xxx."
This trick worked for me, not just once but twice.
First Time Google pixel Lost Incident- In the Shopping mall
I was in a shopping mall when I forget my mobile phone somewhere. I was worried and tried to find it everywhere. I have a visit to every shop where I have been to confirm if I forget my mobile phone. I decided to call on my Pixel 2 XL several times but did not get any response due to a poor network connection in that area (Can happen in crowded places). I thought I Lost my mobile. It is more than a Mobile for me. You also..:) When I return to the house, my friend informed me about my mobile phone and how someone told him that where did I lose my Pixel 2 XL. During that time, I don't put my secondary number; I put my friend number.
It was a big relief for me and happened because of the display message where I have mentioned my friend number. A person found my mobile phone in the shopping mall and dialed the number indicated on the display screen. It was indeed my lucky day.
Second time lost- Village celebration
The second time it's all happened in the village when I was there to attend a festival. I lost my Google Pixel 2 XL again in the celebration. There was a big crowd, and I lost hope because the network connection was inferior in the village. I thought they would surely take my mobile this time. How careless am I? As I told, My mobile is like a person to me. But there is little hope in me. I have even traveled to 5 KMs to get the signal in the secondary phone. This time I have displayed my secondary number on my Google Pixel, locked screen. After 3 hours a kind person dialed my secondary number and informed me about my lost phone. He also told he didn't get the network, so after traveling to someplace, He got the signal. So he called me. God saved me again.
The same technique worked for me once again, and I found my lost Pixel 2 XL back on same day.
What do you learn from this?
You should always give a way to find you If you lose your mobile.
You can make a call to last missed call on your mobile even if it is locked by just swiping the notification. But the person who takes your mobile should know that, or else, there is no chance.
How to show display message on your lock screen Android?
So, how does its work and how you can also try this trick to get your mobile phone back in case if you lost somewhere? Here is step by step guide:
Step 1: You need to go to your device setting. Only open it by tapping on the setting icon.
Step 2: From here, you need to tap the "security & location" option. It may be with other titles including "security & privacy" which depend on your Android version.
Step 3: Choose the option called "Screen lock" from there. Again, it could be there with different titles on different Android versions.
Step 4: Now, here you will able to see the option of "lock screen message." Just tap on this option and set your custom message there like me.
We Did an Experiment to get back my Pixel 2 XL again
I want to know; it is an incident or People try to return your mobile. We made an experiment on our friend's Fruit shop. I don't want to risk again. The peoples who find the mobile either try to find the contact or they give it to the shop owner. But, Only one person out of five, We tested only with five peoples. I don't want to make a prank show. He just put my mobile in silent mode and put in his pocket. I casually walked and asked him about the mobile; He acted like he wants to return it to the police station. So, in our experiment, there is an 80% chance to get back your mobile, if you give way to find you.
Conclusion
That's it. If you add your country code in the display number, it is wise. who knows you can get your mobile back, even if you lost in another country..:)
Let me know if you have got benefit with this trick and do not forget to share it with your friend and family member who own an Android device. If you don't have time to dial their number, try How you can contact your relationships easily…:) This trick will surely help most of the people to find their lost mobile phone without internet or device manager trick.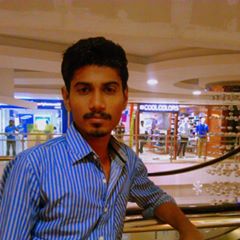 Selva Ganesh is a Chief Editor of this Blog. He is a Computer Engineer, An experienced Android Developer, Professional Blogger & addicted Web Developer. He runs Android Infotech which offers Problem Solving Articles around the globe.