It is too early to talk about Google Pixel 4. But not for Rumors..:) Some rumors about the next Google Pixel smartphone have sparked outrage online. Some features and specifications of the next Pixel smartphone from Google have just leaked, and here is everything you need to know.
It will still take up to 5 months before the Google Pixel 4 and 4XL will launch, but we have been able to know some of the features it will pack. Being that these are going to be flagship devices and they are coming from Google, the first rumor about these devices is that they will feature the newest Android OS version – (Android Q, v10.0) as well as come with the cutting-edge Snapdragon 855 processor from Qualcomm.
Google Pixel 4 and 4XL rumored specs and features
The first speculations were the Android Q being launched on these devices, and it's possible to come with the latest Qualcomm Snapdragon 855 processor. Google names its Android OS versions alphabetically. Currently, we are at P (Pie) which is v9.0; thus, it is believed that the next (v10.0) will be Android Q, the name for this OS version is still unknown. There are lots of other rumors about Google Pixel 4 and 4XL.
Google Pixel 4 smartphone and its variant are rumored to feature support that would allow users to toggle between two functioning phone lines quickly; this is indeed an update to what we have seen on Pixel 2, 2XL & Pixel 3, 3XL in terms of the eSim feature.
What about 5G and Price?
As we are expecting 5G to launch this year, Google will surely consider this option. Because If google releases 5G in Late 2020 in Google Pixel 5, It will be too late in this series. However, experts have said that if these devices are launched with 5G network support, then, they may cost around $1,325.27 and $1,192.74 for Pixel 4XL and its smaller variant Pixel 4, respectively. Or Google may reveal the Ultra pixel Rumored device with 5G technology others will be 4G. Ultra pixel device is still a myth in Pixel series.
From the patent released, it appears these new Google smartphones to be launched into the Pixels family will feature "almost non-existent bezels." Plus, we didn't see any opening for the native 3.5mm headphone jack; well, that feature disappeared on Pixels devices since 2016.
Interestingly, these devices feature a "system-wide" "dark mode" with improved facial recognition as well as security. The appearance of this device from the leaked prototype hints that either of the two smartphones (or even both) will come with a hole-punch display. This is the end of notches as well as bezels too.
What about the camera and storage?
Indeed, you won't want to skip this part. If the Google Pixel 4 or 4XL launches which a hole-punch display, then, obviously, the front selfie camera will be situated at the Hole Punch. However, rumors have it that Pixel 4 XL will feature dual rear camera lens. The megapixels and camera quality of both the front and rear camera on this device is yet unknown.
Also, no one knows the storage capacity of this device, but it is expected to launch with a more significant storage capacity; about 246GB, since its predecessor comes with a 128GB storage space.
Why Pixel 4 Doesn't look Legit?
Google will not reduce camera specs based on price if you compare all the three series from Google Pixel 1. You can notice that. Other than this, Google pixel 3 already have a dual camera in the front. Google will not reduce these specs. You can say they will achieve this using software. No. They will not lie to us, like some Manufacturers. So, Both Pixel 4 and Pixel 4 XL will have dual front and dual rear cameras.
Expect these flagship devices to be launched in October 2019.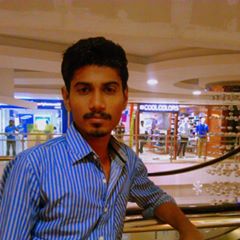 Selva Ganesh is the Chief Editor of this Blog. He is a Computer Science Engineer, An experienced Android Developer, Professional Blogger with 8+ years in the field. He completed courses about Google News Initiative. He runs Android Infotech which offers Problem Solving Articles around the globe.