Apart from consuming high resources compare with Other Browsers, Google Chrome is one of the best Browsers on all platforms. Most users widely use it. Google Chrome has three variants- Stable, Beta, and Canary. Most of the Canary options may not come to Stable versions. But the Beta features most of the time fall into the Stable version. Also, Chome has Flags features. They are experimental features. But in Flags, you can find interesting options, and they are useful to handle most situations easily. Mouse Scroll Select in Google Chrome Tabs is one of those features. When you have lots of tabs opened in Chrome, you can scroll the tabs instead of moving one by one.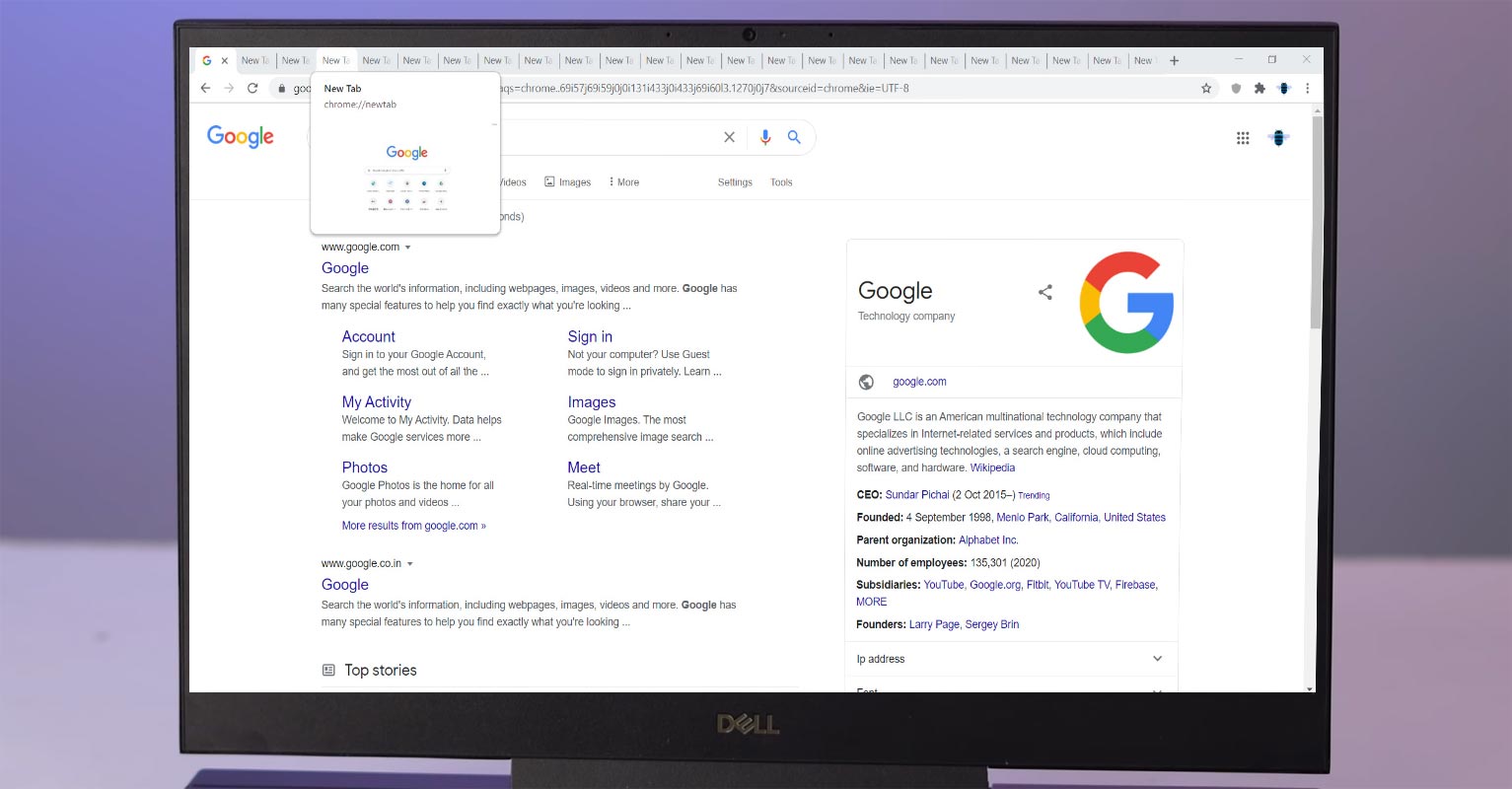 It's almost not necessary when you have a few tabs opened on Chrome. But the moment you have over 50 tabs opened on Chrome; this feature becomes ideal. Honestly, it is not easy toggling bazillions of open tabs, and anything that could help the situation would be a great deal for many people – mostly heavy PC users.
Actually, when you keep opening multiple tabs on chrome, it keeps stacking up rightward-ly until you can only differentiate between the tabs by the favicon of the opened websites. Sometimes, even the favicon would disappear when the tabs are too many.
Google introduced a "Grouping" feature to allow users to group similar tabs, but this didn't solve the issue. But now, the latest version of Google Chrome browser for computers introduced a Scrollable TabStrip that allows you to navigate multiple tabs quickly.
Mouse Scroll Select in Google Chrome Tabs
Scrollable TabStrip is a new Chrome flag that, when activated, allows you to scroll through the hundreds of active tab opened on your Chrome browser. A lot of people wanted this feature, and here it is.
This feature first showed up in the developers' version of the browser – Chrome Canary. However, anyone with the latest stable version release, Chrome v88, can get the feature. The scrolling works with your mouse; just as you scroll up and down a page, you only need to place the mouse cursor on the tab area and use the mouse's wheel to scroll through the tabs.
If you do not use an external mouse, you can activate the "Scrollable TabStrip Buttons" flag, which allows you to scroll through active tabs using button controls (the arrow keys).
Navigate Multiple Google Chrome Tabs with Mouse Scroll- Scrollable TabStrip
You must ensure that you have installed the latest version of Google Chrome or Chrome Canary. After you have done that, you can follow the steps below to activate and use the feature.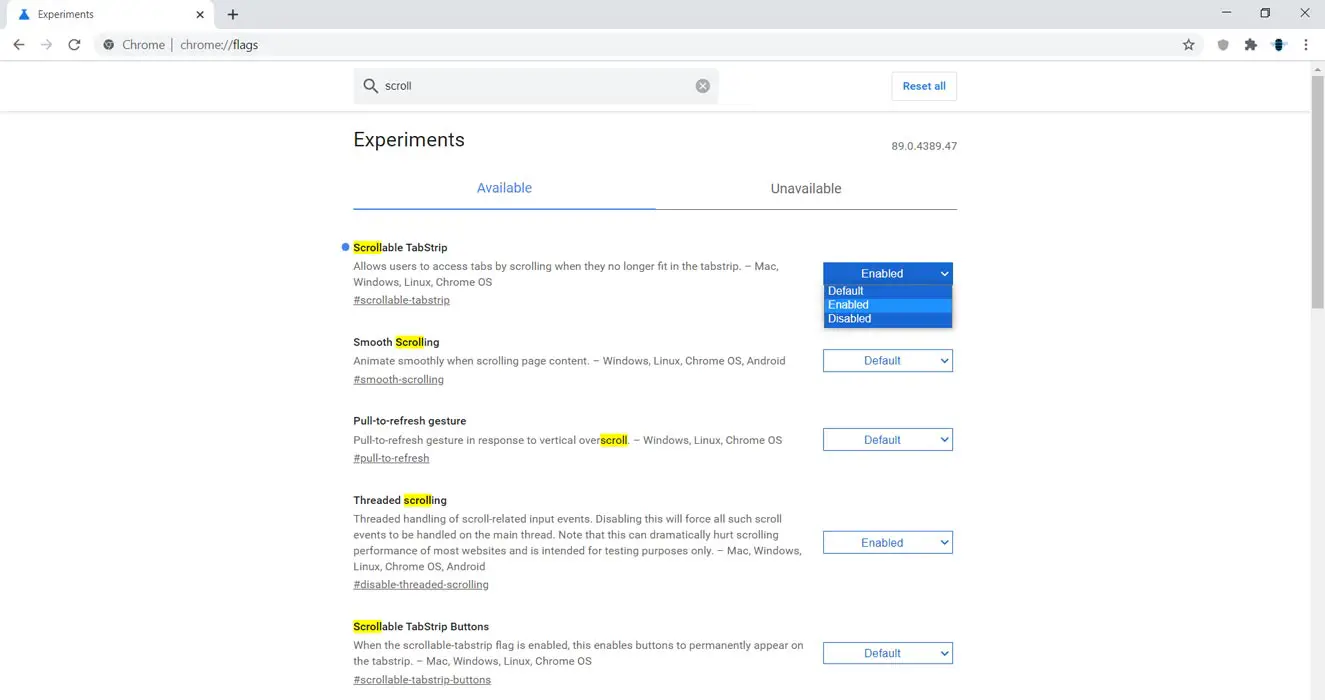 Open a new tab and visit chrome://flags.
Scroll down and look out for "Scrollable TabStrip" and "Scrollable TabStrip Buttons" flags.
Activate the two tabs by toggling the switch beside them.
Close the browser and open it again
Open multiple websites (tab), up to 20 or more. When the active tabs are too many, move the mouse cursor to the tab area and use the mouse wheel to scroll, or use buttons if you activated the "Scrollable TabStrip Buttons" flag.
Availability
This feature, scrollable tabs, works on Chrome for Windows and Chrome for macOS. The quality isn't yet available for Chrome OS systems. You can activate this feature if you use Chrome Canary or you've installed the latest stable version of the browser.
What More?
Google always keeps releasing new features in every major Chrome version. But when they feel the part may affect the regular user's comfort, They will keep it under Flags. So that developers or Advanced users can use those options. The new "Scrollable TabStrip" flag is an important feature for many of us that usually open up to hundreds of tab on our browsers. Those tabs could be necessary, and you may never want to have them closed; hence, with this new feature, it becomes easy to get to the 60th tab out of the 100 that's opened. What do you think about this feature? Could there be any way to make it work better?.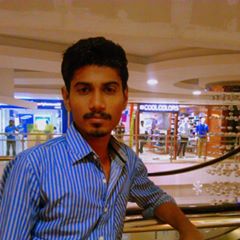 Selva Ganesh is the Chief Editor of this Blog. He is a Computer Science Engineer, An experienced Android Developer, Professional Blogger with 8+ years in the field. He completed courses about Google News Initiative. He runs Android Infotech which offers Problem Solving Articles around the globe.