Android 10 is here, and Samsung has to update its Custom Skin OS – the One UI to work seamlessly with the latest Android for its supported mobile devices. The supported devices to run Google's Android 10 OS via One UI 2.0, however, are Samsung Galaxy Flagship and Recent smartphones. Nevertheless, If you want to try this on your mobile, not all Samsung Galaxy users can sign up for the beta program. This is because the beta program is not yet available for everyone but limited to people in some specific location. Compare with other Custom Skin OS; One UI is far better and useful to users. These features only exclusive for Samsung users. I Try to avoid General features in Android 10, which I already mentioned in the Separate article. I leave the link at the end of this article.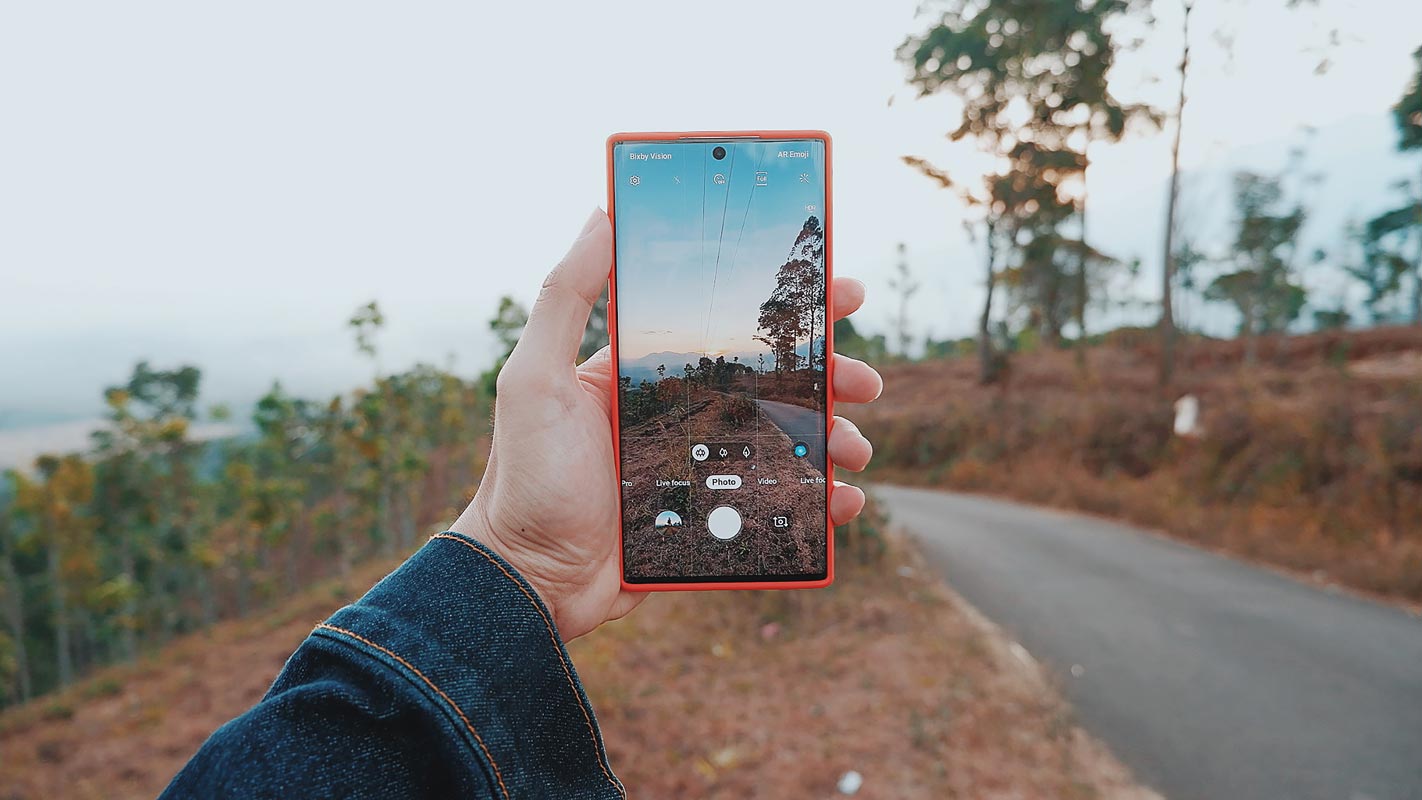 Top ten new features of Samsung One UI 2.0
Samsung released One UI 2.0 beta updates and is based on Android 10. This beta version has a lot of improvements and new features. Samsung will only add a few elements in the Major release. So, these features will be most when you get the version. Although Samsung only shared that this update is only available for Galaxy S10, S9, Note 10, and Note 9 series. But, Soon, most of the One UI 1.0 and 1.5 devices will get this upgrade.
1. Improved security
Newer versions of any software usually come with improvement on its security, and the latest Android didn't back out on this. One of the core features of Android 10 is improved security settings. Also, Samsung followed suit to embrace this enhanced security in its One UI 2.0 update. Thus, the supported Samsung devices will get their security improved with enhanced Knox protection.
2. There's a native screen recorder feature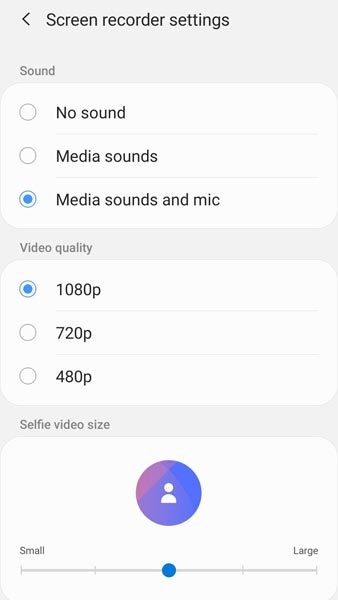 Just as seen in the Samsung Galaxy Note 10, the One UI integrates a native screen recorder feature in the notification panel; If your Galaxy device gets the One UI 2.0, you'll get this feature. It will make it easier for you to record your device screen without having to download a 3rd-party app to do that. Interestingly, this new screen recorder feature has some configurable settings and picks up any audio from the mic. Additional to this, you can capture your selfie also. It will be like Live Game Streaming. Both Screen and your thoughts on this can be recorded simultaneously.
3. Gesture-based navigation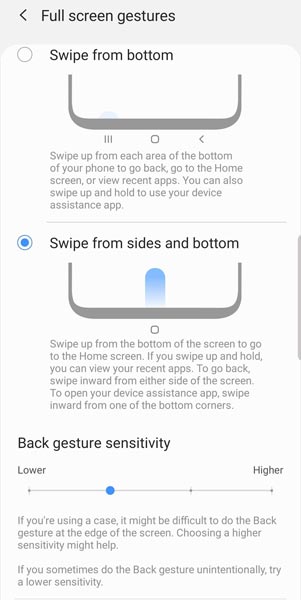 There's new gesture navigation seen as part of the features of Android 10. The gesture navigation is quite impressive and makes navigation easy for Android users. One UI 2.0 will introduce the gesture navigation system on Its devices. Samsung users whose devices are supported to run One UI will get this navigation system. Hopefully, Samsung users that will get this navigation system would get to love it.
You swipe the bottom of your device to go to your device home screen or go back. However, although with the support of Google's navigation system, Samsung did not forsake its navigation gestures; thus, leaving you with the option to choose between two types of navigation systems. Compare with Native gesture, Samsung added some options, to reduce the stress. Google promise to enhance gestures will be rolled out in the upcoming year. I hope this will be handy in usage.
Refer- How to use Samsung Gestures.
4. Redesigned camera interface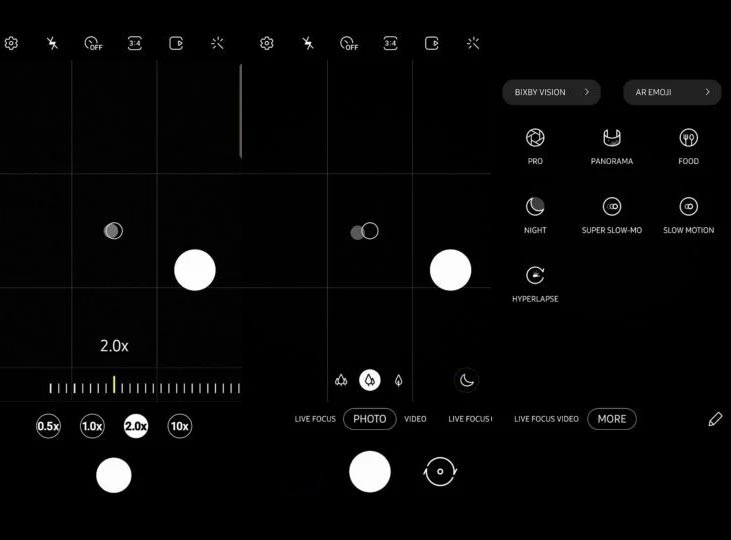 Well, we all know that Samsung devices come with suitable camera technologies and interfaces. However, Samsung is redesigning its camera interface for the new version. We are not sure you're going to love this new design because you'll no longer see the camera modes options available just above the shutter button.
Previously, you'll see the different modes such as video, photo, etc. just above the shutter button, but now, it's no more. Well, everything has been gathered into a menu, so when you click the "More" option, you'll access the different camera modes or switch to video recording. Nevertheless, there's a trick here; you can drag these modes back to their previous position (on top of the shutter button). So, everything is left for your choice.
Also, you'll notice a set of four buttons that will appear on your screen when you zoom in or out while using the camera. These buttons let you switch between zoom levels (0.5x, 1.0x, 2.0x, and 10x). While you may not like the recent improvement of arranging everything into the "More" section, you may find these virtual buttons to be handy when taking pictures.
Note: there are no new features or settings added to the camera settings. It's just a redesign of the existing features and settings.
5. Enhanced one-handed mode with a gesture
Yes, in this One UI 2.0, users can get into the one-handed mode with a new gesture style. The South Korean giant made empathizes with its one-handed feature when One UI 1.0 was launched for the first time. In this update, one-handed mode gets a new turn and now focuses more on utilizing the big-screen displays on Samsung flagships. If you activated one-handed mode in your device settings, adjust this setting. What you need do is to swipe down to the bottom edge of the screen to reduce the screen size. Not everyone is going to find this interesting.
6. Night mode turns to the dark mode
Yes, both modes are Different. Night Mode adds a layer above the app to protect your Eyes. Dark Mode is resting the OLED particles to save battery with minimal colors. Everyone is beginning to like the dark mode feature; One UI also comes with this feature. The digital wellbeing feature is also available to Samsung devices running the One UI 2.0. However, this time, it's no longer "Night Mode" but "Dark Mode." There are other features in the digital wellbeing menu, including parental control options, focus mode.
7. Media bar, link to Windows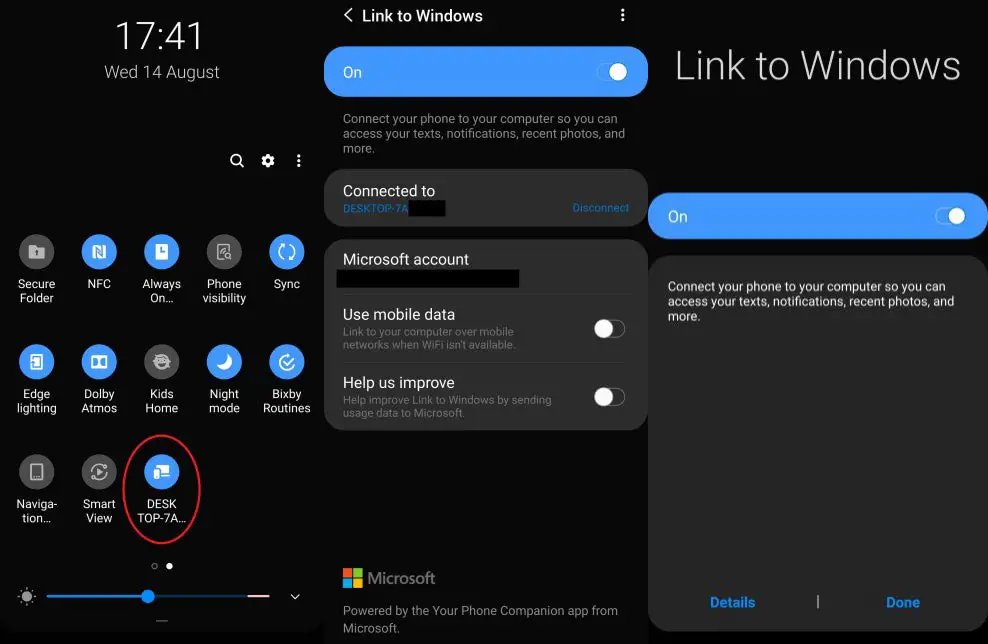 Some features of One UI 1.5 installed on Galaxy Note 10 will be ported to new UI. Thus, there'll be a new Media bar in the Quick Panel and an option to Link to Windows. You can use this feature in All One UI Samsung Devices by modifying some settings and sideload the app.
8. Detailed battery stats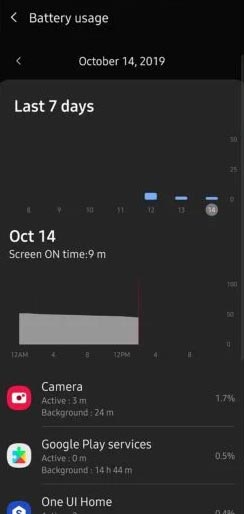 One UI 2.0 will offer more detailed battery stats, and you can deactivate the charging information that appears on Galaxy Note 10 screen when you connect the charger. Get into the Device Care section and see more detailed stats about your battery usage and monitoring. The Device Care section has been redesigned to be more intuitive than before.
9. Wireless PowerShare battery limit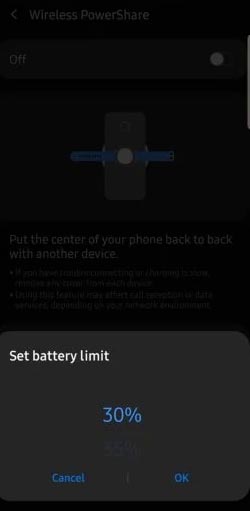 Yes, Now you can configure a battery percentage when the Wireless Powershare option has to deactivate itself. Initially, this feature doesn't work if your battery is below 30%; however, you can now set any battery level from 30 and 90% to turn off the reverse wireless charging functionality automatically.
10. Changes to the lock screen view and always-on display function
Interestingly, there's a smooth transition animation between the always-on display and lock screen. Also, you can set the in-display fingerprint scanner icon to be always-on. You can as well set the scanner to only display when your device is on always-on or never to show up. Well, you need to make is show on your screen so that you won't be pressing down every part of your screen looking for the correct spot where the in-display fingerprint sensor is located.
Wrap Up
I try my best to give only features that are in One UI but not in Android 10. This means when we compare with the Stock Android version, Samsung added some extra features. You can also refer to new features in Android 10. Beyond these features, a lot of Stock Bloatware apps are enhanced in UI. NFC Beam is depreciated. Date and time become small in Notifications. It gives some space to view toggles. Contacts app comes with the Trash section with 15 Days' expiry validity. When you accidentally deleted some contacts, you can always restore them using this option. Samsung will keep adding some features with the security patch updates. So, we can see a lot of Improvements and opportunities in the future. If I missed anything or You know some extra features, comment below.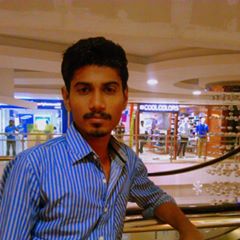 Selva Ganesh is the Chief Editor of this Blog. He is a Computer Science Engineer, An experienced Android Developer, Professional Blogger with 8+ years in the field. He completed courses about Google News Initiative. He runs Android Infotech which offers Problem Solving Articles around the globe.