When Any mobile manufacturers released Special Editions, most of the time, it will be a Mobile Skin change and Special Colors to enhance and boost sales. But, Samsung Galaxy Note 10 Plus Star Wars Special Edition comes with some additional features. That is worth considering. This edition is dedicated to celebrating the Star Wars: The Rise of Skywalker. The Package contains Exclusive dark-colored Note 10 plus and Red S Pen with blacktop, Red and Black Wireless earbuds, Black Back Case with Kylo Ren face. In Software Side, There are plenty of Exclusive Star Wars wallpapers loaded on the mobile. They are not like regulars; They made the Wallpapers based on Red and Black combination. There is a Star Wars Red and Black Theme on the mobile. We will dive further below what is so special about this edition.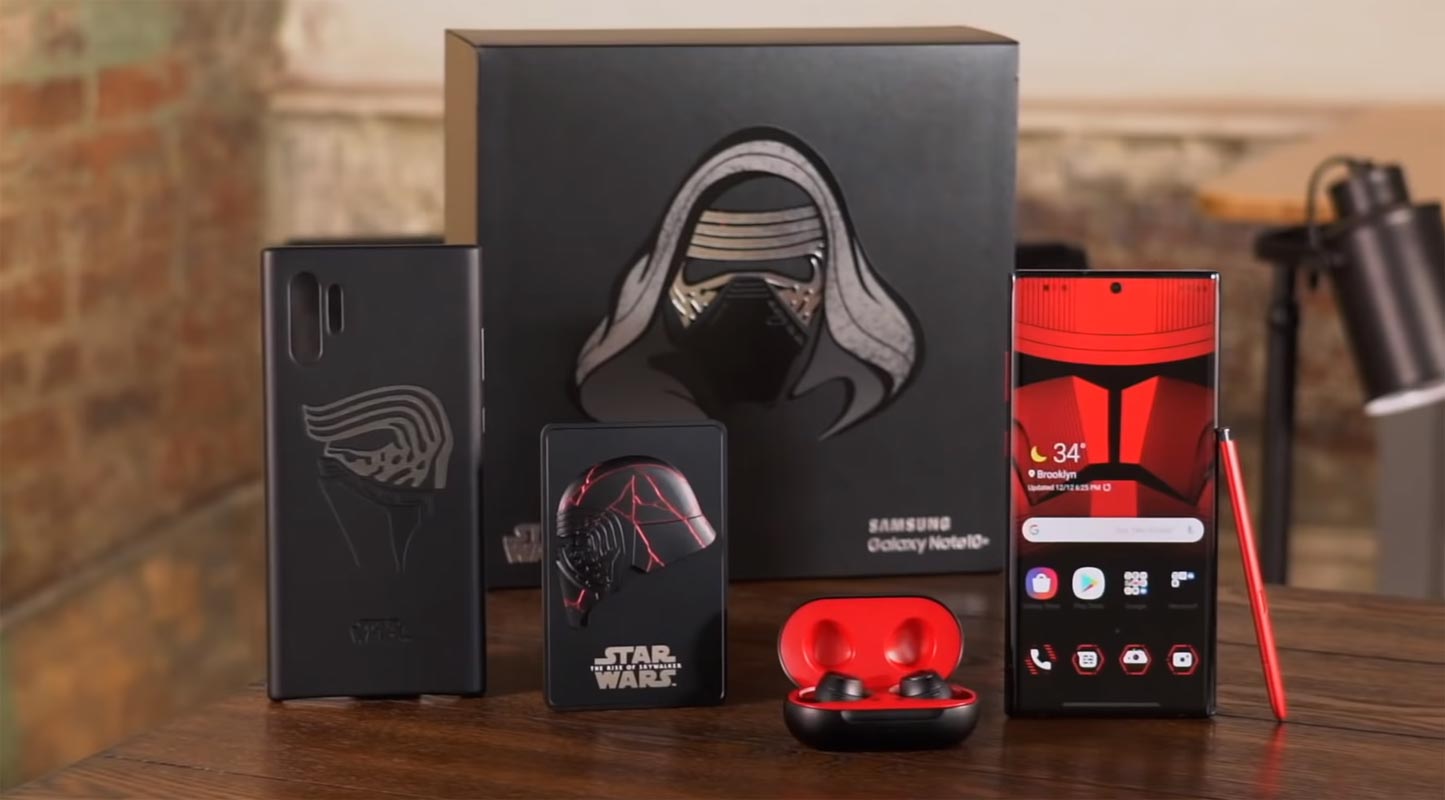 Inside the Star Wars Special Edition Box
Unlike the regular slim package, this Special Edition comes with the Giant box that contains the Galaxy Note 10 plus, Wireless Earbuds, Back Cover, and Star Wars: The Rise of Skywalker badge.
Mobile Design and S Pen
The Design looks similar to the regular Note 10. But they changed the colors. They added Dark Black colors. It is full black with a slightly red circle on the rear camera. Backside, they added the Star Wars Logo. The S Pen is an exclusive RED colored. The Special about this mobile is a color, So, When you use other back cases, It will hide the unique thing about this mobile.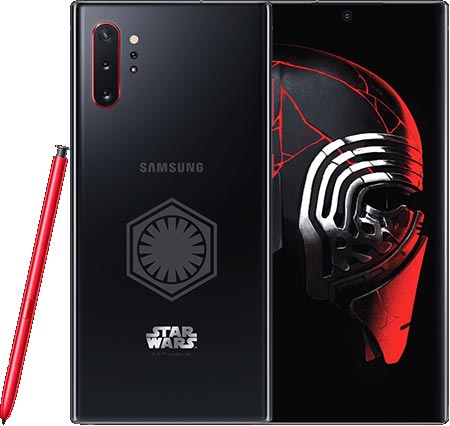 But some users prefer for the case. So, For those users, Samsung Included the exclusive Leather Back case that has Kylo Ren's face on the back. Other than this, there is no re-design on this mobile. But compare with different regular colors, It looks quite cool. The S Pen comes with the Pure Red color and the black on the top. The Working and features are the same as for Regular Note 10. Refer- Ten uses of Note 10 S Pen.
Ear Buds
Samsung not only re-designed the mobile. They also added Red Black color on the wireless earbuds. This duo combination of colors mixed well with the mobile color.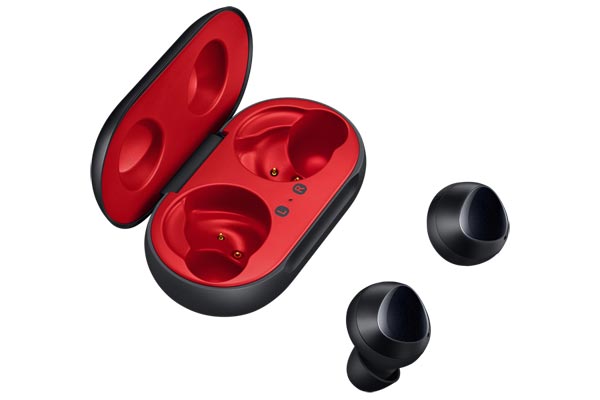 These Wireless earbuds can be charged through Wireless Charging pads and your Note 10 Plus mobile, Which supports Reverse Wireless charging. Other than the color, nothing on the performance changed. The Playback gives you 13 Hours. Within 15 Minutes of charging, you can get 2 hours of playback time. The Galaxy Buds will Not comes with the Regular Retail Box. When you buy this separately, It will cost you $130. But, Here it comes with the Box.
Metal Badge
Like Pixel, Apple Brand Logo Stockers that comes with the retail Box, Samsung added the Metal Badge that has Kylo Ren face. It can't do any special activities. But, You can showcase this badge in your desired place to show your love towards the Star Wars. The Design is an embossed type.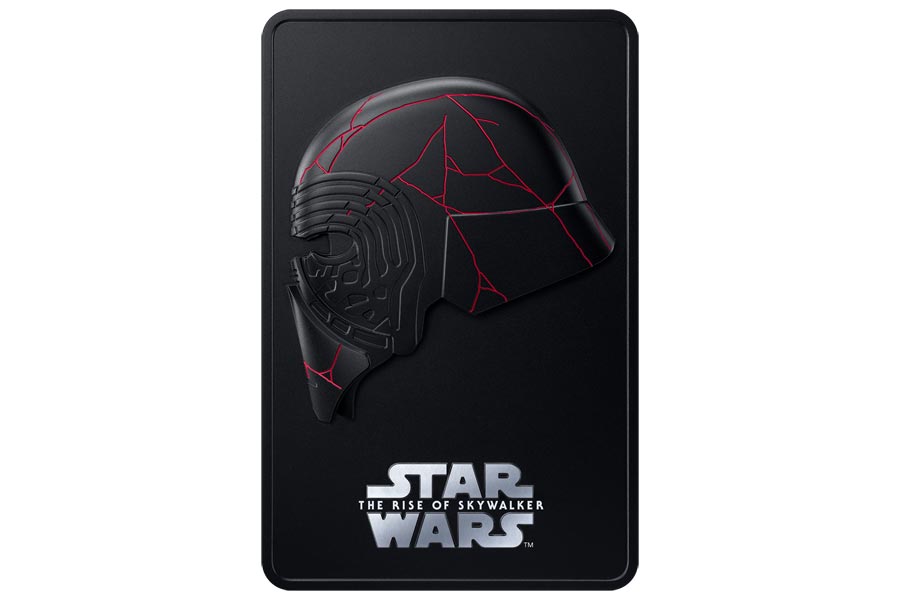 Software and UI
Unless there are some tweaks in the software, the mobile can't be a Special Edition. They are looking good. The UI is slightly re-designed with Star Wars logos. It is more like a theme. But, It makes an excellent looking experience when we see with this unique edition mobile. They also added some emojis that can be used in messages.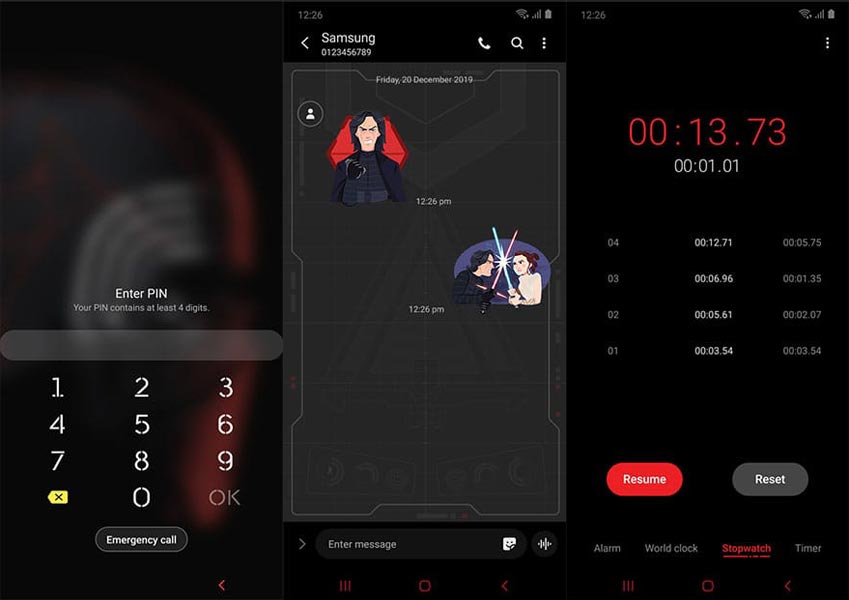 The Icon pack is used on mots of the system apps. Third-party apps can't be used like these logos. But, they added Star Wars based icons on most of the system in-built apps like Phone, Contacts, Messages, Calculator, Gallery, and Camera. This will be different based on the One UI versions.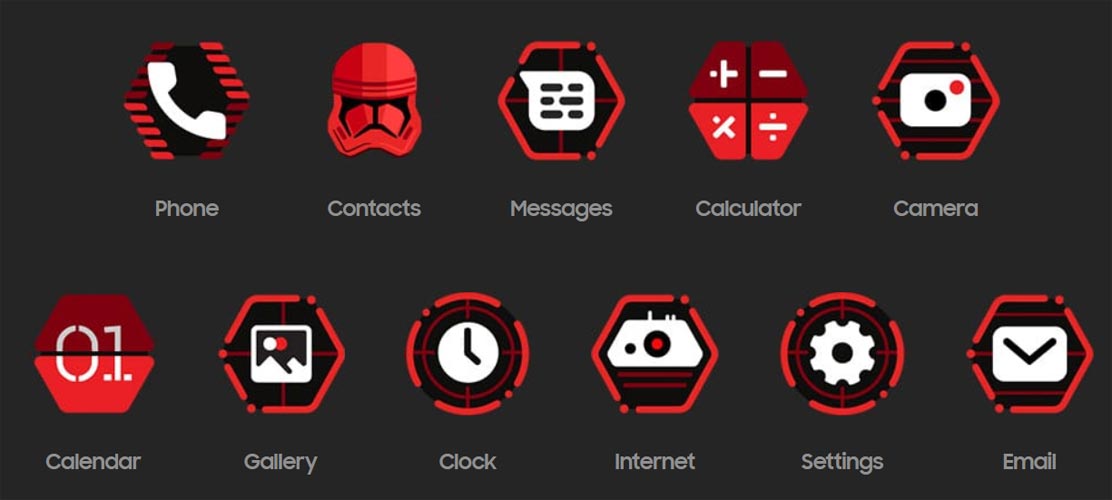 Star Wars Special Edition Wallpapers
Samsung Added Exclusive Eight Star Wars Wallpapers. I added them below; Even if you didn't buy this mobile, you could use them in your current mobile. The file will contain all the Eight Wallpapers As Follows: Kylo Ren helmet, Sith Trooper helmet, Kylo Ren with his lightsaber, Trio of Sith Troopers, and Four Knights of Ren.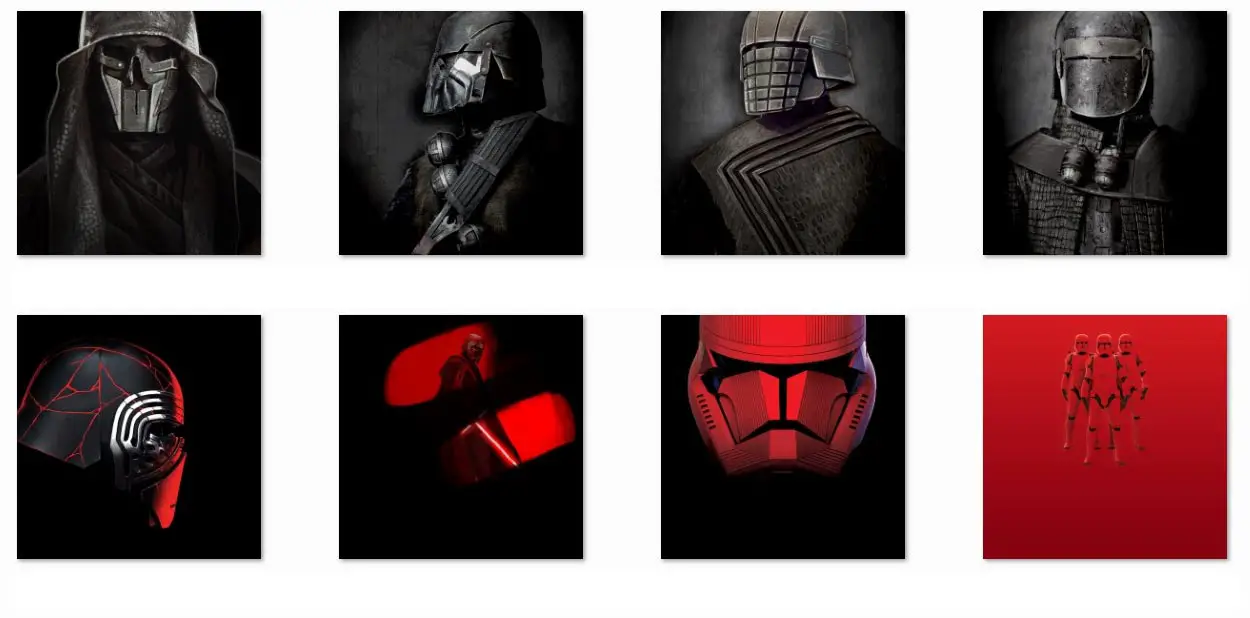 Specs and price
This Special Edition costs $1300. The Specs are the same as Galaxy Note 10 plus. The mobile contains specs as follows
Qualcomm SM8150 Snapdragon 855 Quad-Core Processo
12 GB RAM and 256 GB ROM.
6.8 inch QHD+ AMOLED with Corning Gorilla Glass 6 Display
12 MP(f/1.5-2.4, Main camera) + 12 MP(f/2.1, telephoto)+ 16 MP (f/2.2, ultrawide)+ TOF 3D VGA camera and 10 MP Selfie Camera.
Is it Worth to Buy Samsung Galaxy Note 10 Plus Star Wars Special Edition?

If you are a Star Wars Lover, It is worth to buy. Also, the design is not bad. If you worry about the price, The regular Note plus costs $1099 without Galaxy Ear Buds. The regular price will be $1299. If you add the Wireless earbuds, It will cost you around $1219. Due to Samsung Galaxy 10th Anniversary, the prices are down to low. You will get free Galaxy Watch Active 2 with the purchase. When You buy the Special Edition, you can get it for $1299. So, If you compare both for an extra $80 You can get this special Edition. In my opinion, it is worthy.
Wrap Up
Instead of attracting users with some color changes, Samsung added some exclusive features to this Special Edition Mobile. Also, With the Phone, Leather Case and Ear Buds combo, the price is considerable. Because the regular edition is moreover the same as this mobile. My question How they are going to support the regular patch software updates. Is there always unique things even for the Major Android 10 One UI 2.0? Only Samsung Knows. What are your thoughts on this Special Edition? Do you think it is worth to Buy? Comment Below.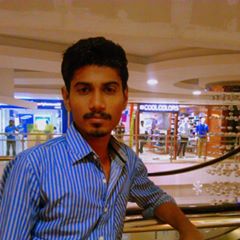 Selva Ganesh is a Chief Editor of this Blog. He is a Computer Engineer, An experienced Android Developer, Professional Blogger & addicted Web Developer. He runs Android Infotech which offers Problem Solving Articles around the globe.