When you want to stay ahead of your competitors, You should focus on what users are expecting or struggling with within your platform. When you didn't focus on those things, They slowly begin to use third-party solutions. Later they will move from your platform. Since most people work from home nowadays, All Tech related industries focus on this area. Compare with any other Office solution, Google is slowly dominating other competitors, Because of its Online collaboration features. Even it is popular; Google keeps adding new and small things to make better of it. Now Google introduced Dedicated Comments Sidebar in the Google Sheets to access the comments and reply to them. Unlike Chat features, The thread sticks with a single sheet to avoid confusion.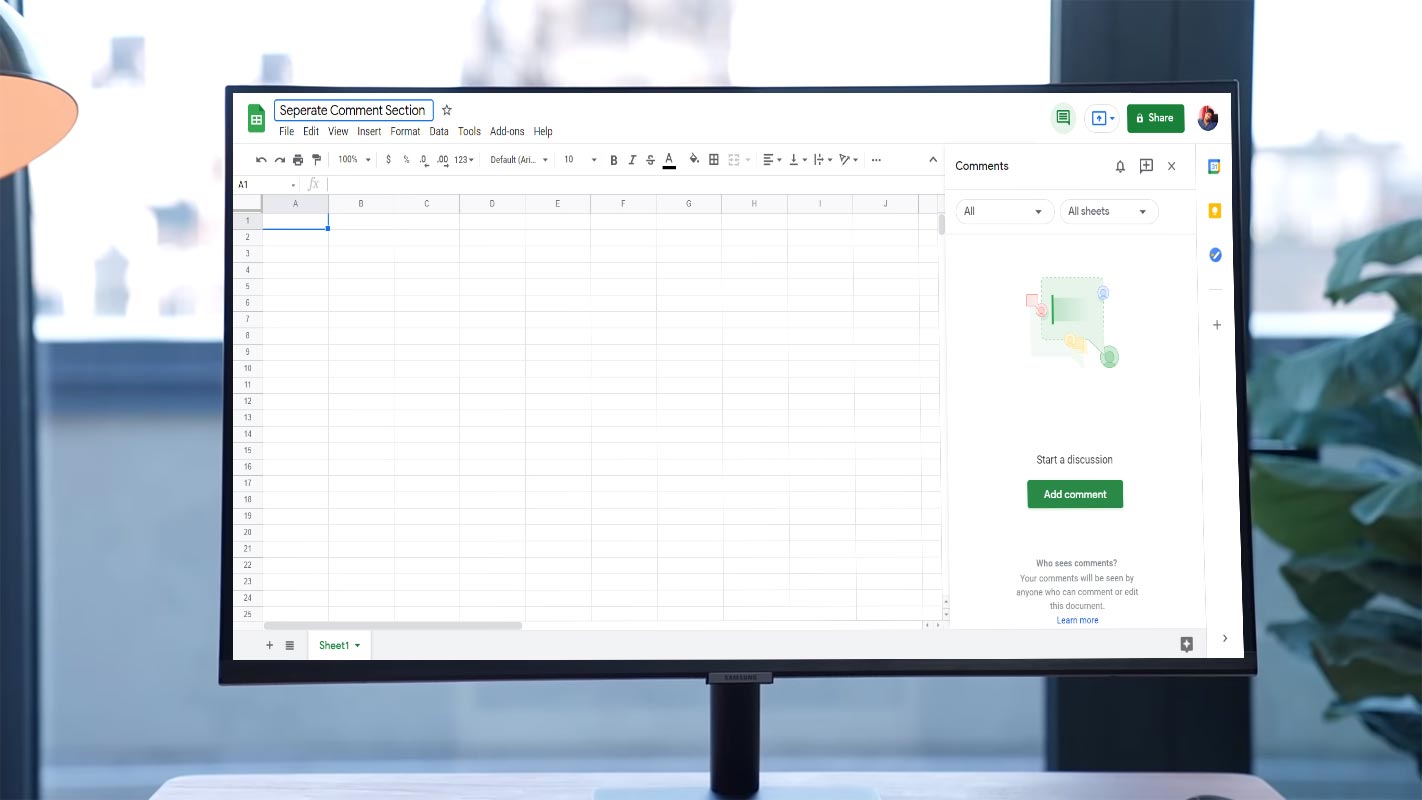 Of course, every day we wake up, we wake to new updates and innovations from these top tech companies; if they are highlighting/announcing a new product, they're making press releases about a new feature added to existing products. So it's pretty more like a routine – and we love to hear those tech updates and stories.
Next up, Google just added a dedicated comments section to Google Sheets. Yes, before now, you can add comments on Google Sheets, but not how you could do it now. With this new dedicated comments sidebar, it is easier to see all conversations and comments made on a Google Sheet document. Again, this is great for collaboration, and you should start trying it out.
Dedicated Comments Sidebar on Google Sheets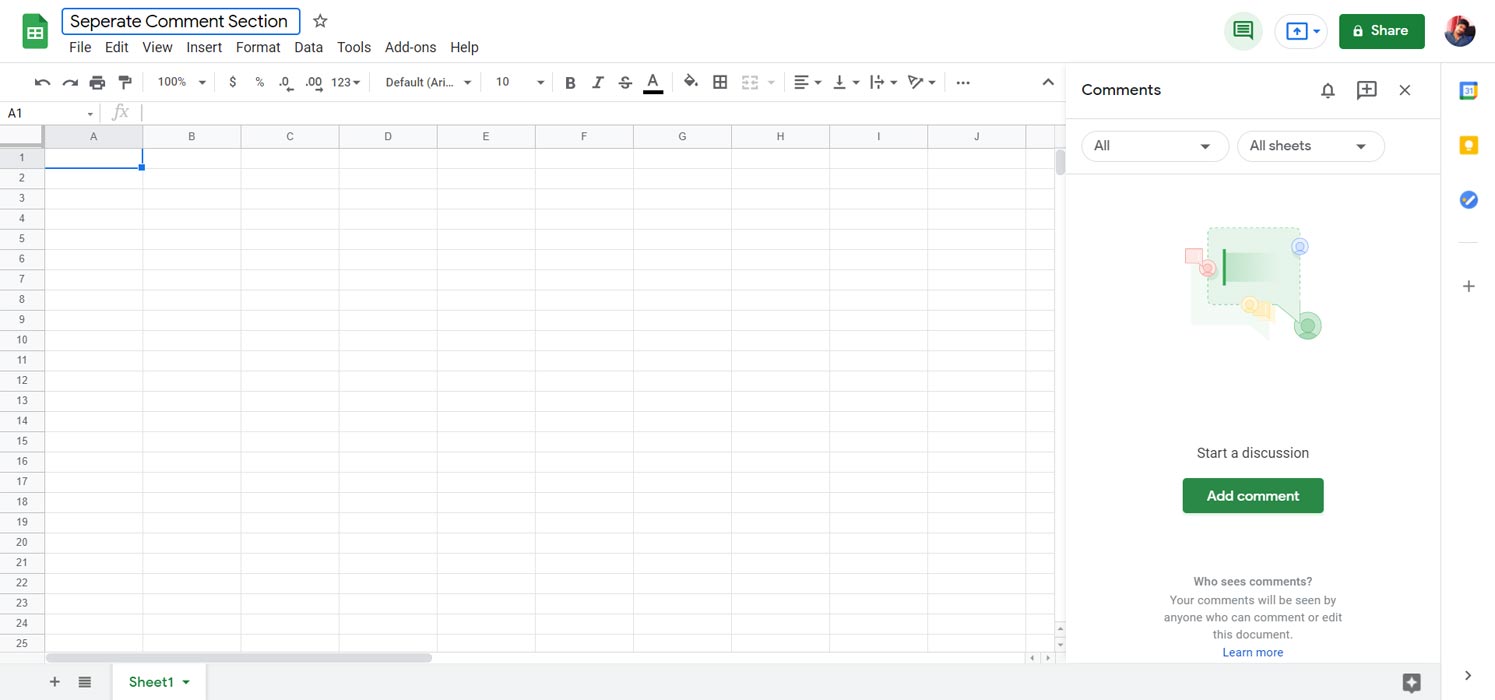 Before now, it's quite difficult to find comments and reply to them on a highly collaborative spreadsheet; it is typically time-tasking for highly collaborative spreadsheets. However, recently, Google published a new blog post, hinting at a new dedicated comment sidebar to boost collaboration and team operations; here's an excerpt from the blog post.
"Collaborating with teammates is more important than ever, and comments are a powerful way to discuss and collaborate wherever you and your colleagues are and whenever you're working. By making it easier to review, respond to, and resolve comments in Sheets, it's easier to collaborate to create more impactful data and analysis."
What's New on Google Sheets?
This new update makes it easier to review, reply, and resolve comments in Sheets. The new comments sidebar is actually almost the same as the one in Google Docs. You can see all the conversations left by your team members; you can respond directly or leave new comments right on the sidebar.
To activate this new sidebar, click on the "Comments" icon next to the Share and Meet presentation button.
On the sidebar, you can respond, resolve, and join new conversations.
Filters are available to sort out the entire comments made on a spreadsheet.
It's now more easy to create and join comment threads.
You can take different actions directly in the sidebar, and you can also navigate to any conversion you want to respond to.
Actually, this new update is still rolling out; it is not yet available to everyone. However, it would start rolling out massively from June 16, 2021.
How to use the Separate Dedicated Comment Section in Google Sheets?
Since it is a server-side update, You don't need to do anything from your side to use the feature.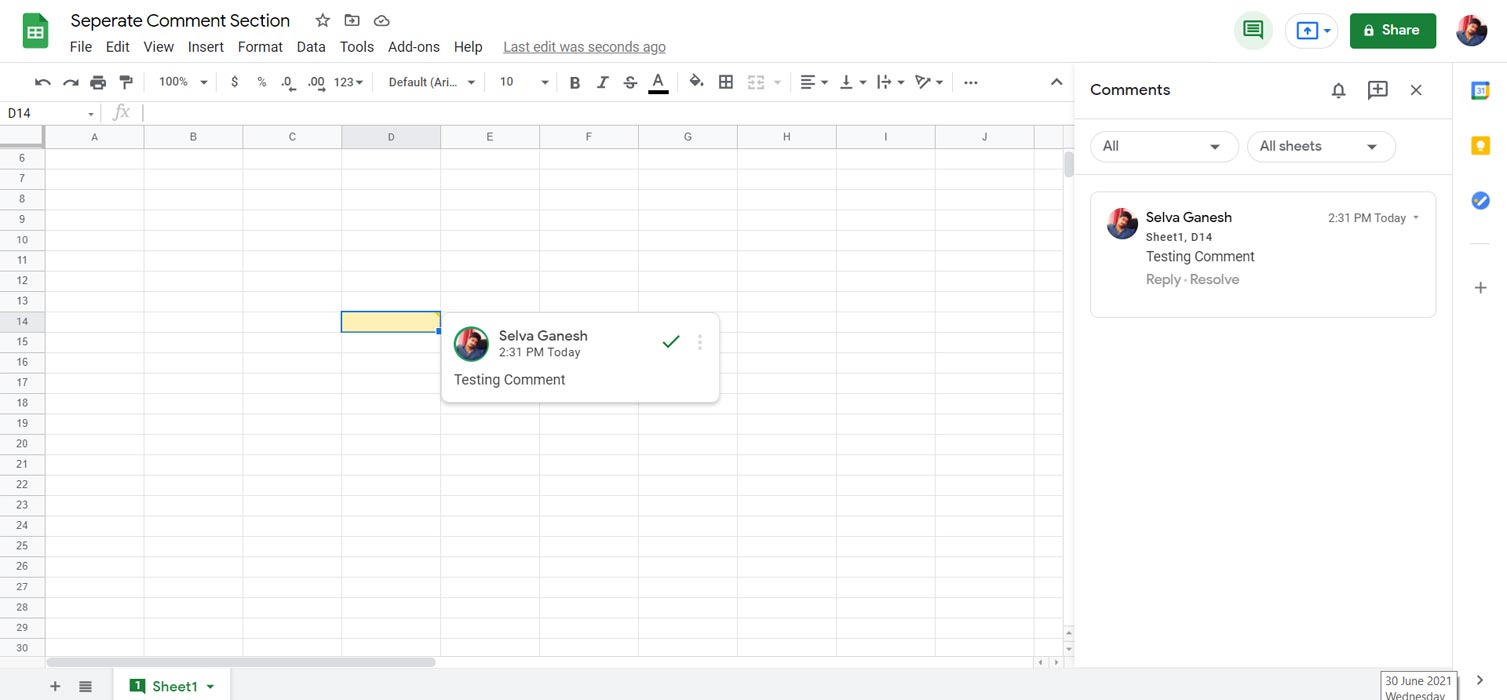 Open Google Sheets on your browser. You can find the comment symbol at the right top near the Share button.
You can find the already inserted comments in that section. Then, when you want to insert the comment, select the cell from your sheet and enter your comment. Then, your comment will publish in the separate comment section with sheet cell details.
You can filter out your separate tagged comments, Open, Close, and All Comments. You can also filter current sheet comments or all comments within the opened Google Sheet.
Wrap Up
The usage of Google Workspace solutions is increasing tremendously in recent days. Thus Google needs to optimize more ways to give additional features an already existing option from Microsoft Office solutions. Since Microsoft also having enterprise solutions like Microsoft Teams, Google needs to add little things that users are expecting. As expected, this update will be initially available to all WorkSpace customers, and it may get down to the free users afterward. You can check if you got the update already, and if you haven't, wait for some more time for it to roll out further. But, on a sincere note, do you love this new feature? Share your thoughts below.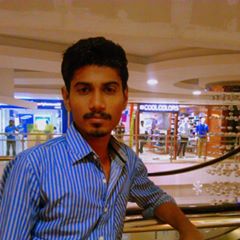 Selva Ganesh is the Chief Editor of this Blog. He is a Computer Science Engineer, An experienced Android Developer, Professional Blogger with 8+ years in the field. He completed courses about Google News Initiative. He runs Android Infotech which offers Problem Solving Articles around the globe.