We all know that there is a different version, so Android is available. They got an update regularly with features, sounds, photos, and themes. Some of the quick examples of different versions of Android is Android 2 (Éclair), Android 8 (Oreo), and the latest version of Android, which is 9 and called Pie. But do you know, there is more different version so of original Android? Well, here I am talking about Stock Android, Android One, Custom Skin, and Android Go. These different versions are limited to some of the Android phones and have both similar and various features.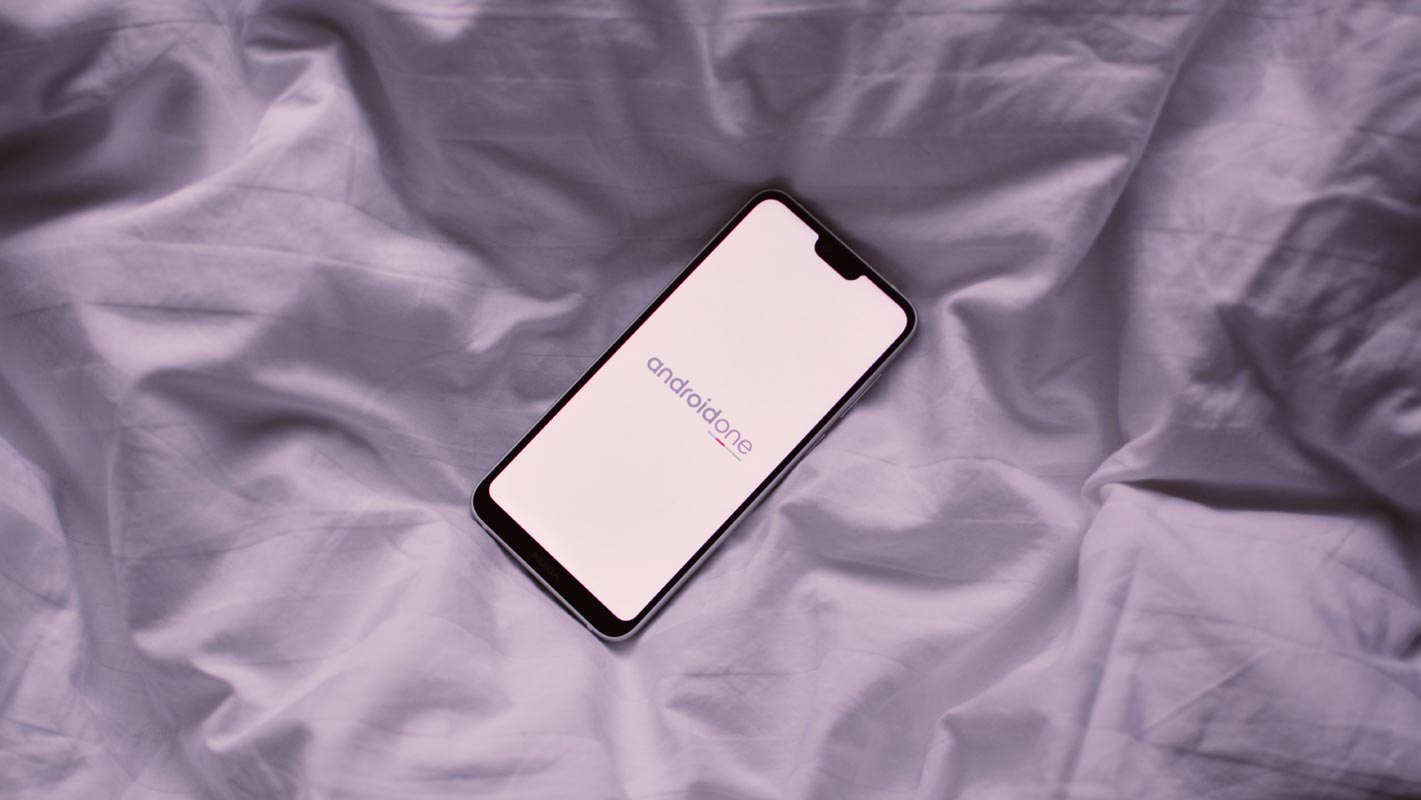 If you never knew about these different versions of Android, especially Android Go, Stock Android, and Android One, then you should read this article till the end. Here I am talking about them including their history, features, pros, cons and defiantly a conclusion which will help you to know about the main difference between all of them and which one you should buy next time to enhance your user experience and enjoy mobile with more features and personalization options.
Why there is a Different Type of Android OS?
We all know that every Android phone comes with the Android operating system and believe that every phone which has the same Android version have the same features. Well, this is wrong. It is true that two different phones may have the same version of Android, but it is not necessary that they both share similar features an option to receive updates.
If your friend has already upgraded to the latest version of Android and you are still waiting for an update, then it's mean that you have a different version of Android, which could be Android One or Android Go.
Here is a quick back story which will help you to understand the truth:
Google publishes the source code of its operating system which is called Android and update it with time
The mobile manufacturing companies do not use that code as they receive but make some adjustments. The example of such companies is HTC, Samsung, OEM, and Huawei.
They incorporate their features, applications, and wrap it into an excellent package. In short, they customize or manipulate the coding of the original Android and roll out it globally.
This is why HTC, Samsung, and Huawei has their application stores too and comes with their default applications which are not available on the official Google Play Store.
These types of modifications bring some challenges due to which the customers have to wait for the update, face security issues, and performance, etc. To minimize this issue, Google comes up with the idea of Android One and Android Go to give exclusive experience to all of the Android users.
What is Stock Android?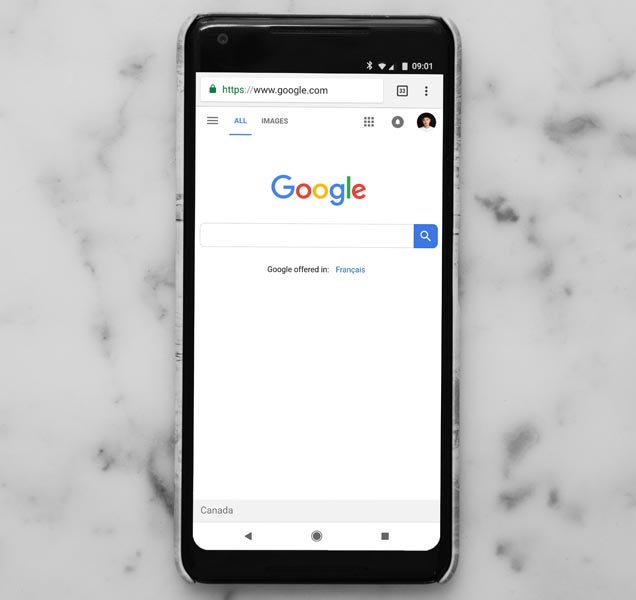 Stock Android is the purest version of Android. That's why sometimes it has been called as Pure Android. This is the version of Android which comes with zero modification, and you use it as it is. It is the fastest, the smoothest and better performance version of Android as there is no third party coding has been added, or OEMs modify its coding. One of the main advantages which make Stock Android unique from other versions of Android is as there are no unwanted apps. This version also uses lesser resources.
The Stock Android be found in Nexus phones and although the Pixel phones are using this version of Android. The other devices which come with the Stock Android version are Nexus and Google Pixel devices.
In Stock Android, you will get Individual System app updates, So, If any bug happened in your mobile can be easily solved within 2-5 Days. You don't have to wait for a month to get the patch from the manufacturer. Example- If any bug happened in the Camera app can be solved with a Playstore update. The updates are created and maintained by the Direct Google Android Engineers.
This is the basic version of Android which has been sent to OEMs. The OEMs modify this version of Android and add their overlays and layouts etc. This process makes the system slow and receives slow updates due to other manufacturers have to add some features.
Pros
Very fast in term of performance
Receive timely system updates
You can uninstall most of the apps
Better performance from all aspects
Smoother overall operating system
No unwanted apps come by default.
Cons
Bugs can come due to Forced Monthly updates. If you are Pixel user, you know some experience with issues like this. But it is Rare. You will get the Second update If it happens like this.
Updates are scheduled and could be delayed due to regular monthly updates.
It comes with some limited features compare with other Manufactures. But, it is more than enough, if you love Stock Android.
I like Stock Android due to its simplicity. It is fast and works fine on my Pixel. If you try this once, trust me, Custom Skin OS can't satisfy you. But this could not be the opinion of everyone. Until you are not using a device manufactures by Google, you do not need to use Stock Android, as it could create some performance problems. For a person who wants a simple, fast best in term of performance OS, then there is no better option than Stock Android.
What is Android One?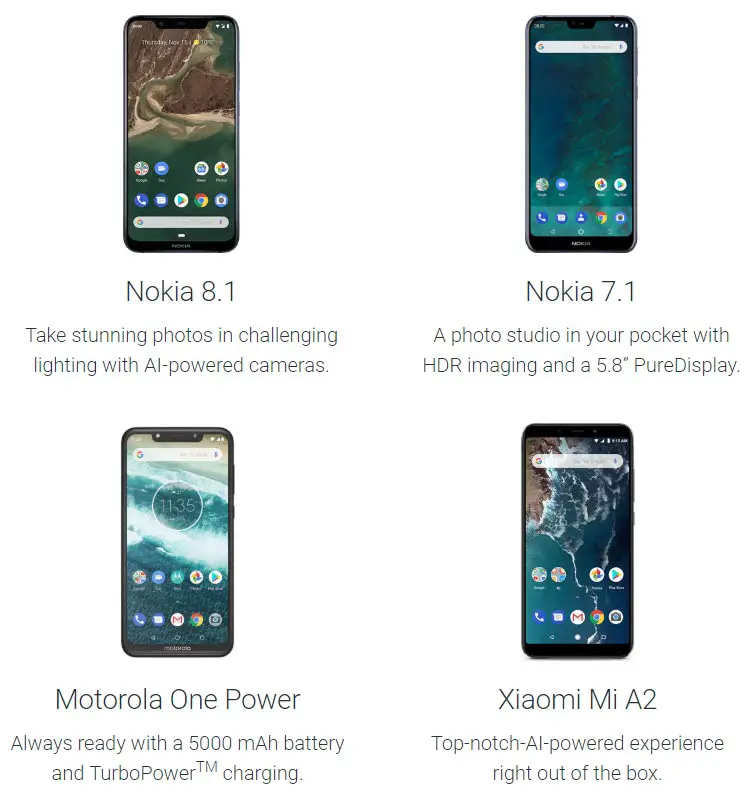 Android One was launched in 2014. It was started by Sundar Pichai to target the Indian market with low tier devices. Today, Android One is being used by more than one hundred devices worldwide. The one thing which made Android One famous in short time is the timely updates and security features from Google. Before Android One, it does usually take one year for non-Google device users to receive the Android updates. Android One has changed this trend, and now, non-Google devices also receive timely updates from Google.
Indian OEMs was the first one who uses the Android One. The famous names of Indian OEMs who use Android One are Karbonn, Micromax, and Spice, etc. Today, it has been expended to other OEMs too like Motorola, HTC and Nokia, etc.
The manufacturer works very close to Google to give the best experience to the users. This is why Android One has some outstanding features as compare to Stock Android.
Pros
Faster updates from Google compare with other Manufacturers like Samsung.
Integration with Google Lens
AI from Google for user experience
All Google Apps comes by default
Free storage with better performance
Cons
It is not available on AOSP; hence there could be limitations
It is still available on limited devices which are usually cheap
Sometimes, Manufacturers use cheap hardware
Android One phone is made from low-quality material
Some times compatibility issues can happen, due to the low quality of hardware technology.
Android One was indeed a good step by the current CEO of Google to give high-quality experience to the users who cannot buy the expensive mobiles. To make it a perfect OS, Google provides quick updates and security updates to the users. This is what makes Android One better as compare to other versions of Android. As this is one of the most used OS, so we cannot deny its popularity around the world.
What is a Custom Skin OS?
If you used Stock Android on all Manufacturers, they might lose market due to there is no unique features. So, Manufacturers add new Launcher like Skin on the Android to distinguish from other mobiles. Samsung's One UI, Xiaomi's MIUI and Huawei's EMUI are some examples in Custom Skin.
They add some features to enhance the Hardware, Sometimes it can work better, but most of the times, It degrades the overall performance. You can't Uninstall most of the System and Manufacturer forced apps. Those Manufacturer apps called Bloatware apps. Most of the users Root their mobile, because of this Bloatware and most of them don't like the Custom Skin OS.
Pros
Some extra features, like Gaming mode, are helpful.
Better Navigation features like Customized gestures
Enhanced Camera Modes like Food Mode, Nature Mode.
Cons
Consumes a lot of Resources compare with the Stock Android.
Poor Battery experience in Long term
Sometimes the UI feel laggy
What is Android Go?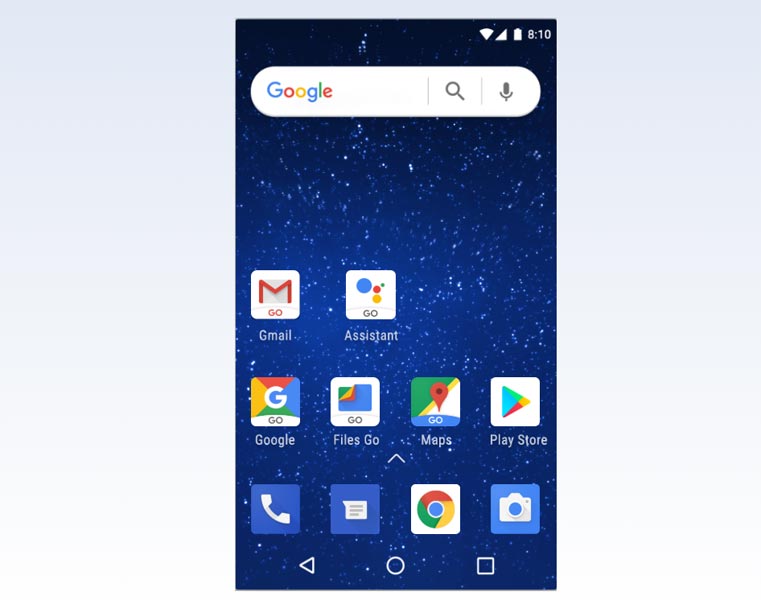 It won't be wrong if I call Android Go the new version of Android One. Like Android One, the Android Go has been designed for the low-end Android devices. It is also called Android Oreo but today it is named as Android Pie 9, and we are going to expect to see more name in future with every new update of Android. The main reason for launching Android Go is to keep a mobile phone with lesser storage and RAM in mind. Surprisingly it can be run on the mobile phone with only 1GB of less memory.
In this version of Android, Google has introduced the lower version of its applications and named it with the word "Go." Some of these apps are even available on Android One version. You can search these apps in the Google Play Store. Names of these apps are Gmail Go, YouTube Go, Maps Go, Google Assistant Go, and Files Go, etc.
Google claims that this version of Android uses 50% less space when it has been compared against the other Android like Android 9 Pie and Android 8 Oreo. This is because Google handles 50% smaller app sizes.
Pros
Designed for low-end devices
Works smoothly even with the device 1GB RAM
It is designed for mobiles with 8 GB of less storage
Go branded apps are speedy and bugs free
Saves mobile data up to 60%
It does have all the features including finding my device
Bring more room as compared to standard Android
Google Play store is protected in Android Go.
Cons
The limited number of features included
The Go apps come with limited features
Names of Android Go devices are not disclosed yet
Limited phones are using this operating system
This version also comes with built-in data server problems.
Android Go does not work on heavy applications, as Android One and Stock Android, but it is indeed a good step by Google to give high-quality experience to those who cannot afford expensive mobile phones. As it is still available on limited mobile phones, so we should wait for upcoming updates to for better user experience.
Conclusion
Every Android version has its features and limitations. It will not be fair if I call one of them better than other as we all have different needs when it comes to using a Smartphone. So, if you are looking for essential Android devices, go with Android Go, or if you want a High-End phone, then Google Pixel's Stock Android is a great option.
Source: Android One, Android Go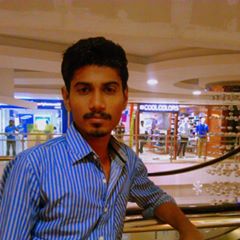 Selva Ganesh is the Chief Editor of this Blog. He is a Computer Science Engineer, An experienced Android Developer, Professional Blogger with 8+ years in the field. He completed courses about Google News Initiative. He runs Android Infotech which offers Problem Solving Articles around the globe.