You can find plenty of free images on lots of free websites based on your query. But most people always prefer Google Images. Due to Google is a search engine and is not an Image hosting site, Most of the Images are licensed, and they are limited with the search when it comes to image search. Google already removed some features that can be helpful to minimize our effort. But fortunately, using some additional methods and options, We can still get our desired Custom Size Images in Google Search. But, you still need to verify the image license whether it is available for free or not. The royalty completely depends on the Owner's permission.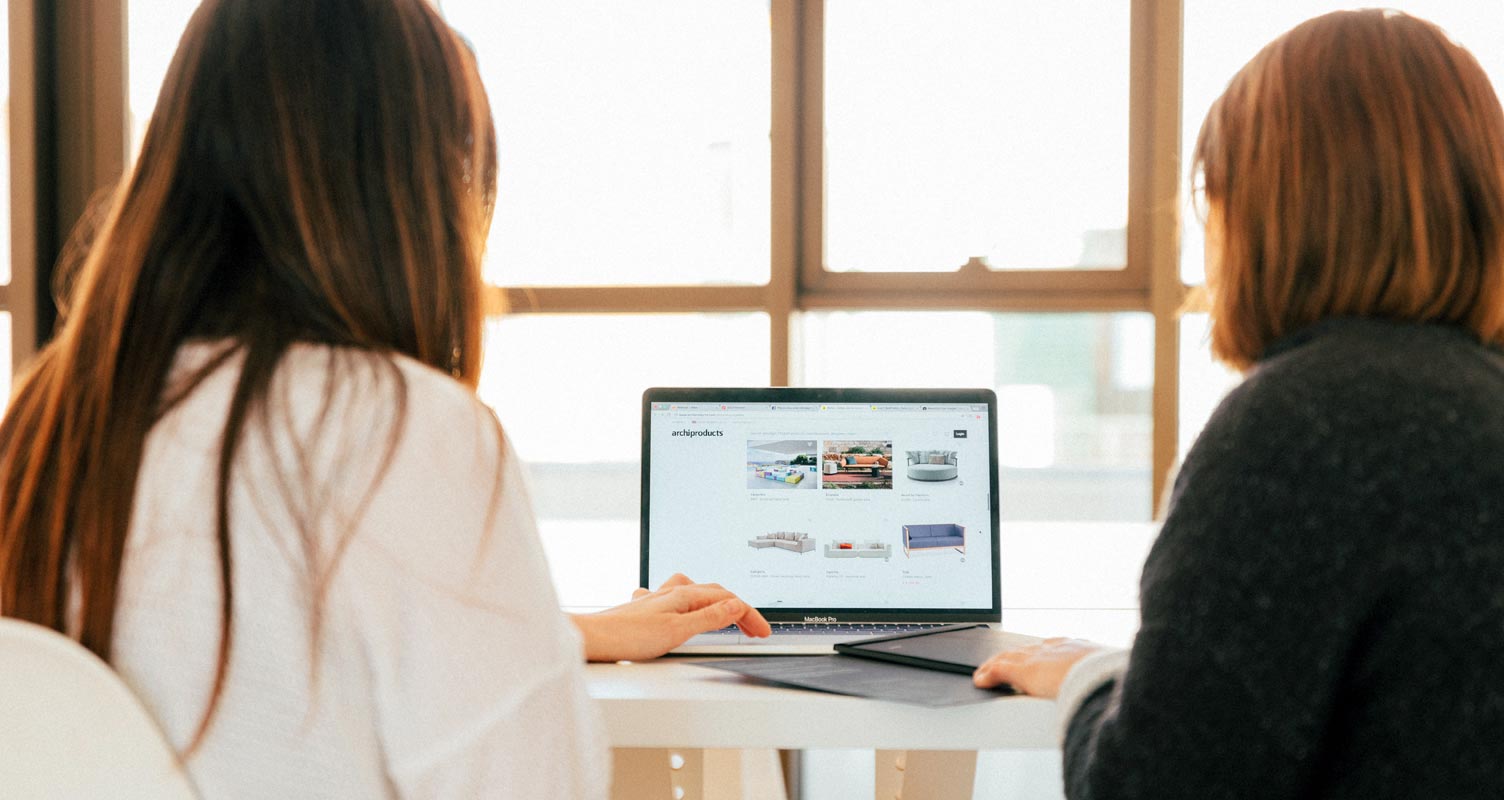 Google Image Search Restrictions
Previously, you could get on Google and search for specific images using various custom filters, but that's not possible right now as Google has removed most of those filters. It's been years now, and we're not sure those filters return to Google Image Search.
You may want to ask, "What are the removed filters?" well, this does not mean that there are no new filters to sort the images you search on Google; the issue is that the new available filters are not as useful and flexible as the older ones. This article lists all the filter options removed from Google Image Search and replaced the new ones.
What is Custom Google Image Search?
When we talk about custom image searches on Google, what does it imply? In the very basic term, custom Google image search refers to using multiple filter options to streamline the image results for your keyword.
For example, when you search for "Massage Chairs" on Google, Google'd provide you with hundreds of thousands of random results. Now, in a bid to narrow the results to "Massage Chairs" images that meet specific size requirements, you could use filters like Undersize, Larger than, and Exact size – but these filters are no more.
Full List of All Deleted Google Image Search Filters
All these filters used to be very important to many people, but they're no longer available; thus, you should be using the new filters.
But, on a quick note, a search query like this, "Cars after:2019-02-01 before:2021-10-31," will display results for car images published on the internet after 2019-02-01 and before 2021-10-31.
How to Do Google Custom Image Search like Resolution, MP Size Using the Commands?
Well, with the filters gone, there are ways to get still the exact type and size of images you want to download or view on Google. The following methods below explain it all.
1. Searching for Images of an Exact Size
Let's say you're searching for an image to use as Wallpaper for your PC or MacBook, and you need the image to match exactly the number of pixels you need for all sides; there are about 2 ways to achieve that.
Method One: URL Parameter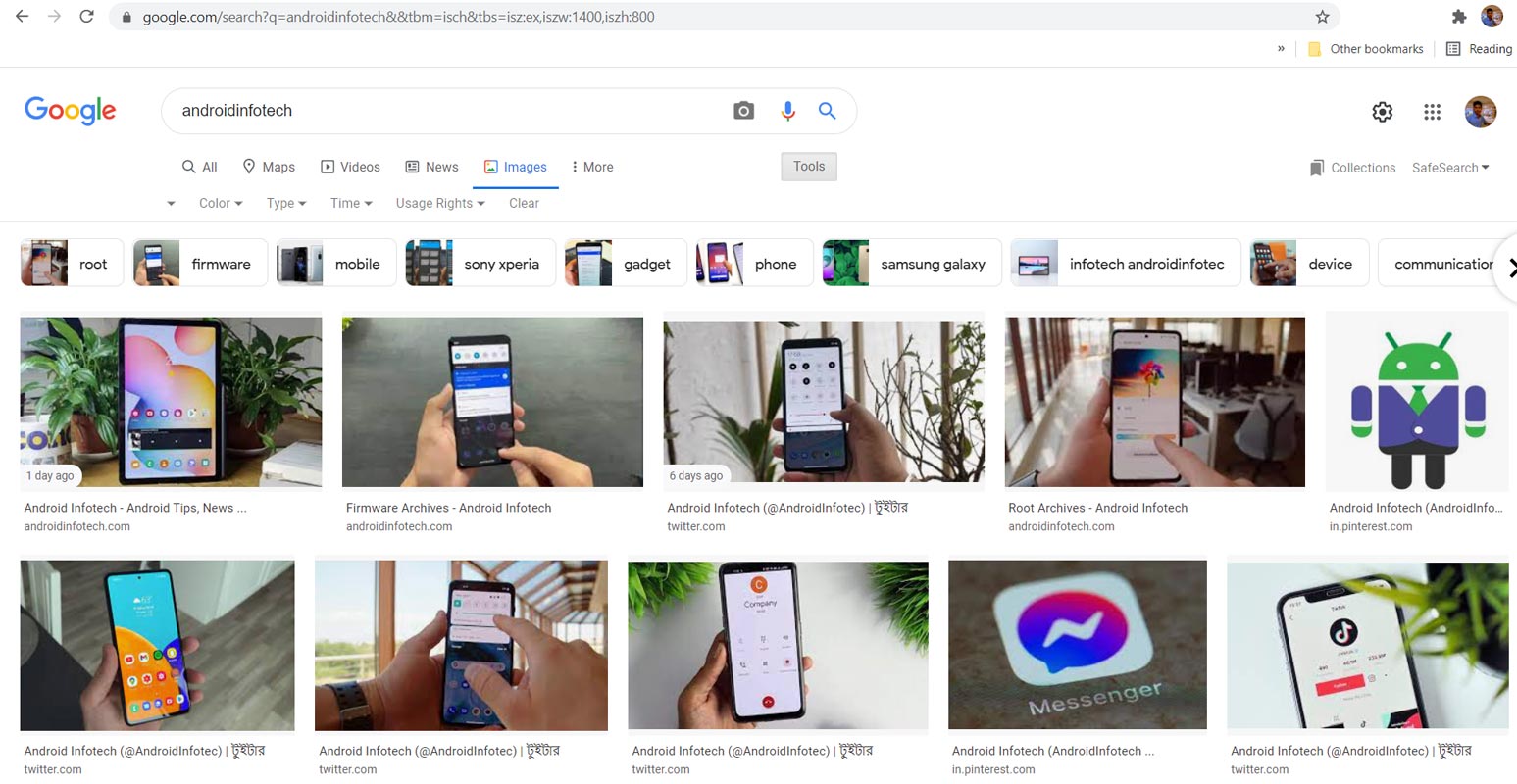 Here's the trick, go ahead and search for any image on Google using your keyword. Once the image results appear, add this query to the URL on your browser's address bar and hit the ENTER key to reload the page.
URL to add: https://www.google.com/search?tbm=isch&q=YOURQUERY&&tbs=isz:ex,iszw:1200,iszh:1200
In the "YOUR QUERY," Replace with your own search word. The query above means to get images with 1800 pixels (width) and 1200 pixels (height) for your keyword. You can actually replace the numbers with your choice W and H dimensions.
Method Two: Add the Image Sizes to Your Query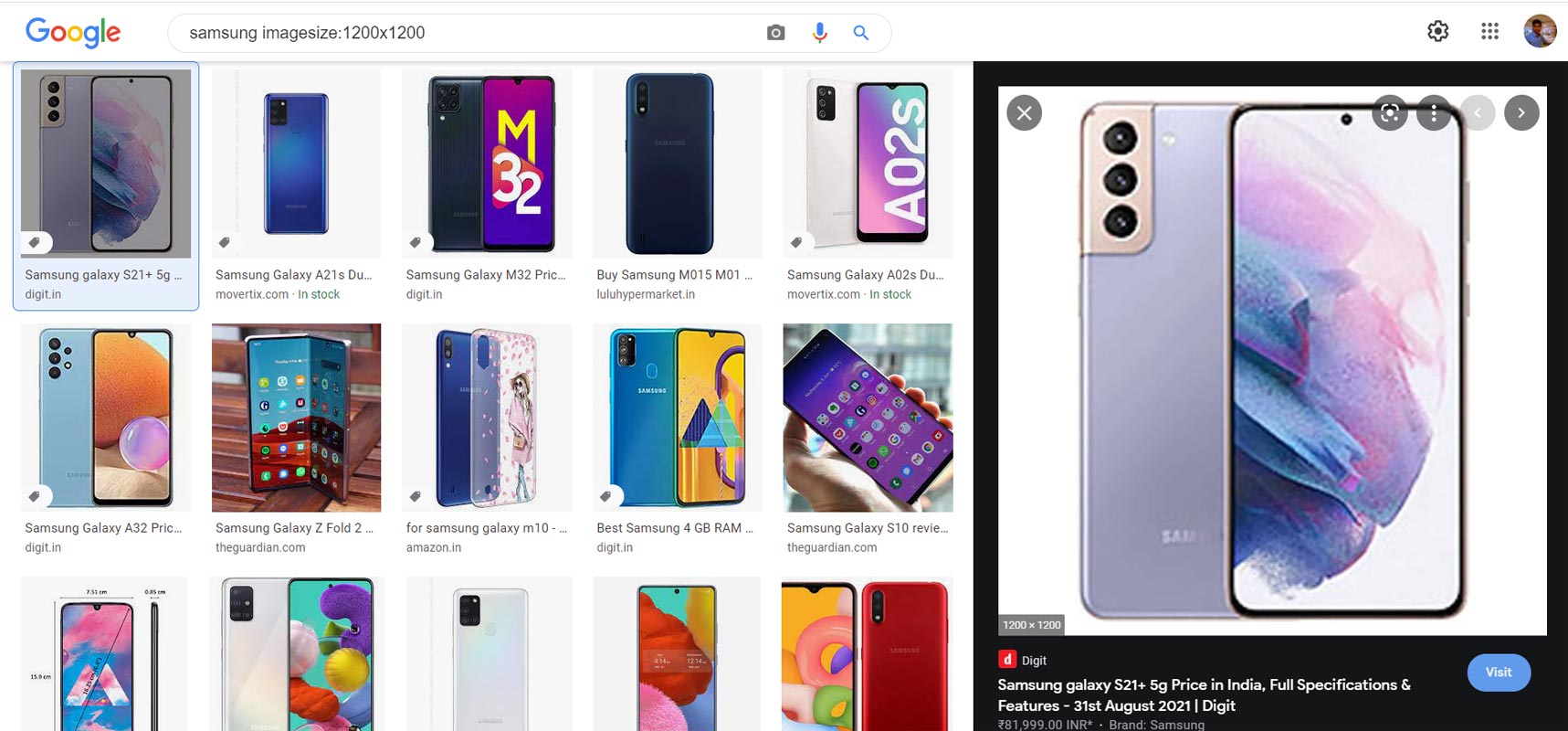 Another way to do this is by adding the image size to your search query. This method is quite easier to try out.
For example, you're looking for an image of "Android" with 300 pixels width and 300 pixels height, here's how to do it.
Search for "Android" on Google Image Search, and add imagesize:300×300, so your search query would now look like this – Android imagesize:300×300.
You can always change the dimensions to any numbers depending on the size of images you want to view for your keyword.
2. Lookup Images Larger than a Particular Size
Let's say you're searching for high-res images – you don't have a particular size in mind, but you don't want images below a particular size; here's how to do it.
Method One: Tweak the Image Search Result URL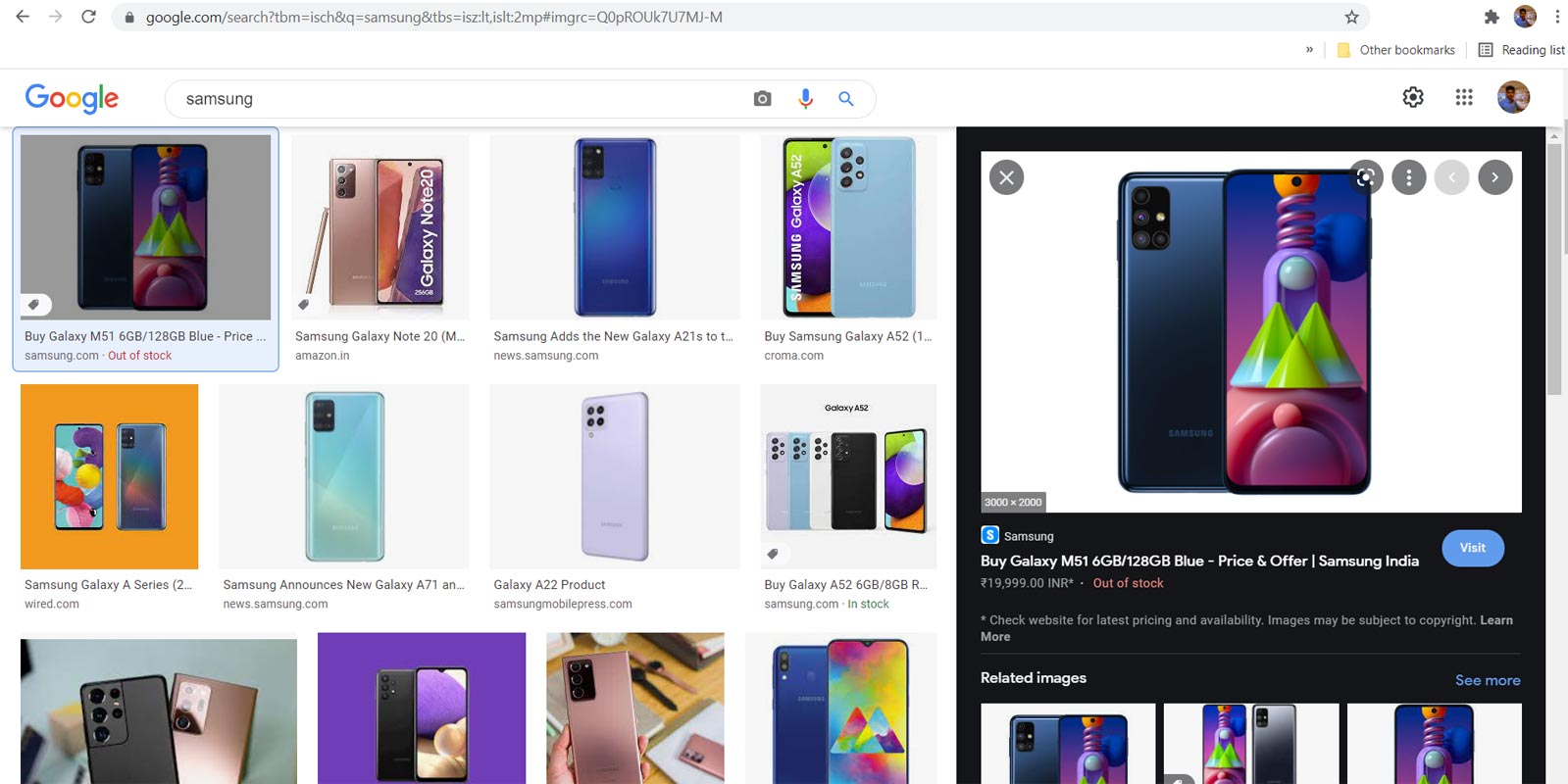 Just as we did above, you have to first search for the image on Google, and when the results appear, copy the query below and append it to the URL on your browser's address bar, and then reload the page by hitting the ENTER key.
URL to add: https://www.google.com/search?tbm=isch&q=YOURQUERY&tbs=isz:lt,islt:2mp
This query means that you want Google to show you images that are not less than 2MP quality for your keyword. You can replace the 2MP with 5MP, 10MP, 20MP, or any megapixels size of your choice.
Method Two: Use Advanced Image Search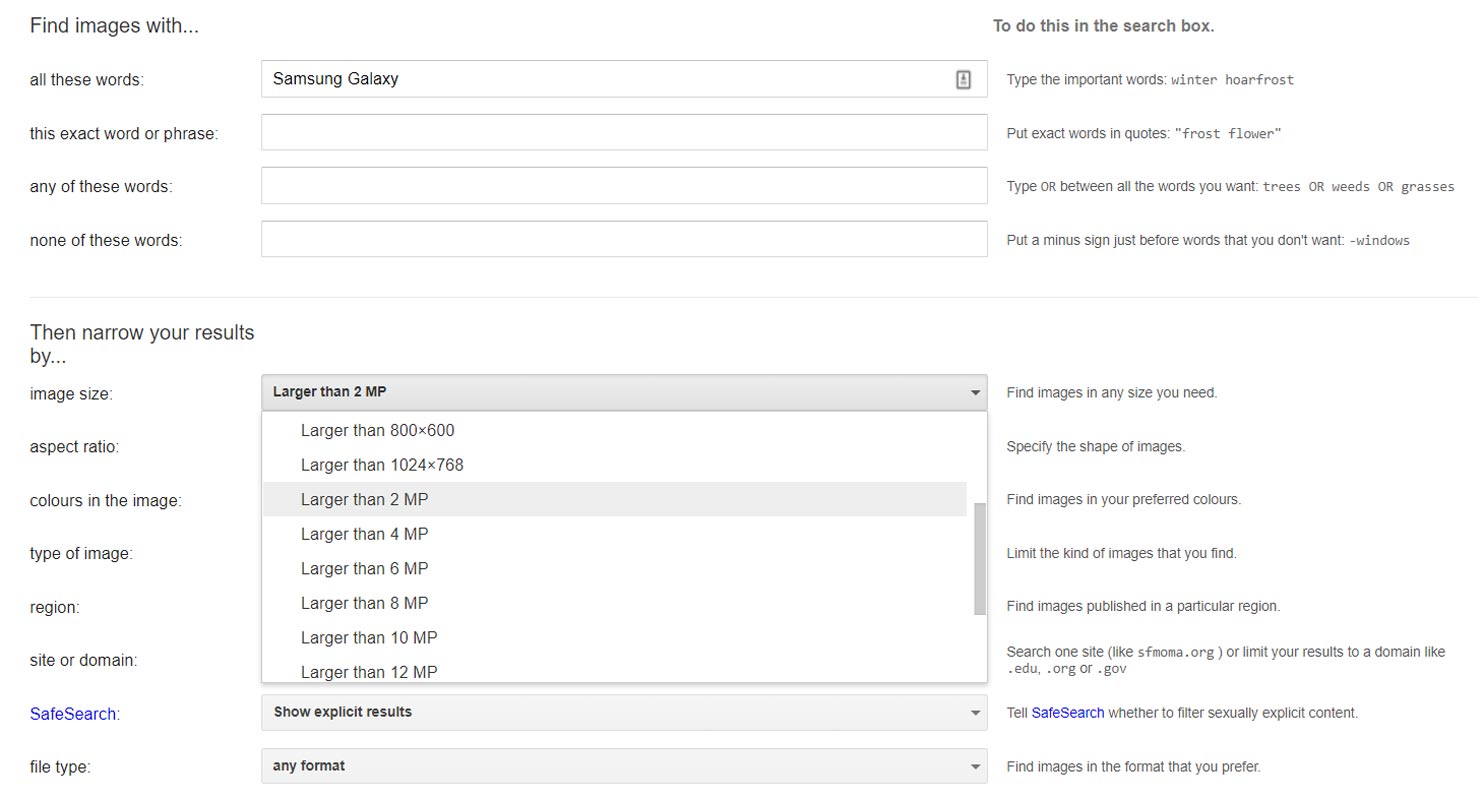 Google has an "Advanced Image Search" tool available at https://www.google.com/advanced_image_search. Load the URL on your browser and enter the details for your next image search.
The main options to choose size, format, and aspect ratio for images are available under the "…narrow your results…" section. With this Advanced Image Search tool, you can find the exact type and size of images you want to view for any keyword. It pretty much provides all the deleted filters and tools you used to explore on Google Image Search.
What About Other Missing Filter Options and Parameters?
It appears like Google wants everybody to use its Advanced Image Search tool for precise image searches. The tool is pretty "Advanced," as the name says, and it contains all those filter options you want to explore.
Another way to get back those missing parameters is by using Chrome extensions meant for image search. Interestingly, these extensions are free to install, and they provide advanced image search options.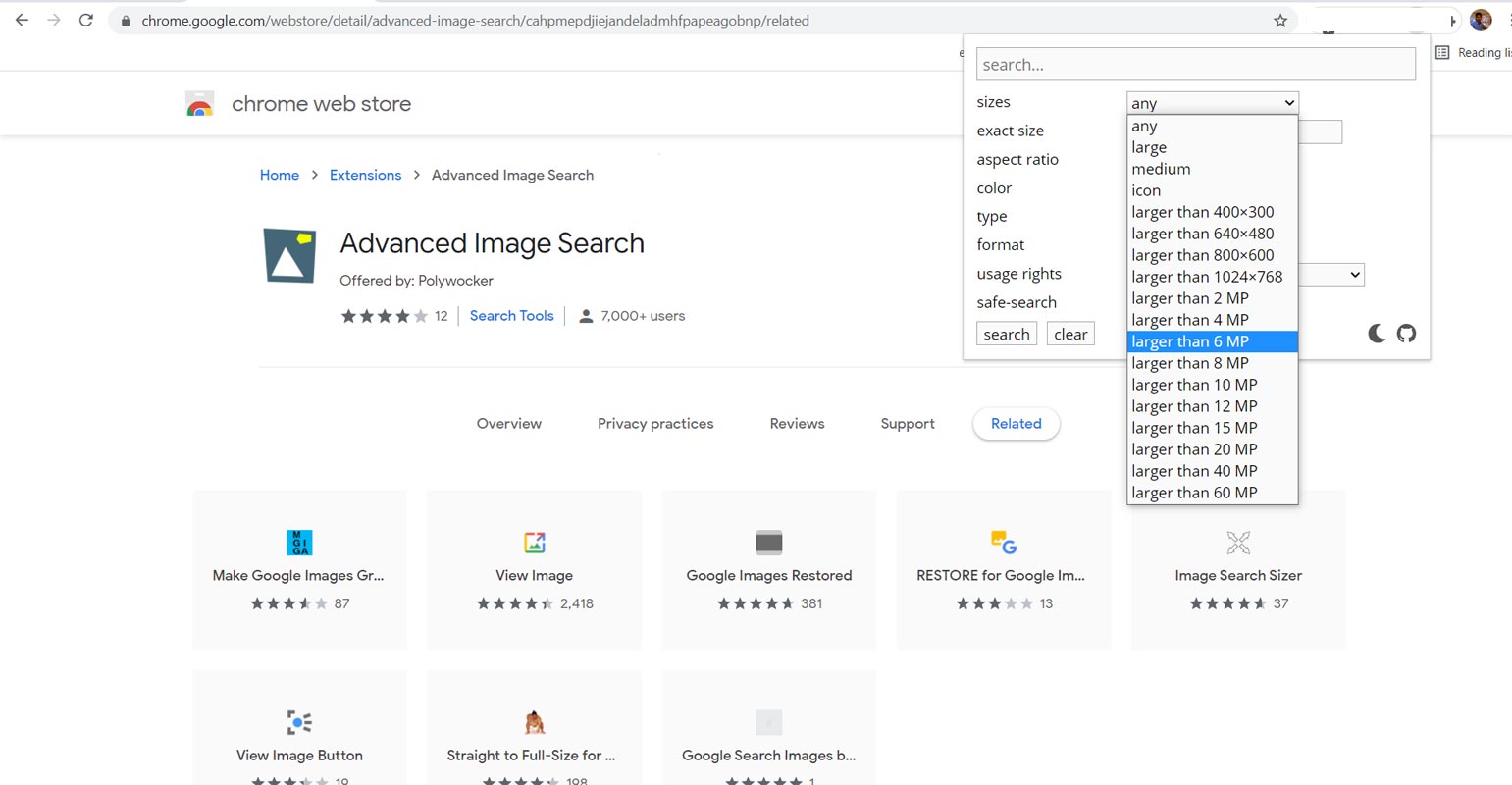 If you'd prefer the Chrome extension method, the extension's name to install is Advanced Image Search.
But, instead of installing this tool, it'd be better to bookmark the Advanced Image Search site, so you can easily visit it whenever you need to search for images precisely.
Conclusion
Google is not restricted this much in the old days. Because of Image ownership issues and maintenance, Google has to do this kind of restriction. But, Still, Reverse Image search and other features are available. Obviously, we may not be seeing those old image search parameters reappear on Google Image search; thus, these practical methods are how to get what you're looking for. Using the "Image size: Value" option is probably the simplest, but when you're also looking out images of a particular format and color, the Advanced Image Search tool is what you need. Hopefully, this article has explained what you need to know about looking up images on Google; however, if there's still something you'd want to get clarified on, kindly drop a comment below.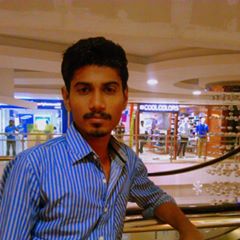 Selva Ganesh is the Chief Editor of this Blog. He is a Computer Science Engineer, An experienced Android Developer, Professional Blogger with 8+ years in the field. He completed courses about Google News Initiative. He runs Android Infotech which offers Problem Solving Articles around the globe.