Spotify's latest offering, Spotify Jam, represents a paradigm shift in group music consumption. With the capacity to host Spotify Jam for up to 32 individuals in real-time listening sessions, this groundbreaking feature enables collaborative playlist curation and personalized music suggestions based on each participant's unique preferences. This inclusive experience caters to both free users and Premium subscribers, ensuring that everyone can partake in this innovative way of enjoying music. Whether immersed in electronic dance beats or serenaded by soulful ballads, Spotify Jam transcends the conventional boundaries of solo listening, fostering a sense of collective harmony among music enthusiasts. Its arrival signals a transformative era, where shared playlists and synchronized sessions redefine our musical encounters, reminding us that unity thrives in the world of sound.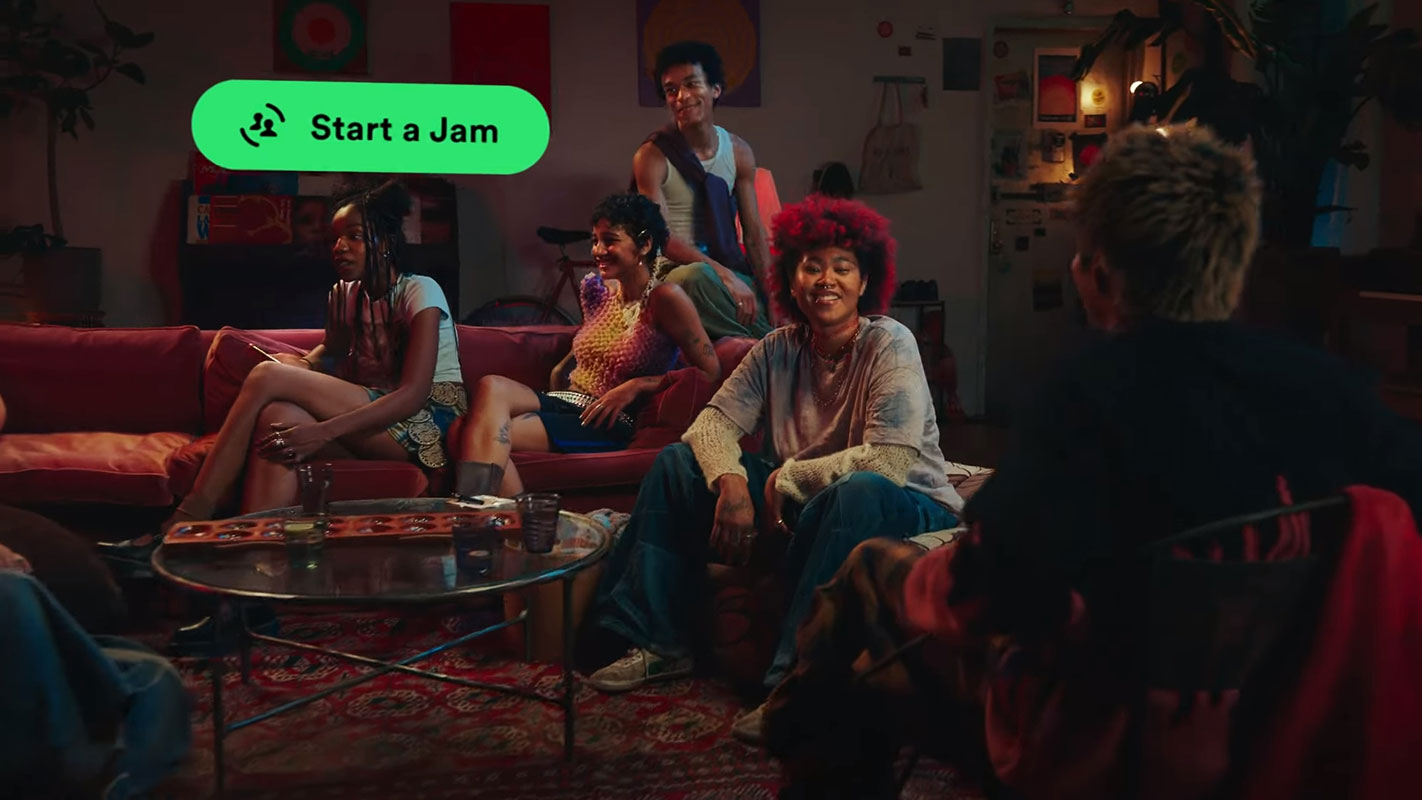 Spotify Jam with 32 Friends
Spotify Jam marks a groundbreaking leap in communal music listening. Introduced by Spotify, this innovative feature allows up to 32 users to synchronize their listening experiences in real time. Participants can collaboratively curate playlists and receive tailored music recommendations based on individual preferences. What sets this apart is its accessibility, catering to both free users and Premium subscribers. It transcends the traditional solitary music consumption, creating a shared auditory landscape where diverse tastes converge seamlessly. Whether you're into energetic beats or soulful melodies, Spotify Jam promises an immersive, inclusive experience. It's a testament to how technology can unite people through the universal language of music, heralding a new era in collective sonic enjoyment.
Free vs. Premium: Who Gets to Play DJ?
Spotify Jam is inclusive, extending its invitation to free and Premium account holders. However, the role of host, initiating and inviting participants, is reserved exclusively for Spotify Premium subscribers, with plans starting at $5.99.
Orchestrating the Jam Session
Premium hosts have the power to curate the experience. They can manage the guest list, dictate the track order, and even remove songs from the lineup if they don't hit the right note. Moreover, hosts can activate guest controls, allowing others to alter the playlist.
Navigating the Melody: How to Start a Jam Session
Initiating a Jam session is as simple as a few clicks. Premium subscribers can click the speaker icon or the three-dot menu within a playlist and select the "Start a Jam" option. This opens the door to a musical rendezvous.
How to use Spotify Jam with 32 Friends?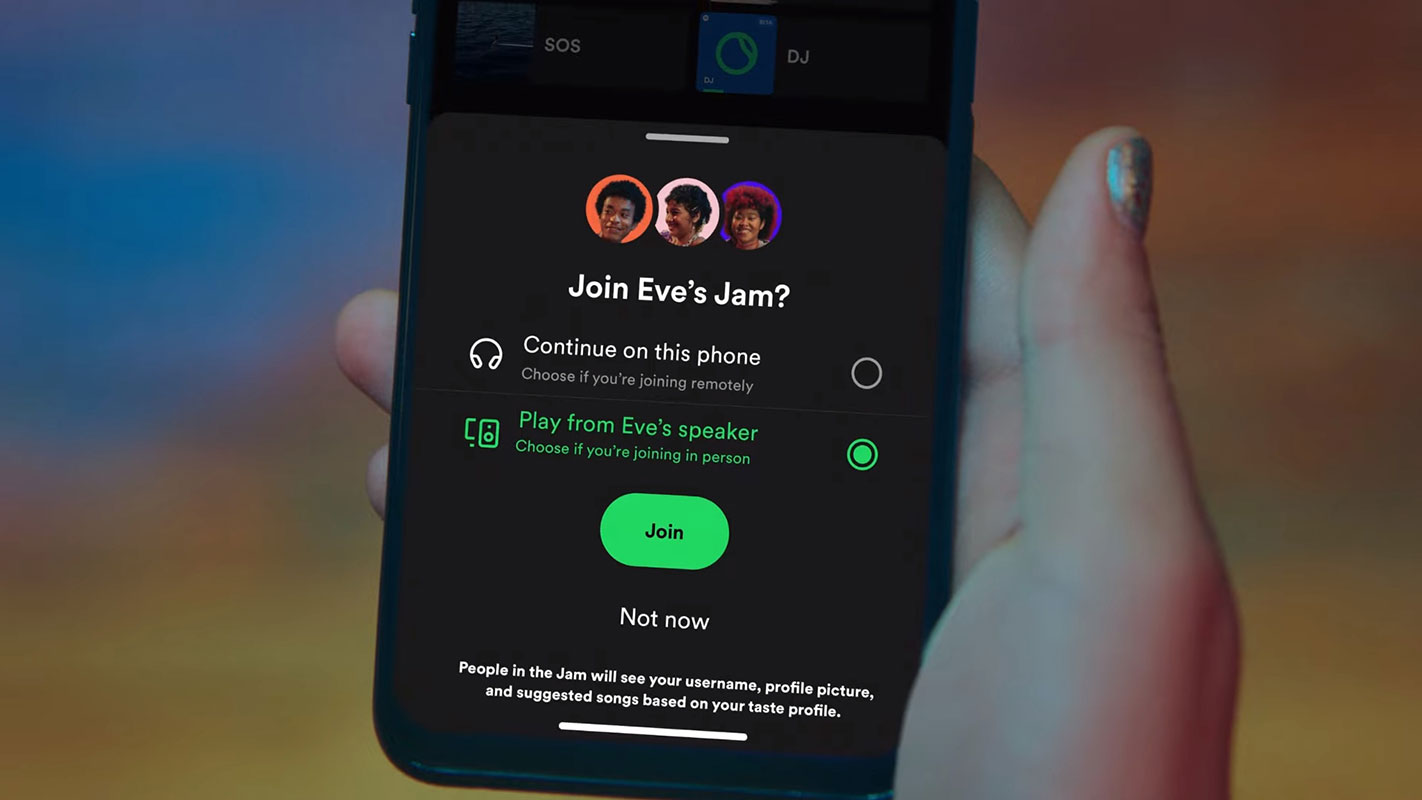 Syncing Devices for Seamless Entry
Hosts can invite others by tapping their Bluetooth-enabled devices together. This feature, available on compatible phones and tablets, provides a quick and convenient entry into the Jam session.
QR Codes and Direct Links: Streamlined Access
Alternatively, hosts can generate a QR code or share a direct link, ensuring no one misses a beat.
Sharing a Connection: Automatic Entry
For those sharing a Wi-Fi network, entering a Jam session is effortless. Users who open the Spotify app will receive a prompt from joining an active Jam.
The Echoing Impact: Spotify Jam and its Significance
The introduction of Spotify Jam marks a pivotal moment in the evolution of group music listening. While third-party services have dabbled in collaborative playlists, Spotify's native offering promises an unparalleled experience. This development also lends weight to Spotify's recent Premium subscription price hike, hinting at more exciting features.
FAQs
Can free Spotify users host a Jam session?
No, only Premium subscribers have the privilege of hosting Jam sessions.
How many participants can join a Jam session?
Up to 32 Spotify users can participate in a Jam session.
Can guests alter the playlist during a Jam session?
Hosts can activate guest controls, allowing participants to remove tracks or change the song order.
What if I don't have a Bluetooth-enabled device?
Hosts can also invite participants by generating a QR code or sharing a direct link.
Will Spotify Jam be available on all devices?
Spotify Jam can be accessed on various devices, including phones, tablets, and computers.
Wrap Up
With the advent of Spotify Jam, music ceases to be a solitary endeavor. Instead, it evolves into a communal voyage, seamlessly blending an array of musical preferences into a harmonious symphony. As this groundbreaking feature unfurls its wings on the global stage on September 26th, music enthusiasts worldwide are poised to embark on a transformative journey of synchronized listening. No longer confined to personal playlists, Spotify Jam orchestrates a shared sonic adventure, allowing disparate tastes to converge and merge into a collective auditory experience.
It bridges gaps and dissolves boundaries, forging connections through the universal language of music. Whether reveling in the pulsating beats of electronic dance or surrendering to the soulful croonings of ballads, Spotify Jam promises to create a dynamic, immersive soundscape that transcends the limitations of individual auditory realms. This date heralds the dawn of a new epoch, where music binds us in a global symphony, reminding us that in melody, we find unity.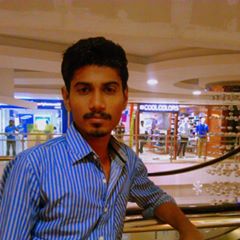 Selva Ganesh is the Chief Editor of this Blog. He is a Computer Science Engineer, An experienced Android Developer, Professional Blogger with 8+ years in the field. He completed courses about Google News Initiative. He runs Android Infotech which offers Problem Solving Articles around the globe.