While it is real and apparent that Android is wide open to lots of vulnerabilities or other forms of malicious attacks, it is still the most flexible mobile OS. If you've never used an Android smartphone all the while you've been using smartphones, then, you're missing out. Yep, It is also available in iPhone, but in Android, it is pretty customizable.
Yeah, you're missing out. Hope you know you could run two apps at the same time on an Android smartphone? Well, that is what you'll get to know after reading this article. There are ways to run multiple tasks at the same time on an Android device.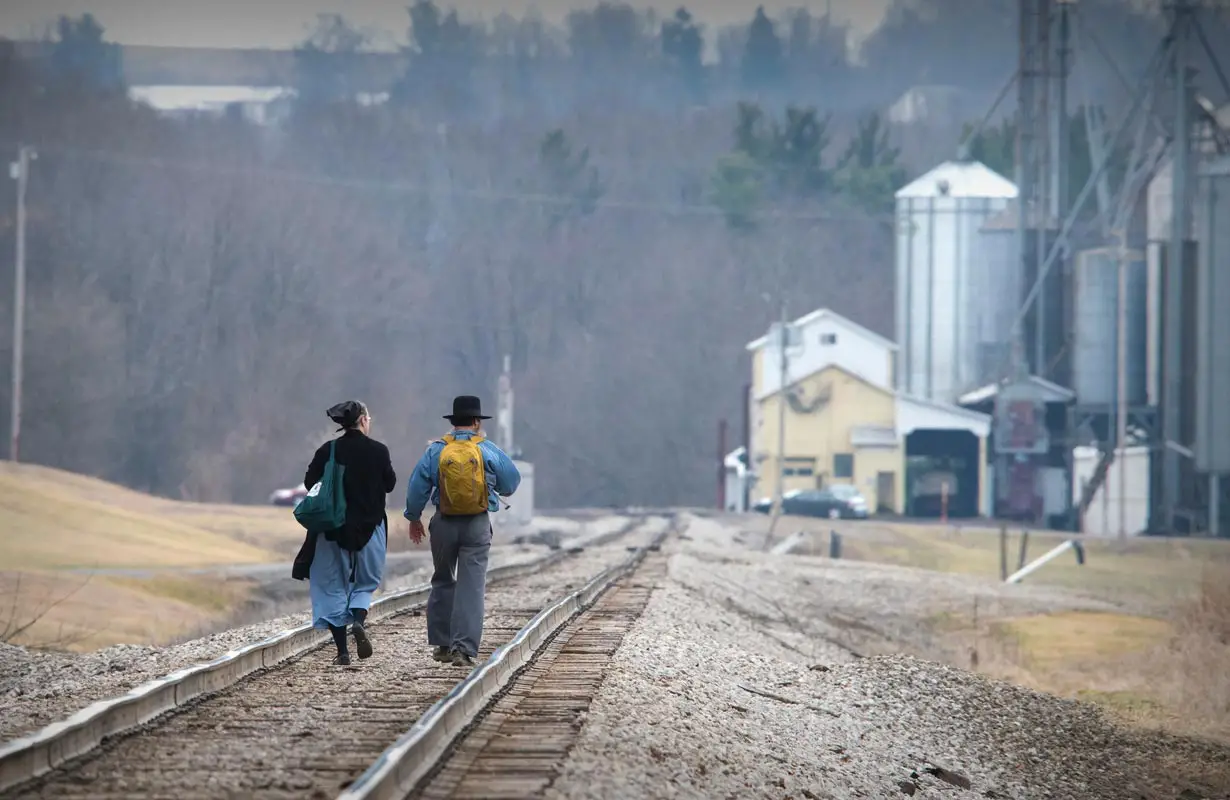 Note– For Android smartphones running on any of the recent versions such as Nougat (7.0), Oreo (8.0), or Pie (9.0), users don't need apps to split their screen and run two or more apps at the same time. On the other hand, users of older versions can use some mobile utility apps to perform this action.
Using two apps on the Android- Default Method
There is a native way to achieve this if you use a high-end Android device running on any of the recent Android versions.
So, first, here's the natural method to split screen on Android devices. This applies to all Android smartphone models on Android version- 7.0, 8.0, or 9.0.
Hold down the intents button/icon – recent apps button
Get your Android device, launch any app you want, minimize the app and launch another app. You can keep launching as many more apps as you wish.
Now, to split your screen and access more than one at the same time here is what to do;
Hold down the "recent apps" button; the location of this button differs depending on the device model or manufacturer.
Note: you must open more than one app before the "split screen" feature on Android will work. Also, some app does not support split screen. Some of these apps include gaming apps (most especially).
Additionally, you can activate the split screen mode while on your device Home screen or App menu; that means, an app must be open before you can split your screen to access other apps you had previously opened.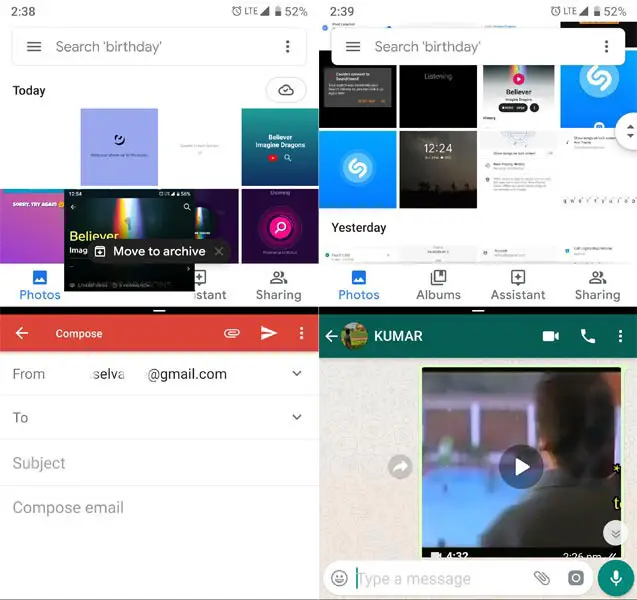 You can tap the minimize button to get back to your home screen. But, when you open another app, it will automatically launch on the under module in split screen mode. Unless you deactivate this mode, all apps you open will start under.
The app on top cannot be replaced; this is because it was the first app you were handling when you held down "Recent Apps" buttons. It will remain on the top module while other apps you open will be on the module below.
You could even swap between the apps you've recently opened. That's quite fun anyway.
Activating split screen on Android devices using this method above requires the smartphone runs on any of the recent Android OS versions.
Already, on older devices, when you long press the "home" button or "minimize" button, it shows you your recent apps. Hence, this method won't work out on such devices; you need an app!
Guess you may be optimistic to know how you can deactivate or go out of the split screen to the normal full-screen mode. So, here is how to exit when you've gotten enough.
There are two ways to do this;
Tap and hold on the "recent apps" button for some seconds as you did earlier when trying to exploit the split screen mode. Your screen will return to normal.

Drag the separator/bar in-between the two apps down to the button to dismiss the split mode.
Drag and drop files between two apps are not supported in Android pie; this feature will be available in Android Q.
Activating multi-apps on Samsung Galaxy devices
Samsung users have been enjoying this feature since a very long ago before Google added the support on Nougat and later version releases.
To activate this, got to settings>>> display >>> tick "multi-window" >>> tap Ok
Now, swipe your screen to the left and choose any app you want to open. Swipe again and choose another app, the second app will open in another module below the first one.
As usual, you can drag the separator up or down to make an app occupy more space than the other.
However, users of Samsung devices running on nougat Android version or above can still use the first method to activate the split mode.
Using Mobile Apps
Unfortunately, tons of smartphones do not support native splitting of their screen display. This is because they run on older Android versions or the manufacturer did not add the feature as Samsung did.
Do you want to operate two apps at one? Some mobiles apps will let you do that if your device doesn't have the support.
These apps are intuitive, lightweight and compatible with some older Android versions. You'll get them at Google play store which means that they are tested/verified by Google.
Note: when using an app to split your screen and run two applications a once, there are quite some limitations you'll face due to an older version.
Here are some apps for this action.
Multi Window
With this app, you can run up to 5 different applications once on an Android smartphone. One of the great amazement of this app is that it works on smartphones and tablets. Also, it supports Android version 4.0.3 and upwards.
So, naturally, this app will work on so many Android devices. Now, you can smoothly run multiple apps as much as you want.
How to use:
Download and install this app from Google play store

Launch the app.

Select a theme; look to the left end of your screen, you will notice a small arrow, drag the pointer to and start access multiple apps immediately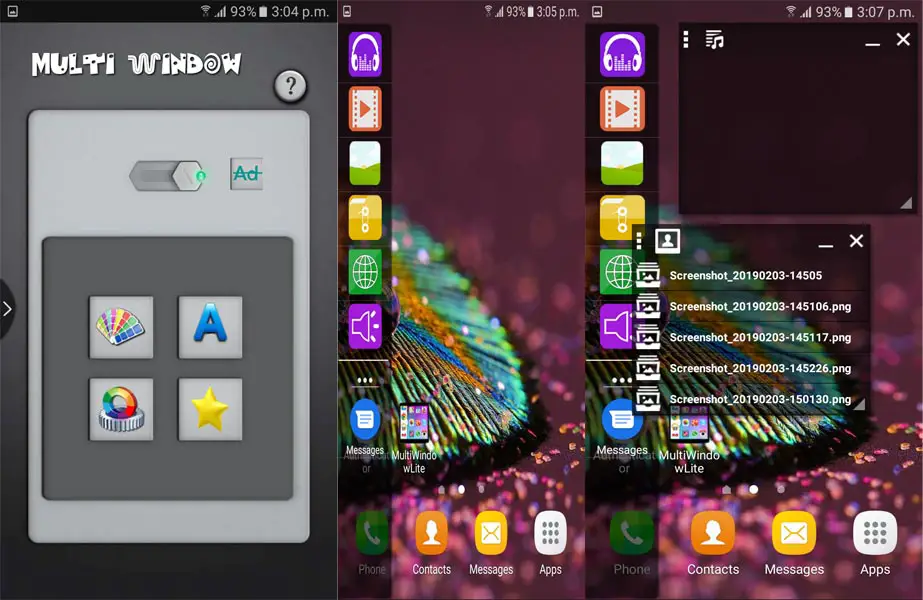 Also, you can add apps to the sidebar (only apps marked as favorites can be accessed and used in multiple window style when you're using this app.
There is no side effect of using this app. However, it displays ads, so, you should expect to see some ads running the app. But, the app only shows at the background, they don't obstruct what you are doing.
Hence, this an excellent option for anyone seeking for an app to use two apps at the same time. Also, the app is available for free with no hidden charges attached. Enjoy!
Overlays: Floating Apps Automation (Supports all versions)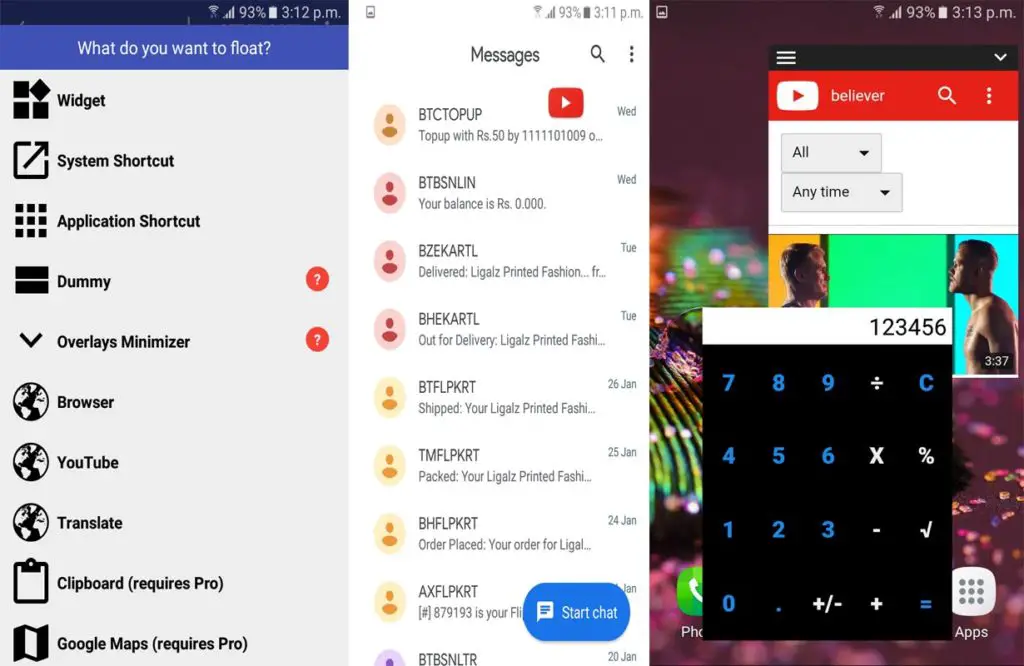 This app work more than, split screen, you can use the apps like picture-in-picture. It can easily overlay on the other apps, and also you can hide them completely or using the icon. This app supports all versions from 4.3+.
You can't use all the Installed app in this overlay feature. The app is Limited to some Specific In-Built apps.
You can get this app in the Play store.
Floating Apps Free (multitasking)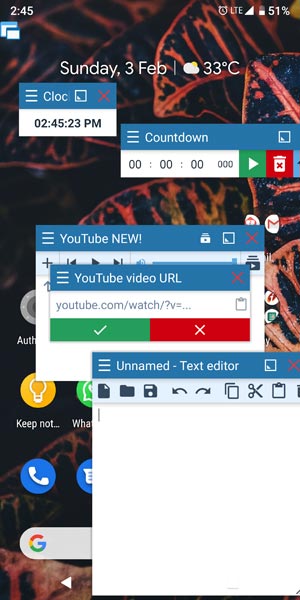 This app allows you to use Up to five apps at a time. But this app is also limited to some specific apps. When you choose your desired apps, It will embed the app into its emulator. So, the original app and this embed app may look different.
Split-screen creator (Doesn't support Samsung/Xiaomi devices)
This is another interesting app for splitting your Android device screen so you can make use of two apps at once. It works perfectly for this cause. But, It may not be able to run on your old Android device because of certain reasons.
The Split-screen creator only supports Android devices running on nougat or other later versions. On the other hand, why install an app for split screen on Android Nougat while you can do it natively? Well, it all depends on choice.
For users who want to use this app, here is how to use it;
Download/install the app from Google play store, it is a lightweight app – Link

Now, on supported launchers, go to widgets & shortcuts, find the Split-screen creator widget on the list. Add a new shortcut to the home launcher then select two apps/shortcuts

Done, you can choose the two apps you want to run at the same time.
Unfortunately, this app is not compatible with MIUI which is typically associated with Xiaomi devices. It means that Xiaomi users cannot access or use this app on their Android device. That's quite unfortunate, but maybe they should try the steps on our first method since the device is on Android Nougat.
Also, some app combinations don't work well on this app, you may have to create another shortcut and select the apps in a different order.
Inclusively, here are the other features of this app
Launch the same app in two different windows

Supports other app shortcuts

3rd party icon packs support

Hide icon from home launcher
Install and enjoy
Multi Window: Split Screen
Here is another resourceful app for splitting apps on your Android device. It has support for Android version 3.0 upwards; apparently, it will run on all Android smartphones and tablets.
This mobile app for using two apps at once works just the first one listed in this section; its features are somewhat impressive and it is intuitive.
Just as expected, it runs ads on the background but it is a totally free app for all Android users. The steps to install and use this app are the same as the ones above. However, there are some of its features;
Always on top of all apps

You can re-size apps

Minimize and Swap Right to maximize

Multi-Tasking: Use two or more than apps in a single screen
You can also use System Apps Shortcut in the sidebar. Get this app in the Play Store.
What more?
These are the best ways to run more than one application on Android devices. For supported devices, the first method is the best instead of apps.
For Samsung Galaxy devices with multi-window support, the second method is best to explore instead of apps.
The, for users of old mobile, the apps listed here are quite helpful if you want to run multiple apps on your device.
Note: This does not work for running to two accounts with one app and for example; running two Facebook accounts, or WhatsApp accounts, or any other social media.
This is just for running two different apps at once.
Hey, If you have any other apps suggestion, comment below, we will look into that.:)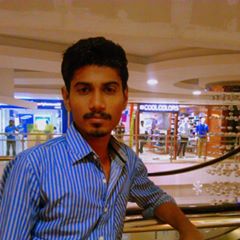 Selva Ganesh is a Chief Editor of this Blog. He is a Computer Engineer, An experienced Android Developer, Professional Blogger & addicted Web Developer. He runs Android Infotech which offers Problem Solving Articles around the globe.