Samsung and Microsoft always work together to make a bridge between their mobile and PC. Even if Samsung is work on Android OS in its mobiles. Samsung always tries to heavily customize the skin to look like it is a different OS. The connection between PC and mobiles is evolving. Instead of moving and copy the files between the devices, Now you can do a lot of things like accessing a direct gallery, make calls like that. The new feature in Microsoft Your Phone app goes one step further. Now you can access your Samsung Galaxy mobile installed apps. I mean, you can control everything in the app. It will act as a mirror, but you are using a real app. This feature does not support not all mobiles. I will mention the supportive mobiles below.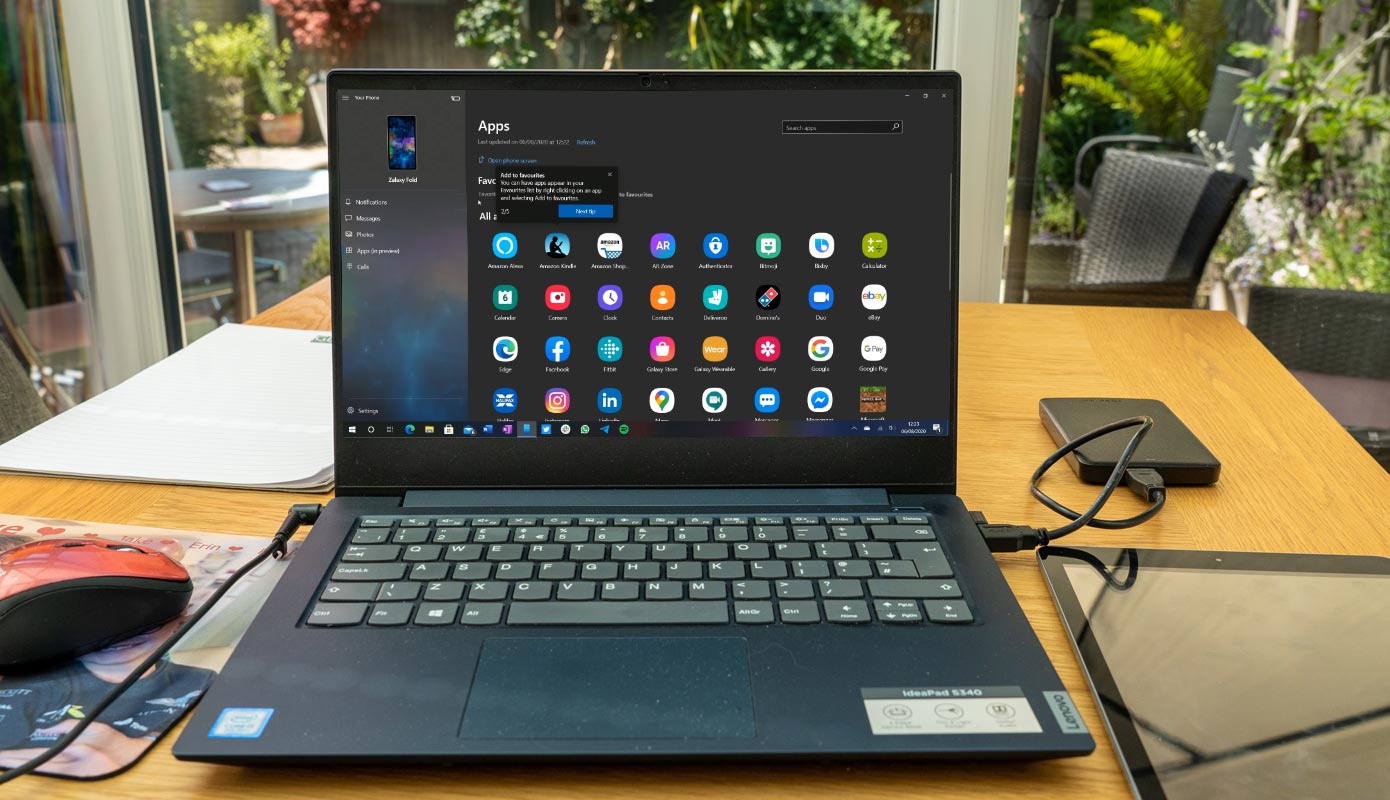 What is Your Phone App?
Microsoft developed Your Phone app for connecting Android devices to Windows 10 devices. On May 7, 2018, Microsoft launched this app to see pictures on Windows devices and send SMS messages. With later updates, on February 20, 2020, users can receive the calls directly on their Windows devices using the Bluetooth. Now with the latest rolled out feature, only selected Samsung galaxy users can open one app on Windows 10 device that will be enhanced to multiple apps very soon.
The Samsung Galaxy series users get ready to enjoy their apps running on the big screen of their PC or laptop using the already available link to windows feature. If you have selected the Samsung Galaxy series phone, then you can enjoy this feature using Microsoft Your Phone app. With this rolled out the feature, Samsung Galaxy users will be able to see pictures, make or receive audio calls, check messages, or notifications on their Windows 10 PC. Initially, this feature will be limited to open only one app, but later this year, you will be able to open multiple apps simultaneously on their Windows 10 PC. There are some ways, like making calls using the Chrome Browser. But the features are limited compare with the collaboration between Samsung and Microsoft.
Which Samsung Galaxy phones support Your Phone Direct app access in PC?
Your Phone App mirrors your phone screen to Windows 10 devices, but it is limited to those phones which have a 'Link to Windows' option. Below is the list of Samsung Galaxy phones supporting Link to Windows option to run Android apps on Windows screen.
Samsung Galaxy A (8s, 30s, 31, 40, 41, 50, 50s, 51, 60, 70, 70s, 71, 71 5G, 80, 90s, 90 5G)
Samsung Galaxy Note (9, 10, 10+, 10 Lite, 20, 20 Ultra)
Samsung Galaxy S (9, 9+, 10, 10+, 10 Lite, 10e, 20, 20+, 20 Ultra)
How to set up Your Phone App to access Samsung Galaxy Direct apps in your Windows PC?
Your Phone App is pre-loaded on Windows 10. You have to install Your Phone Companion on your phone set, which you can download from the play store. Download and install the companion on your mobile phone. On the Windows device, open your phone app, select the phone type, and scan the QR code on your window screen by your mobile.
Your Phone App needs to fulfill some requirements both from the phone system and from a Windows device. These are:
Android. For Your Phone App, you need Android 9.0 or higher with the option 'Link to Windows.' The list of such mobile handsets has given above.
Windows.  For use, the new rollout feature, your Windows device must have installed May 10, 2019 updates or later.
Your Android phone and Windows device must be, connected to the same Wi-Fi network.
Requirements
Your phone's Android version should be Nougat and above (7.0+). To use Direct apps feature, most of the Samsung Galaxy mobiles need 9.0+ versions.
You should have Windows 10 insider build. In the future, they may roll out the feature in the stable version.
Both mobile and your PC Should be connected in the Same Wi-Fi with Bluetooth paired on.
You should turn off the Focus Assist (Windows Key>Settings>Focus Assist>Off) on your PC.
1. Setup PC- Install Your Phone Companion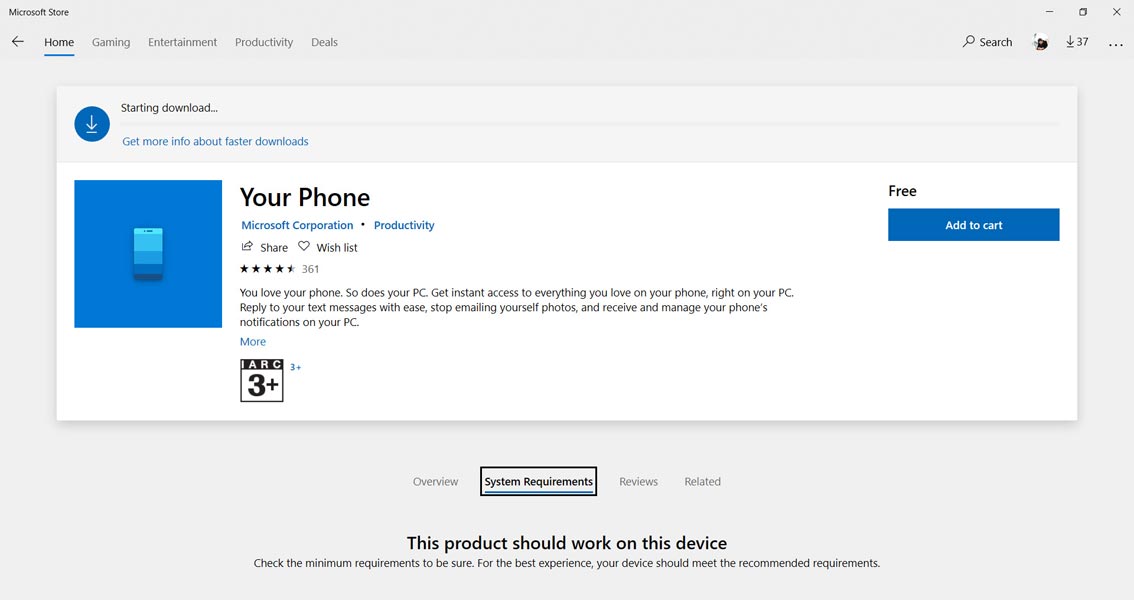 Open App and Log in with your Microsoft account. The Account should be the same as the mobile phone Microsoft account that we are going to log in.
After login with your Microsoft Account, Allow necessary permissions.

Open the app and enter your mobile number. You will get the Installation link to your mobile via message.
2. Setup Mobile- Install Your Phone Companion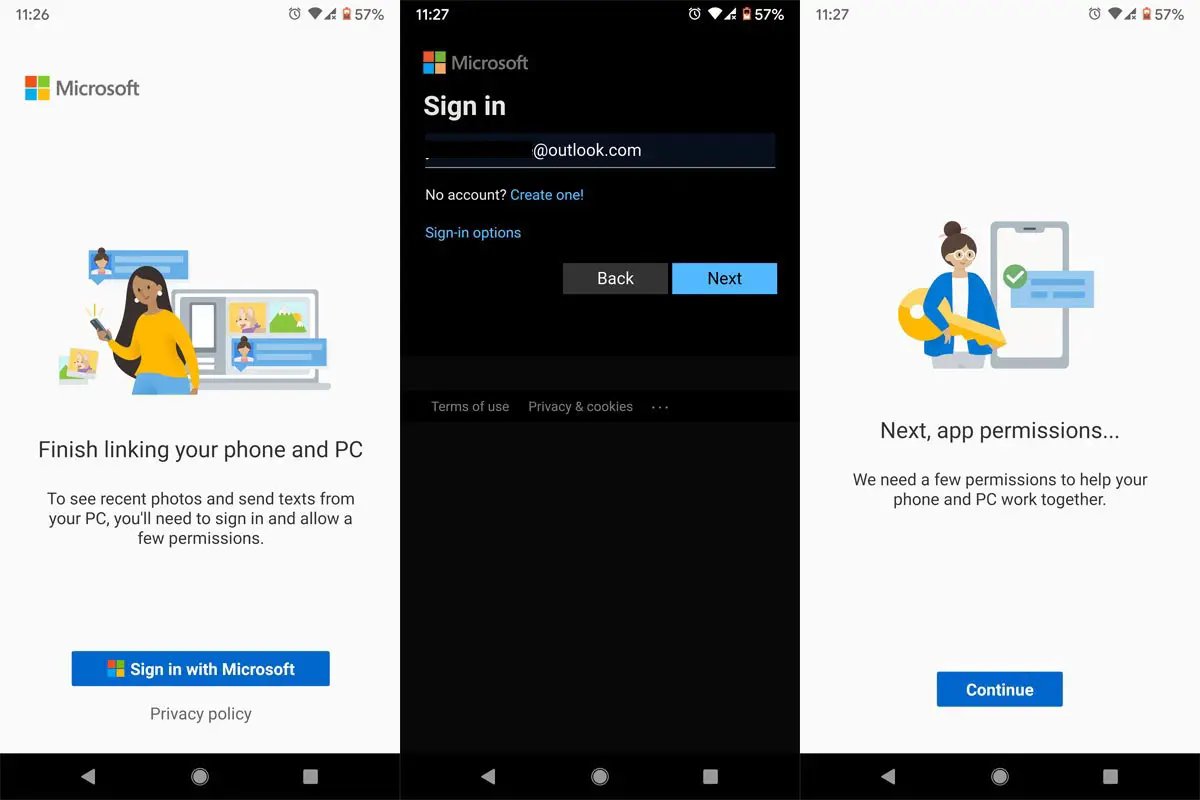 You can download the app from the link that you received in the message or Install Your Phone Companion app from Playstore.
Open App and Log in with your Microsoft account. The Account should be the same with the Windows 10 logged in Account.
After login with your Microsoft Account, Allow necessary permissions.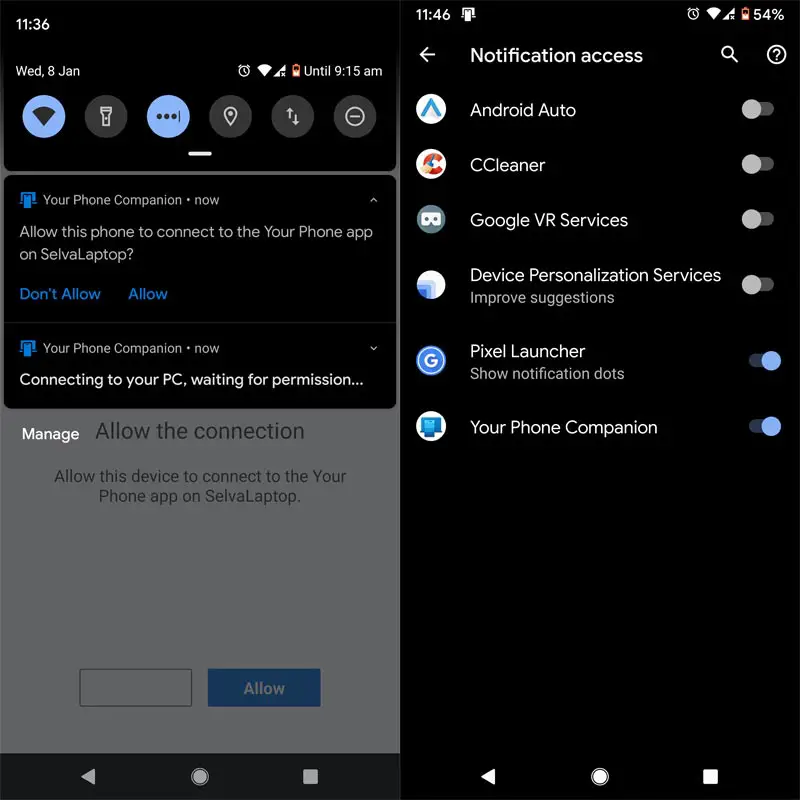 In your PC, Select connect your mobile and allow connectivity on your mobile. To get the notifications properly, allow Your Phone Companion app in the Notification Access.
How to access Direct Apps in your Windows 10 PC from Samsung Galaxy Mobiles using Your Phone App?
After setup, the Windows PC and your mobile, connect your mobile with Your Phone app by linking the same Wi-Fi and Bluetooth connection.
Your phone details will appear in the Windows Your Phone app.
On the left side, you can find a few options like Messages, calls, and Apps. Choose apps.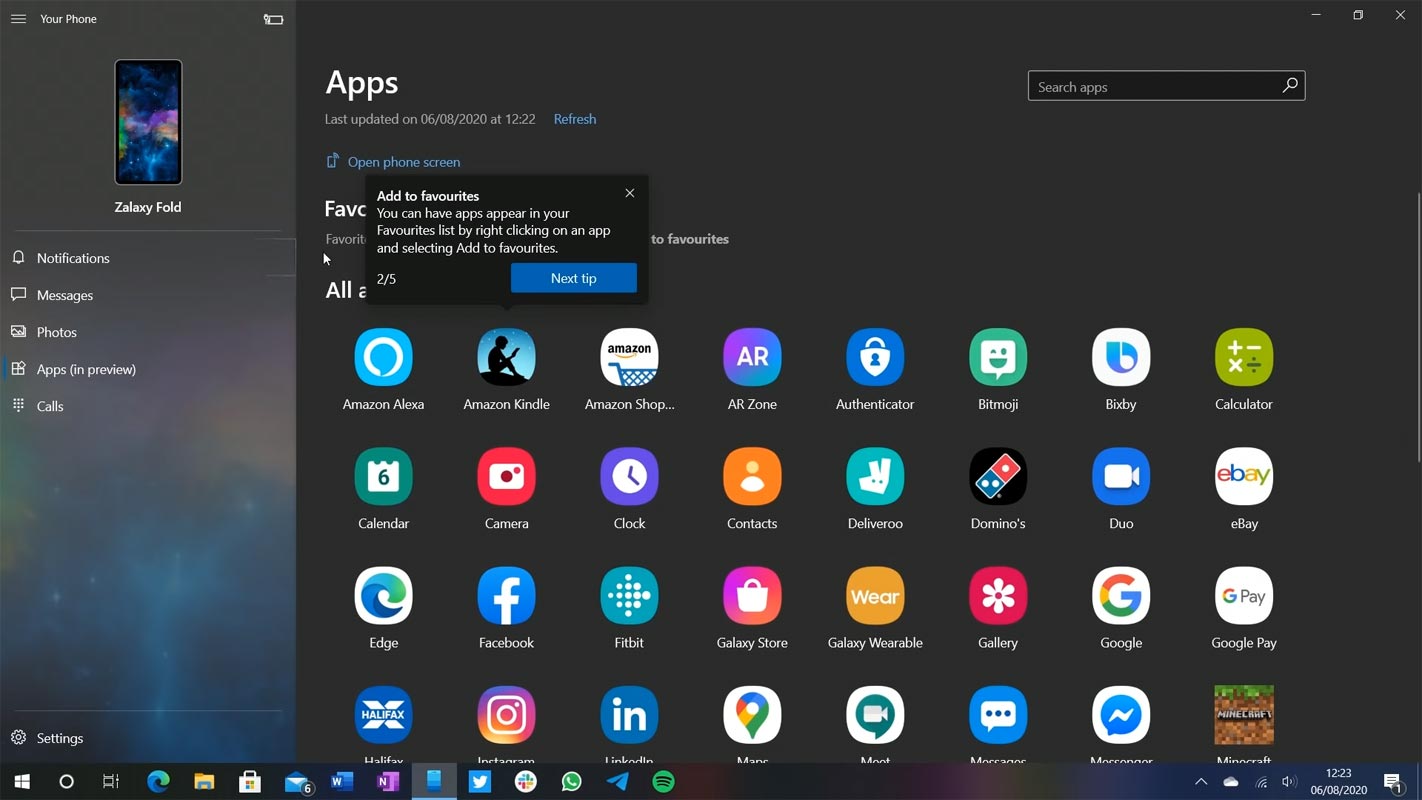 Open your favorite app and begin to work as you do on your mobile. Whatever you do in the PC will reflect on your mobile. Most of the apps, including system apps, can be accessed through this new feature. You can also Pin apps in your Windows PC taskbar.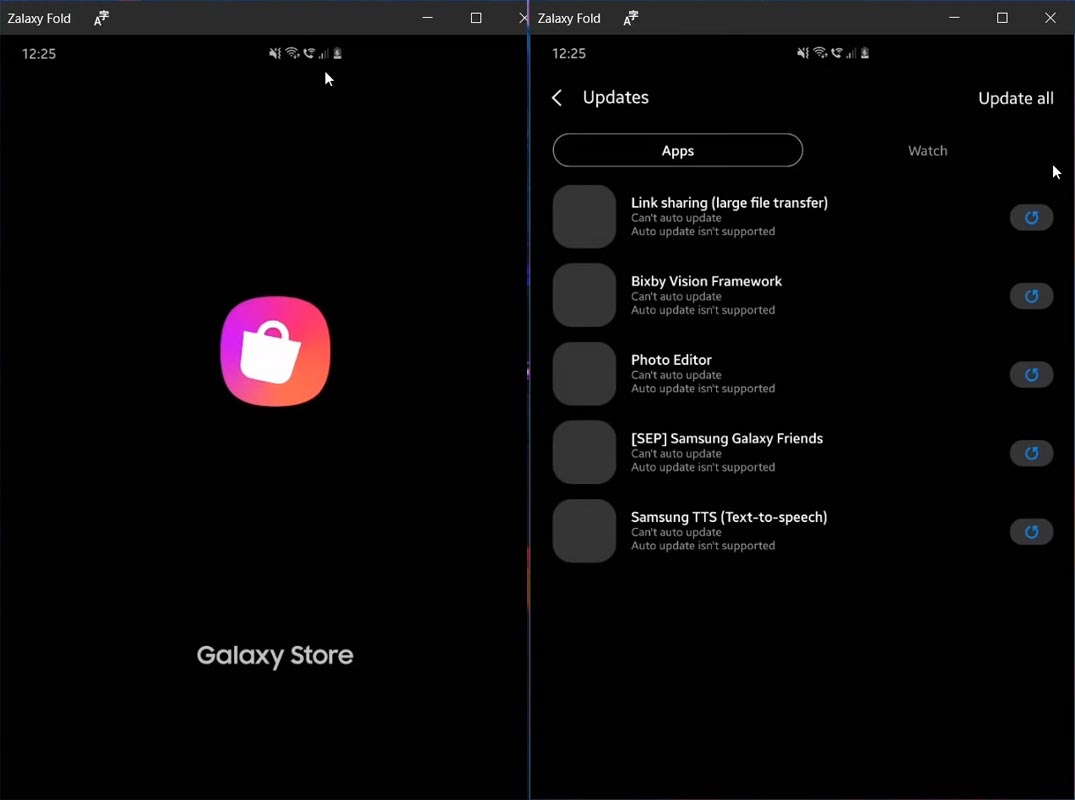 Microsoft Your Phone Direct app access in PC Key features of this rollout
Within the Your Phone App, you can see the list of your installed app.
You can add your frequently used app in the favorite section for quick access.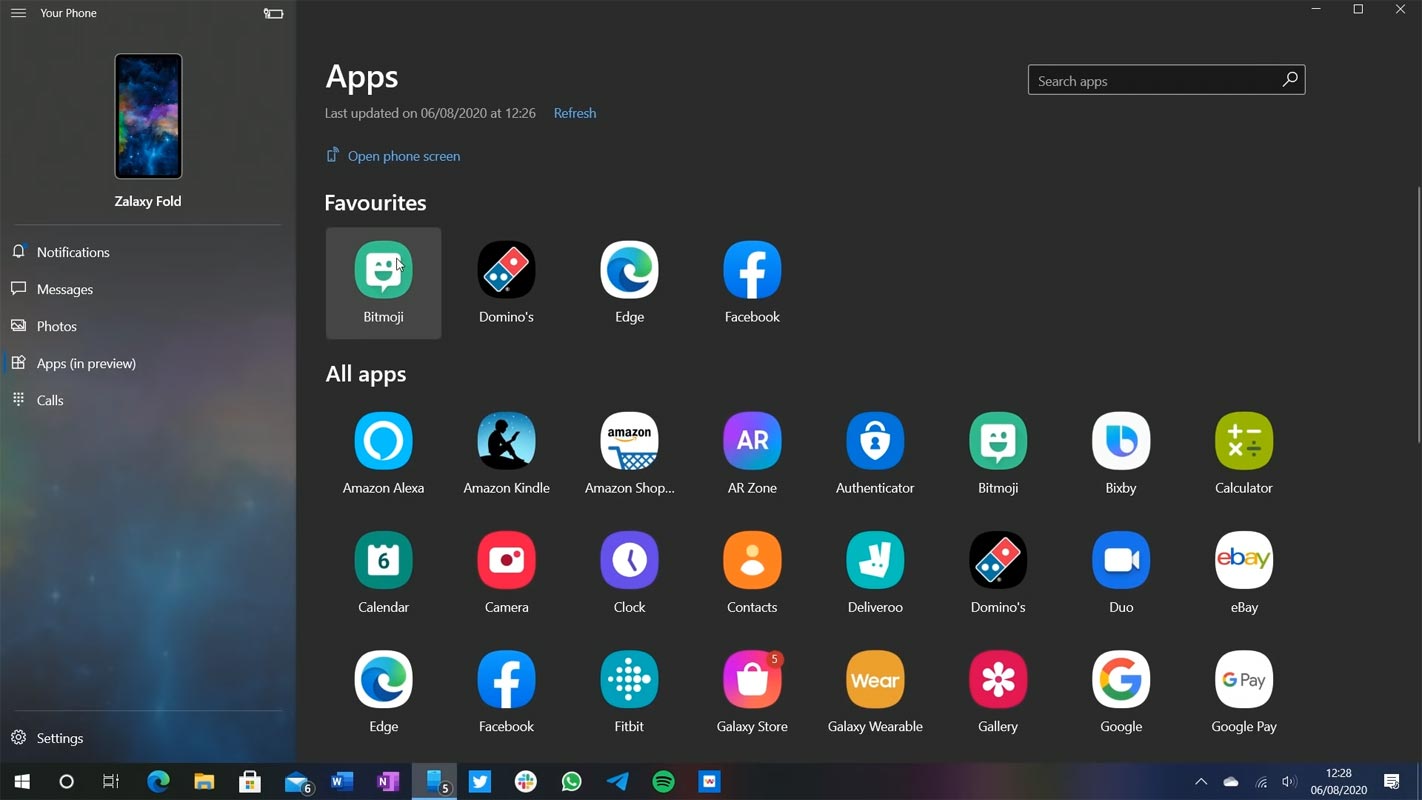 We can search your required app with Your Phone App.
You can launch any app directly from your Windows device.
Your mirrored phone screen appears in a separate window in PC.
You will get the app's notifications directly on your Windows screen.
Limitations
Every application has its configuration of audio, video, and keys controls. So, there may be some variation while using your app on a Windows device. Your mouse or keyboard may not work with all apps. You might get your game sound from your mobile phone rather than PC speakers. If you launch the second-app, it will replace the one running on the Windows screen; hopefully, you will get multiple apps soon this year. The main limitations are as follows.
It doesn't give all the features like Samsung Dex.

It is currently limited to One UI Pie 9.0 version and above.
Wrap up
Compare with other mobile manufacturers, Samsung always thinks from the user side. That's why Samsung is still a successful company. Most of the apps and devices from Samsung are useful for Business people also. Features like Dex and this Direct app's access will help them during the presentation. It will be exciting to see your Android apps on the big screen of Windows 10 devices. Although it is limited to a single app right now, later it will be handling multiple apps.
Whenever Samsung releases the note series, there will be some features that are helpful for Business people. Samsung recently released Galaxy Note 20 Ultra. Along with the release as a tease, this new Your Phone app features released. Thus we can expect more features in the upcoming days that are compatible and accessing all Samsung apps in PC. And maybe Microsoft turns it into a module to control your mobile fully from your Windows screen. What do you think about this new feature? Do tell us in the comments below.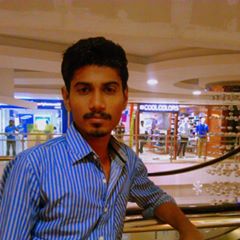 Selva Ganesh is the Chief Editor of this Blog. He is a Computer Science Engineer, An experienced Android Developer, Professional Blogger with 8+ years in the field. He completed courses about Google News Initiative. He runs Android Infotech which offers Problem Solving Articles around the globe.