Dark Mode is becoming an essential feature in every app. It is not because of good looking and didn't affect you; yes, It is also because it can save some amount of battery that can give you extra minutes to hours in your daily usage. After releasing a bunch of apps with Dark Mode, Google now released Dark Mode for Google Docs, Sheet, and Slides for both Android and iOS. It is beneficial when you are reading documents at night, or you have to keep using docs for a long time. Dark Mode is helpful in AMOLEDs. Because it can rest the non used pixels and use only needed pixels. Thus, it helps you to save battery.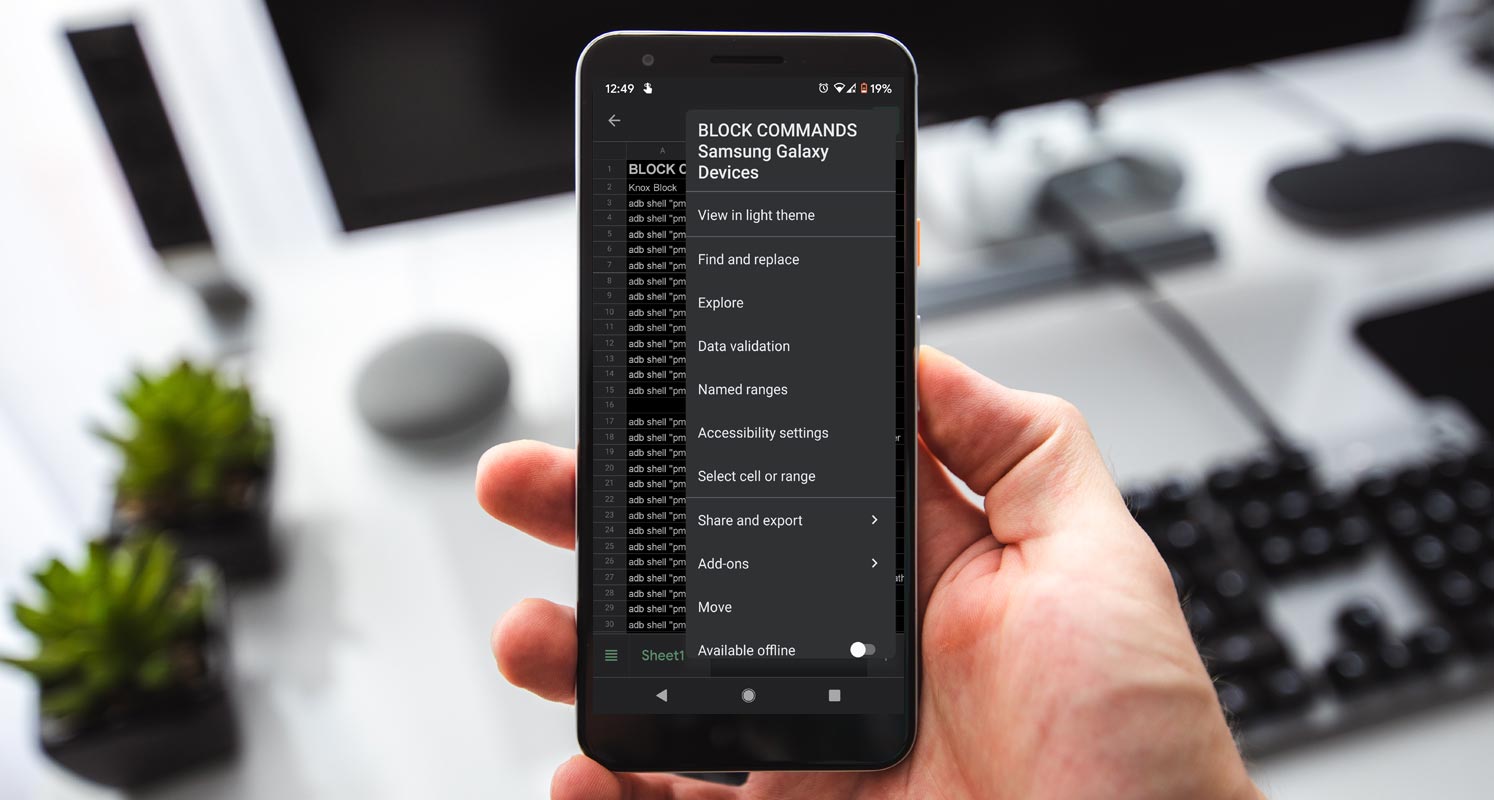 What is Dark Mode or theme?
The Dark Mode is a light-on-dark color scheme. It is also known as Dark mode, dark theme, or night mode.  It changes the app background or entire desktop to Dark and leaves the written small chunks in a light color.
Dark Mode/Theme and Filters are entirely different
Yes. Dark Mode and Night light filters are entirely different. You may ask I am using Night mode filters on my mobile. So, Why it looks hard on the Apps. When you use Filters, The App overlay the above apps, and it doesn't save or change the content colors. I will explain for both Android and iOS devices. There are some mobile manufacturers like Samsung that have a Native Dark Mode feature. Means, the mobile can force the app to the Dark based theme natively even if the app doesn't support Dark Mode.
Instead of using third-party apps when your need is to enable Dark Mode only in the browser, you can use the below methods to activate with options. Also, Dark Mode can help you to save battery, which filters don't do that. As per some real-world tests, Dark Mode can save you 10-40% of battery based on your usage.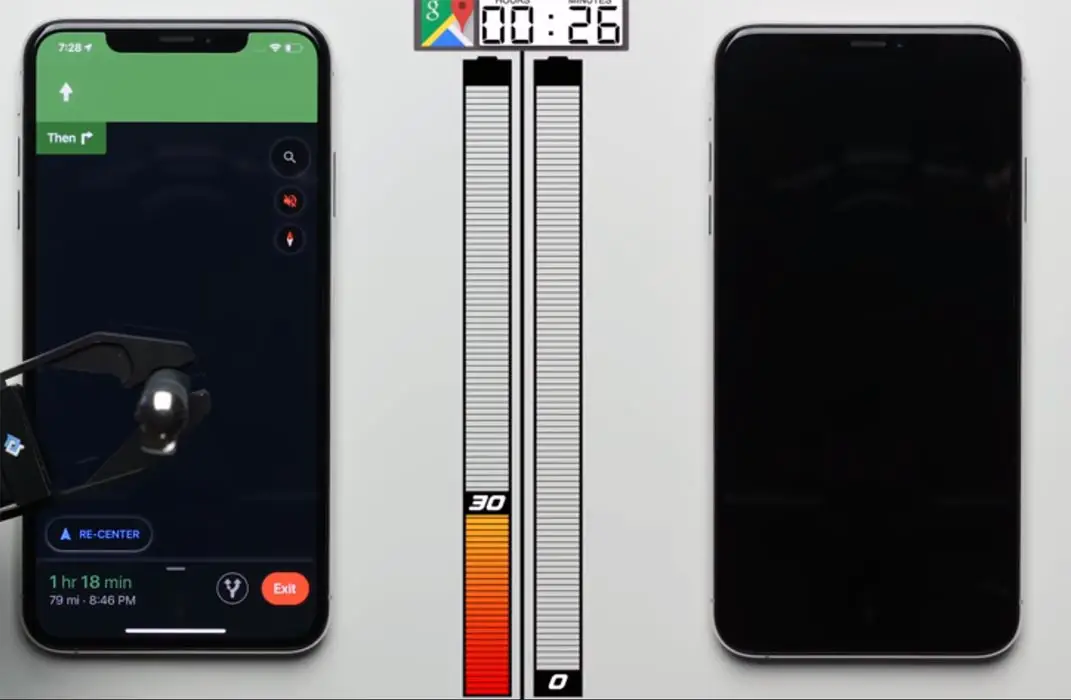 Why is the Dark theme so much trendy?
There is a various reason behind the popularity of Dark mode, some of which are:
Bright light emitting from the screen is annoying and causes heavy strain on your eyes, especially if you have to work for long hours, staring at your screen. The dark theme introduced by Google is an intelligent feature which adjusts the product interface, and the user-generated content in an efficient way to use the low light environment, resulting in better battery timings.  In Dark Mode, the background turns Dark while the information/content turns white. It causes less strain on your eyes and keeps you active and pain-free for prolonged use of your devices. Also, it helps you to focus on the light-colored front items better.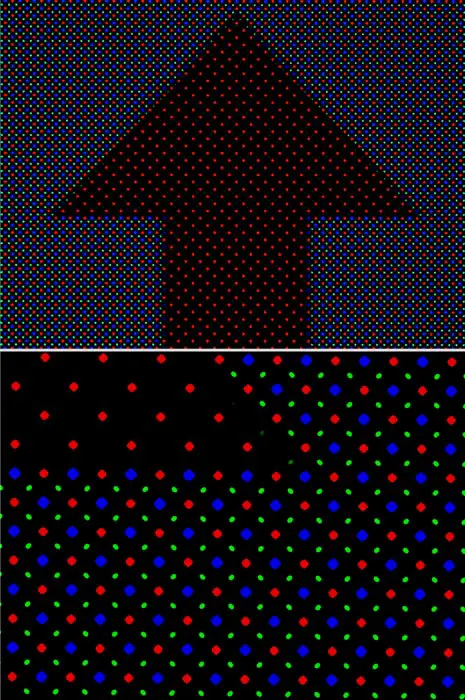 Another reason is the OLED screens, which is the new screen technology. It enables you to light up any pixel on the screen and set the degree of brightness just as you need. This Dark Mode helps the designer to design the most effective display with less effort and saving time.
Battery saving is one of the significant features of using Dark mode. Phonebuff, a renowned company, revealed in a recent test that Dark mode could extend your battery life by 30%. An analysis conducted on both Android and iOS phones gave similar results.
When will Dark Mode be available to Google Docs users?
Google didn't announce any specific date for the worldwide launch of the dark theme, but it may be available in late July or August through regular user accounts. Initially, they rolled out the update for Gsuite users.
Google already rolled out system-wide Dark Mode in the Android 10 version. But the problem is the apps should accept the feature to implement Dark Mode. So, every app needs to optimize the app that is compatible with the function manually. Google announced to facilitate its Gsuite app users, Google Docs, Google Sheets, and Google Slides, to use a Dark theme no later than 6th July 2020. The first time Google introduced the Dark idea in Android 10, (also known as Android Q), it was a system update that allowed various apps to use the dark theme. Google is a tech giant, but it seems a little slow in introducing ark themes in its applications.
Android 10 and Google Dark Mode Apps
Android 10 is available from 3rd September 2019 for public usage, but the first Google app with a forced Dark mode was Google Chrome 78, announced on 23rd October 2019. Later Gmail, Google Keep, Google Calendar, and Google Photos toggled from light to dark user interface. Google search engine got the Dark mode on 18th May 2020, which was compatible with Android 10, iOS 12, and iOS 13.
How to access/activate the Dark Mode in Google Docs, Sheet, and Slide on Android and iOS (iPhones, iPad)?
No particular action is needed to activate this Dark Mode, and You don't have to enable Dark Mode in every app. This intelligent feature follows the system settings. Or a more comfortable way is just to turn on the dark theme in your main theme settings. You should have Android 10 in Android mobiles and iOS 13 in iPhones to activate Dark Mode.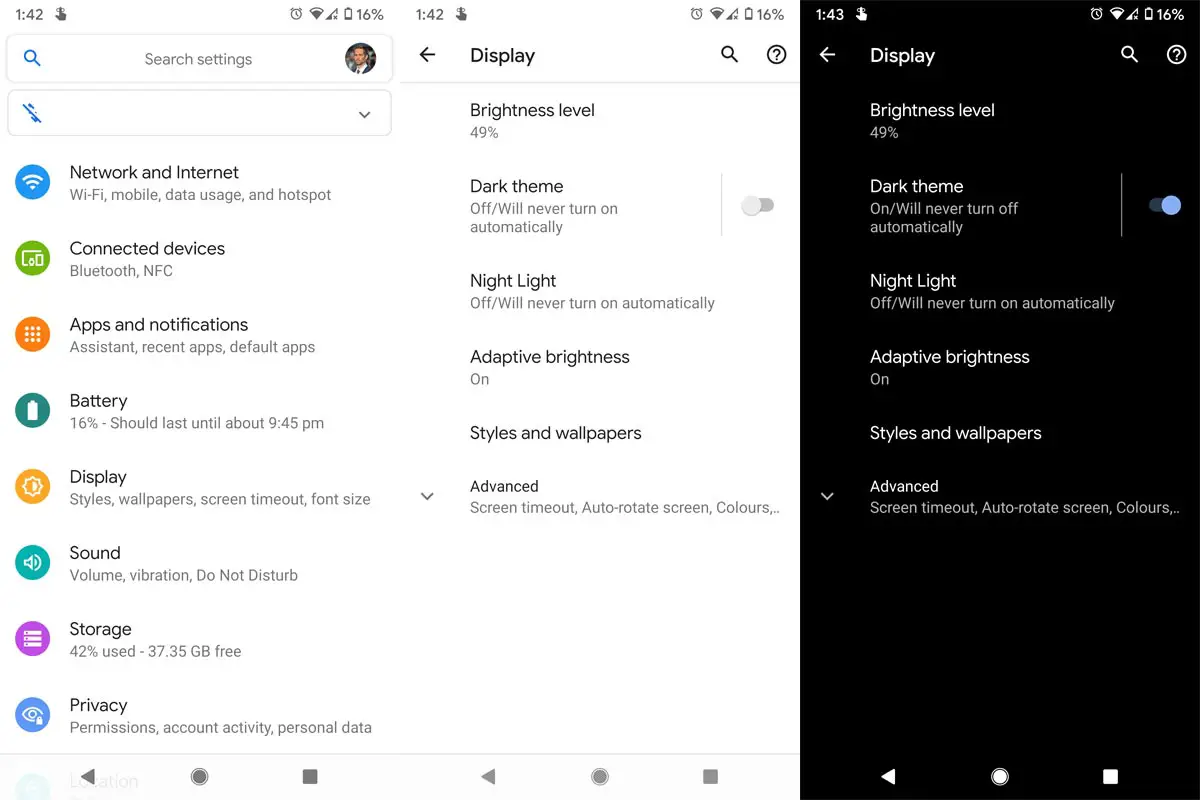 If you want to toggle between light and dark themes, you can do it independently in docs, sheets, and slides. After an independent setting, Google docs, worksheets, and slides will follow its settings regardless of the system's theme.  For settings, got to Menu> Settings > Theme > and select Dark in all apps. When you can't activate Dark Mode in a system-wide method, you can use the below process.
Individual App Dark Mode activation on Google Docs, Sheets, and Slides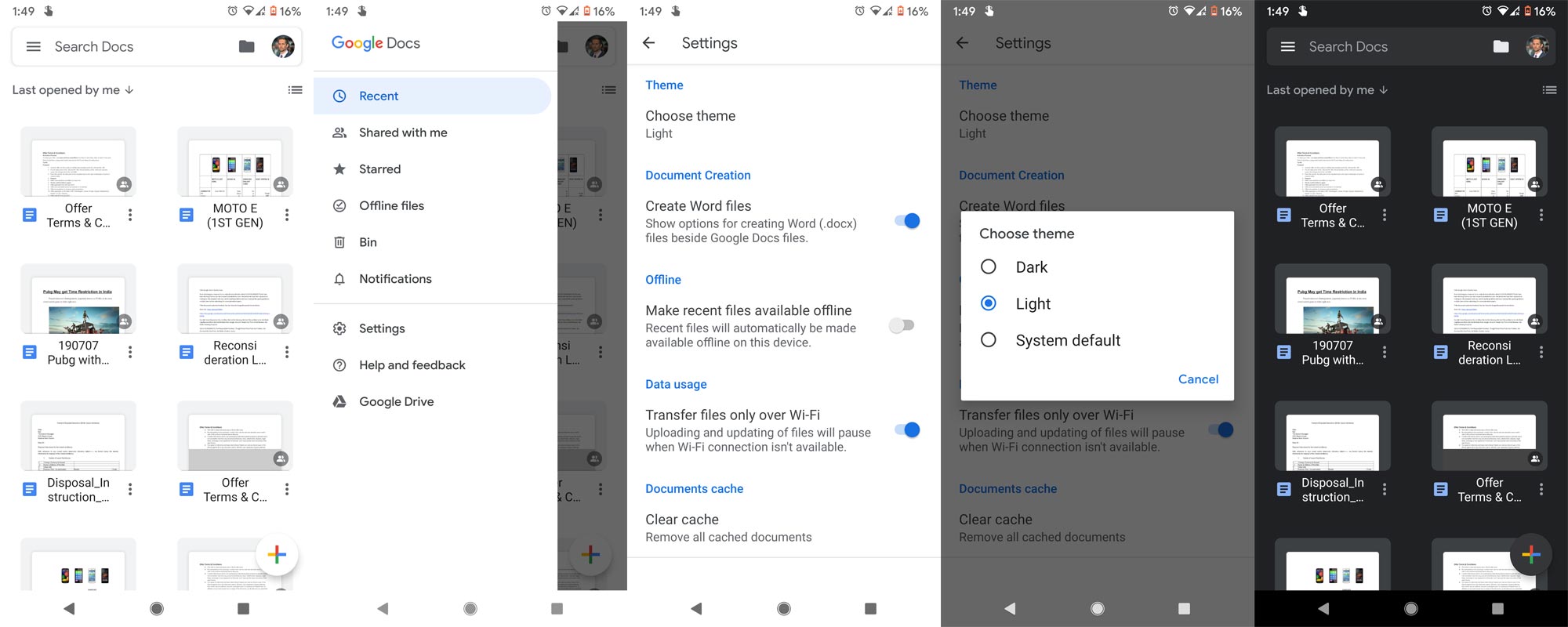 Open Any App between Google Docs, Sheets, and Slides. The process is the same between these apps.
Select the hamburger menu on the left. You will get the Menu—select Settings.
Choose Theme and Select System default or Dark. Or you can also activate using another mode.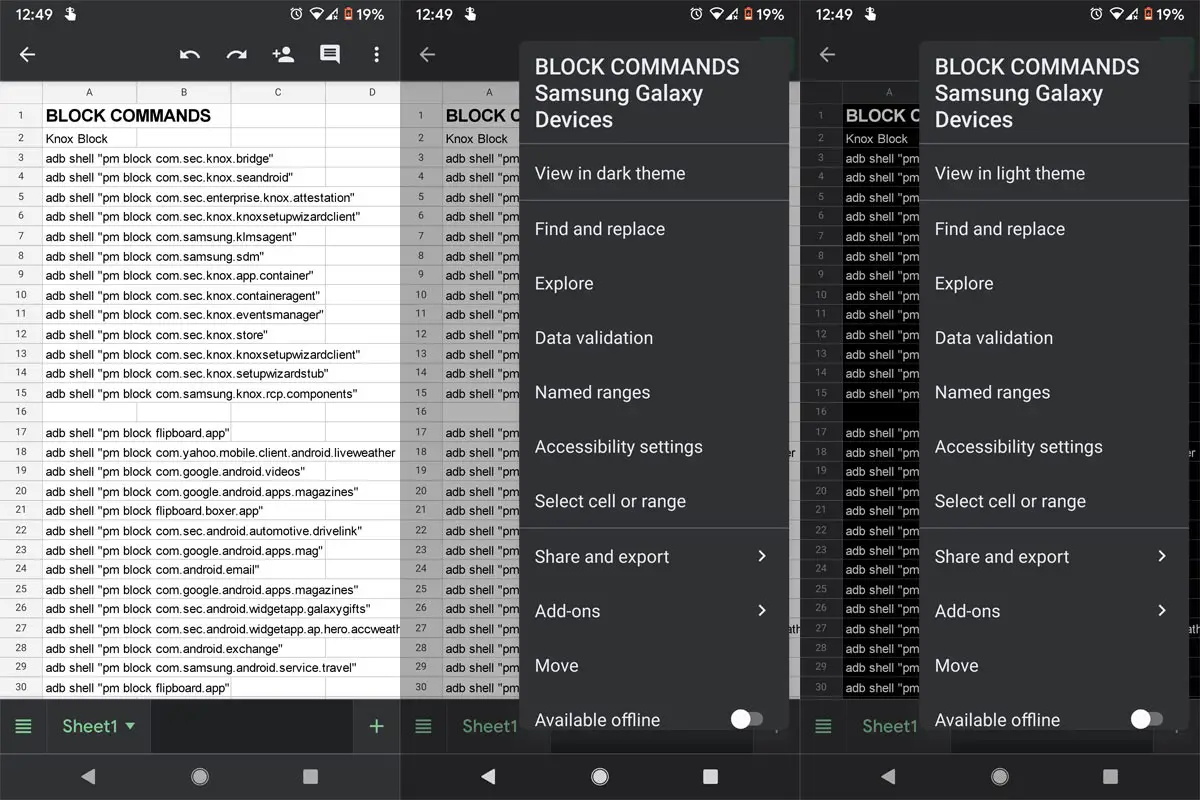 Open individual documents. Select a three-dot icon on the right and choose "View in the dark theme."
Wrap up
Every significant app already rolled out the Dark Mode in its Android and iOS Apps. After a long wait, Instagram rolled out Dark Mode. Instagram mostly deal with Pictures and Videos. So, We may not expect that much improvement in the battery. But it can save your eyes from hurting at night. Google is also working in Google Chrome to force Dark Web pages, But they keep adding on removing in beta channels. The Dark Mode is the long-awaited feature by most of the users. It comes with the slogan, 'Take it easy on eyes and battery,' really helps them both. Hopefully, you will be able to enjoy this dark theme on Google Docs, Slides, and Sheets app soon. Are you going to use this dark theme? Do tell us in the comments?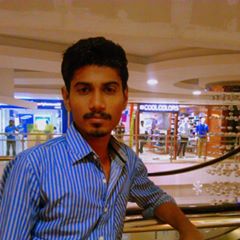 Selva Ganesh is the Chief Editor of this Blog. He is a Computer Science Engineer, An experienced Android Developer, Professional Blogger with 8+ years in the field. He completed courses about Google News Initiative. He runs Android Infotech which offers Problem Solving Articles around the globe.