Now you can export your Facebook Photos and Videos to Dropbox. Even if we share our photos from our mobile gallery or PC, Sometimes we may accidentally delete our photos, or in years, we may lose our media while moving to new phones. So, When we deleted a particular photo or video, You may lose your media. When you export your Facebook media files to Dropbox, It will be in your hand. You are the owner of your data. It is always better to backup your media files to other cloud backups. Because your profile maybe gets deleted by Facebook, or Some updates may affect our data.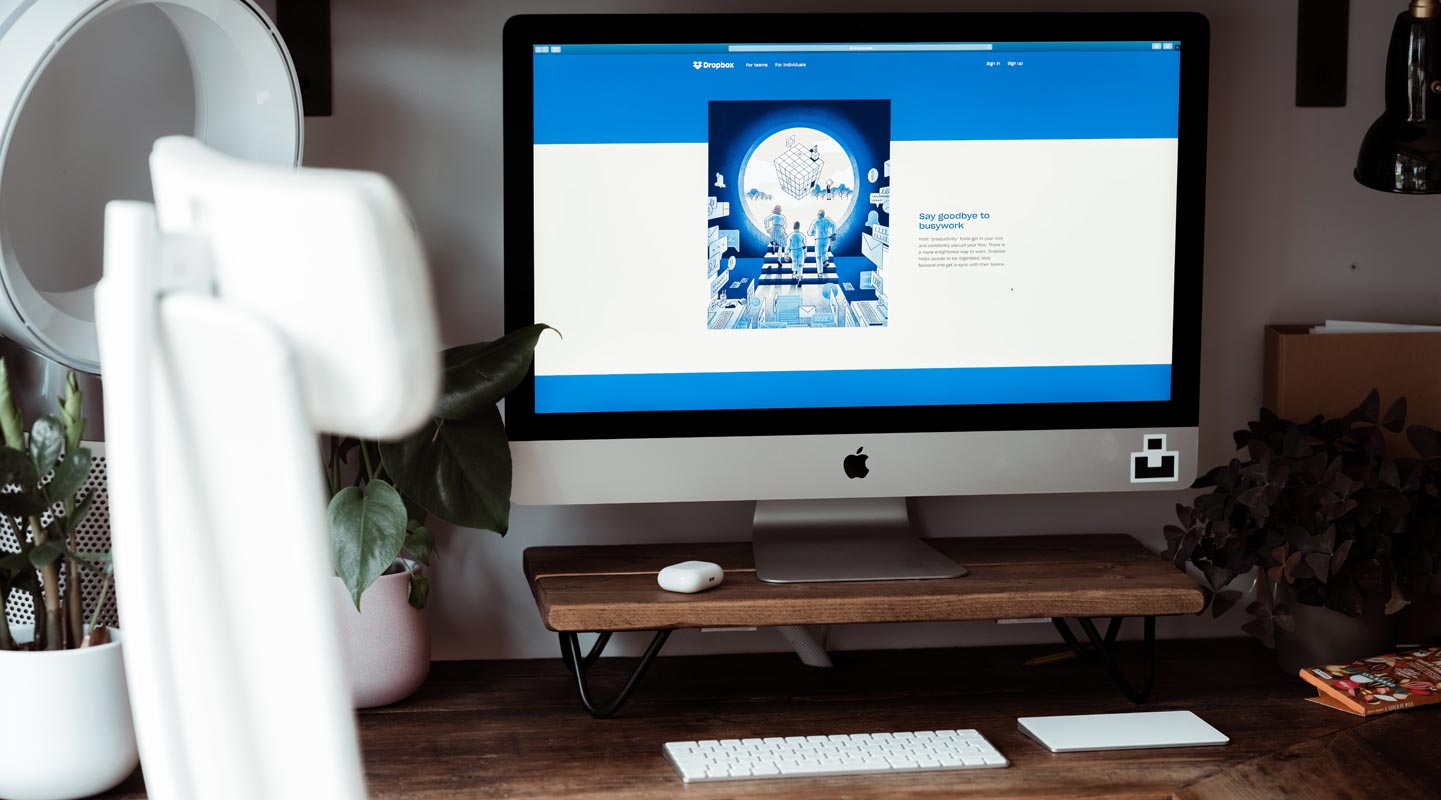 Facebook announced two more storage locations in its data portability tool for your photos and videos. With this new data portability tool, you can transfer your pictures or videos from Facebook to Dropbox and Koofr.
Facebook photos and videos export to Dropbox
It is not a new feature. Facebook launched this data portability tool on December 2. 2019. At that time, you could transfer your photos only to Google Photos with few clicks. At launch, this service was limited to a few countries, but later, on June 4, 2020, the photo transfer tool was made available globally to everyone.
As everyone doesn't use Google photos only, Facebook expanded it to two more data storage services, Dropbox and Koofr.
Is it safe to transfer your private library?
Facebook believes that if you share your photos or videos on one platform, you should safely and secure that data to other services. It is the basic rule for data portability, and it gives you complete control over your uploaded data.
To maintain privacy and security, you will be asked to re-enter your Facebook password to start the transfer. Once you enter your password, your data is encrypted and then move to your desired service. So, it would be best if you were confident about your personal data's privacy and security.
What is this Facebook media transfer tool?
The transfer tool is not new. Most of the platforms allow the user to download their data or transfer it to other platforms. After Facebook received many data privacy-related issues, they allowed users to take control of their data. You can control how Facebook share data or get data from third-party sites. You can revoke access to those sites. As a part of this program, Facebook introduced an official tool that allows you to transfer the media files. Previously you can do this kind of transfer using third-party services. But, When you can move the data between Google and Facebook, it is a trusted way. Facebook said that the service would extend to other companies when they participate in the program.
How can you transfer your Facebook photos and videos to Dropbox?
Facebook made it very easy but optimal secure to transfer your personal data. To transfer your photos, follow these steps.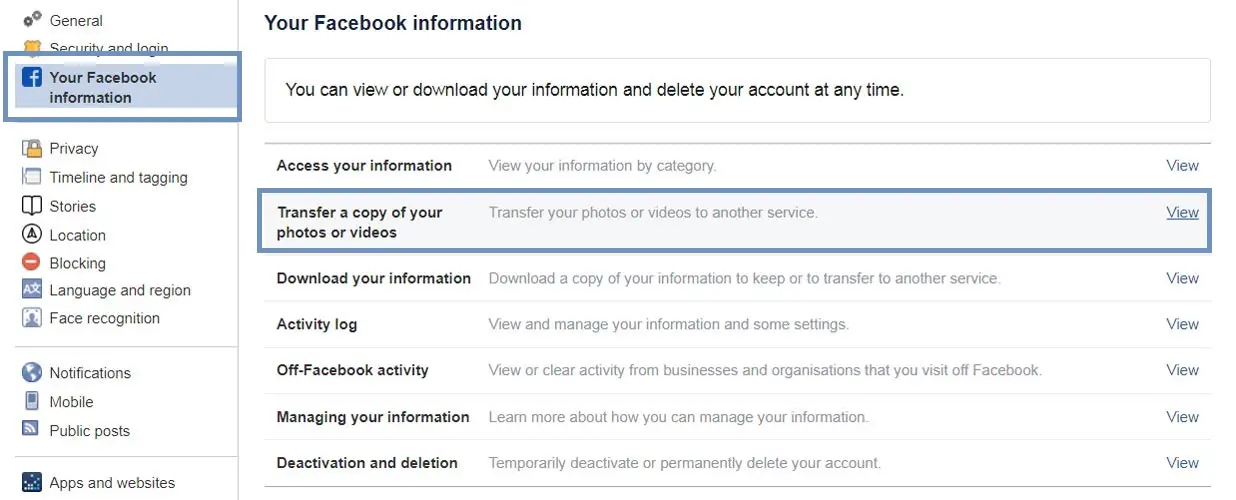 Go to Settings and select "Your Facebook Information."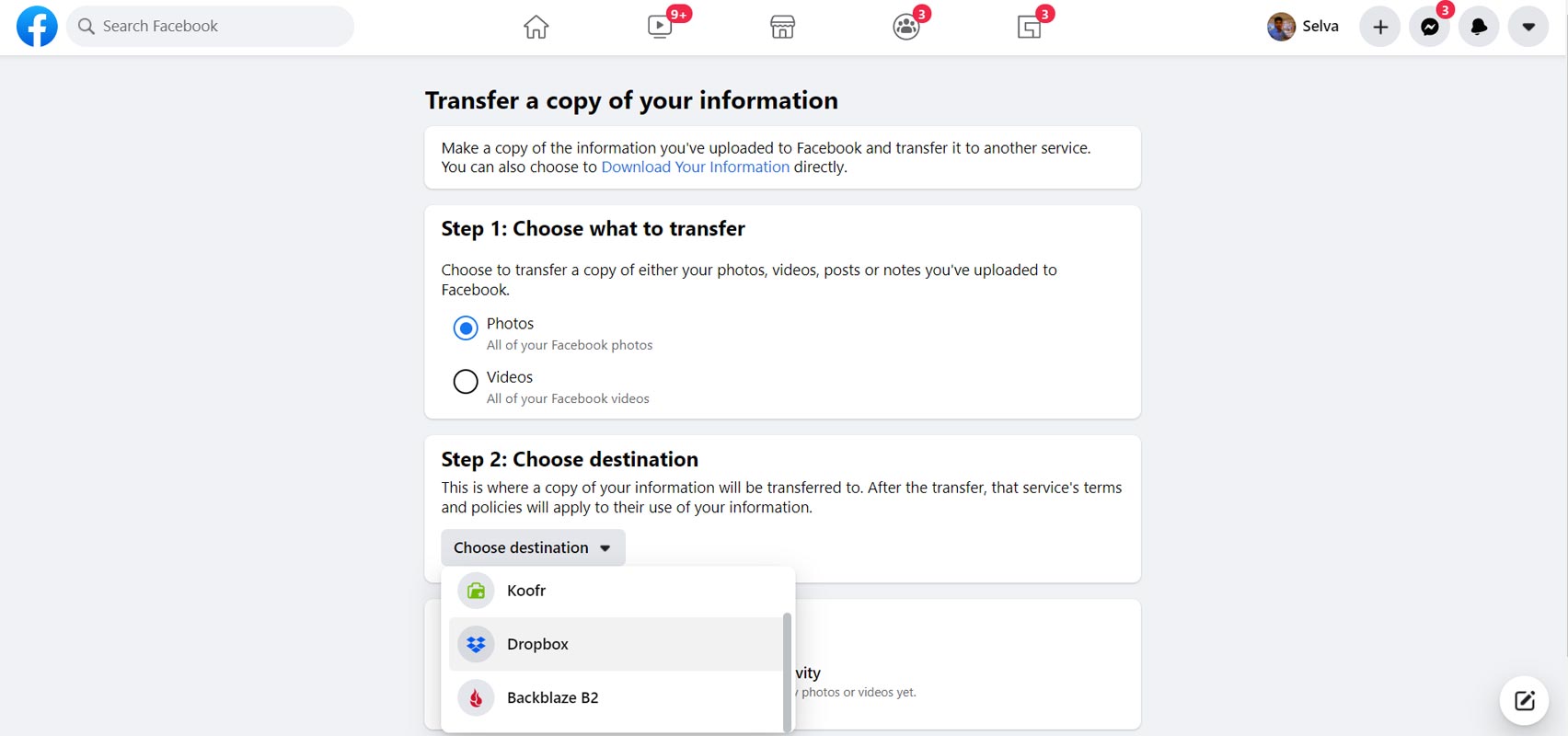 Choose "Transfer a copy of your photos or videos." It will ask for the Destination. Select Dropbox and choose what media files; you want to transfer- pictures or videos and select next.
Now choose the destination Dropbox, and press the Next.
Select whether you want to transfer photos or videos and press Next.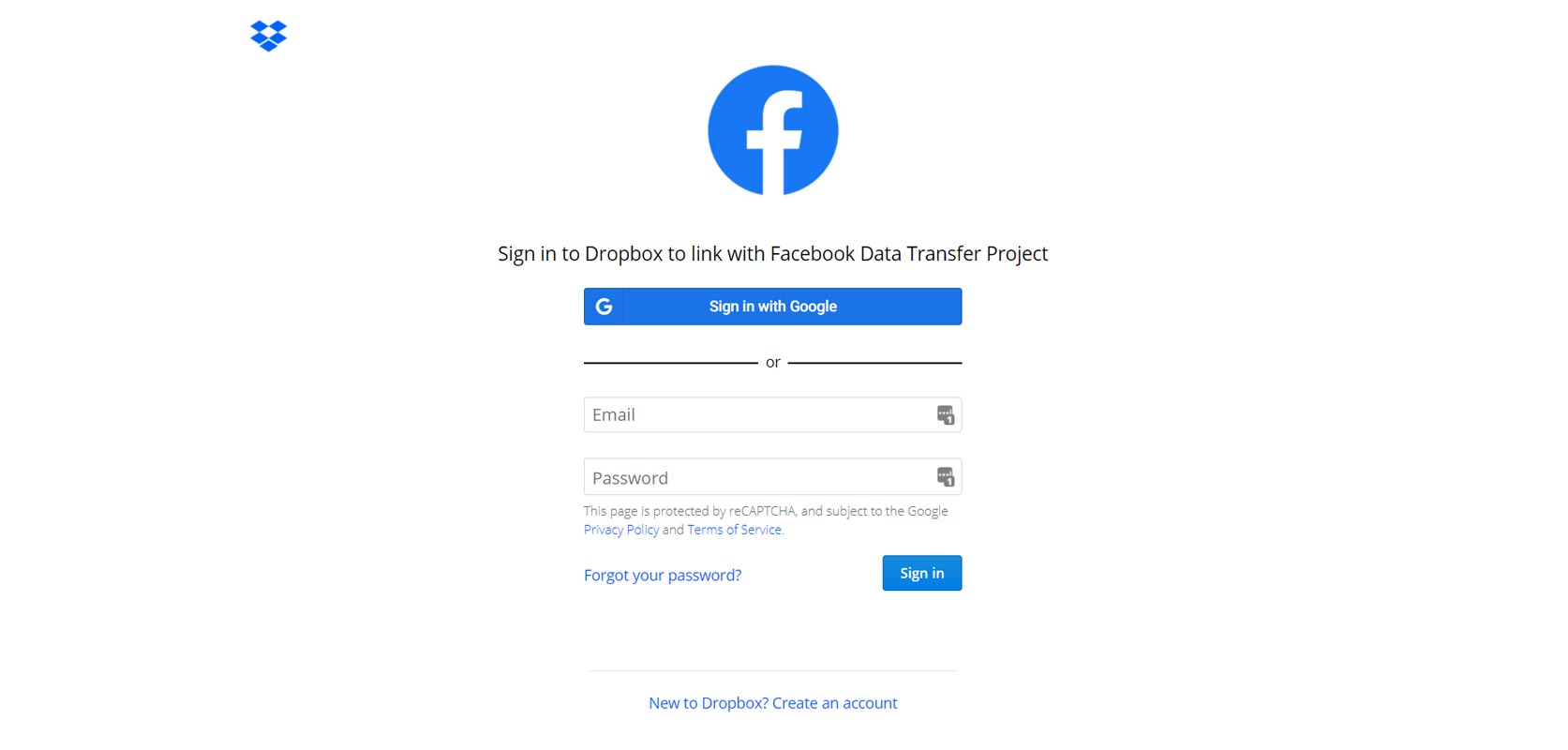 Now enter the password of the Dropbox account you selected as the destination of your data.
Now for additional security, again, Facebook will ask you to authorize the data transfer.
Again, you have to confirm the transfer by pressing the Confirm Transfer.
And Facebook will transfer your data safely and securely to your destination service.
In Dropbox, a new folder will appear with the name "Photo Transfer." You don't need to worry about the data; All media data will appropriately organize everything in an album. Now you can share your photos and videos with anyone or the people you select.
Transfer Facebook media files to Dropbox using Facebook App (Android and iOS)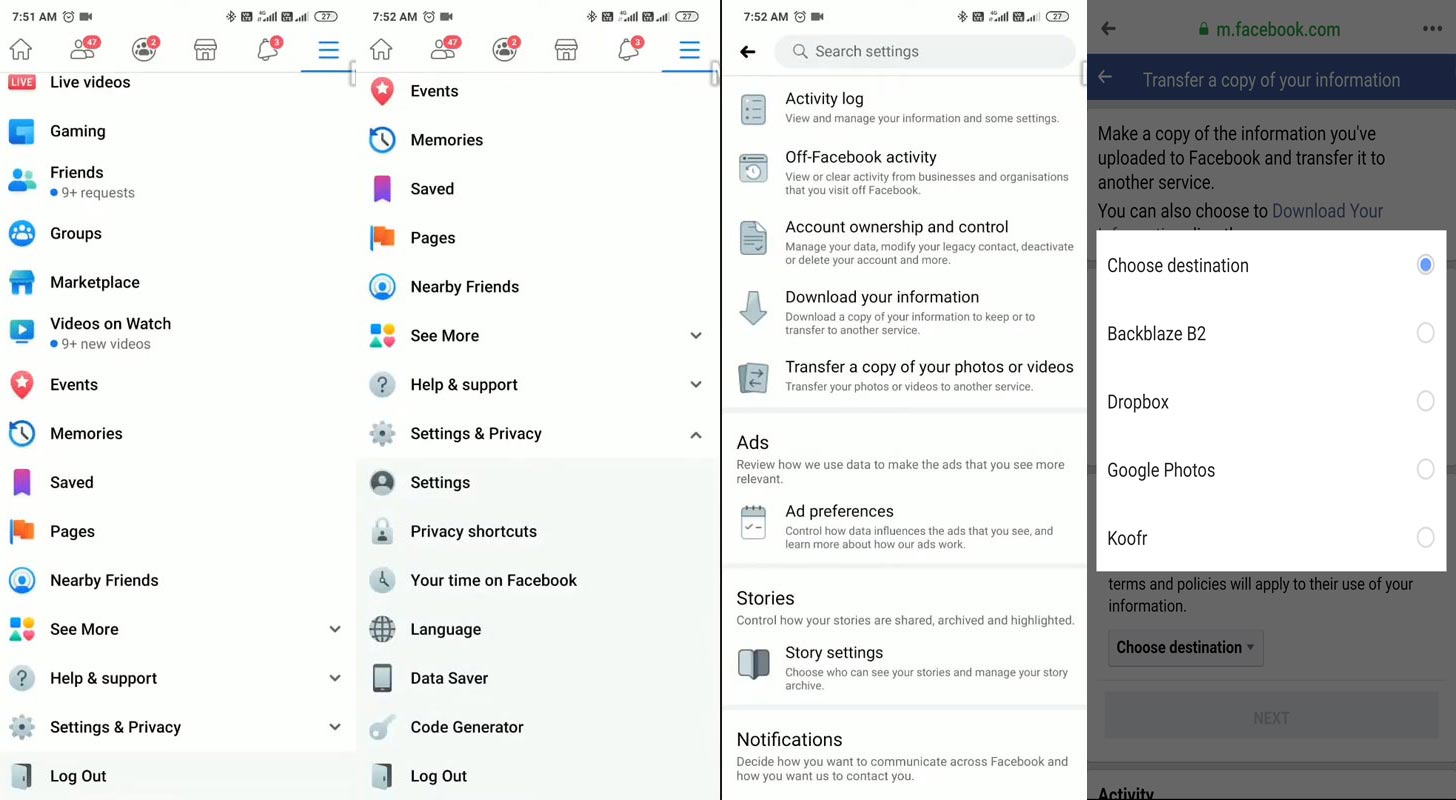 Open the Facebook app and select the hamburger menu. If you didn't have the Facebook app, you could install it in the Play Store.
Go to Settings and Privacy and select "Settings."
Scroll down to the bottom and choose "Transfer a copy of your photos or videos." It will ask for the Destination. Select Dropbox and decide what media files; you want to transfer- pictures or videos and select next.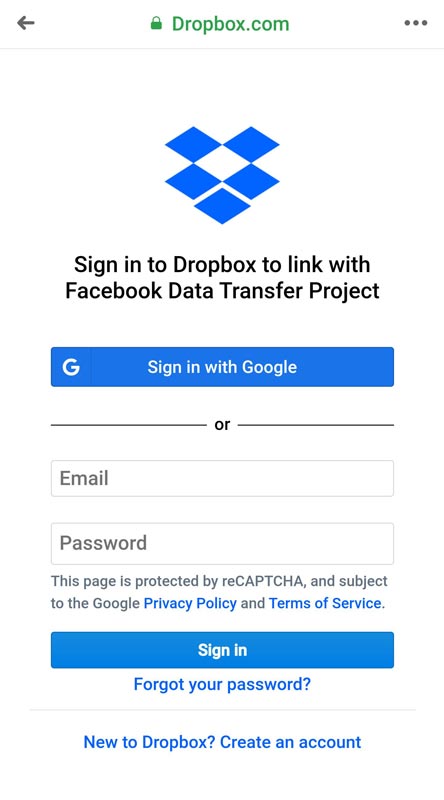 It will redirect you to the Dropbox login page to authorize the transfer to Dropbox. Log in with your credentials.
Allow Facebook to transfer the media files and confirm the transfer. It will automatically transfer the media files in the background. You can do other things when the transfer happens. You will get the status once the transfer finishes.
Which photos or videos can you transfer?
Note that you can transfer only those photos or videos that you have uploaded on Facebook. It doesn't include those pics or videos that others added in your timeline or the one you are tagged in.
Will Facebook delete the transferred data?
Facebook will transfer only a copy of your requested data. The original pics or videos will remain on Facebook, and you can operate from Facebook to manipulate those photos or videos.  Remember, during the transfer, your Facebook account must be active.  Deactivating or deleting your account during transfer can terminate the transfer process at all.
Wrap up
The addition of these two services on Facebook will give you the flexibility to store your private data on these secure platforms that you can share with anyone you want or keep confidential. It is always a wise idea to use any one of the cloud-based Photos backup services.
There is a chance of accidental bans that can happen in social profiles, Including the Whatsapp ban. If anything happens like that, you can't get your stored media files on Facebook. So, whenever possible, you can transfer photos and videos to Dropbox. So, Facebook will allow a lot of services like this to handle your data correctly. What are your thoughts and experience with the new transfer facility? Comment below. Do you like or need this service? Do tell us in the comments below.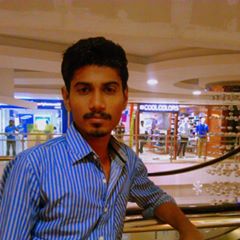 Selva Ganesh is the Chief Editor of this Blog. He is a Computer Science Engineer, An experienced Android Developer, Professional Blogger with 8+ years in the field. He completed courses about Google News Initiative. He runs Android Infotech which offers Problem Solving Articles around the globe.