Like Android Mobiles, there are plenty of Wearable Accessories available in the Android Market. But, Only a few Accessories like Fitband and SmartWatch are used mainly by People. In that limited usage, Samsung Galaxy Watch is popular and has full features compared with other SmartWatches. It can work alone with a separate SIM, or it can interact with your Primary mobile.  The main usage of any SmartWatch is getting Notifications from your mobile. So, It has issues with it; there is no use for the device. Samsung Galaxy Watch 1st Gen comes with Tizen OS and still getting updates from Samsung to fix the latest issue. But when you don't get notifications, you can select your Samsung Galaxy Watch 1st Gen not getting notifications from the below methods.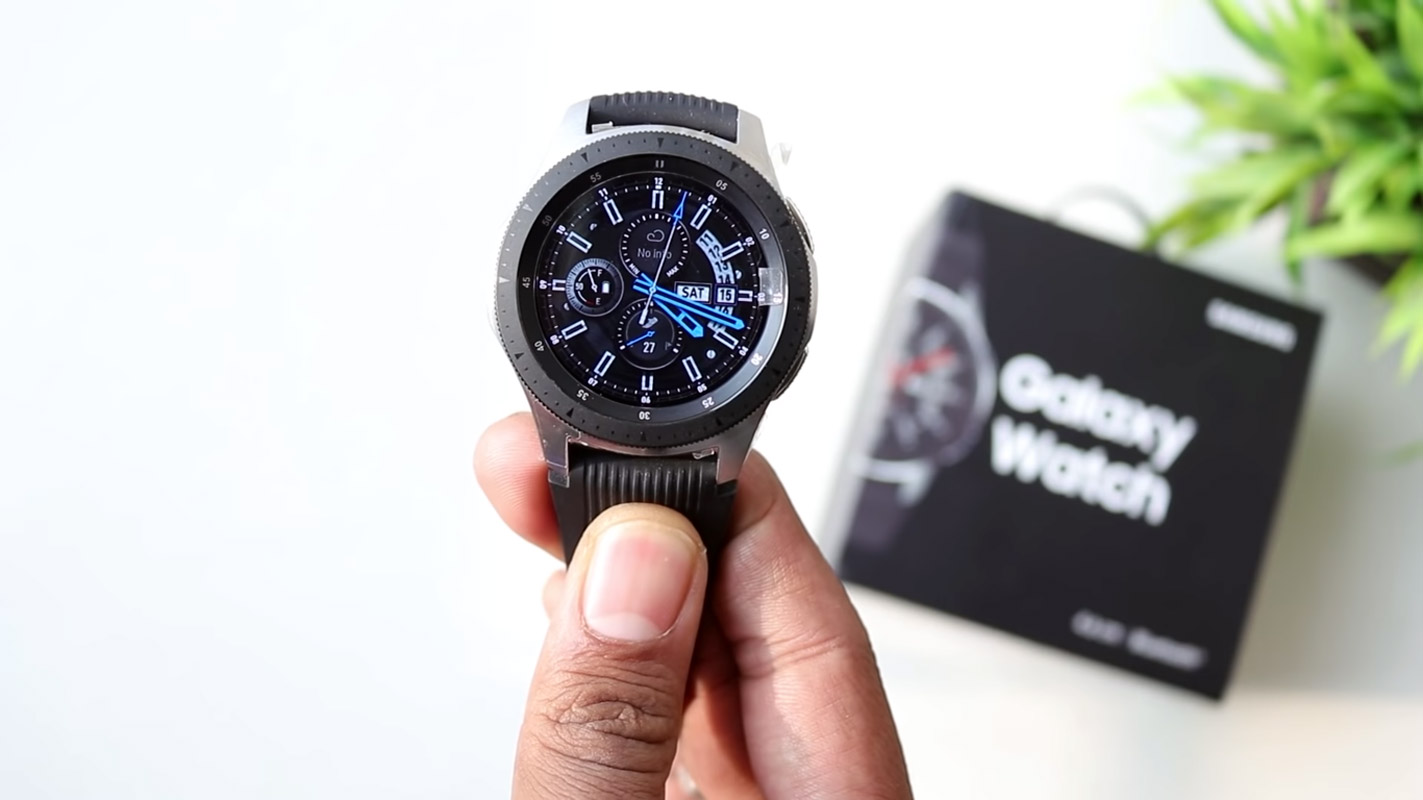 SmartWatch and Notifications
One of the main reasons many of us buy smartwatches is to read the notifications on our phones easily – when on the go – without having to get out the phone from our pocket or bag. So, when the smartwatch cannot do this function, it'd seem they're just putting on regular wristwatches to some people.
Samsung Galaxy Watch users have reported a common problem with their watches not receiving and showing notifications from their phones. If you're also facing this issue with your smartwatch, there are a couple of things to check out, and the fixes are explained in this article.
However, before kicking off with the fixes, it is essential to note that with the iOS 13 update, you're required to activate a specific messages feature on your iPhone before you can get notified on your Samsung smartphone for new notifications.
How to Fix Samsung Galaxy Watch 1st Gen No Notifications From Phone? (SM-R805F/N/U/W/0; SM-R815F/N/U/W)
The first troubleshooting step to try out is restarting your smartphone and smartwatch. After you have restarted both devices, check if the error persists.  If it continues, you can follow the troubleshooting steps below.
Supporting versions
1. Activate "Share System Notifications" On iPhones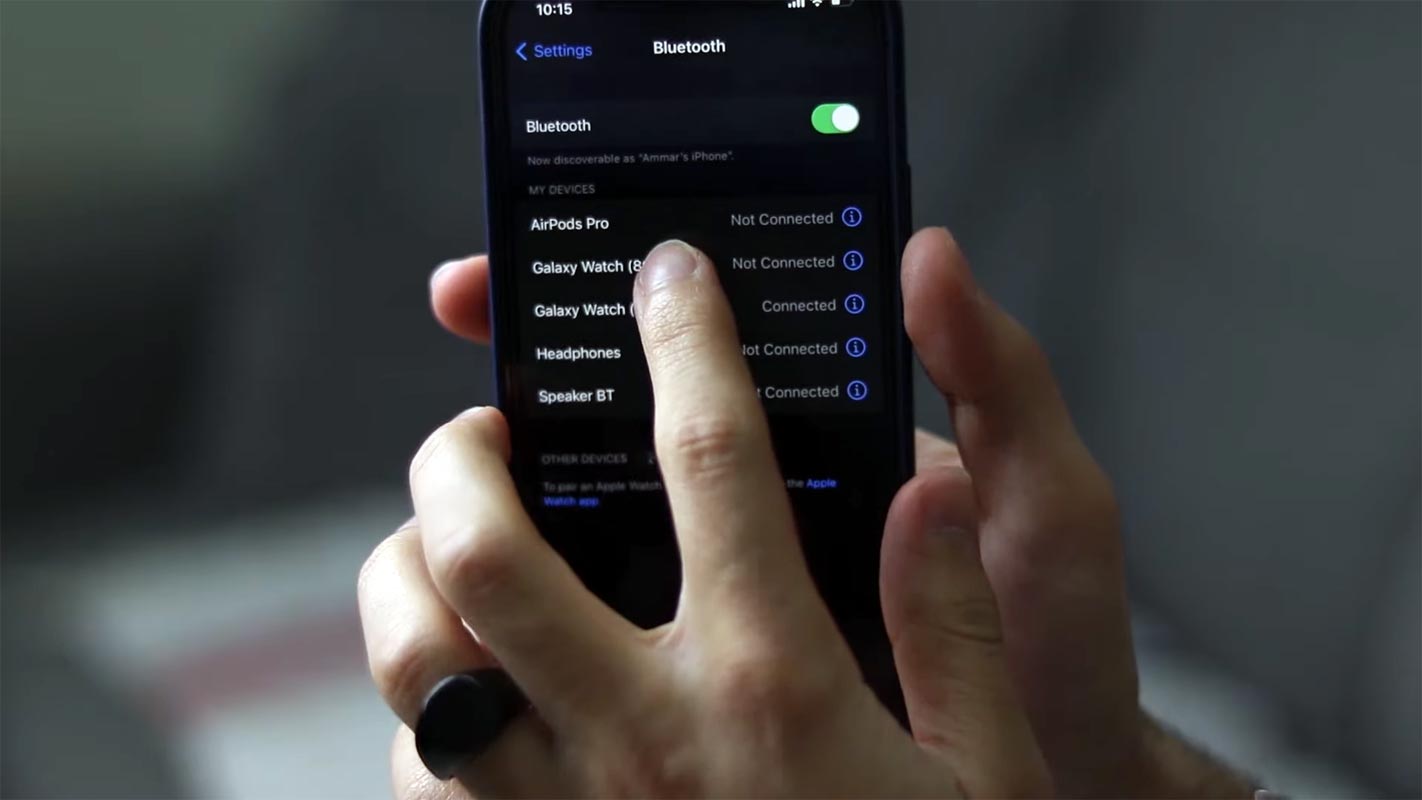 If your iPhone runs on the newest iOS version, iOS 13, you must activate "Share system notifications" on the iPhone before you can get notified of new messages on your smartwatch. This applies to all iPhone devices running iOS 13, regardless of the year and model.
Enabling this feature on iPhone is to comply with the latest Apple privacy policy on iOS 13. So, whether you use the Samsung Galaxy Watch, Galaxy Watch Active, Galaxy Watch Active2, or Galaxy Watch3 because the connected device is an iPhone running iOS 13, you must enable this feature to fix the issue.
You will find the "Share system notifications" feature via Settings ==> Bluetooth ==> My Devices ==> Tap on the smartwatch ==> Toggle the settings on.
2. Ensure Messages Notifications Are Not Disabled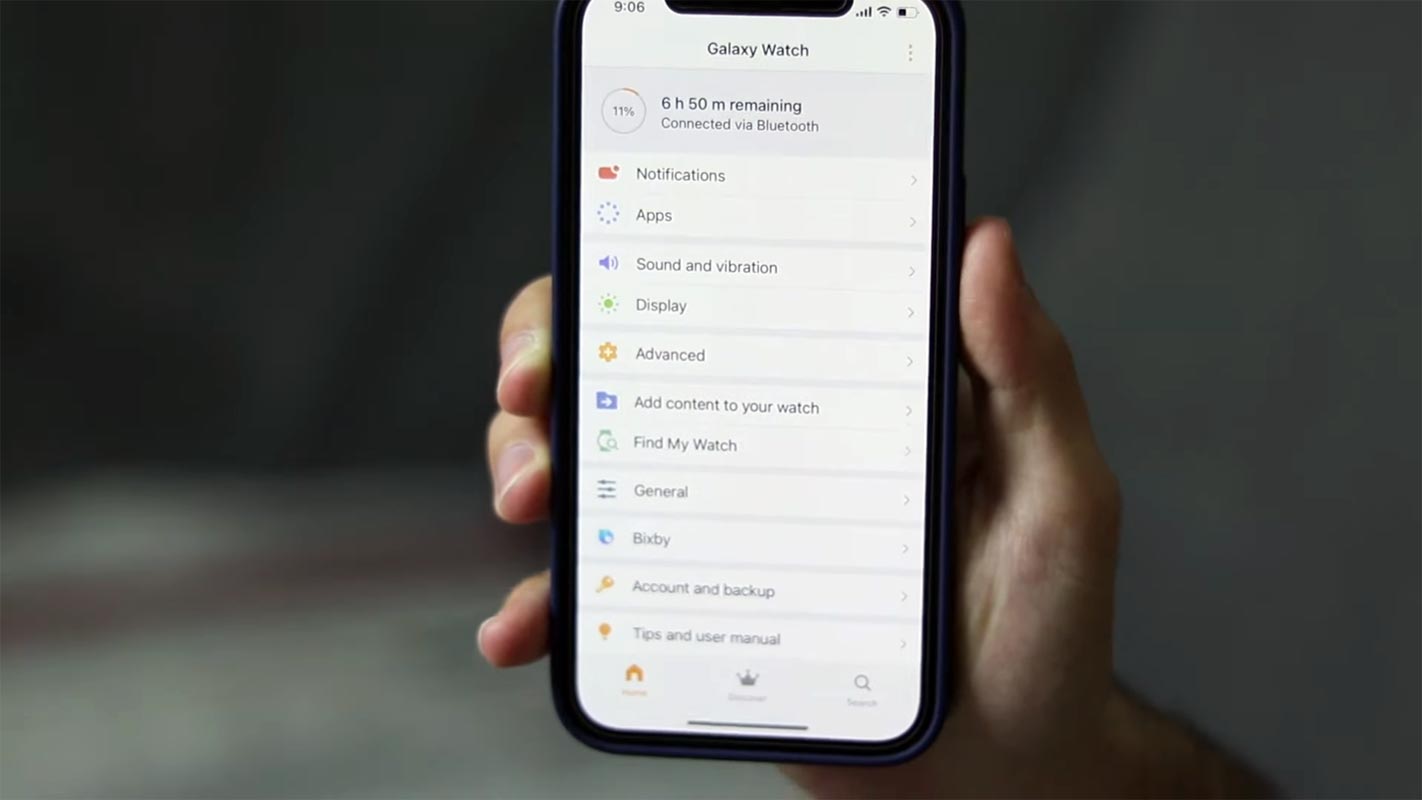 This fix also applies to iPhone users. You must check your message notifications settings. If message notifications are disabled, of course, you can't get new notifications on your smartwatch. To check for this, open the Galaxy Watch app ==> on the Home tab ==> tap Notifications ==> then go to Blocked notifications ==> check if Messages appear on the list.
If the Messages app is on the block list, tap the remove (minus) icon next to it to disable the block. After this is done, most definitely, with "Share System Notifications" enabled on the iPhone, you will always receive new notifications on your smartwatch.
3. Grant Notification Access (Android OS)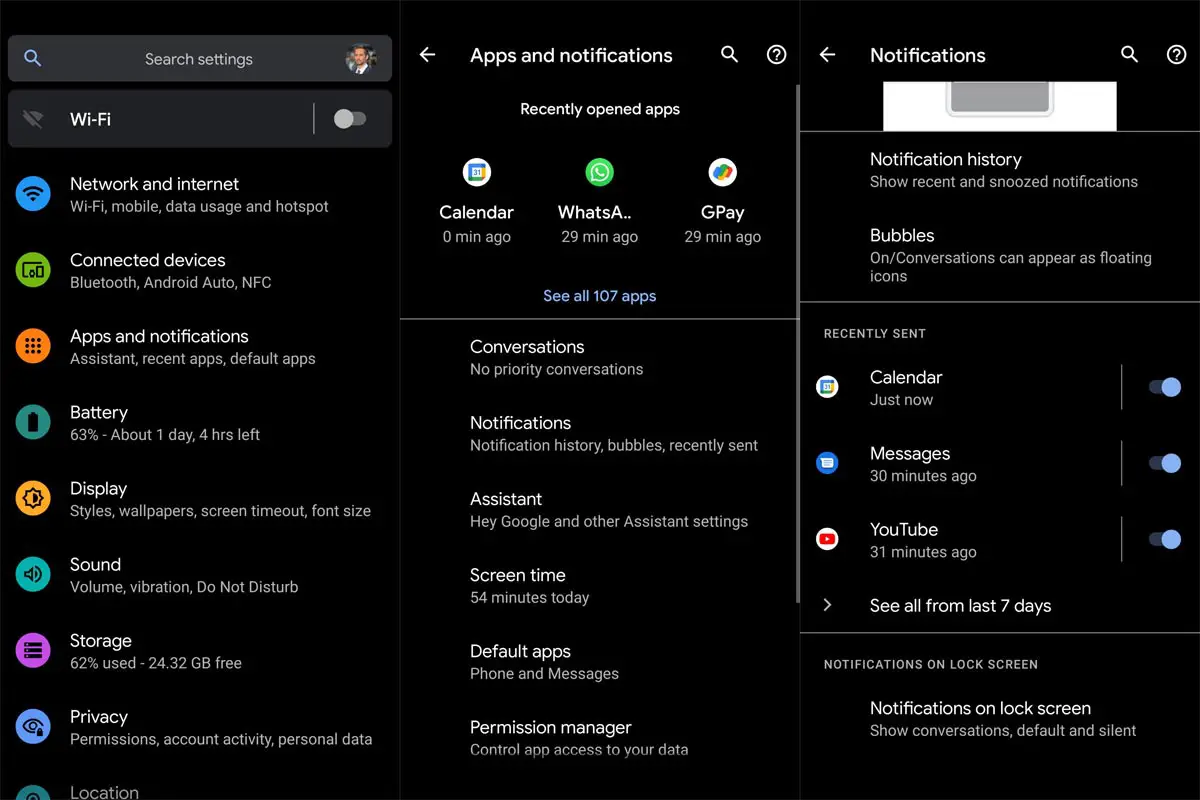 For Android smartphone users, you may need to enable notification access for the smartwatch app. Well, notification access should be granted when you're setting up the app for the first time, but just in case it's not, here's how to do it.
Open your device's setting app and go to Apps ==> Tap on the three dots on the top right and go to "Special Access" ==> Select Notification Access ==> Toggle the button beside the smartwatch app's name.
Once this is done, you should be getting notifications on the Watch for new messages and other information. However, if this doesn't fix the issue, you can still try out other safe troubleshooting tips below.
4. Turn Off Cinema/Focus Mode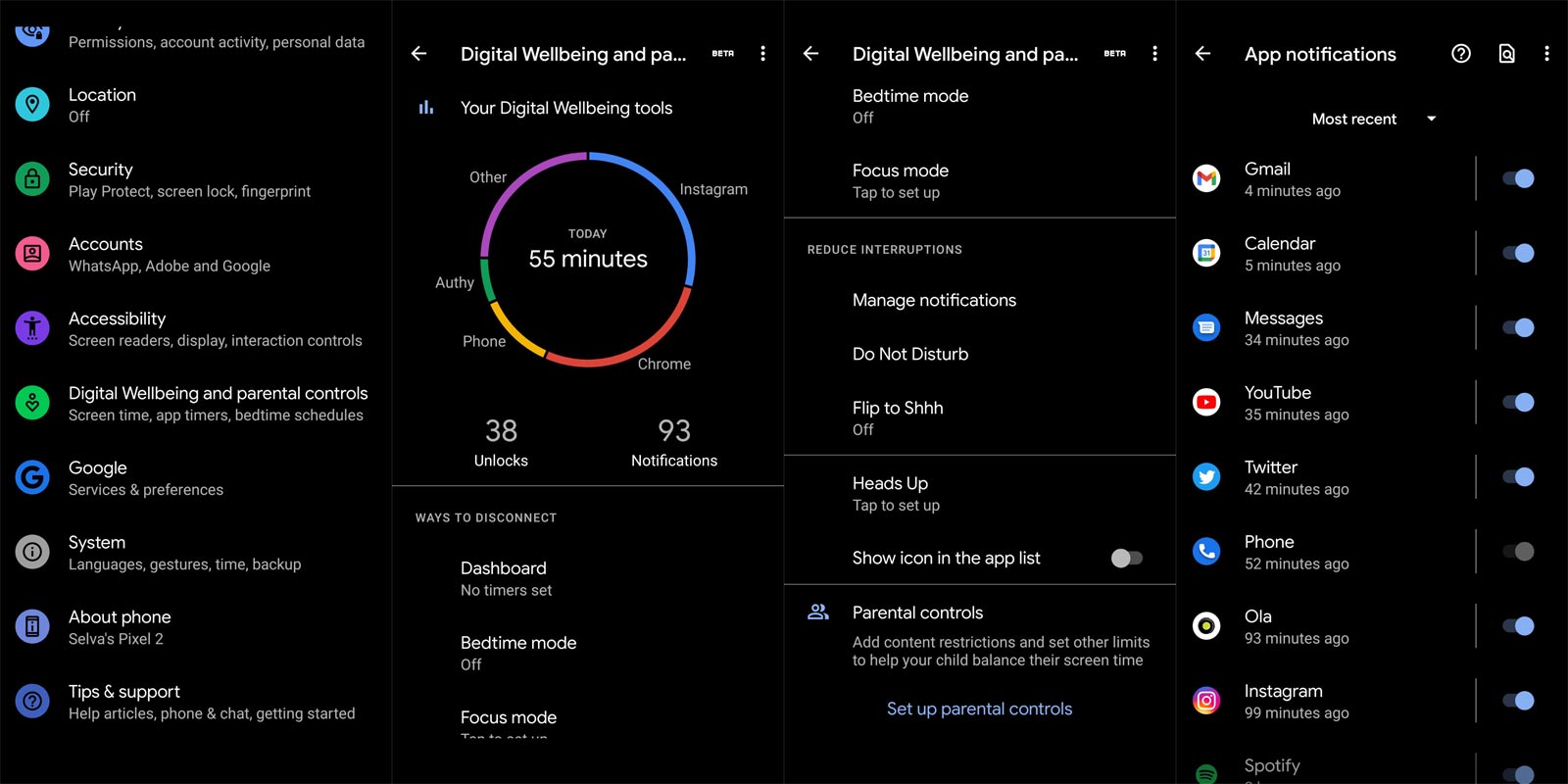 There are specific modes that if you activate them, your smartwatch won't vibrate on new notifications, or you won't receive notifications at all. If you typically start Cinema Mode when you go to see the movies, maybe you forgot to disable the mode, and that's why you're not getting new notifications on your Watch.
So, check if your smartwatch is in Cinematic mode, then turn it off – this should solve the issues. To turn off cinema mode, press the Power Button of your Watch; however, if the Watch doesn't have a power button, double-tap the screen to deactivate this feature.
5. Disable DND Mode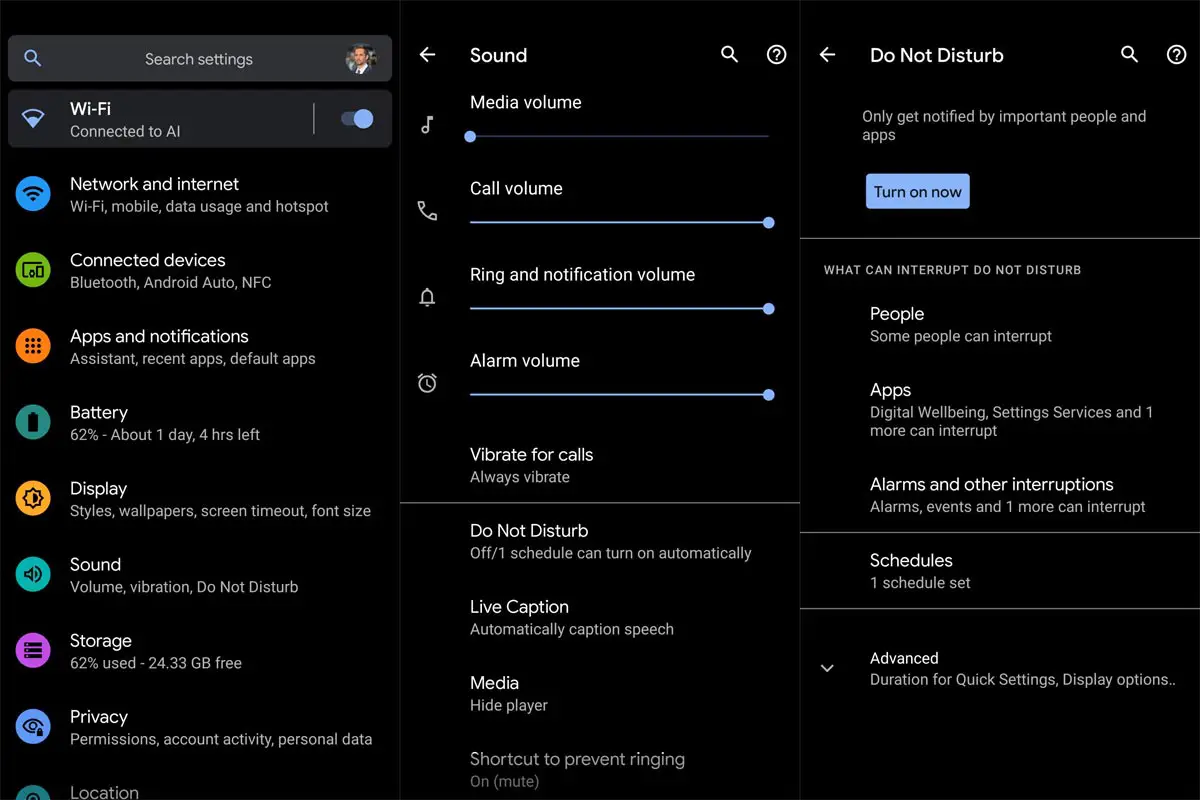 Just like Cinema Mode, if you enable DND (Do Not Disturb) mode, you won't receive new notifications on your Watch. You can turn off the method from your Watch's settings app or your phone. Also, check for Goodnight Mode and Theatre Mode; if any of these modes are active, turn it off, and you should start receiving new message notifications on your smartwatch.
6. Update Your Watch Firmware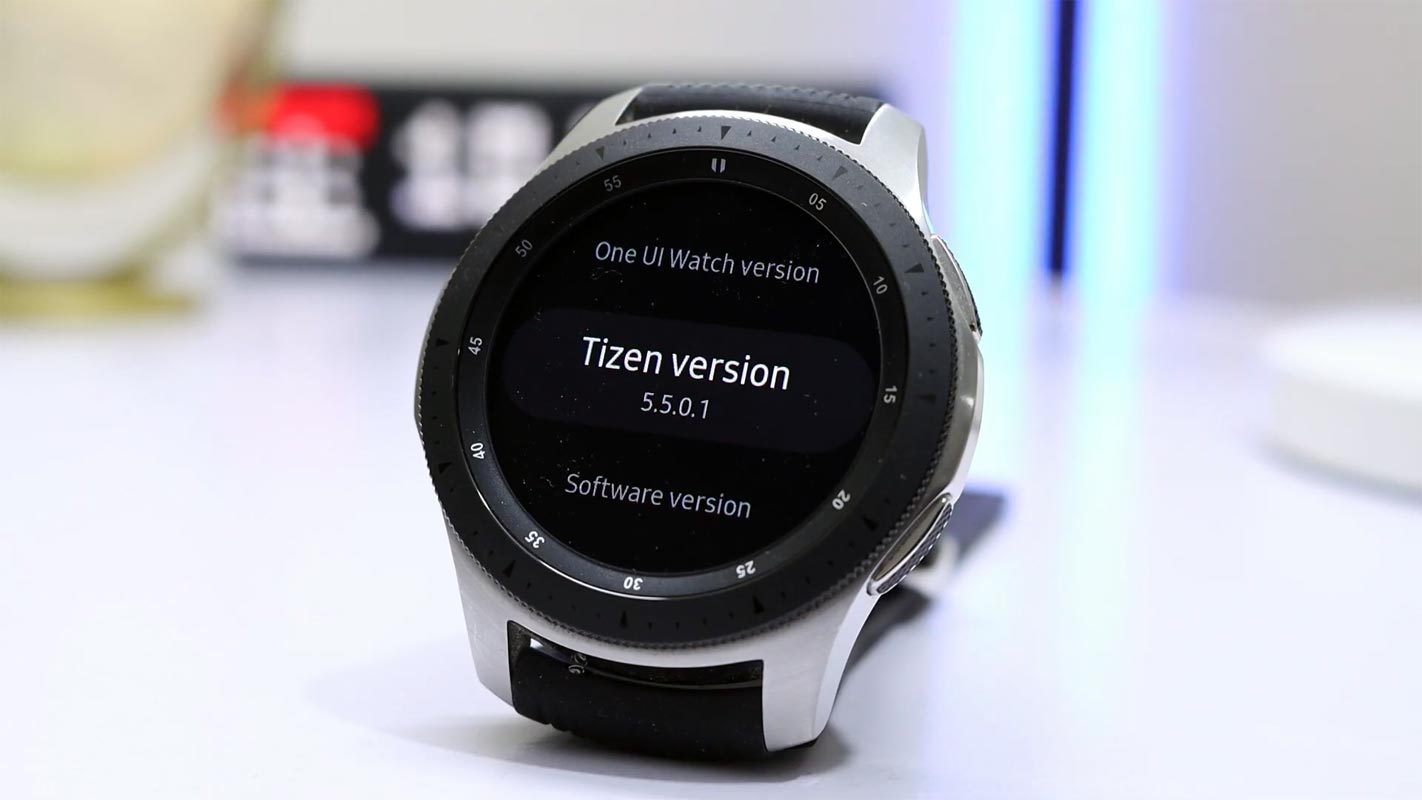 Your Watch's firmware may be out of date, and that could be the reason you're no longer getting notifications on the Watch. To verify, check if there's a new firmware update available for your Watch; download the update, and allow the Watch to reboot after the update installation. In most cases, this is what you need to do to fix the message notification issue. This fix applies irrespective of whether you're using an iPhone or Android device.
7. Check Connection Status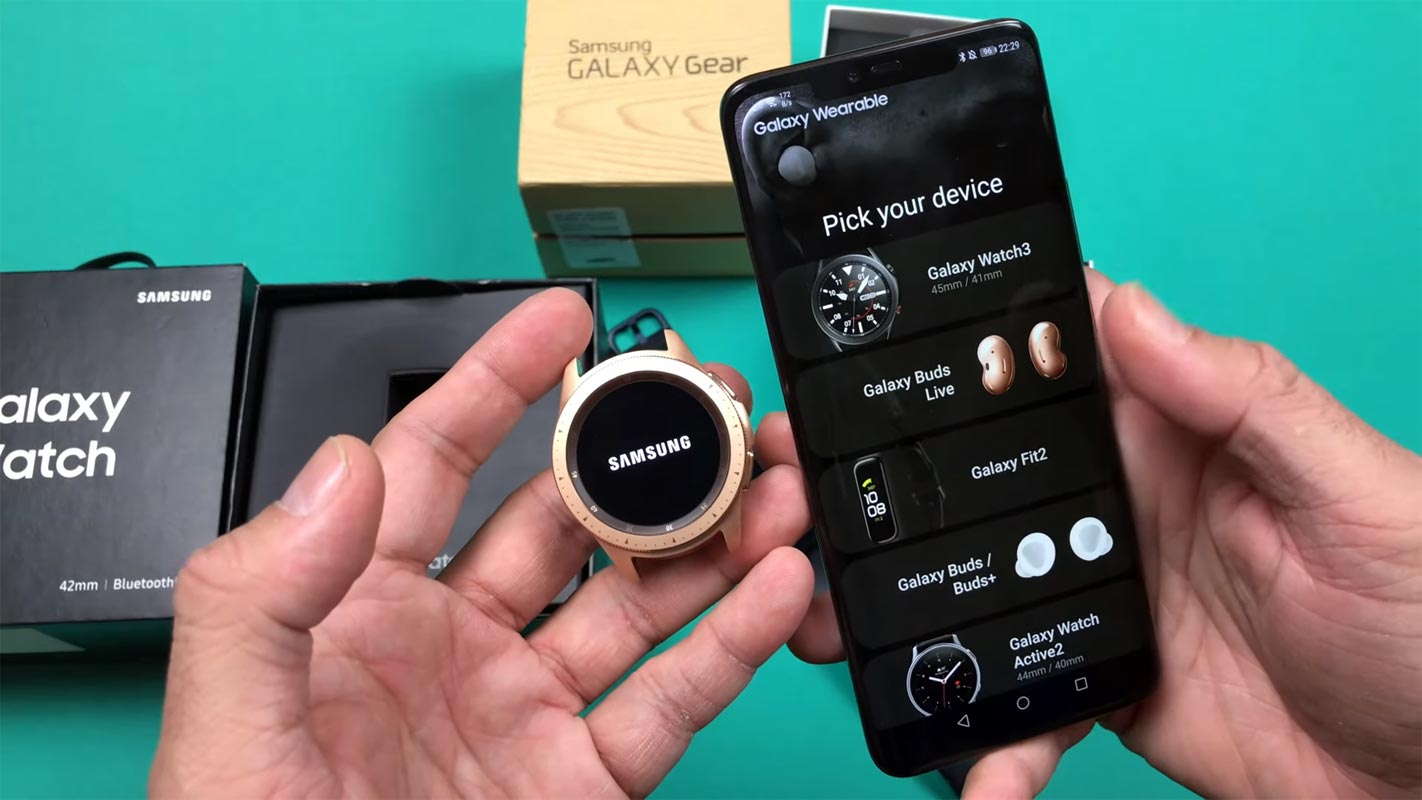 Who knows, maybe your Watch is already disconnected from the device it was previously connected to. Yes, that could be the cause; so, you need to check the connection status of your Watch and phone.
First of all, ensure the Watch is not in Airplane, and also ensure it's within connection range with your phone, then check if you'd like the Disconnected icon on your Watch's screen. If the Watch is disconnected, connect it back, but if it's connected, maybe you should manually disconnect it and re-connect using a Bluetooth connection.
8. Restart Your Mobile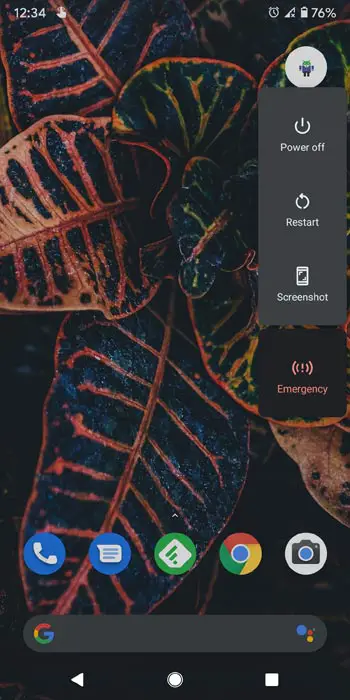 The restart method may look straightforward and not related to tech troubleshoot. But remember, a restart can resolve most of the electronic devices' software issues, and it will work most of the time. Long press your power button for 10 seconds, It will trigger the power of your mobile, and your mobile will shut down in a few seconds.
9. Clear Samsung Galaxy Wearable App's Cache Data
Every app on your Android phone stores Cache Data; these cache data are more like "Trash" files/data generated as you use the device. Depending on the app in question, caches may be necessary, but you need to clear it to fix this error message.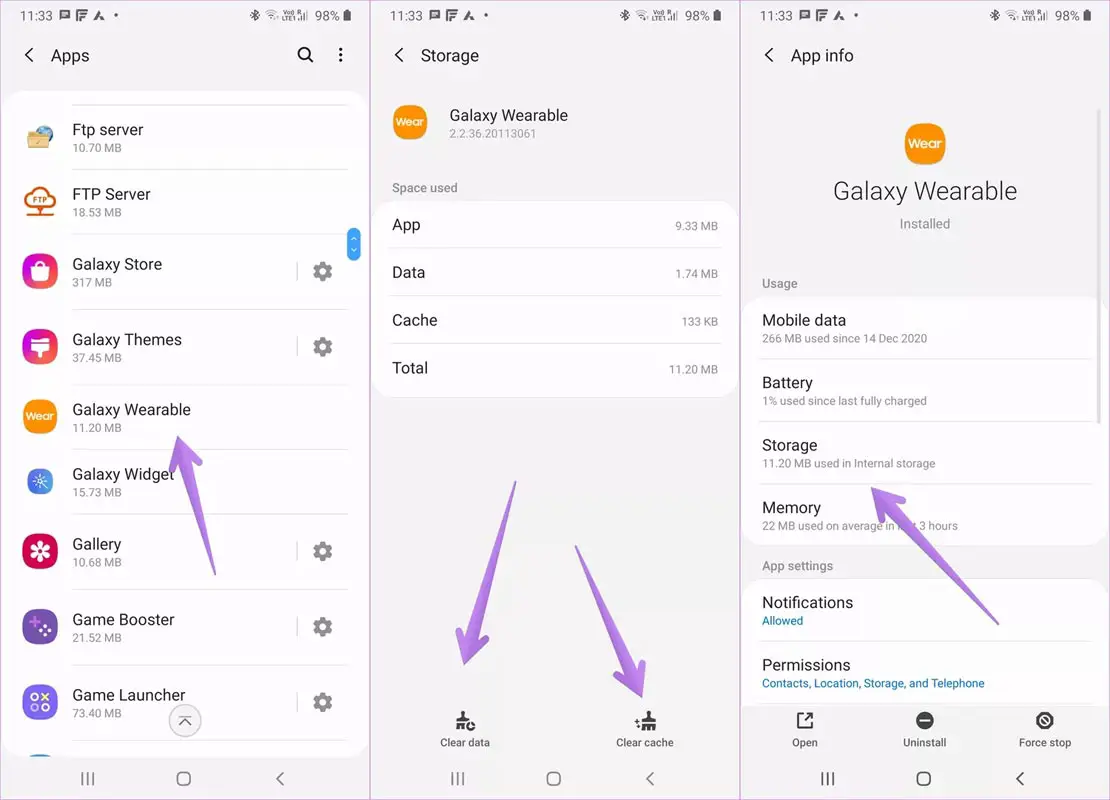 To clear the cache data of an app, you need to go to Settings >>> Apps >>> Find the particular app >>> Tap on it to open >>> go to the Storage option and select "Clear Cache."
The steps to clear the cache data of your apps may differ from device to device; however, the "Clear Cache" option is always available in the "Storage" tab of any app when you access it from the Settings Page.
10. Factory Reset The Phone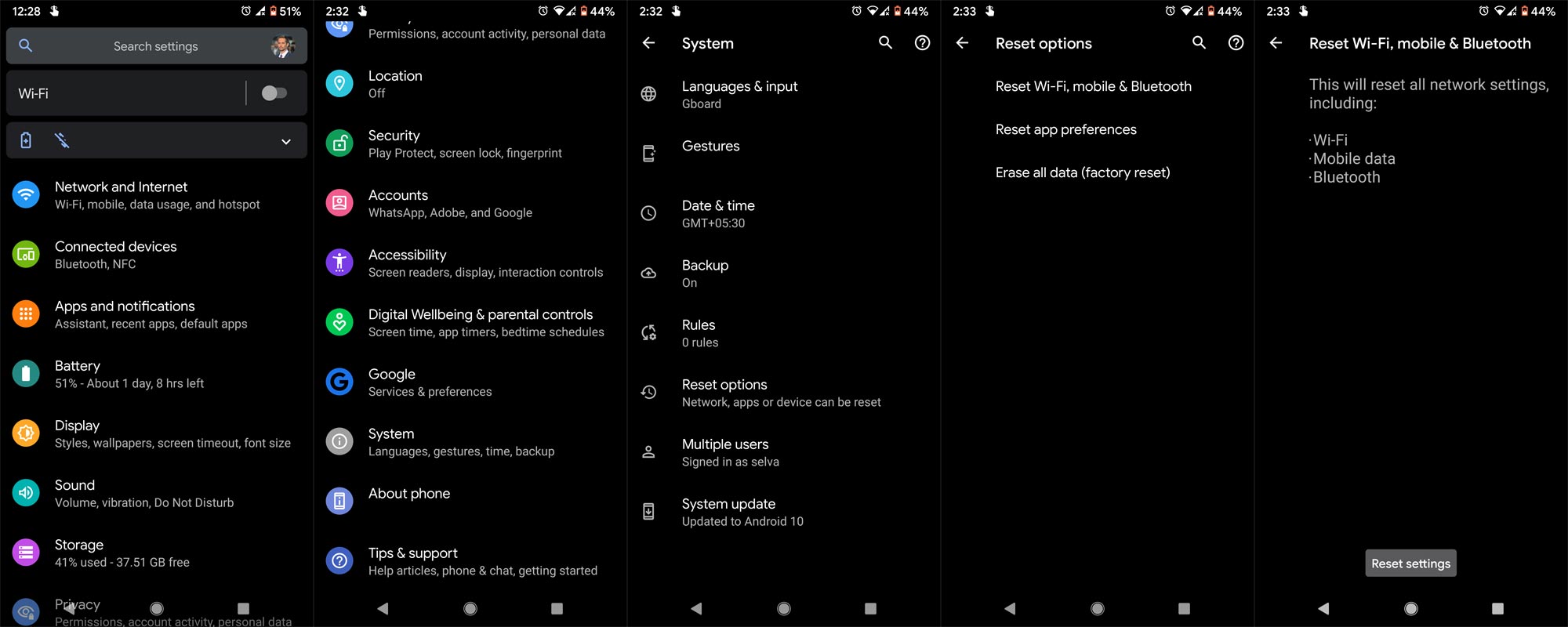 When you have tried all the troubleshooting steps above, and none seemed to solve the issue, you can resort to resetting the device. This will wipe out everything on the device and make it appear like a brand new Android device.
With this, you can carefully install the apps you need and save up more space. But, if the files and apps on the device are essential to you, you should back them up before running the factory reset. This is the final solution to fix this error, and it works for everyone.
Wrap Up
Trying out these tips would fix the issue of not getting new notifications on your Samsung smartwatch. You may also consider uninstalling the watch app from your device and re-install it. Another thing you should also check is Internet Connectivity; make sure your phone is connected to the internet. After Samsung Galaxy Watch 4, Samsung begins to use Wear OS, which avoids most general connectivity and sync issues.
If, after trying out all of these, the Samsung Galaxy Watch 1st Gen issue has No notifications persists, reset the Watch and set it up as a new one. Finally, contact Samsung if you're still unable to fix the issue with these tips. Are you currently facing problems with your Samsung smartwatch? Let's hear your voice.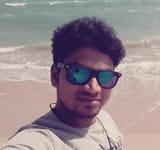 Selva Kumar is an Android Devices Enthusiast, Who Can Talk and Write About Anything If You Give a Hint About the respective devices. He is a Computer Science Graduate and Certified Android Developer, Making His Career towards this Technology. He is always eager to try new Android devices — not only Software level but Hardware-level Also. Beyond this, He is a Good Swimmer, Guitarist.