In the ever-changing realm of digital advertising, maintaining a competitive edge is paramount. Google has revolutionized the landscape by introducing generative AI, a transformative tool for ad creation. This cutting-edge technology grants advertisers the ability to produce engaging content effortlessly. In this article, we will thoroughly explore the intricacies of integrating generative AI into your Google Ads campaigns. By harnessing the power of this innovative tool, advertisers can unlock a new level of creativity and efficiency, ultimately propelling their campaigns to tremendous success. Embracing generative AI is not merely a trend but a strategic move toward staying at the forefront of the dynamic digital advertising landscape.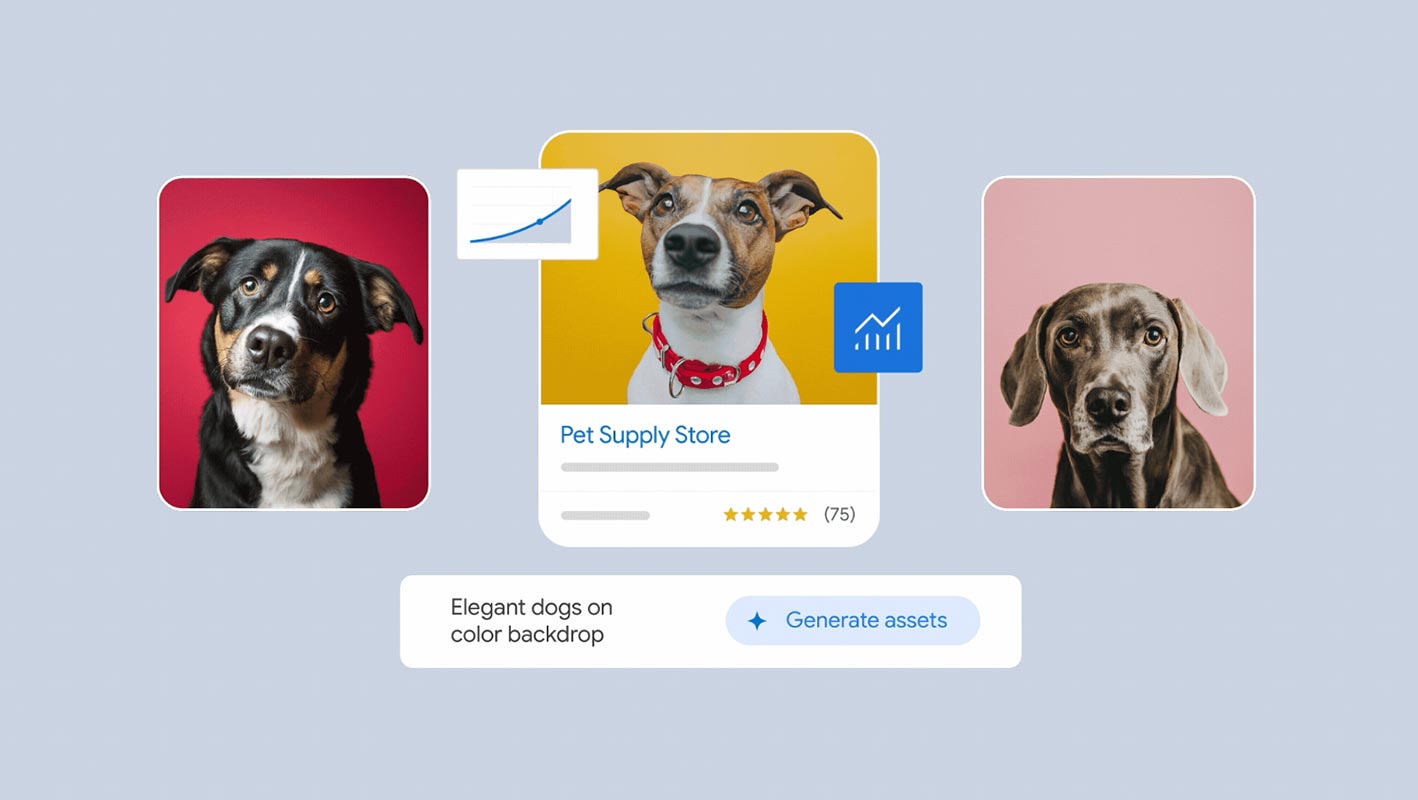 Introduction to Generative AI in Google Ads
Google's latest offering in the advertising realm includes powerful generative AI tools designed to revolutionize how ads are created. These tools cover everything from crafting headlines and descriptions to editing accompanying images. The goal is to cater to advertising agencies and businesses lacking in-house creative teams.
Steps to Generative AI in Google Ads
Here are steps on how to use Generative AI in your Google Ads Campaign: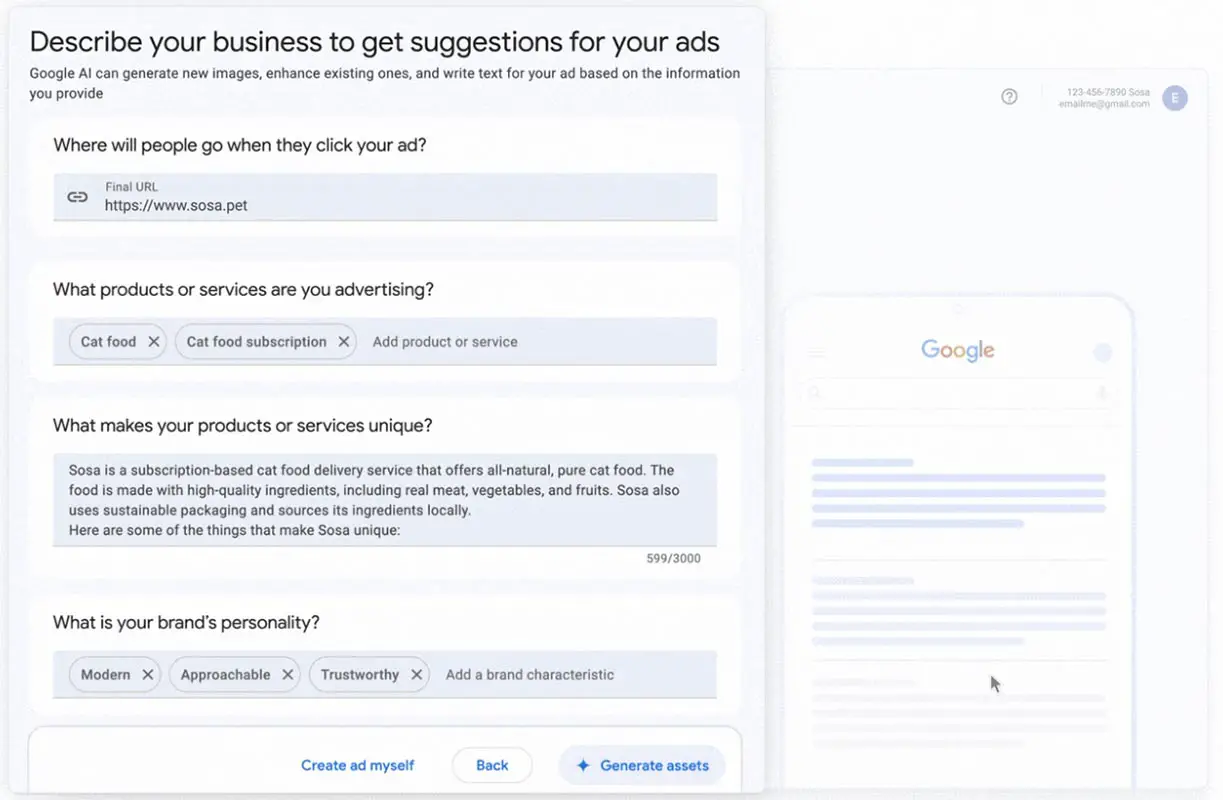 Access a Generative AI Platform
Start by choosing a reliable Generative AI platform or tool compatible with Google Ads. Ensure it has the necessary features and capabilities for ad creation.
Define Your Campaign Objectives
Clearly outline the goals and objectives of your Google Ads campaign. This could include targets for clicks, conversions, or other key performance indicators (KPIs).
Input Relevant Information
Provide the Generative AI with essential details about your campaign, such as product/service information, target audience, key messaging, and any specific preferences you have for the ad's tone or style.
Generate Ad Copy and Creative Elements
Utilize the Generative AI to create ad copy, headlines, descriptions, and other creative elements. Review and refine the output to align with your brand's messaging and objectives.
Customize and Fine-Tune
Most Generative AI platforms allow for customization. Adjust generated content as needed, making tweaks to improve coherence, relevance, or other requirements.
A/B Testing
Create multiple variations of the ad generated by the AI. Implement A/B testing to determine which version performs best with your target audience.
Integrate with Google Ads
Once satisfied with the generated content, upload it to your Google Ads account. Follow the platform's interface to set up your campaign, ad groups, targeting options, and budget.
Monitor and Analyze Performance
Keep a close eye on the performance of your ads using Google Ads analytics. Monitor metrics like click-through rate (CTR), conversion rate, and return on ad spend (ROAS).
Optimize and Iterate
Based on the performance data, continue to refine and optimize your campaign. Adjust ad content, targeting options, and bidding strategies to enhance results.
Maintain Compliance and Quality
Ensure the generated content complies with Google Ads policies and maintains a high-quality standard. Regularly review and update your ads to stay relevant and practical.
Stay Informed About Updates
Stay updated with the latest developments in both Generative AI and Google Ads to take advantage of new features or techniques that can further enhance your campaigns.
Following these steps, you can effectively leverage Generative AI to create compelling ads for your Google Ads campaign, ultimately driving better results and ROI.
The Power of Customized Content
One of the critical advantages of generative AI is its ability to generate unique content. Google guarantees that no two images will be identical, eliminating the potential for awkward overlaps between competing businesses.
Seamless Integration with Performance Max
The step-by-step ad creator is seamlessly integrated into Google's Performance Max ad campaign product. This feature can generate ads tailored for various Google platforms, including search and shopping. Additionally, an advanced image editing solution akin to the Magic Editor on the new Google Pixel 8 is on the horizon.
Enhancing Visual Assets with AI
Customers can leverage the editor to update visual ads while retaining crucial elements. For instance, a user can replace the background of a model featuring a skincare product with a festive scene, perfect for the holiday season. Moreover, the tool allows for generating ad variations suitable for different contexts.
Safe and Transparent Use of Generated Assets
All AI-generated ad content will be tagged with SynthID, a metadata watermark. This ensures transparency and aids in identifying content created with AI. Google places guardrails to prevent engagement with inappropriate prompts or the generation of policy-violating creatives.
Feedback from Industry Experts
Industry leaders, such as Jason John, CMO of 1-800-FLOWERS.COM, Inc., have hailed generative assets as a game-changer. These assets save time and enable the creation of high-quality, personalized visuals that resonate with audiences.
Success Stories: Brands Leveraging Generative AI
Numerous brands, both large and small, have embraced generative AI through Performance Max. This technology has enabled them to adapt to ever-changing consumer trends and enhance their creative strategies.
FAQs
What is generative AI?
Generative AI is a cutting-edge technology that enables the automated creation of content, including text and images, based on given prompts or parameters.
How does generative AI benefit advertisers?
Generative AI streamlines the ad creation process, allowing for the rapid generation of unique, high-quality content. This empowers advertisers to reach their target audience effectively.
Can I combine generative AI with my existing ad strategies?
Absolutely! Generative AI can complement your existing strategies by providing a powerful tool for creating fresh and engaging content.
Is generative AI suitable for businesses of all sizes?
Yes, generative AI is a versatile tool that can benefit businesses of all sizes, from startups to large enterprises.
How can I ensure the generated assets align with my brand's identity?
You have complete control over the generated assets. Google AI ensures that no two images are identical, and you can review and select the assets that best align with your brand's identity.
Wrap Up
In conclusion, incorporating Generative AI into your Google Ads campaigns is a game-changer in the dynamic world of digital advertising. This innovative technology empowers advertisers to create compelling content, providing a distinct competitive edge effortlessly. By harnessing the capabilities of Generative AI, campaigns can achieve a new level of creativity, efficiency, and effectiveness. However, it is crucial to remember that while AI can generate content, human oversight, and customization remain essential to ensure alignment with brand messaging and objectives.
Regular monitoring and optimization are crucial to maximizing the potential of this powerful tool. Embracing Generative AI is not merely a trend; it is a strategic move toward staying at the forefront of the ever-evolving digital advertising landscape. As this technology advances, staying informed and adaptable will be paramount in driving continued success and achieving optimal results in Google Ads campaigns. With Generative AI, the possibilities for creating impactful and resonant advertising content are boundless.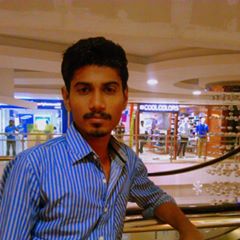 Selva Ganesh is the Chief Editor of this Blog. He is a Computer Science Engineer, An experienced Android Developer, Professional Blogger with 8+ years in the field. He completed courses about Google News Initiative. He runs Android Infotech which offers Problem Solving Articles around the globe.