Microsoft is on the verge of introducing an upgraded Settings home page in Windows 11 Insider Preview Build 22631.2262, poised to enhance the user experience significantly. This highly anticipated update, presently accessible solely to Windows Insiders during its beta stage, introduces a pioneering feature known as "interactive cards." These cards are meticulously crafted to facilitate quick access to various settings. Effortlessly access Bluetooth pairing and account recovery settings in Windows 11, avoiding complex menu navigation for a streamlined user experience. This innovation marks a pivotal step toward user-centric design, promising heightened accessibility and efficiency within the Windows 11 ecosystem.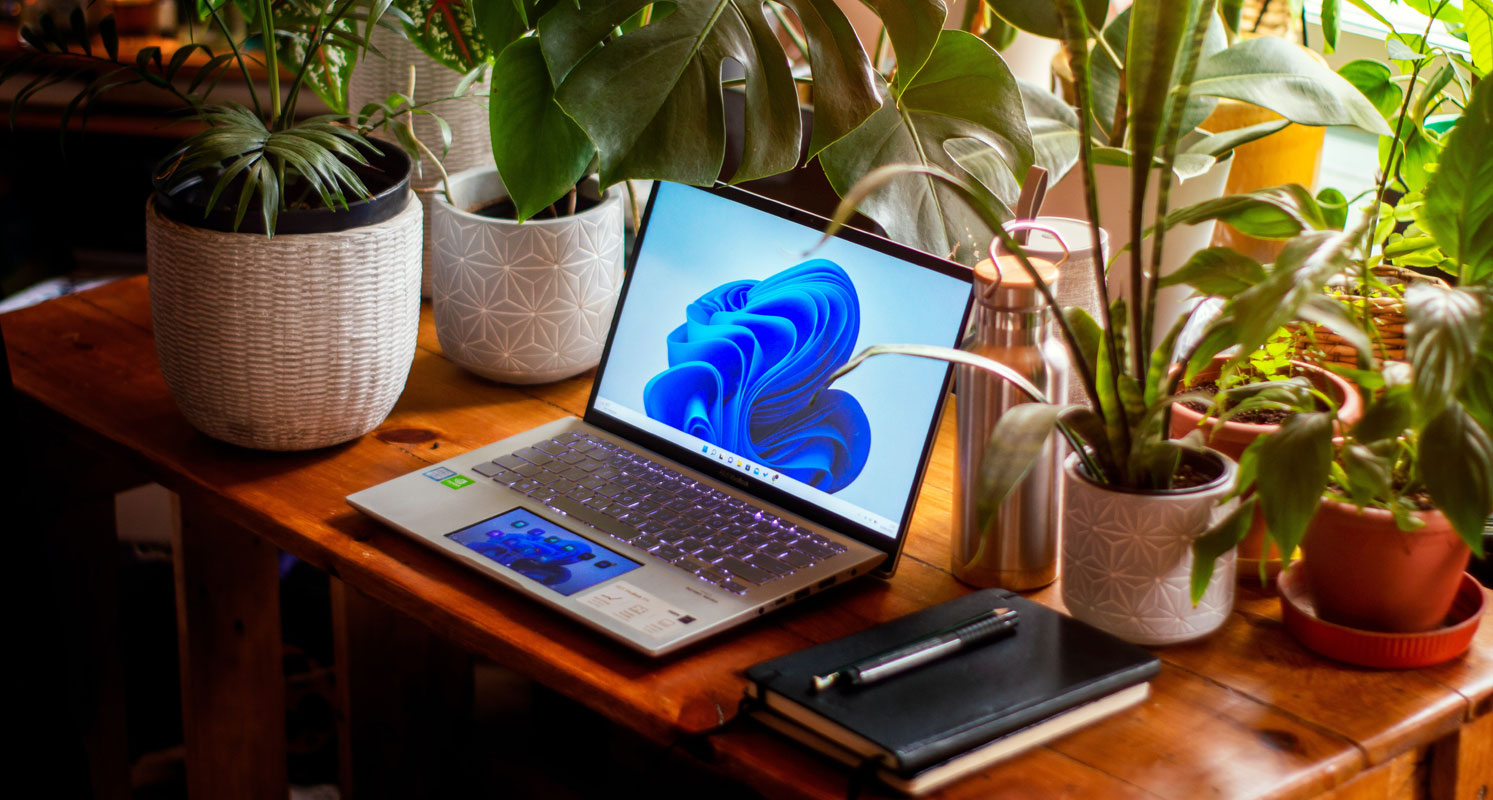 Insider Preview Build 22631.2262: The Future Unveiled
The Windows 11 Insider Preview Build 22631.2262 encapsulates all these transformative updates. This build is a testament to Microsoft's commitment to fostering innovation and refining user experience. As it seamlessly melds functionality and aesthetics, it is now available for exploration within the beta testing channel.
Simplifying Navigation and Enhancing User Experience
The cornerstone of the upcoming change is the introduction of interactive cards, each serving as a convenient gateway to different settings. These ingeniously designed cards are meticulously tailored to simplify navigation across the diverse range of options within Windows 11. Imagine the ease of promptly navigating to Bluetooth settings for pairing a new device or adjusting account recovery settings without trailing a labyrinth of menus.
Personalized Recommendations: Your Settings, Your Way
One standout feature that demands attention is the integration of personalized recommendations on the Settings home page. These recommendations, derived from intricate usage patterns, usher in a new era of tailored setting suggestions. For instance, if you are prone to frequent adjustments of display settings or toggling between audio resolutions, expect these options to grace your stage home page prominently.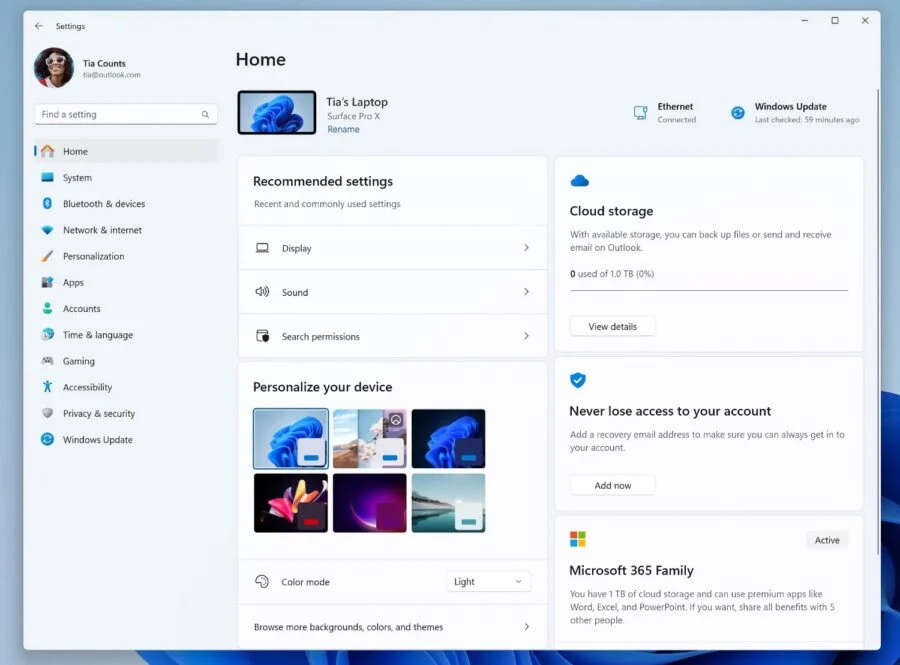 Microsoft Services Integration: One-Stop Access
The revamped homepage also acts as a strategic platform for Microsoft to showcase its services. Users will encounter a dedicated section displaying their available OneDrive cloud storage. Additionally, users will be greeted by cards outlining the status of their Microsoft 365 and Xbox subscriptions. Initially, up to seven cards will populate this section, promising more to come, presenting an all-encompassing snapshot of your Microsoft ecosystem.
Seamless Migration and Color Harmony
Beyond the enhancements to the Settings home page, Microsoft is diligently crafting a Windows Backup app. This app is set to revolutionize the process of migrating settings and pinned programs when configuring a new PC, simplifying the transition process. Furthermore, a subtle yet impactful update is poised to grace the Dynamic Lighting feature. This enhancement will empower users to synchronize the Windows accent color with their peripherals and PC components, culminating in a harmonious visual experience.
FAQs
When will the new Settings home page be available to the general public?
We still don't know the exact release date for the new Settings home page. It is currently in the beta testing phase for Windows Insiders.
How do personalized recommendations work?
It generates customized recommendations based on the specific usage patterns within Windows 11. This ensures that the settings suggestions cater to your individual needs.
Can I customize the interactive cards on the Settings home page?
While the ability to customize the cards might not be available initially, Microsoft could potentially introduce such features based on user feedback.
Is the Windows Backup app a part of the Insider Preview Build?
The Windows Backup app is part of Insider Preview Build 22631.2262 enhancements.
Can I revert to the previous Settings layout if I prefer it?
While specific details might vary, Windows often allows users to adapt to new features or retain familiar formats. Check the official resources for guidance on switching between settings layouts.
Wrap Up
As the launch of the reimagined Settings home page approaches, accompanied by many complementary features, it becomes abundantly clear that Microsoft is devoted to refining user interaction and honing personalization to perfection. Through the ingenious integration of interactive cards, intricately tailored personalized recommendations, and the seamless amalgamation of Microsoft services, the imminent Windows 11 update tantalizingly places users on the threshold of a truly transformative journey.
This journey promises to seamlessly harmonize cutting-edge technology with the intricate tapestry of user requirements. Windows 11 embodies user-centric innovation, integrating interactive cards, personalized suggestions, and Microsoft services for an enhanced technological experience.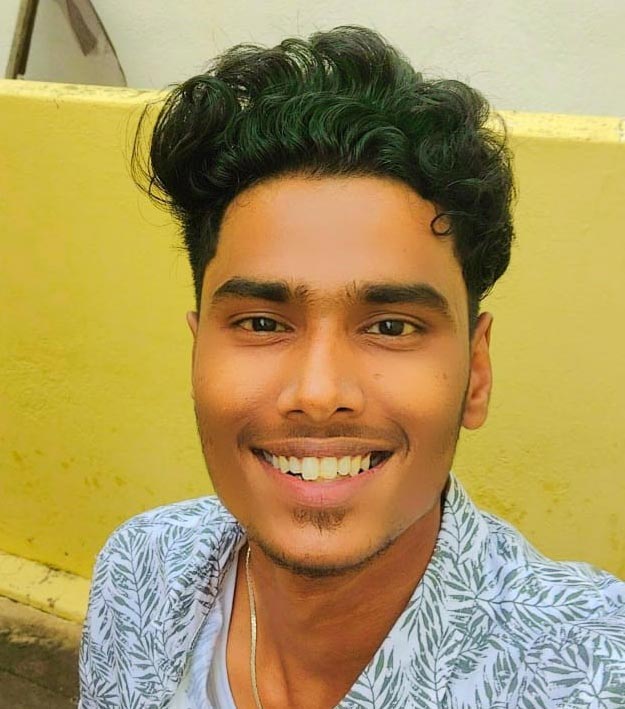 Arun Karthick is a highly skilled and versatile individual with a computer science background. He completed his undergraduate degree in this field and has since worked as an Android developer. Arun is known for his expertise in break dance and is highly regarded in this field. In addition to his dancing abilities, Arun is also a mobile hardware-level technician, making him well-rounded. He is known for his intelligence and is considered an intelligent individual in his professional and personal life.