Even if it is a leak, We want some legit leaks to about here at Android Infotech. So, we got legit leaks with a price. How the upcoming OnePlus 7 would look like has been leaked, and it appears the device will feature three rear cameras while the screen display is notch-less. While previous leaks and rumors claim the OnePlus 7 will launch with a sliding selfie camera, the brand is surprising us by unveiling that its new device will come with a pop-up selfie camera instead.
This upcoming flagship device from OnePlus is expected to launch later this year, and a lot of users have been anticipating for that. We've read a lot of rumors about this smartphone, and just recently we have been shown how the device will look like. In a year when flagship devices come with full-screen display (not-less), OnePlus 7 is not excluded. From the leaks photos; it also appears like this device will come with a pop-up camera just like the Vivo Nex because of the notch-less screen display design. Both have the same parent company.
Online Retail store confirms Price and Specs
Typically, OnePlus devices are always classy and adapt to the latest technologies as per when they were launched. It is not a surprise to know that the next flagship device from this brand will feature all the cutting-edge technology of the moment.
From the information leaked about OnePlus 7, we could gather that the device will come with an FHD+ big screen display technology. The screen size is 6.5 inches, and it will cover about 95% of the front panel. Inside this device is likely to lie a large 8/12GB RAM chip alongside the new Qualcomm's processor, Snapdragon 855. Also, the battery is expected to be a 4000mAh battery, and of course it'll be a non-removable battery. The price is $569, and it is $10 less than the OnePlus 6T. The 5G device will be New line up from OnePlus.
Display
Also, the OnePlus 7 will feature three rear cameras with 3D Time of Flight (TOF) sensor. This implies that users will capture moments in stunning clarity and with full details. You won't spot a selfies camera mere looking at this device because of the full-screen display. Instead, it comes with a pop-up the camera just like the Vivo Nex from the Chinese OEM – Vivo. Since the debut of pop-up front cameras in Vivo Nex, most techies are beginning to imagine what would be the fate of the Motorized part components that houses the camera. Well, we will still see to that when it becomes visible.
Camera and Battery
Coming to Camera it will have Triple rear 48+20+5 MP Camera and 16MP selfie Camera. Remember, this device (OnePlus 7) won't come with wireless charging technology. So, its 4000mAH battery would charge manually using USB cables. However, the CEO of OnePlus, Peter Lau said the brand's quick charge technology would cause the smartphone to charge fully within an hour. While the next flagship device from OnePlus will feature practically all the new features on trend at this moment, it still won't come with wireless charging support.
What More?
This device is expected to launch not later than two months from now. What are thoughts about this device? Will you be getting it to replace your current smartphone?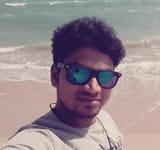 Selva Kumar is an Android Devices Enthusiast, Who Can Talk and Write About Anything If You Give a Hint About the respective devices. He is a Computer Science Graduate and Certified Android Developer, Making His Career towards this Technology. He is always eager to try new Android devices — not only Software level but Hardware-level Also. Beyond this, He is a Good Swimmer, Guitarist.