We know Samsung is not only releasing mobile. They are mass producers of processor, Display, and Camera Sensor components. That's why they always highlight the elements along with the mobile release. We already know That Samsung is working on a 200MP ISOCELL camera sensor. Now Samsung follows a different strategy to promote its camera Sensor. Samsung placed a Massive Banner Image taken by its 200MP ISOCELL camera sensor in a public place to attract its users. It is one of the strategies to promote their camera's sensor and create hype for its upcoming mobiles.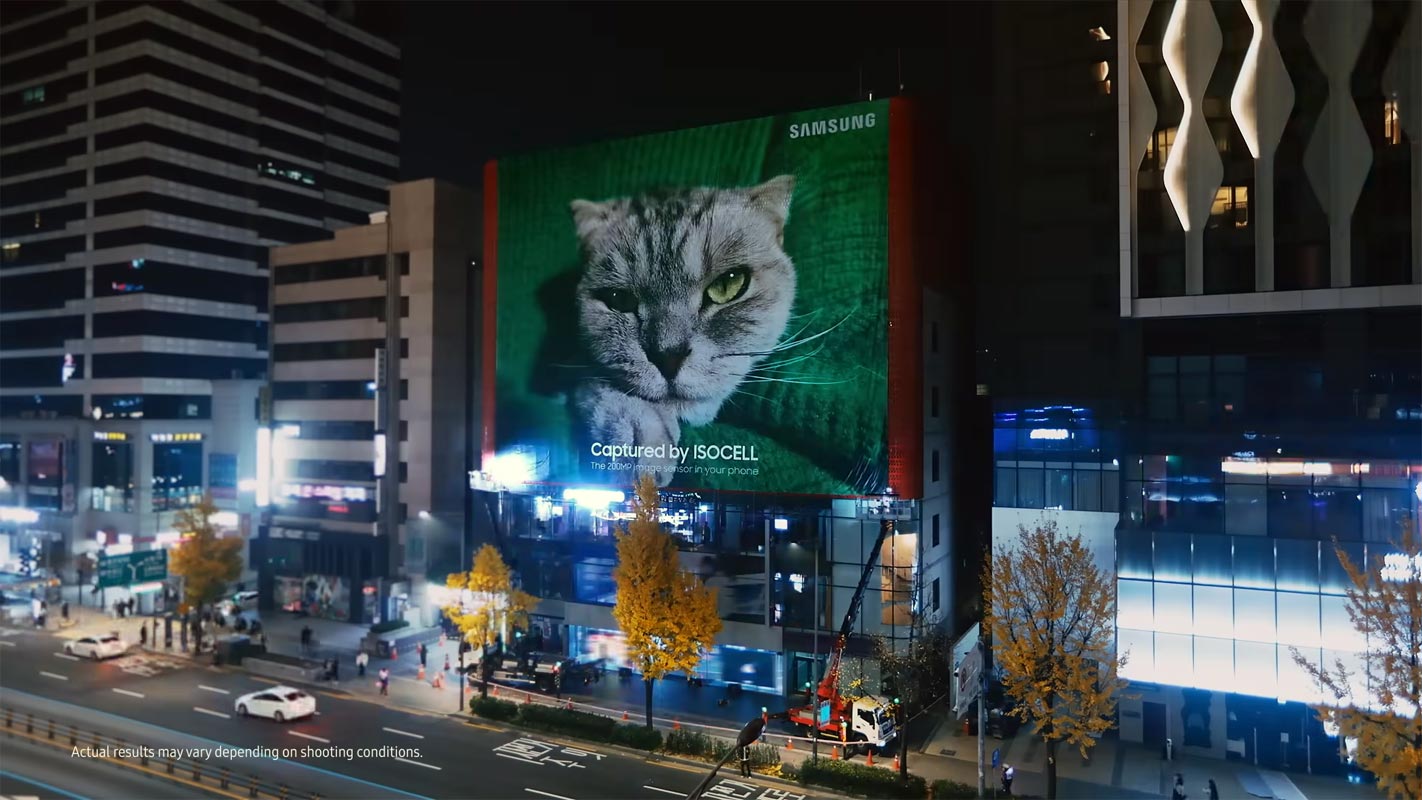 200 MP ISOCELL Camera Sensor Teaser
In a brand new teaser for the 200-megapixel image camera, Samsung has released a video that demonstrates the steps it used to take an image with the sensor. The video also illustrates how the company printed the image in high resolution on a large canvas and then hung it on a billboard erected in an urban area. Although the company did not provide photo samples taken with the camera, they mentioned in a press statement that it was required to use a test board to capture the image since there aren't any phones equipped with the latest image sensor.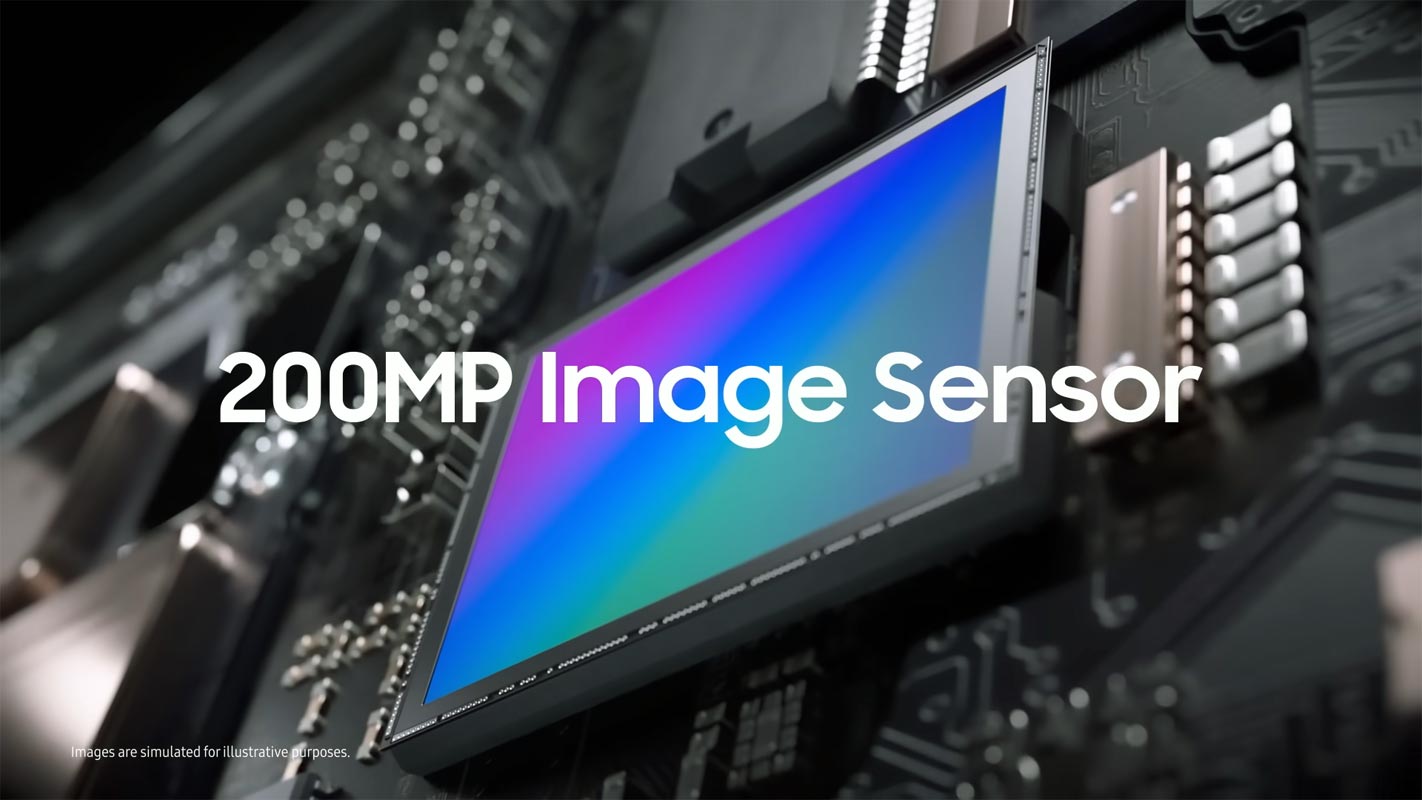 About the Advertisement Banner
As you can see from the photo and the footage, Samsung captured the image of a cat and printed it on the canvas, which measures 29 meters by 22.2 meters. The total size is enormous, measuring 616 square meters of canvas which, as the company pointed out, is roughly 1 1/2 more than a basketball court. It's such a large size that We could not even print the picture simultaneously. The image had to be published over 12 distinct 7.5-feet-long strips of material. They later stitched them to create the entire image. Despite the printing size, Samsung claims that the picture was crystal clear and with all the fine details due to the massive resolution of their sensor.
What's unique about Samsung's ISOCELL 200MP HP1 camera sensor?
Samsung's ISOCELL 200MP HP1 camera sensor is brand new and isn't in any smartphones yet, and the team was required to put up an experimental board to test the sensor. It's possible that we're not getting lots of the features and some of the sophisticated algorithmic magic that we see on Galaxy phones, and the reality, it was an animal (those pets never sit still). The result was still pretty impressive. At the very least, it appeared good enough for Samsung to consider printing it on a massive 28×22-meter canvas of 12 stitched together 2.3-meter-long pieces. They displayed the canvas on the wall of a building.
Samsung proved the sensor's ability to capture high-detailed images, and it certainly appears to have done so.
Availability
They revealed its ISOCELL HP1 sensor for cameras in September of last year, and the incredibly-high resolution of 200MP is a first in the industry. Although no phones currently have it, we hope to see it on hardware devices like the coming Motorola Frontier.
Wrap up
If you don't know, Camera MP alone is unnecessary for good photos. Google Pixel devices take the best pictures with their 12.2 MP camera Sensors. What matters after taking photos is the optimization and processing should be good. Since Other companies will use this 200MP ISOCELL Camera sensor, There will be a difference in image quality. But we can expect the best from Samsung. Because Google never uses this much MP in their phones. So, In the mobile industry, after Google, Samsung is better at handling image processing. What are your thoughts about Samsung 200MP Camera Sensor? Share it below.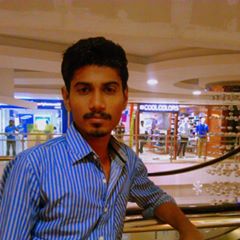 Selva Ganesh is the Chief Editor of this Blog. He is a Computer Science Engineer, An experienced Android Developer, Professional Blogger with 8+ years in the field. He completed courses about Google News Initiative. He runs Android Infotech which offers Problem Solving Articles around the globe.