Stadia doesn't have a console; it's a cloud-based gaming platform; thus, it runs with an internet connection. You can use your already existing devices like Mobile, PC, and Laptop to play games. To enjoy Stadia games, you need to have access to a steady internet connection. While Stadia doesn't feature a console, the amount of money you'll spend to have an unmetered internet connection to enjoy Stadia games may run into extra dollars in a full year. But, Even If the ISPs say It is Unlimited, the data are limited. Nothing is unlimited. If you consume a lot of data than usual, You may face some issues, or the ISPs may charge too much. So, You should know how much data you are using per month. If you play games using Stadia. Today, we are going to look at how much data Stadia consumes as you play.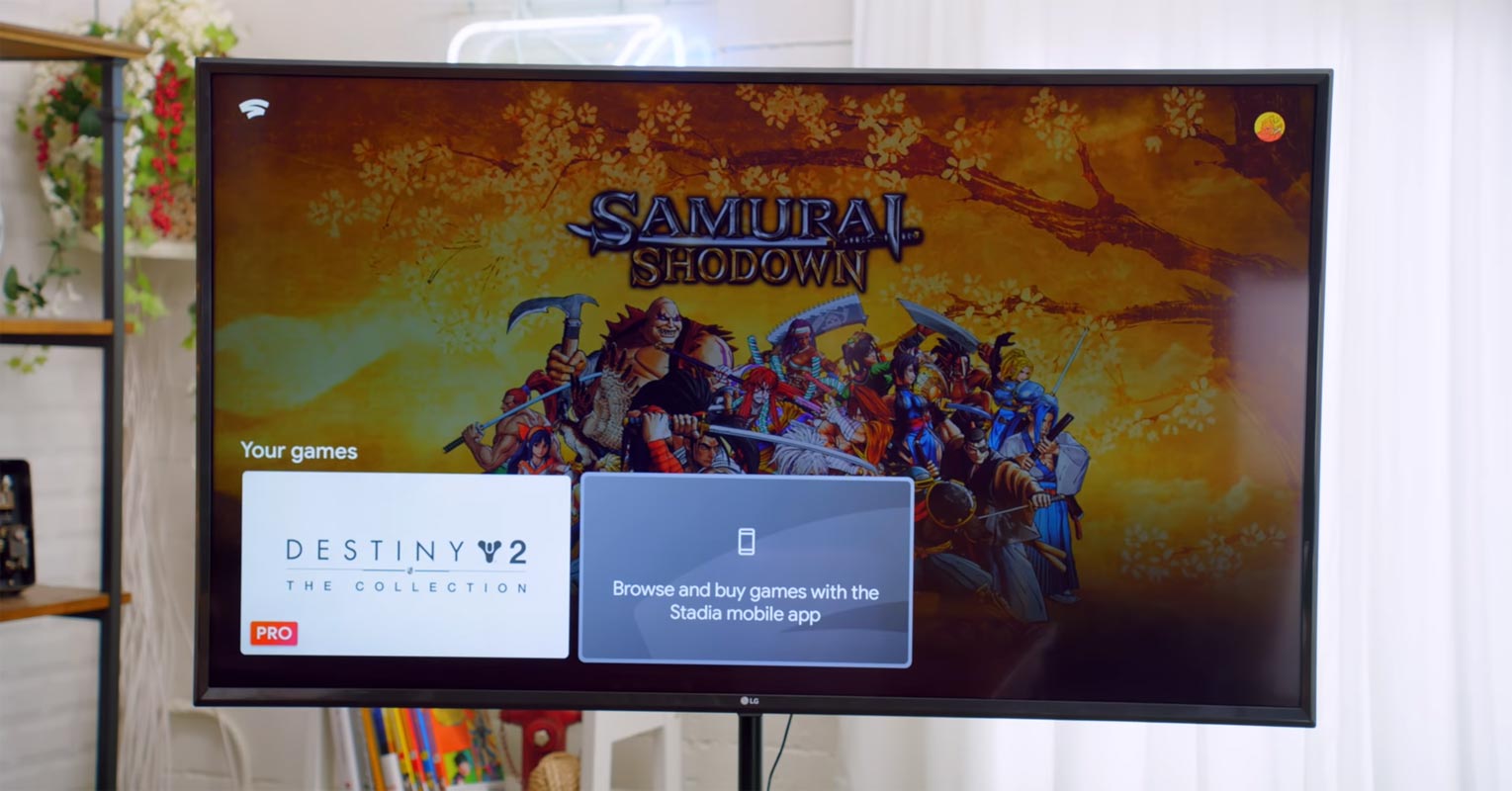 As you may know already, Stadia is available at 720p, 1080p, and 4K. As the resolution increases, you can guess that the data consumption would not be the same.
How to Choose Resolution As Per the Devices?
You should not use the same resolution for all devices, even if you have a good connection. If you've got a 4K TV, you'll have to chunk out a considerable sum of money to pay for internet connectivity as Stadia can take up to 16GB (approx.) within an hour. If your ISP charges you high for internet usage, then, Stadia will create more concerns for you.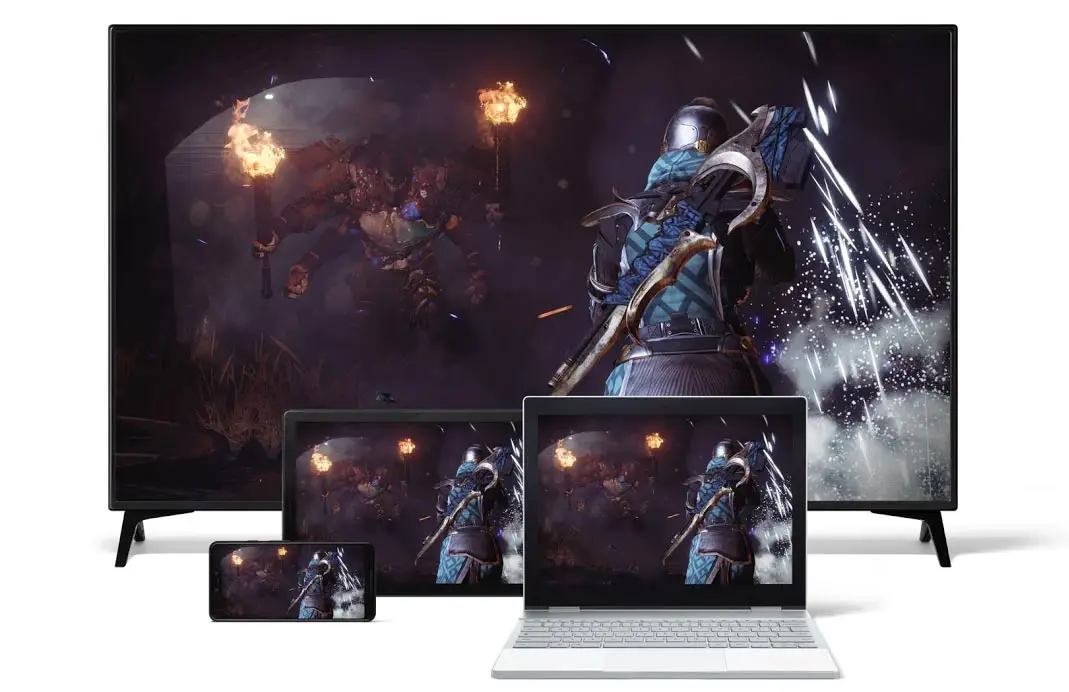 Currently, Stadia supports Pixel Devices from Pixel 4 to Pixel 2. For Devices like Pixel, Mobiles 720p is enough. If you can notice the Quality difference, Move the resolution to 1080p.
Laptops and PC with FHD+ Display should run on 1080p.
If you have 4K TV, you can use 4K Resolution settings. You will not see low quality if you use 1080p. But, 4K is better. You need Chromecast Ultra to Stream these settings. You can Buy this with the Stadia Premiere Edition Box, which Consists of Chromecast Ultra and Controller with necessary cables and Adapter.
Using 4K in Mobiles and PCs that are below the 21 Inch Screen is useless.
Amount of data Stadia will consume at 720p, 1080p, and 4K
According to Google, Stadia will offer a steady 60fps 4K stream at 35Mbps bitrate, while the 1080p streaming will be locked at 60fps with a bandwidth of 20Mps. Also, Stadia will be available at 720p, and this is locked at 60fps with 10Mbps bandwidth. From the details above, the 4k streaming is the high-end, 1080p is the mid-level, and 720p is low-level.

Now, from a layperson's view, the 4K version would consume more than the resolutions. That's simply the truth, but what's the exact data amount that is needed to play 4K stadia games for long hours?
You can test your connection in the Stadia Official Page. Based on your Results It will suggest a suitable Gaming Resolution.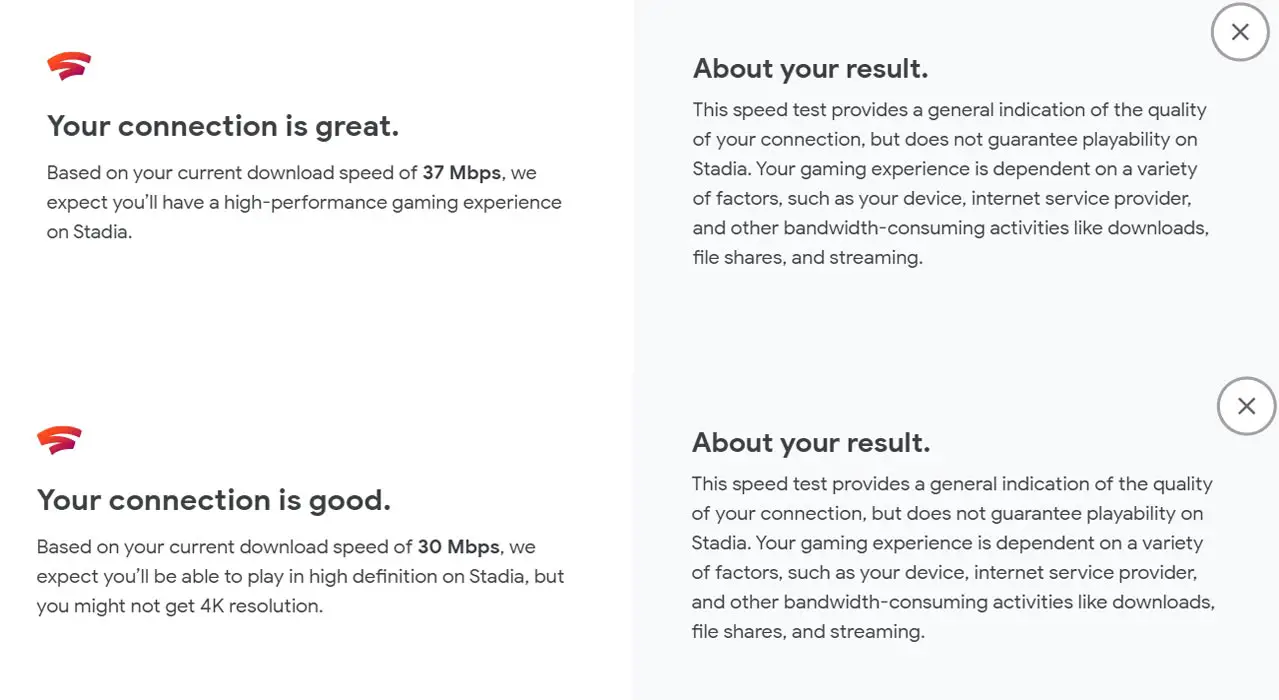 As per the results, you can understand above 35Mbps is a Great connection, and you will enjoy and unlock the full experience of Google Stadia. Any speed below this range puts you in limited expertise.
Data Consumption Details
We can't compare this gaming service with Streaming Videos. But to better understand the concept, I Compare it with them. Like YouTube and Other Video streaming Services, It will Pre-load some contents, and If you play in a Single Area in-game without Moving to other regions, The Data consumption may vary. For Example, You are merely Standing and Exploring the surroundings for five minutes; In the Other Hand, you are In combat or You moving fast. Both Situation data consumption may vary.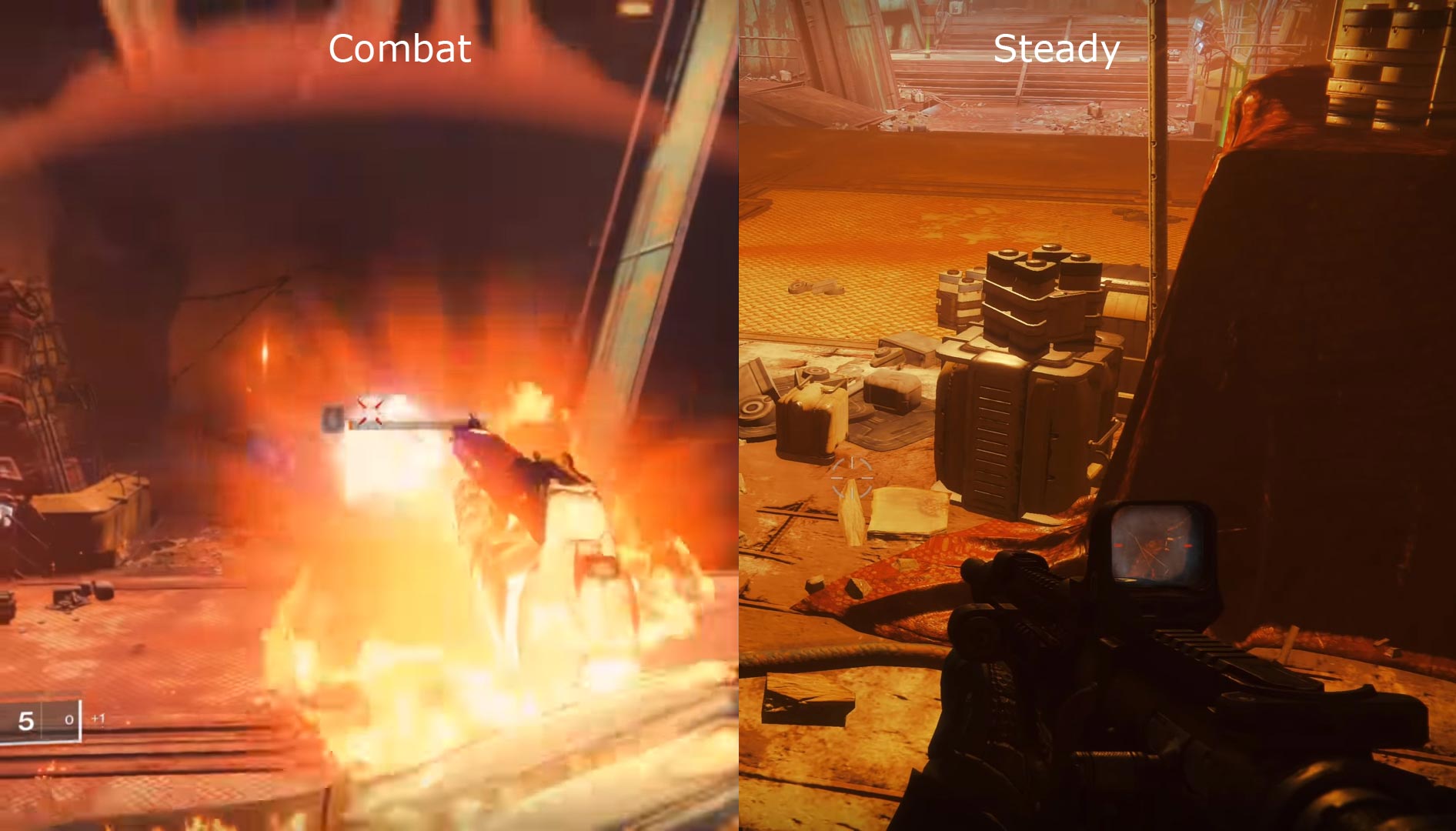 If you are going for the lower resolutions (1080p or 720p), Stadia's data consumption may not be a big concern to you. As I mentioned earlier, we can't calculate the exact data because It Depends on your ISP's calculation, Gaming, Your Device Data Consumption. I will provide approx details. It will surely help you to allocate your data.
If you play at 4K 60FPS, Stadia will consume around 8-16 GB/Hour.
When streaming at 1080p, Stadia consumes around 4-9 GB /Hour.
At 720p, it consumes just 1.5-4.5 GB/Hour.
With the details in this paragraph, Stadia will consume 108GB, 216GB, and 384GB in 24hours when you play at 720p, 1080p, or 4k, respectively, for a whole day. This is the highest data consumption calculation. It will reduce based on Gaming.
Well, what else can we expect from Stadia if not similar stuff as we are seeing? Almost everyone streams videos from YouTube and other video streaming platforms; we can tell that those videos we stream consume a lot of data depending on the quality. Similarly, Stadia consume a lot of data depending on the resolution you're playing with.
Is it gainful to play Stadia than console games?
I can't say, It will replace your Console. Console and PC Gamings are best. We can't compare it with Stadia. Even If Google provides 4K 60FPS, There will be some compression. It is normal in all Cloud-based gaming service. If you compare below Images comparison, You can understand the Compression. All Four Platforms(PS4, Xbox One X, Stadia and PC) set to 1080p 60FPS Resolution. Yes, there will be and should be compression in Stadia. Because when you are playing with the consoles and PC, You have your full game available within your device. Input and Outputs happen Instantly. But, In Stadia, The Input Should pass through the Internet and process should happen, and Outputs pass through the Internet again, and you will get the results.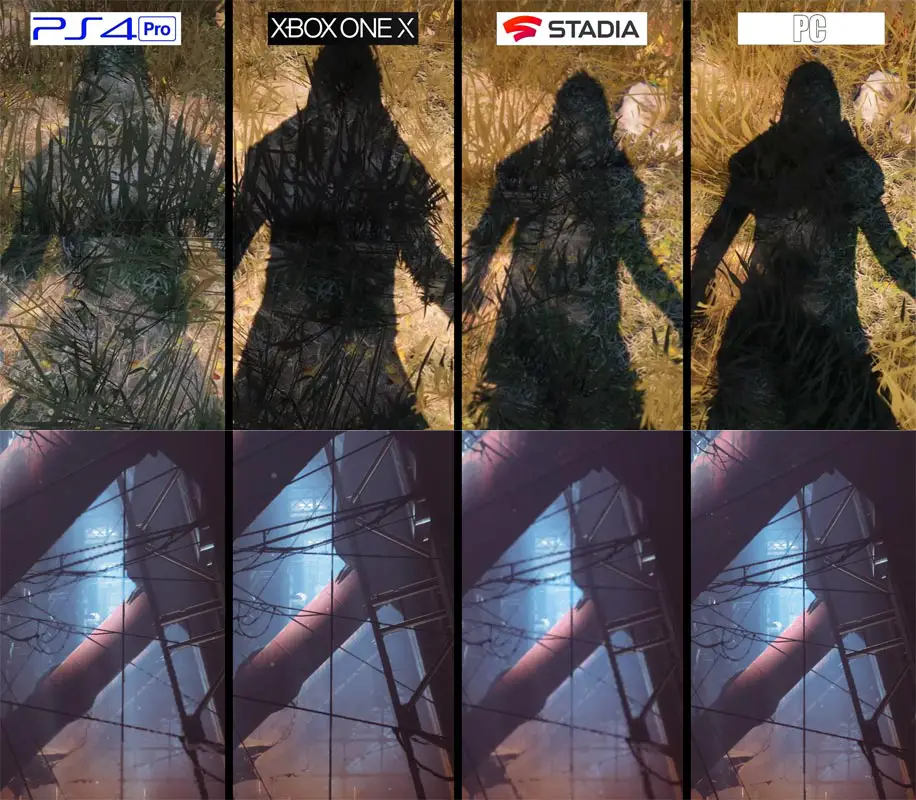 Well, Stadia's method is unique and seems the next big thing. Not having a console and playing games virtually from every device you own is a good thing for usual gamers. Also, if you don't have a 4k compatible TV or device, obviously, you'll play stadia at 1080p or 720p, which does not consume so much data.
Furthermore, Google is offering extensive support for Stadia users'. However, depending on the Internet Service Provider, Users may not see it as a big deal playing Stadia at 4k for as long as they want.
Wrap Up
As I said earlier, Google Stadia may not give full experiences like Consoles and PC. But, It can provide you different gaming experiences. Consider you are not a Gamer, But, You love to play games In Weekend or in your free time, and you don't want to spend the Console Price, Yes Stadia is for you. When We Compare the available mobile games, These games are exceptional, and you can play Console games on your mobile without activating and purchasing Consoles. But, Your experience purely depends on Internet Speed and Latency. If you have a good Internet connection and you are in an available country, You may have a pleasant experience. Based on some reviewer's results, some games have Input lags. We should wait for the Stadia Base Next Year. Where I feel It will become a More useful gaming Platform with Full positive results. These are my thoughts..:) What are your thoughts? Can Stadia become a new gaming platform? Comment below.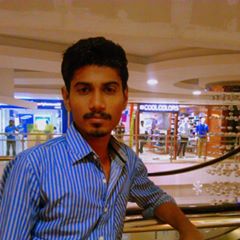 Selva Ganesh is the Chief Editor of this Blog. He is a Computer Science Engineer, An experienced Android Developer, Professional Blogger with 8+ years in the field. He completed courses about Google News Initiative. He runs Android Infotech which offers Problem Solving Articles around the globe.