Chromecast is used to Stream or Send your mobile Display to large Displays like TV and other devices. You can send a lot of data types like photos, Video and Music.  A piece of hardware is used to do this. You have to connect this device with your TV. You should download the Google Home app from Playstore in your mobile and following further steps. But, Nowadays, most of the Android TVs and Bluetooth Speakers come with Chromecast as a Built-in Option. You can easily send audio files to your speakers. You can also control the device using Google Assistant within Google Home Operations. Below are going to know, What is the difference between the Hardware Chromecast and Built-in Chromecast that comes with most of the new media-related devices.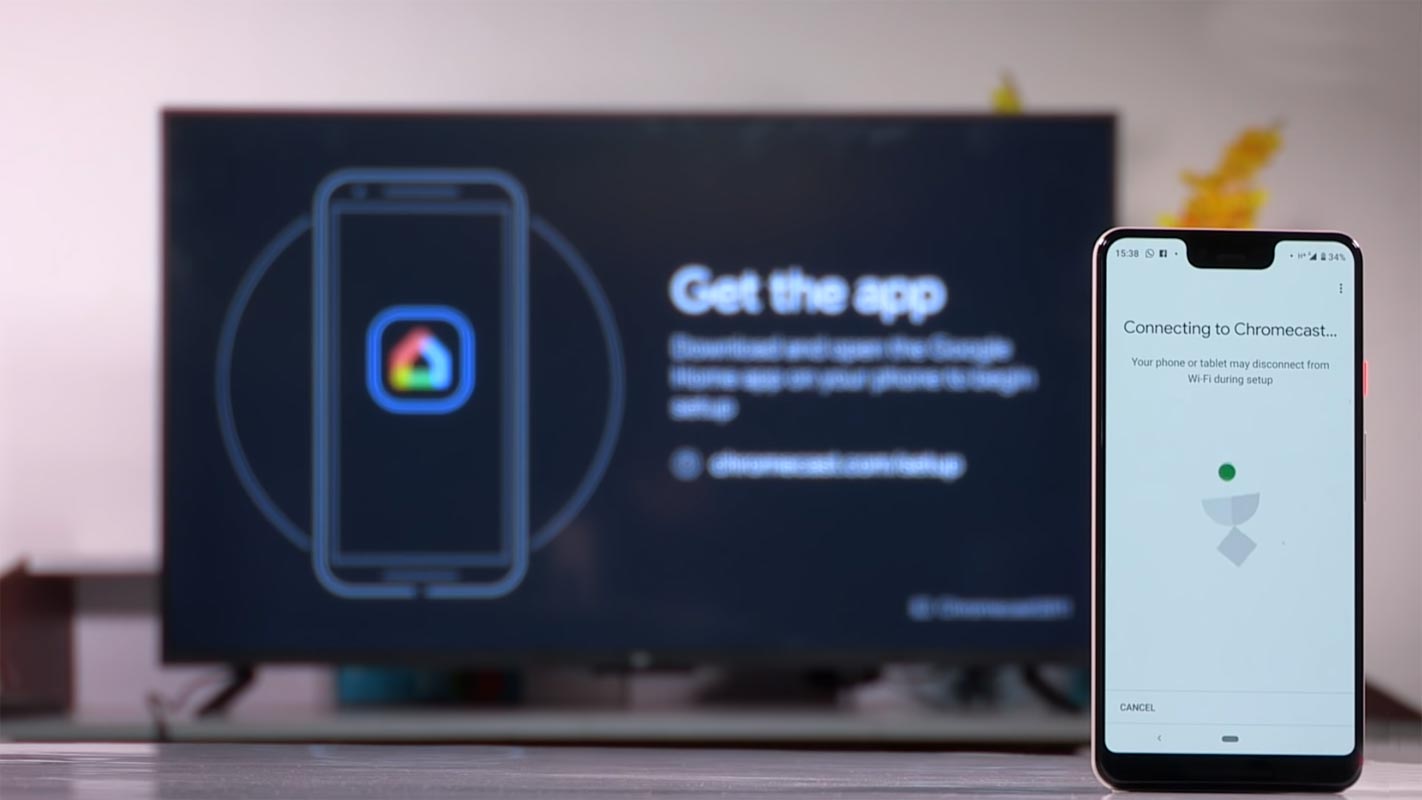 Chromecast Devices
It is a tech device that you have to attach to your TV or home audio system to stream digital content on the TV or audio system using your smartphone as a remote. However, Chromecast can only work on systems or HDTVs with Google Cast support. Over the years, since the 1st generation was launched in 2013, the technology has experienced quite several innovations; thus, we have 1st gen., 2nd gen., Audio, 3rd gen., and Ultra. All these generations of Chromecast are available as hardware devices that you must connect to a system or TV before it can function.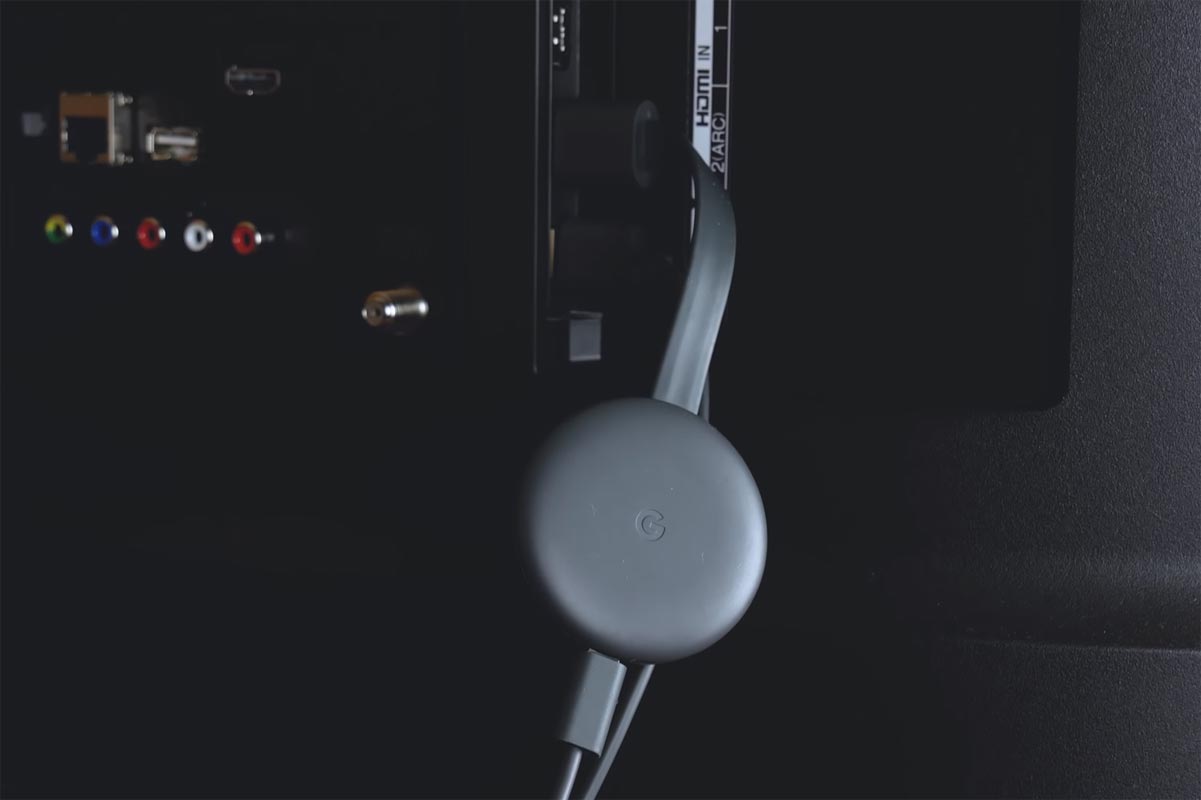 However, almost all digital technologies we know are experiencing radical innovations, and Google Cast isn't missing in action. Instead of buying Chromecast as an external device to use on your TV with Google Cast support, the technology is now being integrated into TVs and audio systems, so you don't need to spend $35 – $50 buying Chromecast.
How to connect Chromecast with TV
You should link your Chromecast HDMI Cable with your TV HDMI Port.
There will be Micro USB Cable on the bottom of the device. Connect the cable and Other should have Type-A Cable, You can either connect this cable with the Separate Adapter.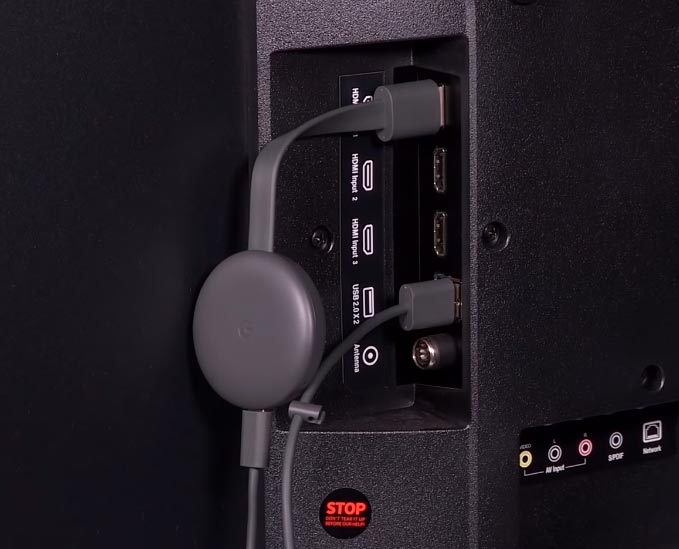 If you can't make arrangements for Electric Socket, You can connect this USB cable with your TV USB Port. The Power will enough to work with the device.
Open the app and enable Location and Wi-Fi. The app will discover all available devices. Select Chromecast when it detects.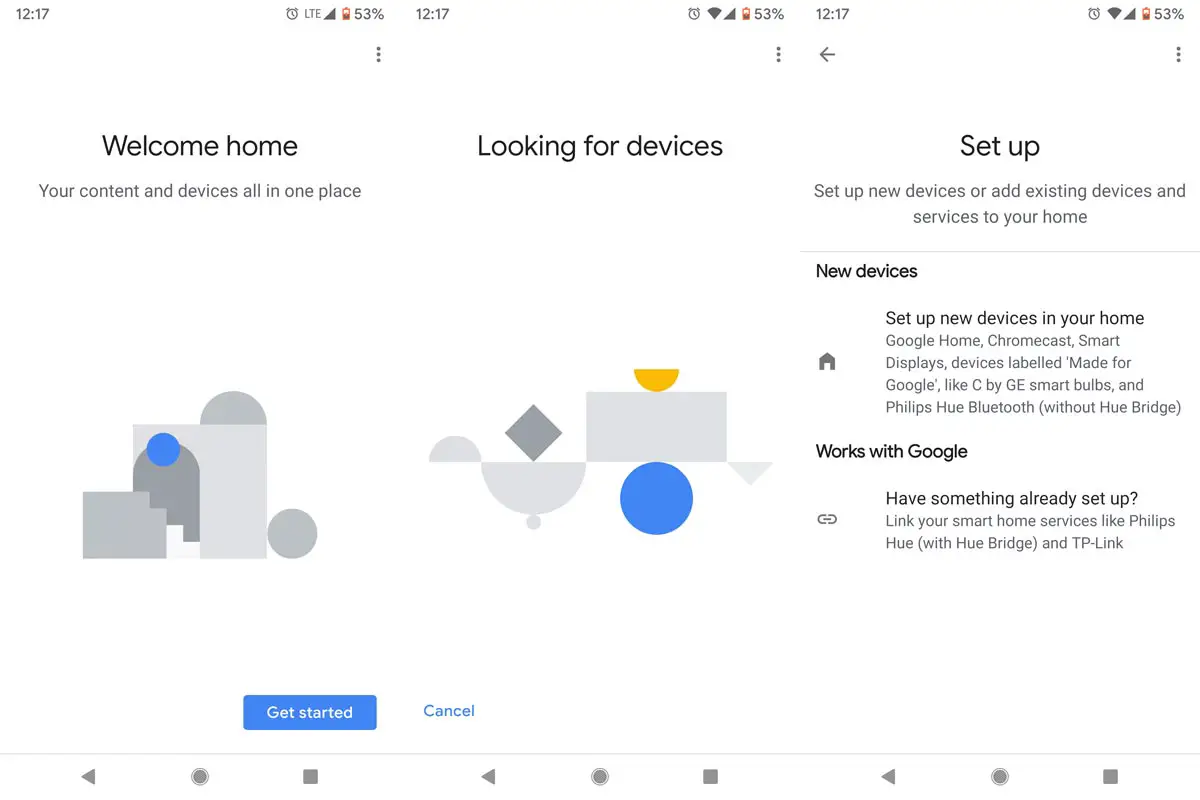 It will ask for the code to verify the device. Type the code on your mobile. It will ask for some further details like Home or office like that to give you a unique experience.
After the setup, you can stream and send media files. Videos can be streamed Upto 4K UHD If you use Chromecast Ultra. The regular device can stream up to 1080p 60Fps.
Features
Most of the Streaming Apps like YouTube, Amazon Prime, and Netflix can be used.
Google officially announced Stadia Games could be stream at its full potential using the Chromecast Ultra. Other devices Also can stream Stadia but with some limitations.
It Supports all devices from the Platforms- Android, Windows, Mac OS, and iOS.
Built-in 

Chromecast
Unlike Chromecast Hardware device, Built-in technology is inside your Media Device. Previously, your TV or audio system must have this technology as a built-in feature, before you can connect Chromecast to it and stream digital content. However, Google has rebranded Google Cast and called it Chromecast built-in.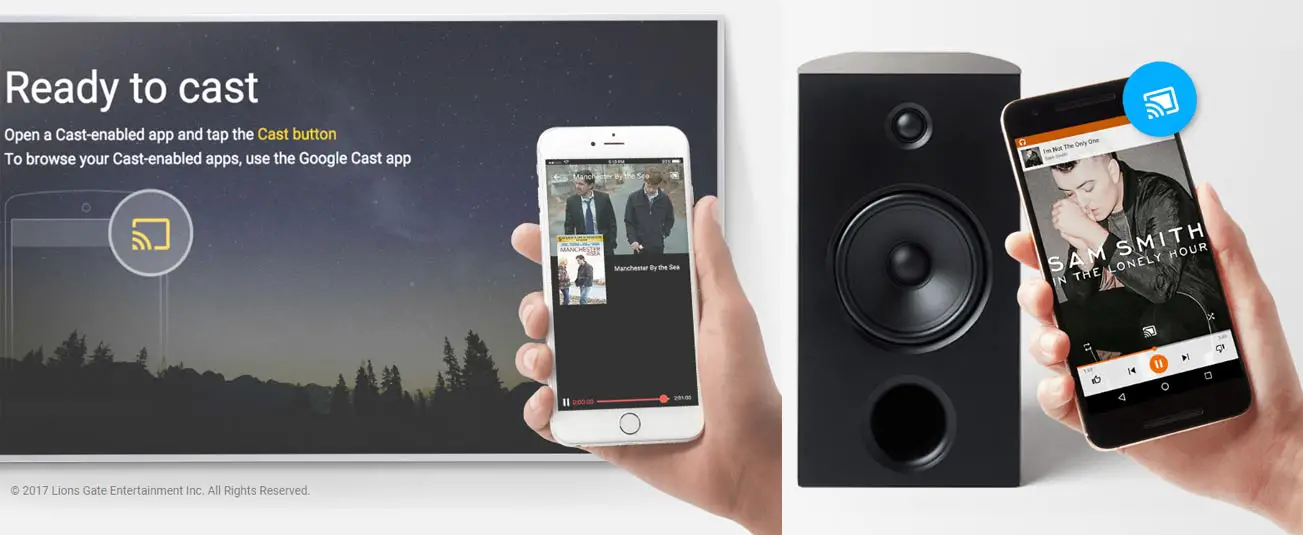 This technology is a bit of firmware that powers mobile devices and PCs to connect and control the playback of online digital content on a compatible device, e.g., HDTVs or audio systems. Also, for better understanding, Chromecast built-in is a technology that lets you stream apps or contents that you love from your smartphone, tablet, or PC to a compatible TV or speaker. Currently, You'll see Chromcast built-in only in TVs and speakers.
TVs with Chromecast built-in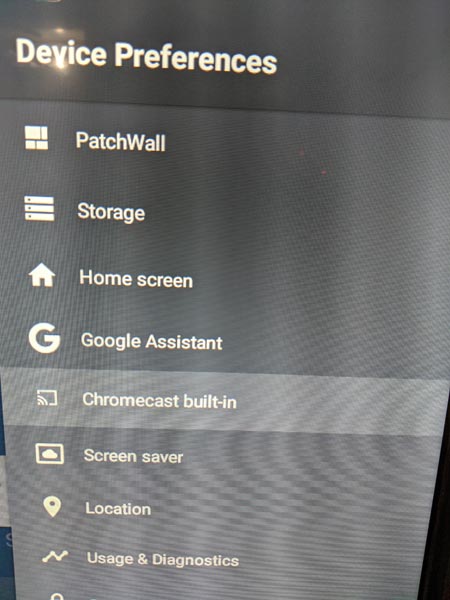 You will see this hint When you purchase TVs. Or You can find this in your Android TV Settings. The built-in is not available in all HDTVs or smart TVs; it is instead integrated into some selected TVs and displays. Virtually all features you'll get from the previous generations of Chromecast are available on Chromecast built-in, but sadly, it doesn't still play 4K HDR; you need CCU (Chromecast Ultra). Nevertheless, you can stream and watch HD and UHD videos, accompanied by high-quality sound on compatible TVs with Chromecast built-in.
As you already know, there are so many apps with Chromecast support, making it easier for you to stream any interesting digital content to your big screen Television with Chromecast built-in support.
Speakers with Chromecast built-in
Also, there are home audio systems with speakers that support built-in. When you've got such speakers, you can now stream your favorite songs, radio, or podcasts directly from your mobile phone without needing any external hardware. More interestingly, This tech connects over WiFi, it is unlike Bluetooth, and you can connect more than one device to your compatible speakers. You can stream most of the Music apps like Google Music, Youtube Music, and Spotify.
How to connect with Built-in Chromecast
The Setup is straightforward. Both your mobile and other devices should be connected to the same Wi-Fi network.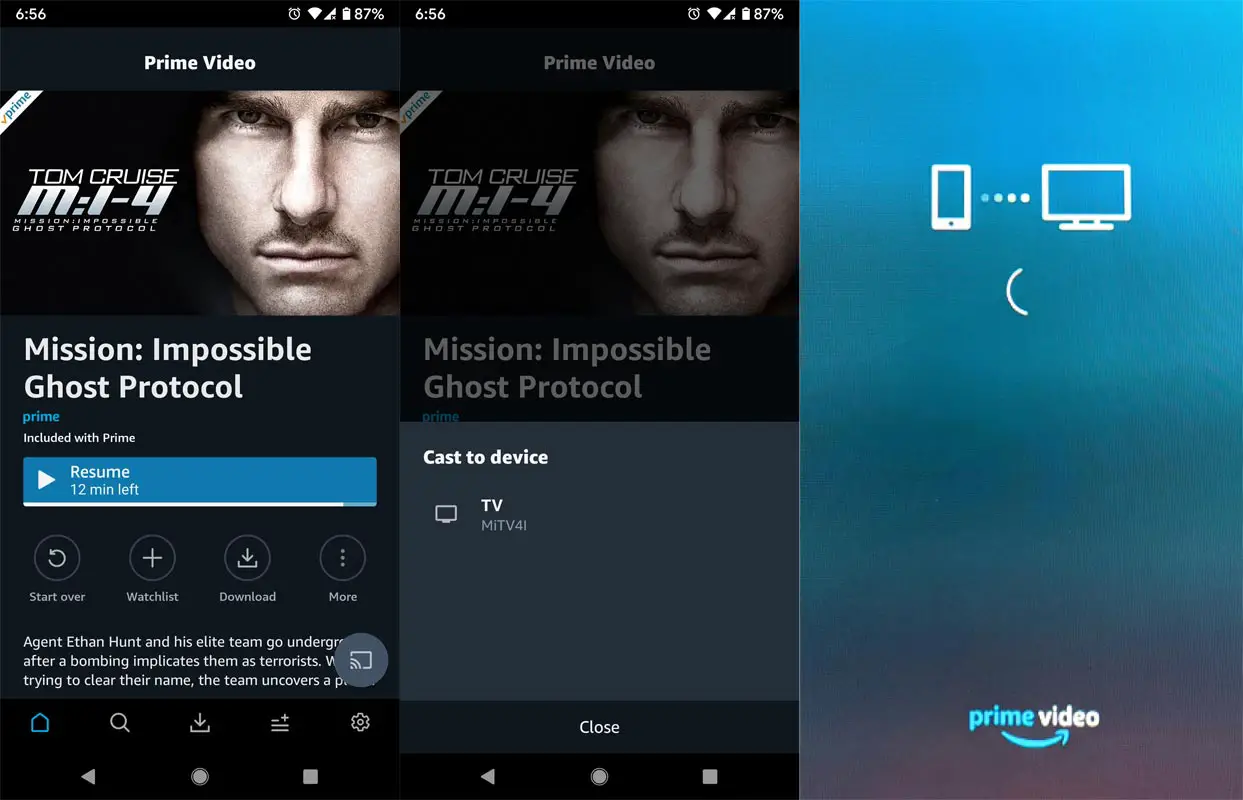 You will see the cast option in your mobile apps. You can also cast your Mobile (Screen Mirror).
Features
It doesn't require separate hardware. So,

This tech saves you $30-50.
It is integrated with your TVs and Speakers; When you have Android TV, with the help of Google Assistant, you can control more options compared with the separate Chromecast hardware.
The significant differences between Chromecast vs. Built-in Chromecast
Chromecast uses external hardware to connect your device to your TV via the Google Cast protocol. But Chromecast built-in leverages the cloud platform to stream your content to a compatible TV.

Chromecast Ultra lets you stream 4K HDR videos, but you won't get such quality on Chromecast built-in.
Not all of the features are available in Built-in devices.
FAQ
I already have a Built-In Chromecast device; I want to Buy a Separate Device?
No, there is no need for that unless you planned to stream 4K.
Is there any Limitation on the Built-In Device?
Yes. Unlike Google Home app configuration, You have no separate control in Built-in Devices.
Chromecast has Android Box Features?
No. Android Box is an Android Device that is used to change the Non-Android Tv to Android TV. Chromecast is used to stream media files.
Wrap Up
If you already have HDTV, It is better to buy Chromecast. I know some third-party apps can stream the same features. But, they are not stable and secure. You will stream your photos and videos. So, It is better to stay secured with Google hardware. If you planned to buy Android TV, Buy Built-in Chromecast device. Recently Mi TV Rolled out Pie Update with this feature. When you want to stream Stadia games, Buy Ultra version of Chromecast. So, that you can stream 4K Games. Google yet not confirmed the Stadia games feature on Android TV. You can stream using your mobile app. But, there is no confirmation as a separate app for Android TV. If you have any questions regarding the article, comment below.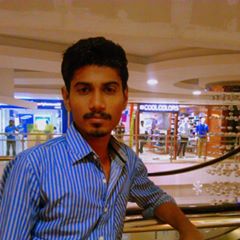 Selva Ganesh is the Chief Editor of this Blog. He is a Computer Science Engineer, An experienced Android Developer, Professional Blogger with 8+ years in the field. He completed courses about Google News Initiative. He runs Android Infotech which offers Problem Solving Articles around the globe.