TikTok, the popular video-sharing platform, has recently introduced a new AI chatbot called Tako. This innovative feature aims to enhance the user experience by providing video recommendations based on users' queries. According to industry experts, Tako has the potential to revolutionize search and navigation within the app. Tako, developed by TikTok, has been hailed as a game-changer in social media. Daniel Buchuk from Watchful Technologies, a company known for identifying upcoming app changes for Fortune 500 companies, believes that Tako's general release could radically impact search and navigation on TikTok.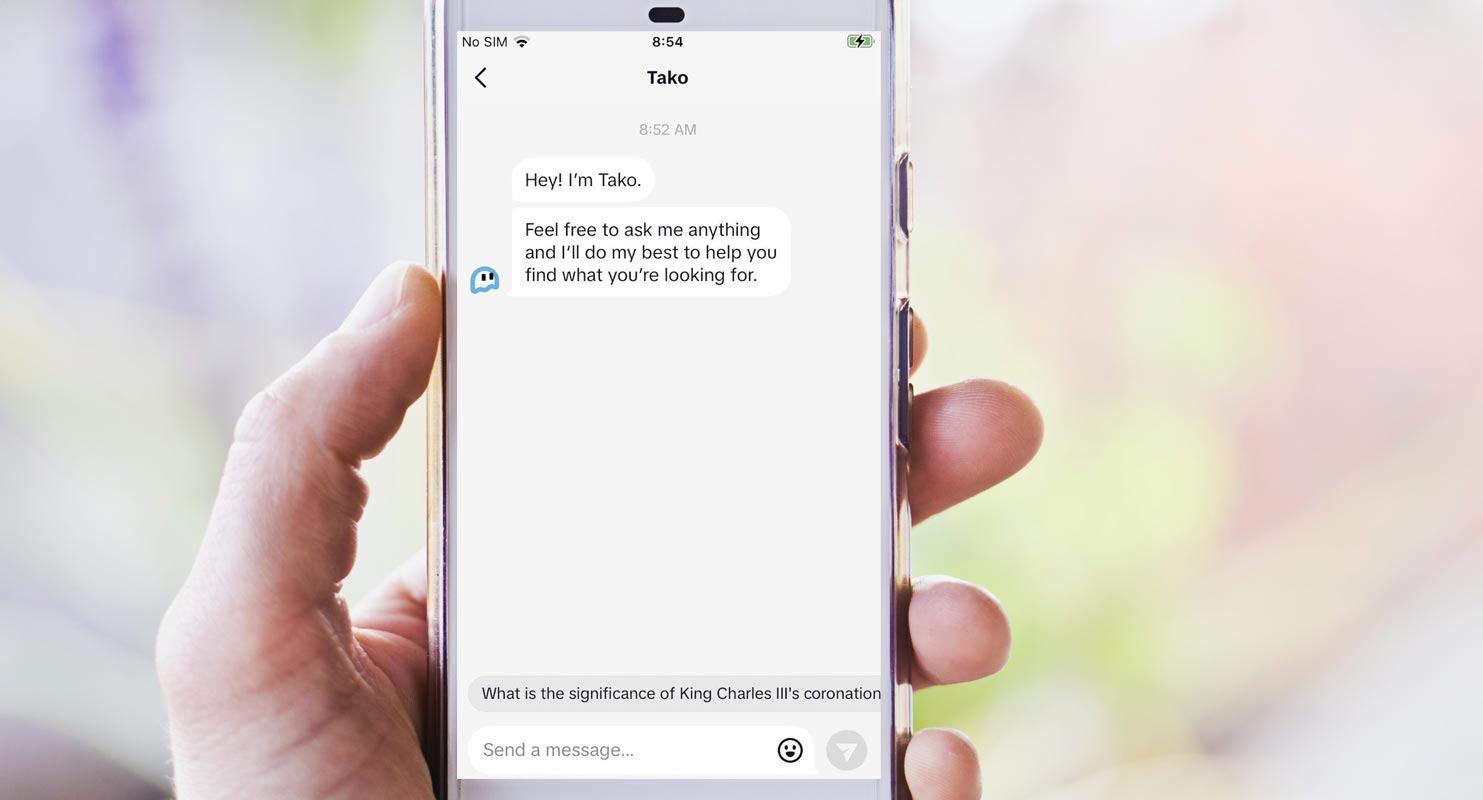 Functionality and Features of Tako AI Chatbot
Although the specifics of the AI model powering Tako remain undisclosed, its capabilities and functionalities are generating significant interest. To access Tako, users can tap the chatbot icon above the TikTok profile icon, positioned to the right of a video. Upon opening the chat screen, users are greeted by Tako, ready to assist with a wide range of queries.
Tako's Recommendations and Search Capabilities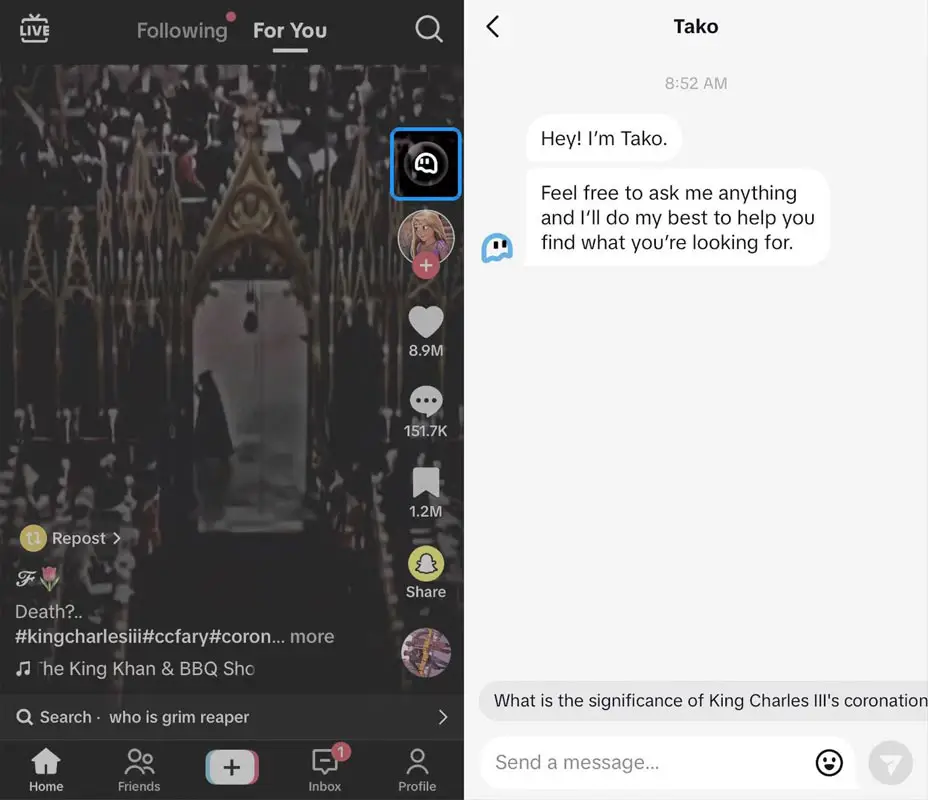 Tako's main objective is to provide relevant video suggestions for user inquiries. For instance, if a user is watching food videos and asks for a recipe, Tako will offer related TikTok videos for the recipe and present a list of suggestions. Similarly, if a user seeks information on art exhibitions in Paris, Tako will provide videos alongside a compilation of recommendations. Screenshots of Tako even showcase prompts such as "What is the significance of King Charles III's coronation?"—further highlighting its versatility.
Availability and Test Phase

Tako is undergoing testing exclusively in the Philippines and is unavailable to North American or Europe users. However, this limited release serves as a precursor to potential expansion into other regions in the future. TikTok's decision to introduce Tako aligns with the industry trend of incorporating AI chatbots into social media platforms. Mark Zuckerberg, the CEO of Meta (formerly Facebook), has expressed his aspirations of introducing AI agents to billions of people. Snapchat recently made its own AI chatbot, My AI bot, accessible to all users for free.
Industry Interest in AI Chatbots
Tako has the potential to revolutionize how users discover and engage with content on TikTok. TikTok's introduction of the Tako AI chatbot represents a significant step in enhancing the platform's search and navigation capabilities. By leveraging AI technology, TikTok aims to provide personalized video recommendations based on user queries, creating a more tailored and immersive user experience.
With Tako, users can tap on the chatbot icon and engage in conversations to explore various topics and interests. Tako's ability to suggest related videos and provide a list of recommendations in response to specific inquiries opens up new possibilities for users to discover content beyond their initial interests. Whether finding recipes while watching food videos or seeking information about art exhibitions in Paris, Tako aims to deliver a seamless and engaging experience.
While Tako is currently in the testing phase and only available to users in the Philippines, its potential impact is already generating excitement within the social media industry. If Tako's testing is successful, TikTok will likely expand its availability to users in other regions, providing a broader audience with the benefits of this AI-powered chatbot.
FAQs
Can I access the Tako AI chatbot outside of the Philippines?
Currently, Tako is only available for testing in the Philippines. TikTok is expected to expand its availability to other regions in the future.
How does Tako determine which videos to recommend?
Tako utilizes AI algorithms to analyze user queries and provide relevant video suggestions. It considers the question's content and matches it with suitable TikTok videos.
What sets Tako apart from other AI chatbots?
Tako's integration within TikTok allows it to leverage its vast video library and offer a unique recommendation system. It combines videos with a list of related suggestions, providing users with a more comprehensive and immersive experience.
Is Tako capable of answering complex questions?
While Tako is designed to handle a wide range of queries, its ability to respond to complex questions may vary. Its primary focus is to provide video recommendations based on user inquiries.
Can Tako be used for purposes other than video recommendations?
Tako's functionality is primarily centered around providing video recommendations. However, future updates and iterations may expand its capabilities to cater to additional user needs.
Wrap Up
The implementation of Tako on TikTok aligns with the growing trend of incorporating AI chatbots into social media platforms. Snapchat's My AI bot and Mark Zuckerberg's vision of introducing AI agents to billions of people demonstrate the increasing importance of AI technology in shaping the future of social media interactions.
In the coming years, we can expect further advancements and innovations in AI chatbot technology. As these chatbots evolve, they will play an increasingly significant role in enhancing user experiences, improving search and navigation, and facilitating personalized content discovery across various social media platforms.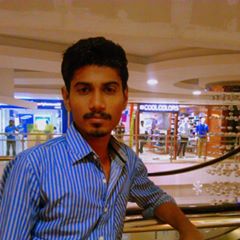 Selva Ganesh is the Chief Editor of this Blog. He is a Computer Science Engineer, An experienced Android Developer, Professional Blogger with 8+ years in the field. He completed courses about Google News Initiative. He runs Android Infotech which offers Problem Solving Articles around the globe.