In the contemporary digital realm, the seamless integration of smartwatches has undeniably transformed our technology interaction paradigm. Nonetheless, even the most advanced devices are susceptible to glitches and interruptions. This article takes a deep dive into a burgeoning apprehension that has garnered the attention of Galaxy Watch users—namely, the irritating task of troubleshooting WhatsApp notification dilemmas. As we navigate the intricate landscape of wearable technology, it becomes evident that no innovation is impervious to occasional setbacks. Through this exploration, we aim to highlight the intricacies of resolving the intricate puzzle surrounding WhatsApp notifications on Galaxy Watches. We offer insights and solutions to alleviate users' inconvenience in this ever-evolving digital frontier.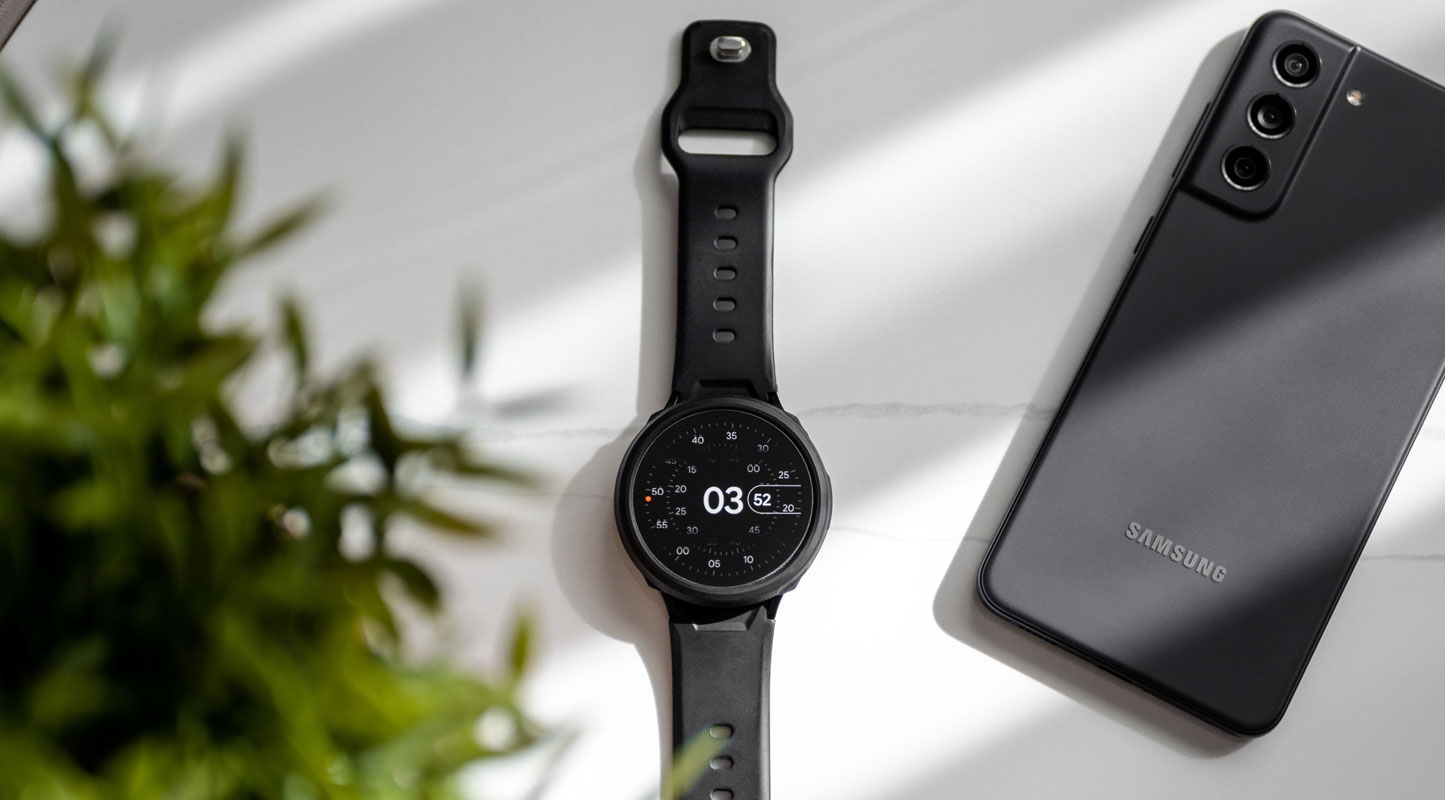 The Unmatched Smartwatch Domain
When it comes to smartwatches, Samsung's offerings undoubtedly reign supreme. Their Galaxy Watch series boasts an exceptional fusion of style and functionality. The devices have an underlying WearOS skin that draws from the robust Android framework, delivering a seamless user experience.
The Power of Customization
One of the defining features of Galaxy Watches is the astonishing level of customization they offer. The underlying Android-based system allows users to personalize their watches to an unprecedented degree. From look faces to app installations, the possibilities are virtually limitless.
WhatsApp Notification Issues on Samsung Galaxy Watch
For avid users of the Meta-owned instant messaging service WhatsApp, the journey to optimal functionality on Galaxy Watches has been a rollercoaster ride. Historically, WhatsApp lacked a dedicated app for these watches, leaving users longing for streamlined access.

The Frustrating Conundrum
While the arrival of WhatsApp on Galaxy Watches was a significant leap forward, it brought a fresh set of frustrations. Users began to notice a recurring problem: WhatsApp notifications were not functioning as anticipated on their beloved watches.
Fix WhatsApp Notification Issues on Samsung Galaxy Watch
The good news is that a solution exists. This article aims to guide users through a clever workaround designed to address the vexing issue of WhatsApp notifications failing to work as expected on the Galaxy Watch.
Embracing the Sideloading Approach
To tackle the problem head-on, users are encouraged to take a step back from the official WhatsApp app and embrace the sideloaded version. This approach, reminiscent of the pre-official build era, has shown promise in resolving the persistent notification problem.
A Multitude of Fixes
Interestingly, this workaround doesn't just address the notification glitch. Reports from users indicate that adopting the sideloaded version has led to the resolution of many other minor issues that previously plagued the WhatsApp experience on Galaxy Watches.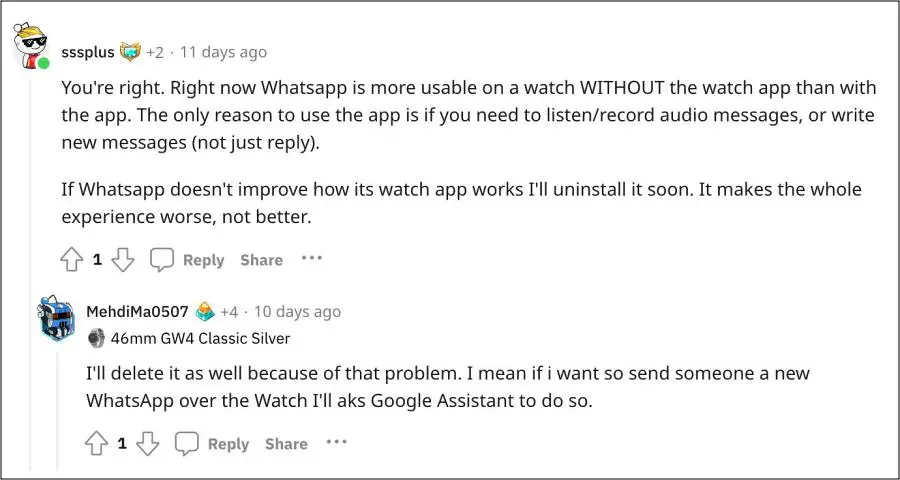 A Glimpse into Notification Woes
An intriguing issue emerged Within the official app's confines: images fail to appear directly within notifications. This prompts users to tap the "open watch app" option, only to encounter a blurry "preview," adding further steps to access the complete image.

The Intricacies of Image Display
This hurdle extends to text-based responses as well. Replying with a simple "OK" necessitates a sequence of actions involving "open watch app," waiting, tapping "reply," accessing the keyboard, and only then selecting a predefined response.
Simplifying Responses: A Tedious Journey
While this situation might appear frustrating, some users view it as an opportunity. The bug, while problematic, inadvertently led to the resolution of multiple related issues, effectively streamlining the overall user experience.
Discovering the Silver Lining
In some ways, this bug has acted as a blessing in disguise for those who discovered its unintended benefits. Nevertheless, a practical solution is available for those directly affected by the notification glitch.
Taking Action: Testing the Workaround
The provided workaround is worth a shot for those grappling with WhatsApp notification issues on their Galaxy Watches. By uninstalling the official app and reverting to the sideloaded version, users can potentially bid farewell to their notification-related woes.
An Official Standstill
Despite the widespread reporting of this issue, the developers behind WhatsApp have yet to acknowledge its existence officially. This has left users seeking solutions and answers on their own.
Anticipating Developer Response
The lack of developer acknowledgment extends to an estimated timeline for a resolution. As users wait for these two crucial pieces of information, they are left to explore the workaround options mentioned earlier.
Navigating the Unknown ETA
While uncertainty prevails, users are advised to make the most of the workaround strategies. These temporary solutions offer a path to regain control over WhatsApp notifications on their Galaxy Watches.
Your Go-To Solutions
WhatsApp's integration with Galaxy Watches holds excellent promise in a world increasingly reliant on seamless communication. While glitches may arise, it's heartening to know that solutions exist, even if they require a bit of ingenuity and resourcefulness.
FAQ
What is the specific issue with WhatsApp notifications on Galaxy Watches?
Many Galaxy Watch users have reported that WhatsApp notifications are not functioning as expected, requiring them to open the app to read or respond to messages.
How does the workaround involving the sideloaded version of WhatsApp help?
By uninstalling the official app and using the sideloaded version, users have found a potential solution to the notification problem, along with resolving other minor issues.
What challenges do users face when images are involved in notifications?
The official app's notifications do not display images directly. Users must navigate a series of steps to view and download pictures.
Is there an official response from WhatsApp's developers regarding this issue?
Currently, WhatsApp's developers have not acknowledged the notification issue or provided an estimated timeline for a fix.
How can users make the most of the provided workarounds?
While waiting for an official resolution, users are advised to explore the workaround options outlined in this article to regain control over their Galaxy Watch's WhatsApp notifications.
Wrap Up
In culmination, Galaxy Watch users must recognize that they need not tolerate the exasperation caused by malfunctioning WhatsApp notifications. A savvy workaround like sideloading can effectively resolve the problem, restoring the desired seamless experience. While the developers diligently toil in the background to tackle these concerns, users are given an opportune moment to seize control of their Galaxy Watch encounters.
By proactively embracing the workaround, individuals can optimize their interactions and stay ahead of the curve in this ever-evolving realm of wearable technology, ensuring their experience remains unparalleled and aligned with their expectations.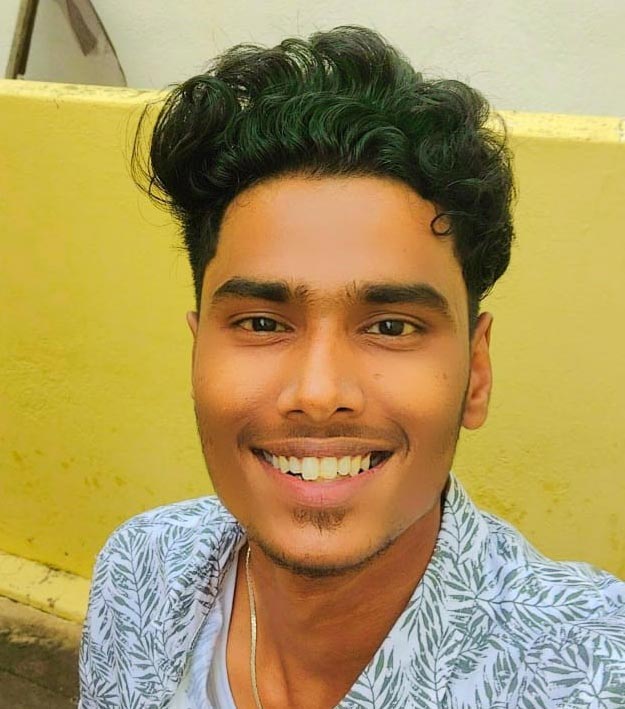 Arun Karthick is a highly skilled and versatile individual with a computer science background. He completed his undergraduate degree in this field and has since worked as an Android developer. Arun is known for his expertise in break dance and is highly regarded in this field. In addition to his dancing abilities, Arun is also a mobile hardware-level technician, making him well-rounded. He is known for his intelligence and is considered an intelligent individual in his professional and personal life.