Google's latest releases, the Pixel 8 and Pixel 8 Pro showcase a fusion of advanced hardware and ingenious software, tapping into the potential of artificial intelligence for unparalleled user immersion. Among these technological marvels, the Google magnifier app takes center stage. Powered by AI, it excels in capturing intricate, close-up shots and offers functionalities to duplicate text or even provide an auditory rendition. This guide aims to delve into the intricacies of harnessing this dynamic tool. With its ability to zoom in on minute details and facilitate text manipulation, the magnifier app emerges as a powerful asset, promising a seamless and enriched user experience in visual accessibility.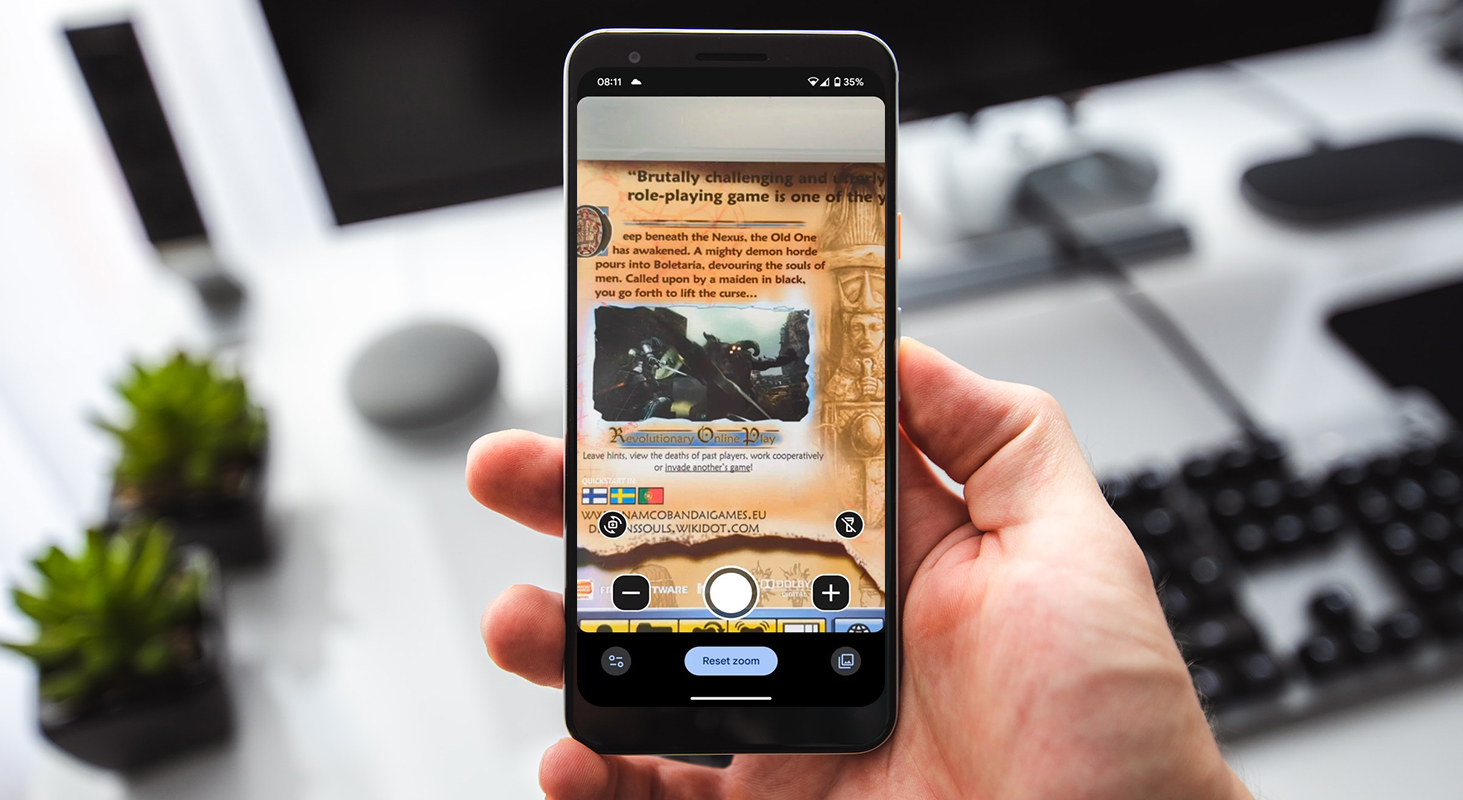 Exploring the Google Magnifier App
The Google Magnifier app allows users to zoom in on specific text, photos, or signs using the shutter key. It even allows adjusting flashlight intensity for enhanced visibility in low-light environments.
Adjustable Zoom Levels
One of the app's standout features is its customizable zoom levels, ensuring comfortable reading for users of all preferences. Moreover, the app is designed not to clutter up your device's storage with saved images, although there is an option to store or share them as needed.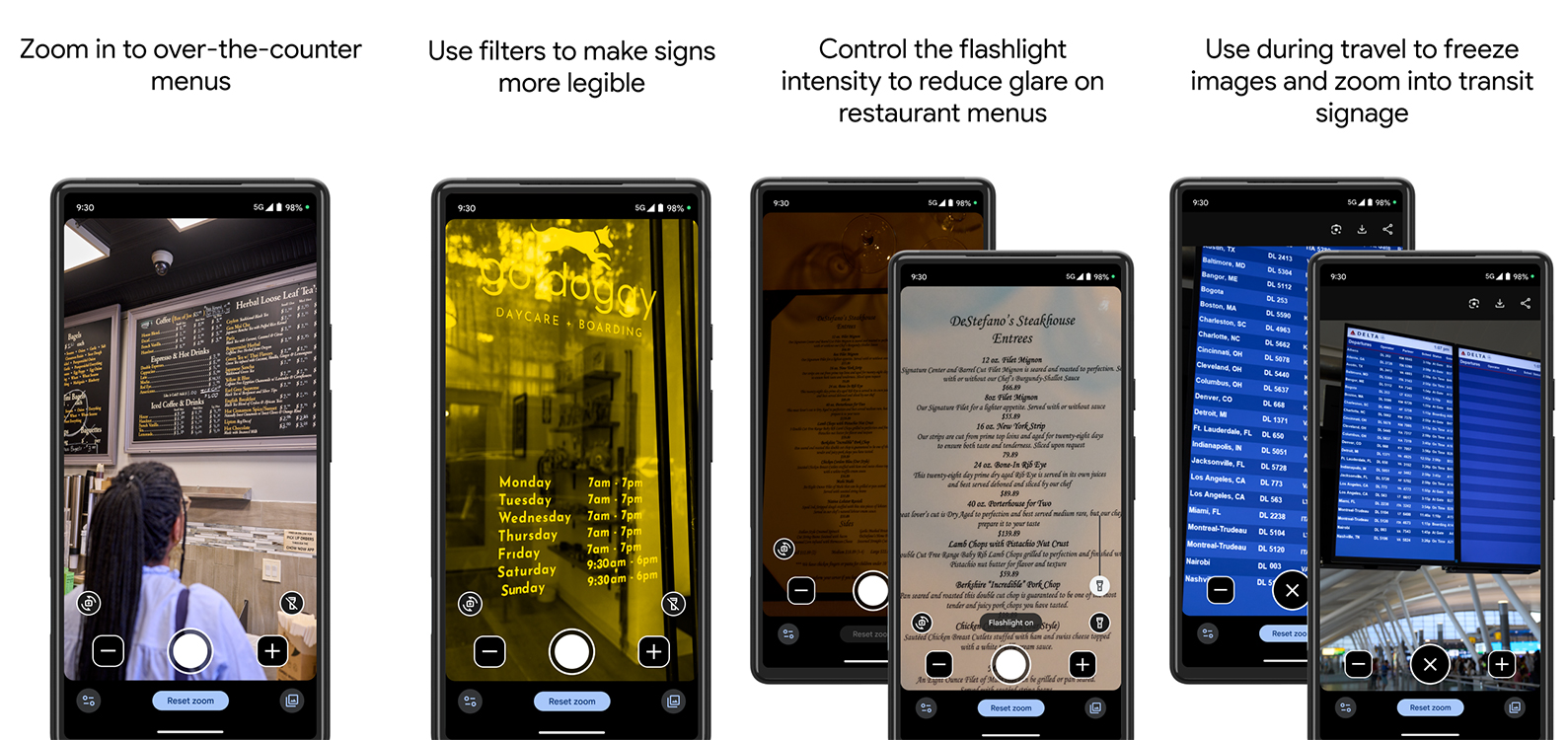 Live Preview with Color Filters
For added convenience, the app offers live preview options with color filters. This feature lets users preview images in various color schemes, enhancing accessibility and readability.
Fine-Tuning Image Settings
The settings overlay, accessible through the bottom-left icon, provides a range of options to enhance the visual experience further. Users can adjust contrast and brightness levels to suit their needs, ensuring optimal clarity.
Integration with Google Lens
The Google Magnifier app seamlessly integrates with Google Lens, allowing users to perform advanced functions such as text extraction and text-to-speech conversion. This integration enhances the app's utility and versatility.
Using Google Magnifier with Quick Tap Gesture
To streamline the accessibility of the Google Magnifier app, Google recommends assigning a gesture. Here's how you can set it up:
Open the phone's Settings app.
Navigate to System > Gestures > Quick Tap.
Enable the Quick Tap gesture and select "Open App."
Tap on Settings and choose the Magnifier App.
Now, double-tapping the back of your phone will instantly open the Magnifier app, providing quick and easy access.
Compatibility with Pixel Phones
It's worth noting that the Google Magnifier app is exclusively available for Pixel phones. Specifically, it is compatible with Pixel 5 and newer models. However, there may be some exceptions, as observed with the Pixel Fold, which currently does not support the app.
Controlling Flashlight Intensity and More
In addition to zooming and image adjustments, the Google Magnifier app offers control over flashlight intensity. This thoughtful feature adds an extra layer of usability, especially in dimly lit environments.
FAQs
Is the Google Magnifier app available for all Pixel models?
The app is primarily designed for Pixel 5 and newer models, though there may be exceptions. Currently, it is not compatible with the Pixel Fold.
Can I adjust the color scheme of the magnified image?
The app offers color filters for live previewing, allowing users to choose from various color schemes for optimal readability.
How do I integrate the Google Magnifier app with Google Lens?
The integration is seamless. Open the Magnifier app to access Google Lens functionalities for tasks like text extraction and text-to-speech conversion.
What if I want to access the Magnifier app quickly?
Google recommends using the Quick Tap gesture for easy and instant access. Assign the Magnifier app to this gesture in your phone's settings.
Is the Google Magnifier app available for download on the Google Play Store?
The app can be downloaded from the Google Play Store but is exclusively available for Pixel 5 and newer models.
Wrap Up
The Google Magnifier app exemplifies Google's unwavering dedication to accessibility and user-centric design. By integrating cutting-edge artificial intelligence, this application offers a fluid and entirely adaptable experience, catering to individuals with visual impairments or those simply seeking heightened optical clarity. Its functionality transcends the ordinary, providing a toolkit for users to navigate and interact with their surroundings easily. 
By seamlessly zooming in on intricate details and offering customizable visual settings, the app empowers users to tailor their experience to their unique needs. Whether it's for reading text, scrutinizing images, or simply enhancing visibility in different environments, the Google Magnifier app is a testament to technology's potential to bridge gaps and improve the daily lives of its users. It stands as a beacon of inclusivity, affirming Google's ongoing commitment to creating tools that empower all individuals, regardless of their abilities or challenges.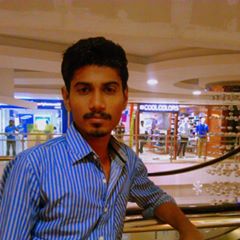 Selva Ganesh is the Chief Editor of this Blog. He is a Computer Science Engineer, An experienced Android Developer, Professional Blogger with 8+ years in the field. He completed courses about Google News Initiative. He runs Android Infotech which offers Problem Solving Articles around the globe.