In the ever-evolving landscape of technology, possessing an iPhone is more than a mere acquisition; it's a privilege, a status symbol, and a gateway to a world of seamless connectivity and cutting-edge innovation. These sleek and sophisticated devices have transcended their initial purpose as mere smartphones to become an integral and indispensable part of our daily lives, serving as digital companions, organizers, entertainment hubs, and communication tools. However, as Uncle Ben once wisely said, "With great power comes great responsibility." In the realm of iPhones, this responsibility entails safeguarding your cherished device. One pivotal element of iPhone care is keeping track of the warranty status. This article will guide you through various methods to quickly and effortlessly ascertain the warranty status of your prized iPhone, ensuring its continued protection and peace of mind.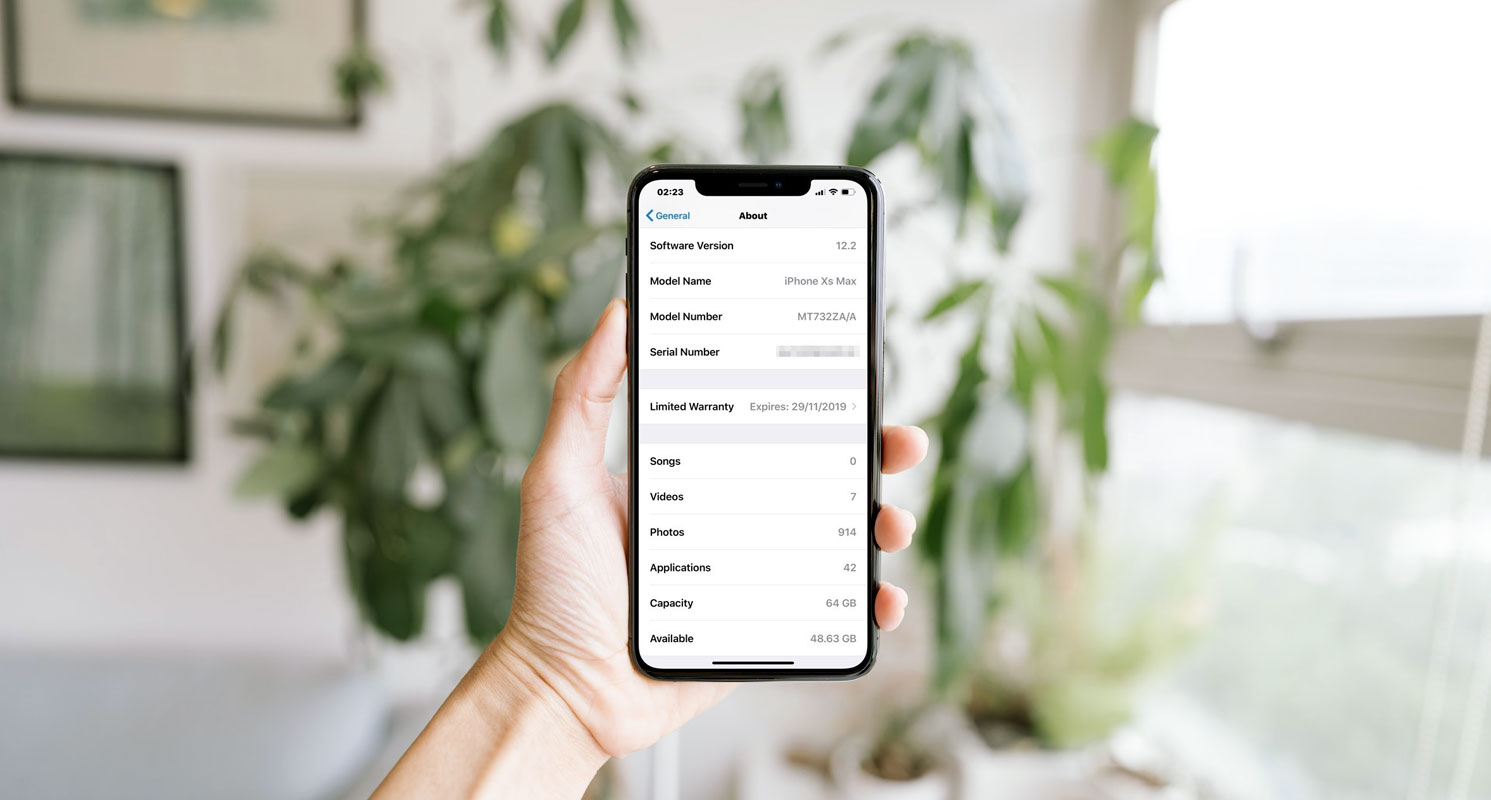 Using iPhone Settings
If you own an iPhone running on iOS 16.4 or later, you can quickly check your warranty status through the iPhone's settings app.
First, open the Settings app and tap the "General" option.
In the General settings menu, tap "About" to view your iPhone's information.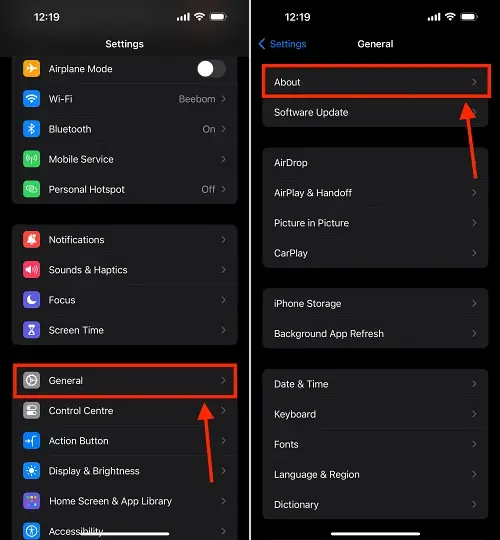 You'll find an option in the About section called "Coverage." Tap on this to proceed.
Now, tap on your iPhone's name, and you will instantly access the warranty details.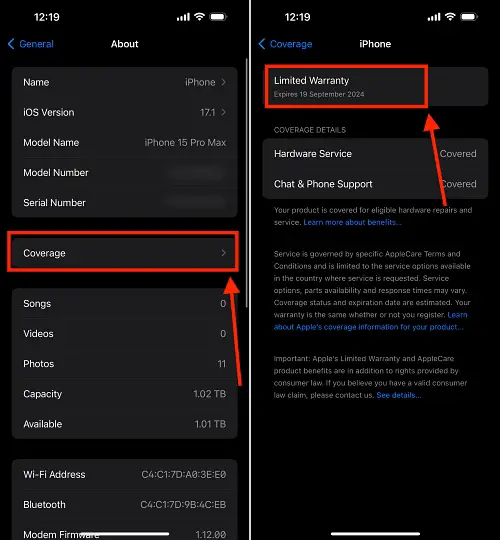 Here, you can see the expiration date of any remaining warranty, including coverage details such as Hardware Service and Chat and Phone Support.
Apple Support App
The Apple Support app is a valuable tool for troubleshooting issues with your Apple devices.
It also provides an easy way to check your iPhone's warranty status.
After downloading the app, log in with your Apple ID and tap on your iPhone's name under the "My Devices" section.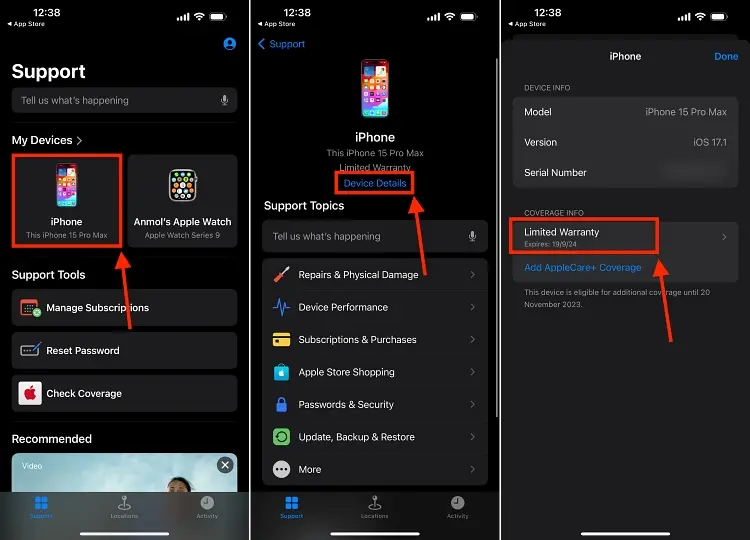 Under your iPhone's model name, select "Device Details."
On the next page, you'll find the "Coverage Info" section, where you can instantly discover whether your iPhone is under warranty or if the coverage has expired.
Apple's "Check Coverage" Website
Apple's "Check Coverage" website is a one-stop destination for verifying the warranty status of your iPhone and other Apple products.
Visit Apple's "Check Coverage" website in your preferred web browser.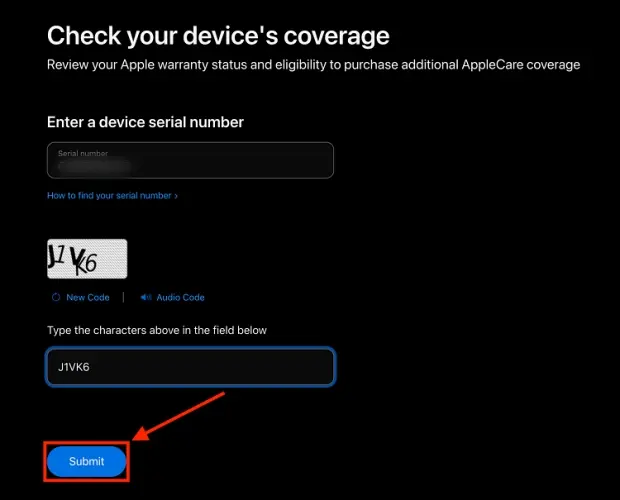 You must enter your iPhone's Serial Number and the Captcha code and then click submit.

You can easily find your iPhone's serial number by going to Settings -> General -> About on your iPhone.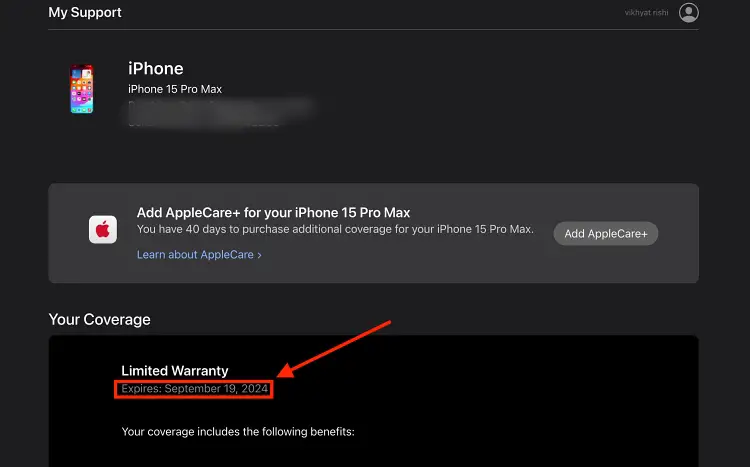 Once you've submitted the details, the website will display whether your iPhone is still under warranty or if the coverage has expired.
Apple My Support Website
Another option for checking your iPhone's warranty details is visiting the Apple My Support website.
Ensure you log in using the same Apple ID as your iPhone.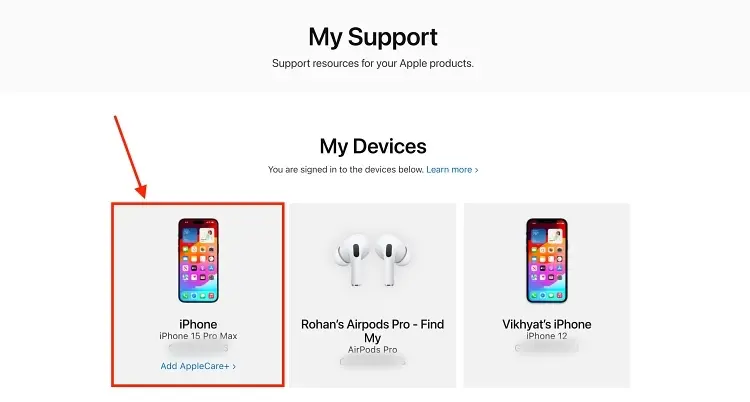 Once logged in, select the iPhone you want to verify the warranty status.
Scroll down to the "Repair and Services Coverage" section, where you will find the Estimated Expiration Date of the warranty on your iPhone.
FAQs
How often should I check my iPhone's warranty status?
It's a good practice to check your iPhone's warranty status annually. This ensures you're aware of your coverage and can take the necessary steps if your warranty is about to expire.
Is warranty verification necessary for all Apple products?
While it's essential for iPhones, verifying warranties for all your Apple products, including iPads, Macs, and other devices, is a good idea. This helps you stay informed and prepared.
Can I extend my iPhone's warranty after purchase?
You can extend your iPhone's warranty by purchasing AppleCare or AppleCare+. These extended warranty options provide additional coverage and support for your device.
What do I do if my iPhone is out of warranty?
If your iPhone is out of warranty, you can still get support and repairs from Apple, which may come at a cost. Consider options like AppleCare+ or exploring third-party repair services.
Does verifying warranty status affect my iPhone's performance?
No, checking your iPhone's warranty status does not affect its performance. It's a simple administrative task to ensure you're covered in case of any unforeseen issues.
Wrap Up
Verifying the warranty status of your iPhone is a straightforward yet pivotal task in safeguarding your prized device and enjoying uninterrupted access to its myriad functionalities. This process offers convenience and the peace of mind that you're protected from any issues. Whether you navigate the settings on your iPhone itself, utilize the user-friendly Apple Support app, explore the comprehensive "Check Coverage" website, or delve into the extensive resources on the Apple My Support website, the methods are user-friendly and designed to cater to your preferences.
By checking and confirming your iPhone's warranty status, you eliminate apprehensions and continue relishing your device's full benefits and potential, free from worries about unexpected disruptions or repairs. It's a small effort that goes a long way in ensuring your iPhone remains your trusted companion.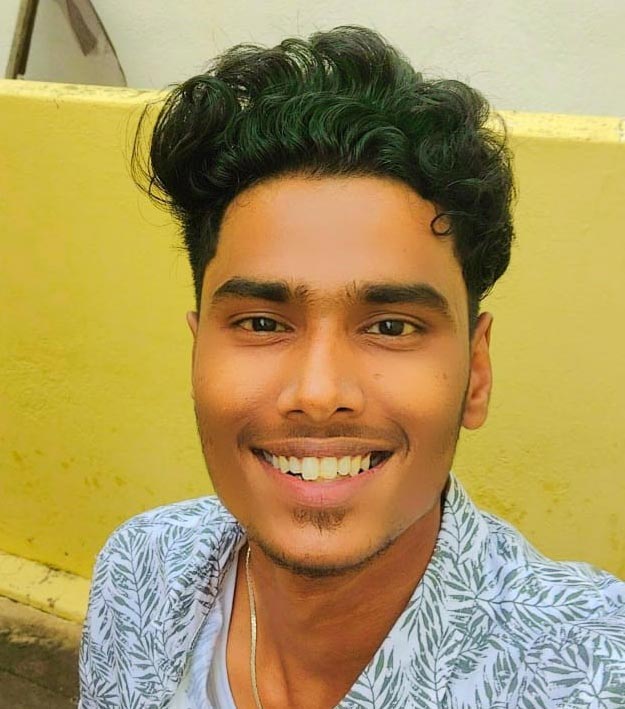 Arun Karthick is a highly skilled and versatile individual with a computer science background. He completed his undergraduate degree in this field and has since worked as an Android developer. Arun is known for his expertise in break dance and is highly regarded in this field. In addition to his dancing abilities, Arun is also a mobile hardware-level technician, making him well-rounded. He is known for his intelligence and is considered an intelligent individual in his professional and personal life.