When it is coming to providing excellent affordable devices, we can't forget Xiaomi. From small accessories to Flagship mobiles, they always offer a better price/value ratio. Xiaomi produces a lot of mobile accessories under different child companies. One of the best selling products from Xiaomi is its power bank. Recently Xiaomi released Mi Power Bank 3 with 30000mAh power with 18W Type-C Output and 24W input for $24. It is excellent to deal with the price and the specs of the Power bank. Currently, it is available only in jd.com. We have to wait some time for the International shipping from Mi. Based on the region, the price may vary from $24-30. In the UK, it may get a higher price. Because Mi Power Bank 2 is already selling for around 17.99 GBP, wherein the other regions, it comes under 10 GBP.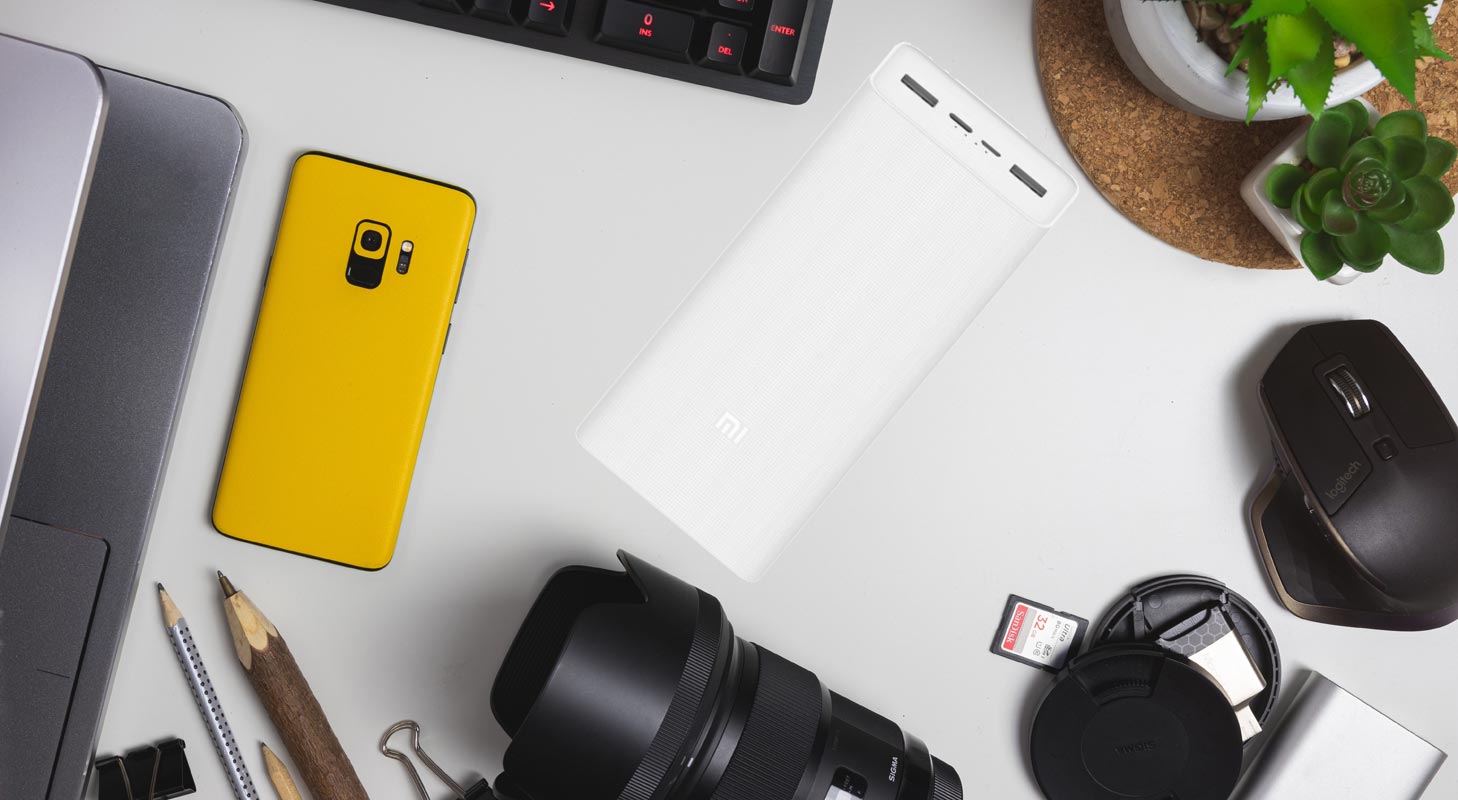 Xiaomi Mi Power Bank 3 with 30000mAh power, 18W Type-C Output, and 24W input
Compare with Mi Power Bank 2 and other successor series; Power Bank 3 comes with mention-worthy improvements. Power Bank 3 comes with 30000mAh power. It has four ports. Where there are three output ports with 18W output and One Input-only port with 24W input, you can also use the Type-C port as a two-way port. It means you can use it as an output/input port with 18W output.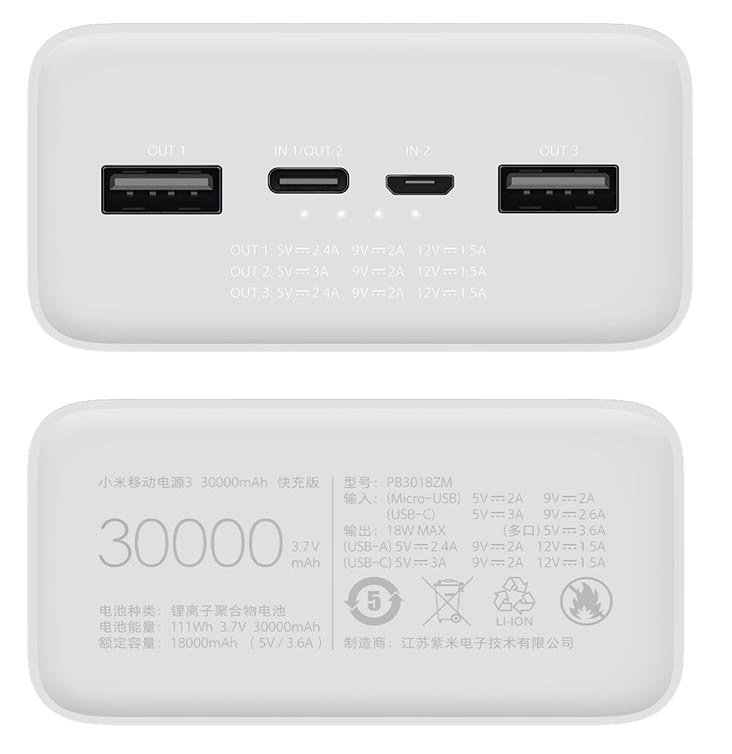 Two USB Type-A ports can give output as 9V/2A= 18W output.
Type-C can give output as 5V/3A= 18W output.
The micro USB port can receive 24W input.
Power and Restrictions
Power Bank 3 has 30000mAh power capacity. It means you can charge a 3000mAh battery ten times from 0% to 100%. Some mobiles even come with 5000mAh and 6000 mAh battery capacity. The charging numbers depend on your mobile battery capacity. In realtime, you can charge your mobile 5-8 times. It also has a low-power mode that can charge your fitness gadgets seamlessly, where some Power Banks can't detect it as an electronic device. You can activate this mode by tapping the power button twice.
The power output is not the same for every device. It may vary depending upon the Ampere requirement. The maximum Ampere production of the Mi Power Bank 3 is 2.4. So, If your device requires that much amount, you can only charge your device/mobile in 12W. It is a rare case. Most of the fast chargers use 9V/2A standards. So, In realtime, you will get an 18W change supply, which is considered as fast charging output.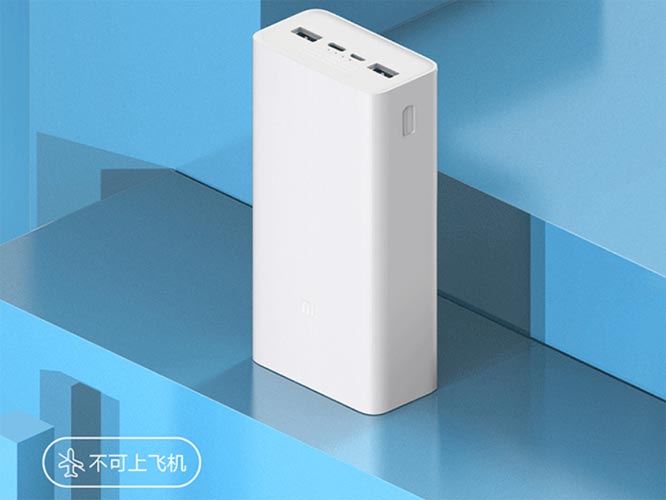 You can't carry this Power Bank on flights. Airlines allowed batteries that have a capacity of 100Wh maximum. Mi Power Bank 3 have 30000mAh power with 5V and 9V output. It roughly converts to 150Wh to 270Wh, which is more than 100Wh. So, you can't carry this Power Bank. Even in your handbag luggage too.
How can I purchase Xiaomi Mi Power Bank 3?
Currently, jd.com is accepting Online shopping Pre-Order. There is no listing in the official international Mi websites. JD is region limited. Thus we have to wait for general availability. The price may vary depending on the areas. Usually, Xioami products are cheap in India and high prices in UK regions. As a guess, we can say it ranges from $24-30 or 21 GBP to 30 GBP.
Wrap Up
Xiaomi always provides cost-effective products due to their bulk purchase on the components of the product. Xiaomi Power Banks makes better accessories sales in their list. Compare with other company Power banks, Xiaomi Power Bank 3 with 30000mAh capacity and 18W Type-c output look better deal for the price range. When the product available on all International websites. We can expect better sales. Even if you can't carry this Power Bank in Airlines, It is suitable for local travels, especially for Vloggers and Photographers. What are your thoughts on the Xiaomi Power Bank 3? Did you already use one of their products? Comment your experience below.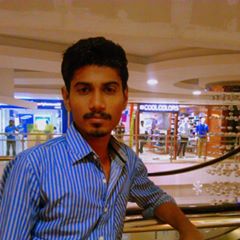 Selva Ganesh is the Chief Editor of this Blog. He is a Computer Science Engineer, An experienced Android Developer, Professional Blogger with 8+ years in the field. He completed courses about Google News Initiative. He runs Android Infotech which offers Problem Solving Articles around the globe.