The Advantage of having a Smartphone is that you can use most of the PC Apps version on your smartphone. It may be limited in some features. But, You can still use most of the options based on your mobile capacity. Compression and extraction is a common task in PCs to reduce Storage and Bandwidth data usage. Like WinRAR, There are plenty of Apps are available to do the job. The same goes for Android Mobiles too. There are Paid, and Free versions are available. Since Regular users need only basic tasks, You can choose the free one. Here we listed Five Best Free Zip Extractor Android Apps. You always prefer WinRARfor most of the functions. But when you want to extract or compress unique file types, then you can go for Alternatives.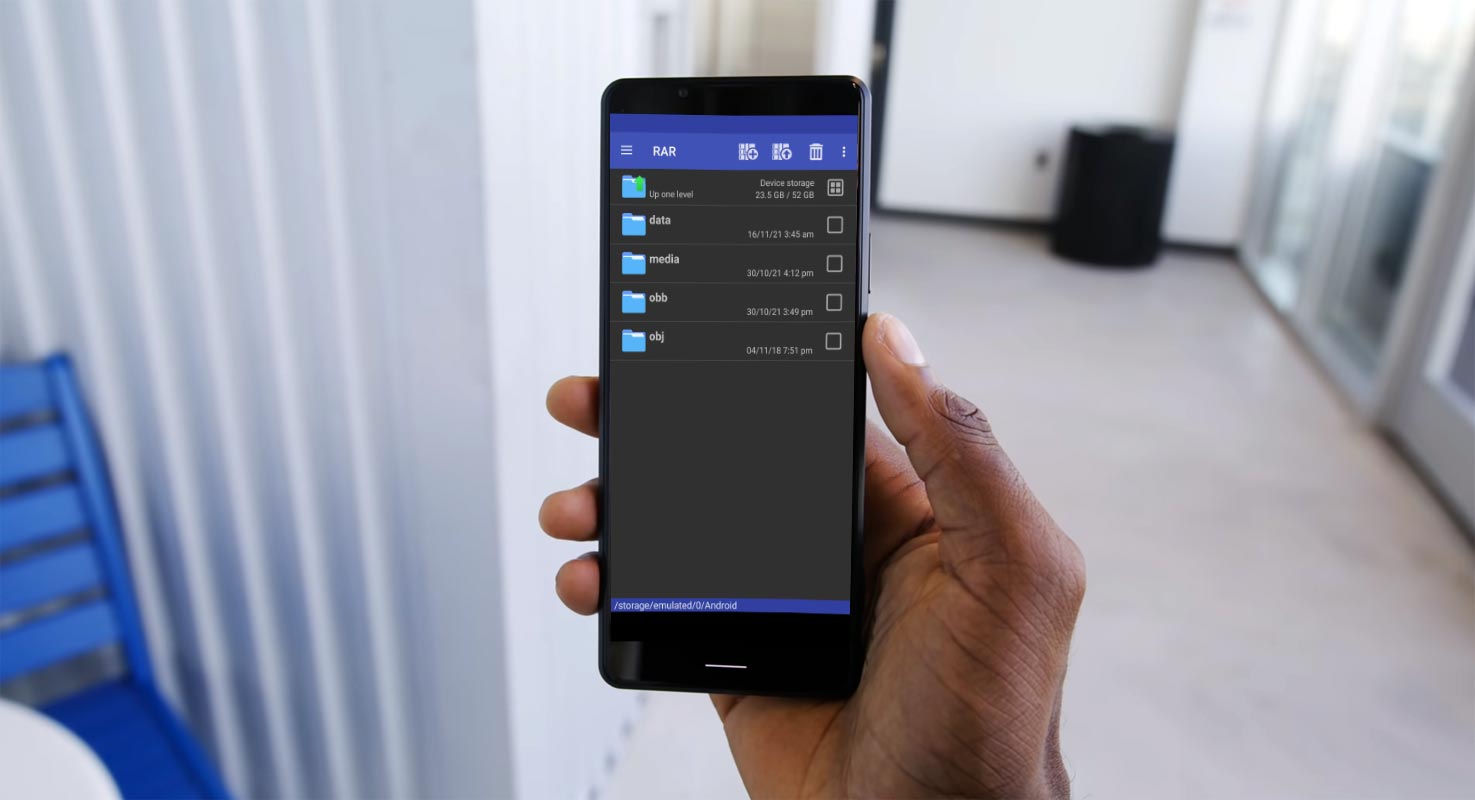 What is a ZIP File?
The chances are that you have come across zipping/archive files one or many times. There are different archive formats, including ZIP, RAR, 7Zip, TAR, and many others. These formats compress large files – to make bulk files more petite in size for easy uploads and sharing across the internet.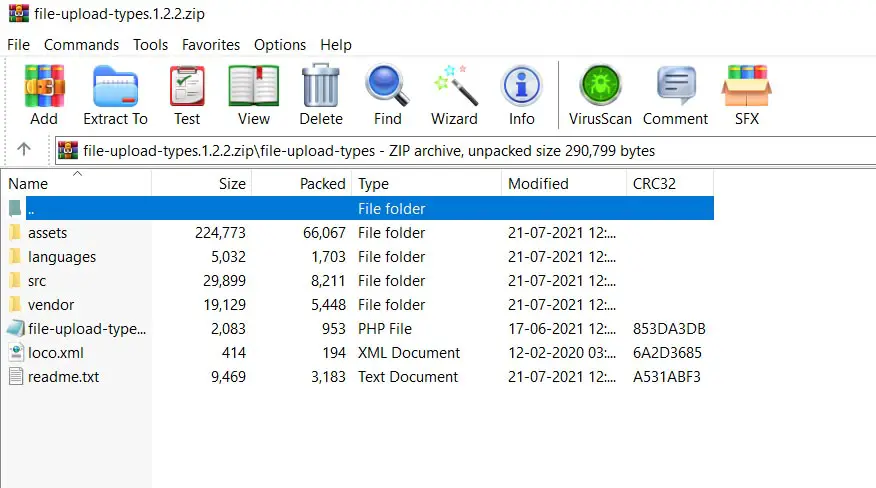 ZIP (.zip) is an archive format for compressing files and documents; it is one of the most common file compression formats used across the globe. To open a zip file, you need to "unzip" the file, which also means to "extract" the file.
Extraction is the process of uncompressing an archive file to access the documents or files inside. To uncompress/unzip/extract an archive file (in this case, a .zip file), you need to download a "Zip Extractor" app or software (if you're using a PC).
Interestingly, there are several zip extractors to download – there are free options, and there are paid ones. For Android OS, you'd find several accessible options on the Google Play Store. Interestingly, this article lists some of the best Zip extractors for Android OS.
How to Extract ZIP, RAR Files on Android using Apps?
It's pretty easy to extract zip archive files; they come with .zip format – that's how to detect them. Below are the steps on how to Extract ZIP files on Android.
Install a Zip extractor app on your device.
Open the app and select the zip file.
Double-tap on the file to extract its content.
Notwithstanding, some File Manager apps come with a built-in "File Extraction" feature that lets you unpack zip files and other types of archives. Now, let's move on to the main topic.
Top Five Best Zip Extractor Android Apps (.zip, .rar)
These apps support (.zip) archive format and other standard archive formats such as .rar, .tar, and 7zip. If you want to download a song album, all the songs are compressed into an archive format, usually .zip or .rar. Also, if you're a web developer, WordPress themes are available in archive format. Archive formats have several use cases; hence, you need to know how to handle such files.
1. RAR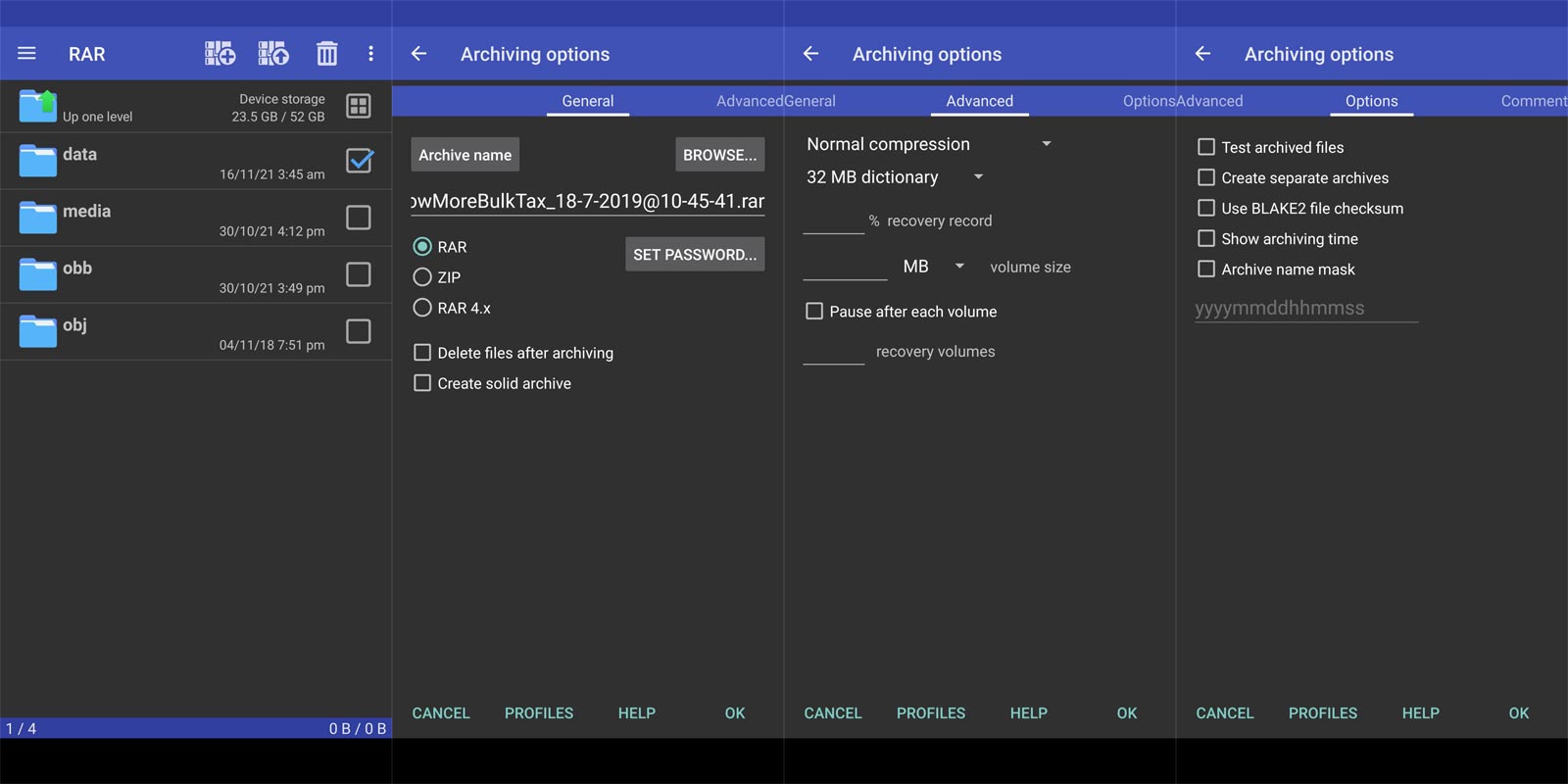 RAR is a feature-rich application that helps you uncompress archive files, regardless of the format. This application is available for mobile devices (Android and iOS) and Windows OS computers. It is an intuitive app with support for several regular file formats and archive file formats.
With this application, you can compress a file to different archive formats, including 7zip, ISO, GZIP, TAR, and many others. It is an all-inclusive application for file compression and extraction. More so, the interface is easy to navigate, and it comes with some file management features.  More so, you can create password-protect archives using this mobile app; it has a premium version that eliminates ads.
Features
Can compress and uncompress all popular archive formats
Super-intuitive interface
Works as a regular file manager
2. WinZip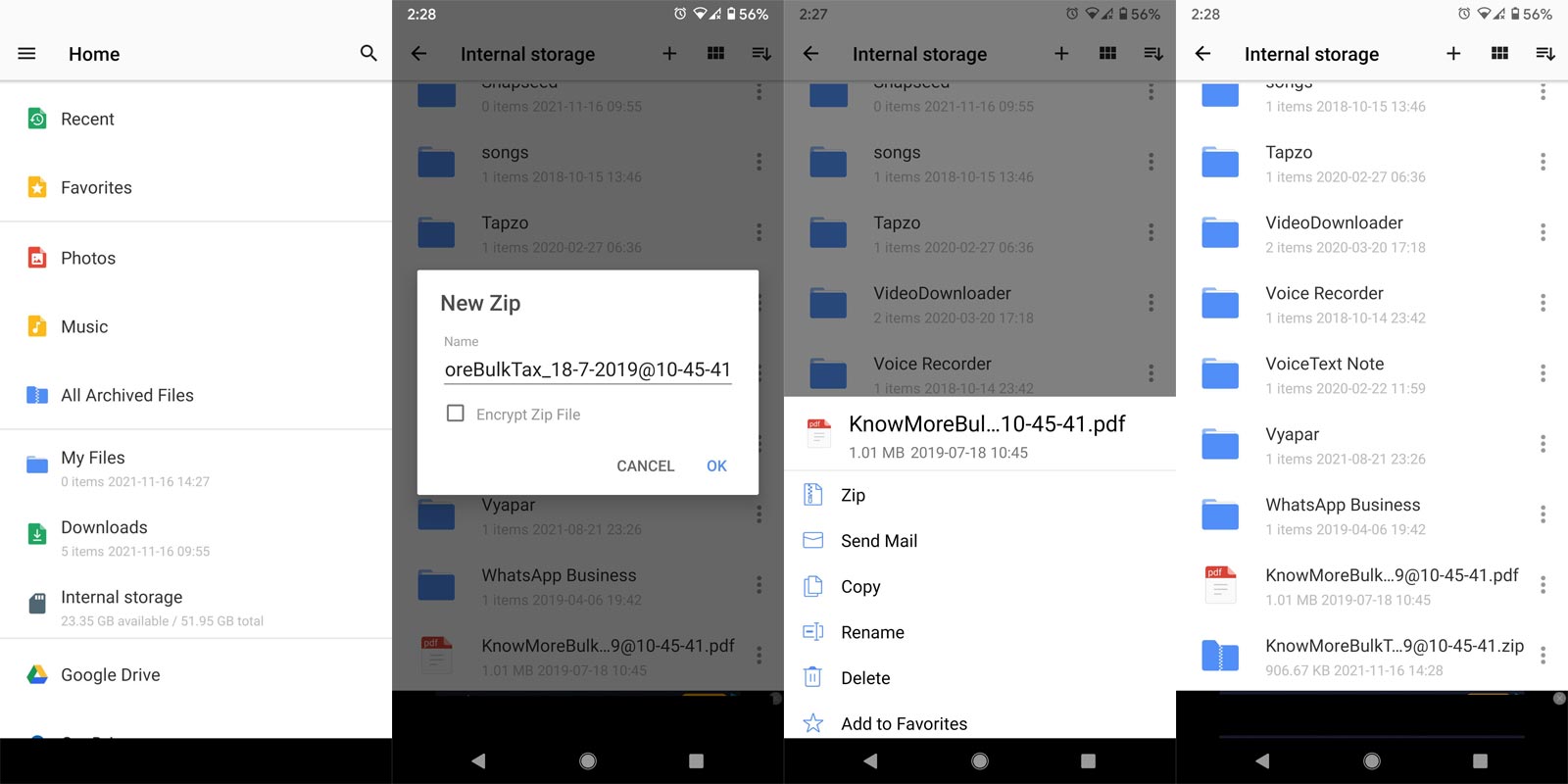 WinZip is practically the most popular ZIP extractor app for mobile users – it also has a software version for PC users. This zip extractor is pretty easy to use, and it comes with a ton of handy features. You can use this app to compress large files, and it also works for uncompressing zip archives.
More so, WinZip is a free app, and it allows you to connect your cloud accounts. The interface is intuitive, and it supports several formats. You could even use this as your file manager app, thanks to the file management features it possesses. A premium version lets you access more valuable features such as "Zip and Email."
Features
Works as a regular file manager app
Password-protection with 128- or 256-bit AES encryption
Supports various file formats
3. ZArchiver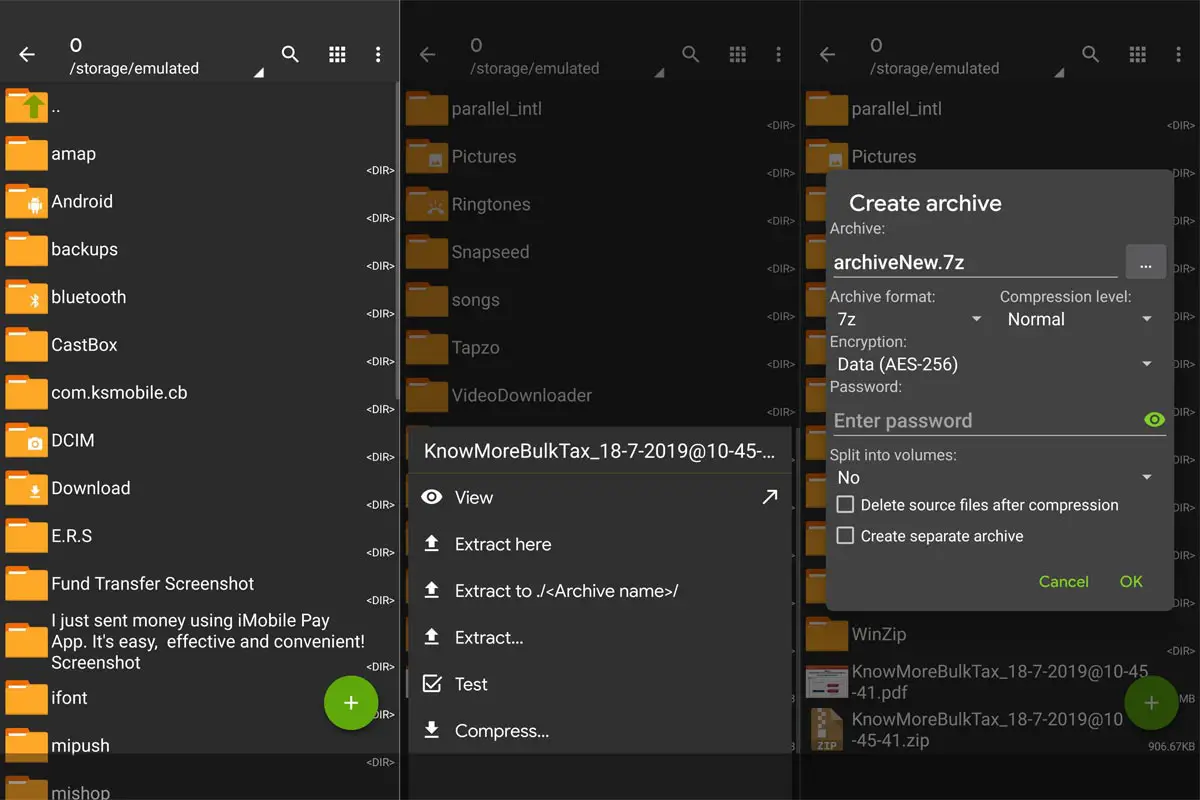 This is practically the best zip extractor for mobile users. It is fast and secure – supports 128- and 256-bit AES encryption, and can create all popular archive formats. With this app, you can view your archive files without extracting them yet; it supports 7z, zip, bz2, .gz, XZ, lz4, tar, zest, Rar, rar5, and many others.
ZArchiver is free to download, and it can also serve as your regular file manager app. More interestingly, with this zip extractor, you can open archive files sent to you via email. It supports multithreading, and you can do partial decompression. There are a ton of useful features available on this app.
Features
View all popular archive formats
Intuitive and easy-to-navigate interface
Edit the files in an archive (remove or add new files)
4. B1 Archiver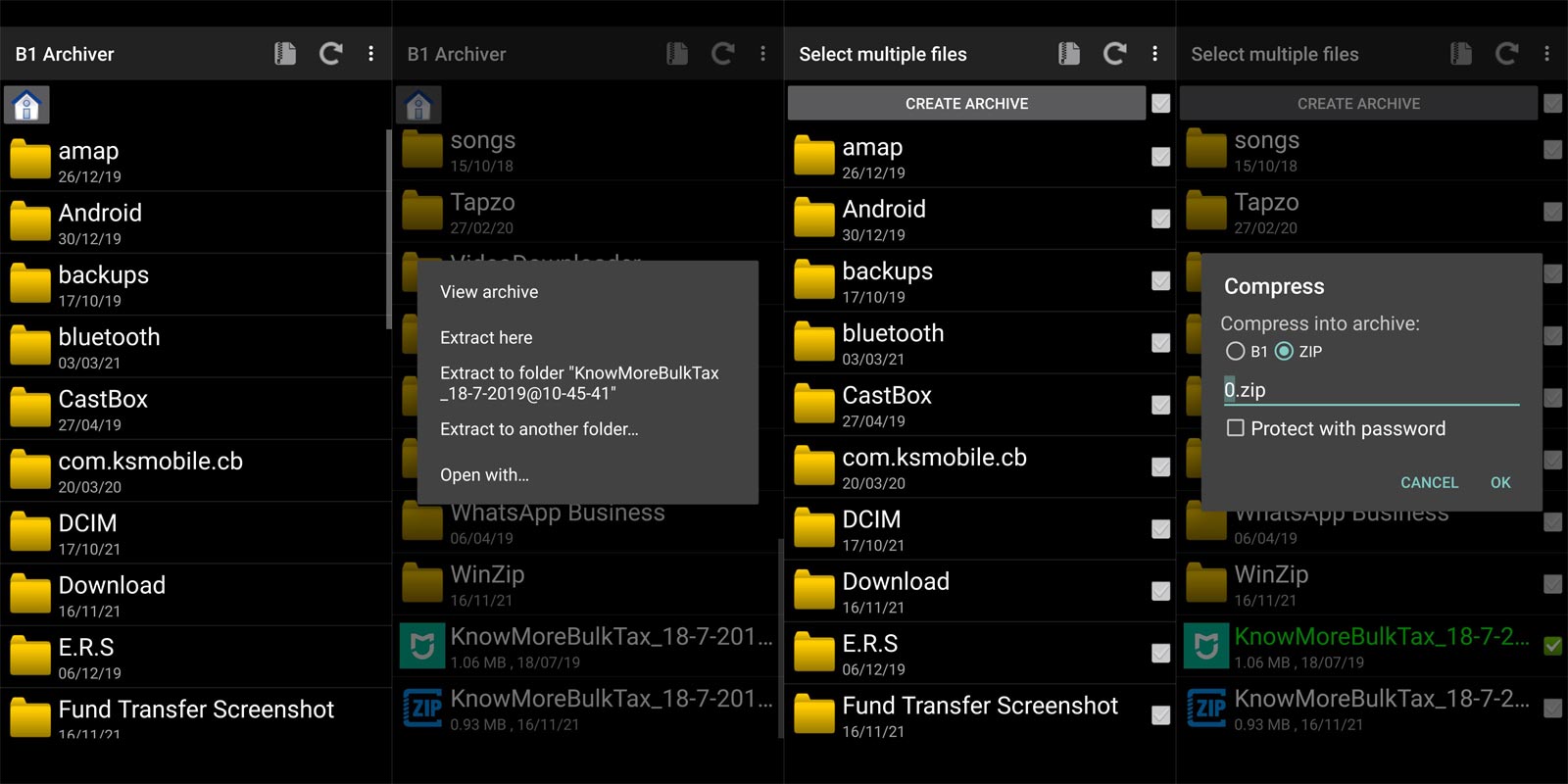 Now here's an all-in-one archiver mobile app with support for all known archive formats. This app offers a clear-cut interface where you can easily access all your compressed files. It works as a regular file manager and provides you with a set of tools for file compression.
The B1 Archiver app for Android is free to download and use, and more so, it can create password-protected archives. While the free version provides several good features, it shows you ads; you need to upgrade to the app's PRO version to remove the ads.
Features
Hide files from media scans
Support ZIP archive names with non-Latin symbols
Compress and decompress ZIP archives
Progress in the notification area
File management functions
5. iZip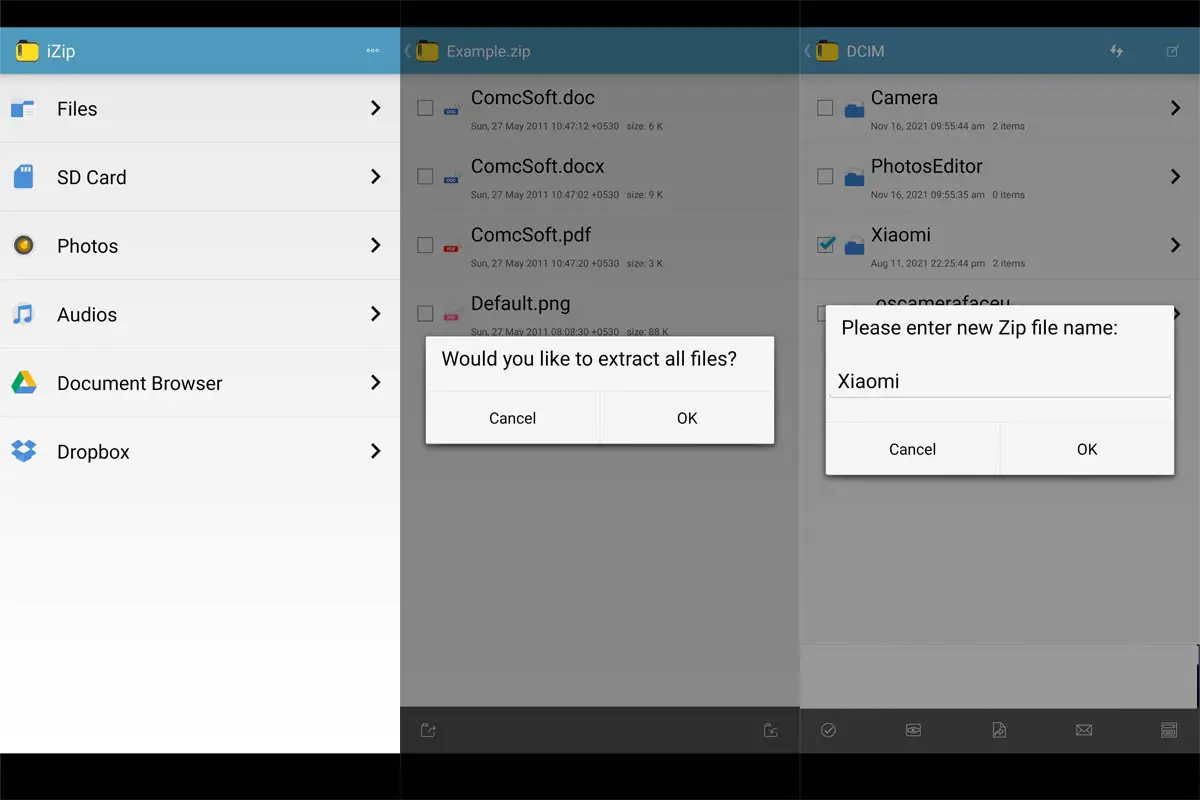 iZip is yet another impressive zip extractor app for Android. It is accessible on Play Store and provides you with a lot of good features. Yes, you can use this app to extract or compress files into several archive formats. The interface is easy to navigate, and it supports file management functions such as move, edit, copy, and delete.
Interestingly, this app lets you send ZIP archives via email. It goes on to support PDF, TXT, RTF, JPG, and GIF formats. Furthermore, iZip enables you to view Word, Excel, PPT documents through third-party applications on your device. It provides a lot of flexible options for managing ZIP and archive files.
Features
Import files from cloud accounts
Directly send files via email
Supports various archive formats
Add/remove files from archives
Wrap Up
Always use the Play Store for installing apps. Don't download apps from third-party sites. Conclusively, these are the top best Zip extractor apps to use on Android smartphones. They are free to download and support several valuable features you would like to explore. More so, they can act as your file manager application. Some of the File Managers have an in-built Extractor option. But they can't work fully like Compressor change file types. So, It is always helpful to have separate RAR extracting apps. Also, When you rarely use large files, You can compress them into a single RAR file to save space. Remember, the compression ratio purely depends on the files you are compressing. I hope the apps will help in your tasks; if I missed any of the Best apps, Comment below.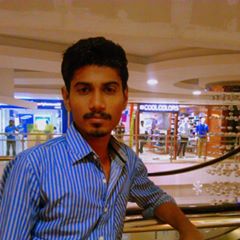 Selva Ganesh is the Chief Editor of this Blog. He is a Computer Science Engineer, An experienced Android Developer, Professional Blogger with 8+ years in the field. He completed courses about Google News Initiative. He runs Android Infotech which offers Problem Solving Articles around the globe.