Yep. Finally, Boost Mobile fixed their Bill Payment Issues. In today's world, where mobile devices have become an essential aspect of our daily routine, it can be pretty exasperating to face network outages that impede communication. Recently, Boost Mobile carrier, which offers telecommunication services to multiple areas in the United States, has been experiencing an outage that has left many of its clients stranded. This article will explore the Boost Mobile outage and explain what you need to know.

Boost Mobile outage
Multiple reports indicate that Boost Mobile users are currently dealing with network-related issues such as "no cellular connectivity" or the inability to activate SIMs. The situation is unusual since network outages are usually corrected in minutes or hours. However, for some reason, it has been days since Boost Mobile users were last able to use the mobile network usually.
How long has the Boost Mobile outage lasted?
The Boost Mobile outage has been ongoing for several days, which is unusual for network outages. Customers have been reporting the issue on various social media platforms, and the company has yet to release an official statement regarding the outage.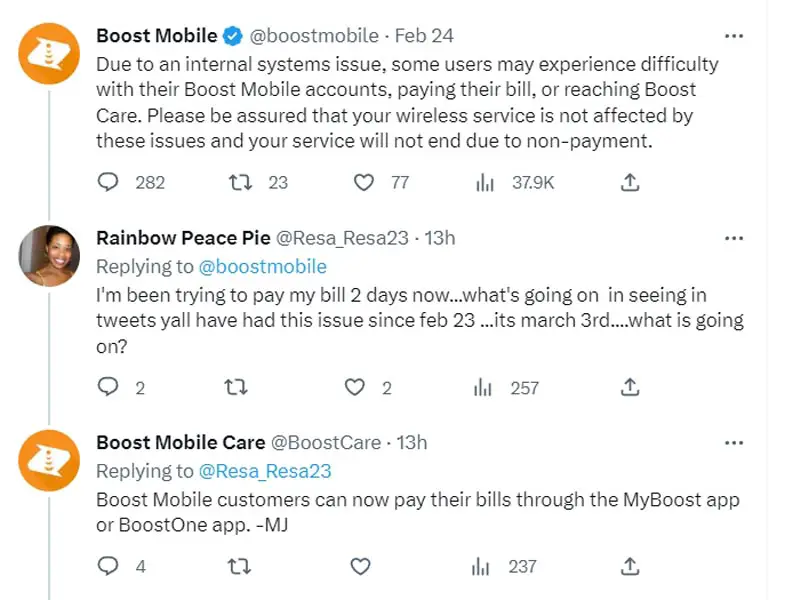 What areas are affected by the Boost Mobile outage?
Reports indicate that the Boost Mobile outage affects multiple areas in the United States. Customers in various states, such as California, New York, Texas, and Florida, have reported network-related issues.
What are customers saying about the Boost Mobile outage?
Customers have expressed their frustration on various social media platforms regarding the outage. Many cannot use their mobile devices to communicate, access the internet, or do other necessary tasks. The lack of communication from the company has also added to their frustration.
What is Boost Mobile doing to fix the outage?
Boost Mobile has yet to release an official statement regarding the outage. Nonetheless, they have been acknowledging customers' grievances on social media channels and assuring them they are endeavoring to resolve the matter promptly.
What can customers do during the Boost Mobile outage?
During the Boost Mobile outage, customers can try the following troubleshooting steps:
Restarting their mobile devices.
Checking for network updates.
Checking their account status and ensuring that their payments are up to date.
Contacting Boost Mobile customer support for further assistance.
How can customers contact Boost Mobile customer support?
Customers can contact Boost Mobile customer support through various channels, such as:
Live chat: Available on the Boost Mobile website
Social media: Boost Mobile has a presence on various social media platforms; customers can reach out to them through these channels.
What should customers do if the outage persists?
If the Boost Mobile outage persists, customers should continue to monitor the company's social media channels for updates. They can also contact customer support and consider alternative mobile service providers.
What is Boost Mobile doing to fix the issue?
Boost Mobile has acknowledged the issue and has been working to resolve the outage quickly. According to a recent update, Boost Mobile support confirmed that users should now be able to pay their bills through the MyBoost or BoostOne apps. However, it is unclear when the network will be fully restored.
How to stay updated on the Boost Mobile outage
If you are a Boost Mobile user and want to stay updated on the outage, you can check their official website or social media pages for updates. Boost Mobile is also providing support through its customer service channels.
FAQs
What is causing the Boost Mobile outage?
There hasn't been an official statement from Boost Mobile regarding the exact cause of the outage. However, some reports suggest that it could be due to technical issues with the network or maintenance work being carried out by the company.
When will the Boost Mobile outage be resolved?
Currently, Boost Mobile has not provided a specific timeframe for when the outage will be resolved. Nevertheless, the organization has asserted that they strive to address the matter enthusiastically. We recommend keeping an eye on official Boost Mobile communication channels for updates.
Can I switch to a different carrier during the Boost Mobile outage?
You can switch to a different carrier if you face network issues with Boost Mobile. However, changing carriers may involve additional costs and a new contract. Researching and comparing other carrier options is always a good idea before deciding.
How can I stay connected without my Boost Mobile network?
If you are facing issues with the Boost Mobile network, there are a few things you can do to stay connected. You can try connecting to Wi-Fi networks when available, use messaging or video apps that work on data or Wi-Fi, or consider getting a temporary SIM card from another carrier.
Will I receive compensation for the Boost Mobile outage?
It's unclear if Boost Mobile will offer any compensation for the outage. However, if you are facing issues due to the blackout, we recommend contacting Boost Mobile customer support to see if they can assist you in any way.
Wrap Up
Boost Mobile users are facing a severe outage that has left them disconnected from their mobile network for several days. The organization is aware of the problem and has tried to rectify it, but the situation appears more intricate than anticipated. This situation can be incredibly frustrating and even debilitating for users who rely on their mobile devices for daily tasks.
It's important to remember that network outages can happen to any carrier and are not unique to Boost Mobile. However, what sets a company apart is how they handle the situation and communicate with its customers. Boost Mobile has been providing regular updates through their support channels, and we can only hope that they resolve the issue soon and keep their customers informed along the way.
If you're a Boost Mobile user experiencing this outage, know that you're not alone, and there are other ways to stay connected to the world around you, like through Wi-Fi or other mobile carriers. We hope Boost Mobile can resolve the issue quickly and restore users' trust in their network.
Thank you for perusing this article regarding the Boost Mobile service disruption. If you have any inquiries or apprehensions, please don't hesitate to leave them in the comments section below.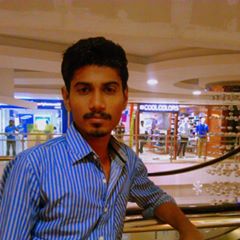 Selva Ganesh is the Chief Editor of this Blog. He is a Computer Science Engineer, An experienced Android Developer, Professional Blogger with 8+ years in the field. He completed courses about Google News Initiative. He runs Android Infotech which offers Problem Solving Articles around the globe.