In the ever-evolving realm of smartphone technology, Google's Pixel series has garnered unwavering attention with its pioneering features and design advancements. The imminent arrival of the Google Pixel 8 has spurred fervent speculation, primarily attributed to the emergence of fresh renders that tantalizingly suggest a noteworthy departure from its forerunners. These renders have undeniably ignited dialogues, centering around the concept that the Pixel 8 might embrace an exclusive eSIM configuration limited to specific global regions. With this riveting backdrop, let us embark on an exploration of this captivating development and the far-reaching ramifications it might entail.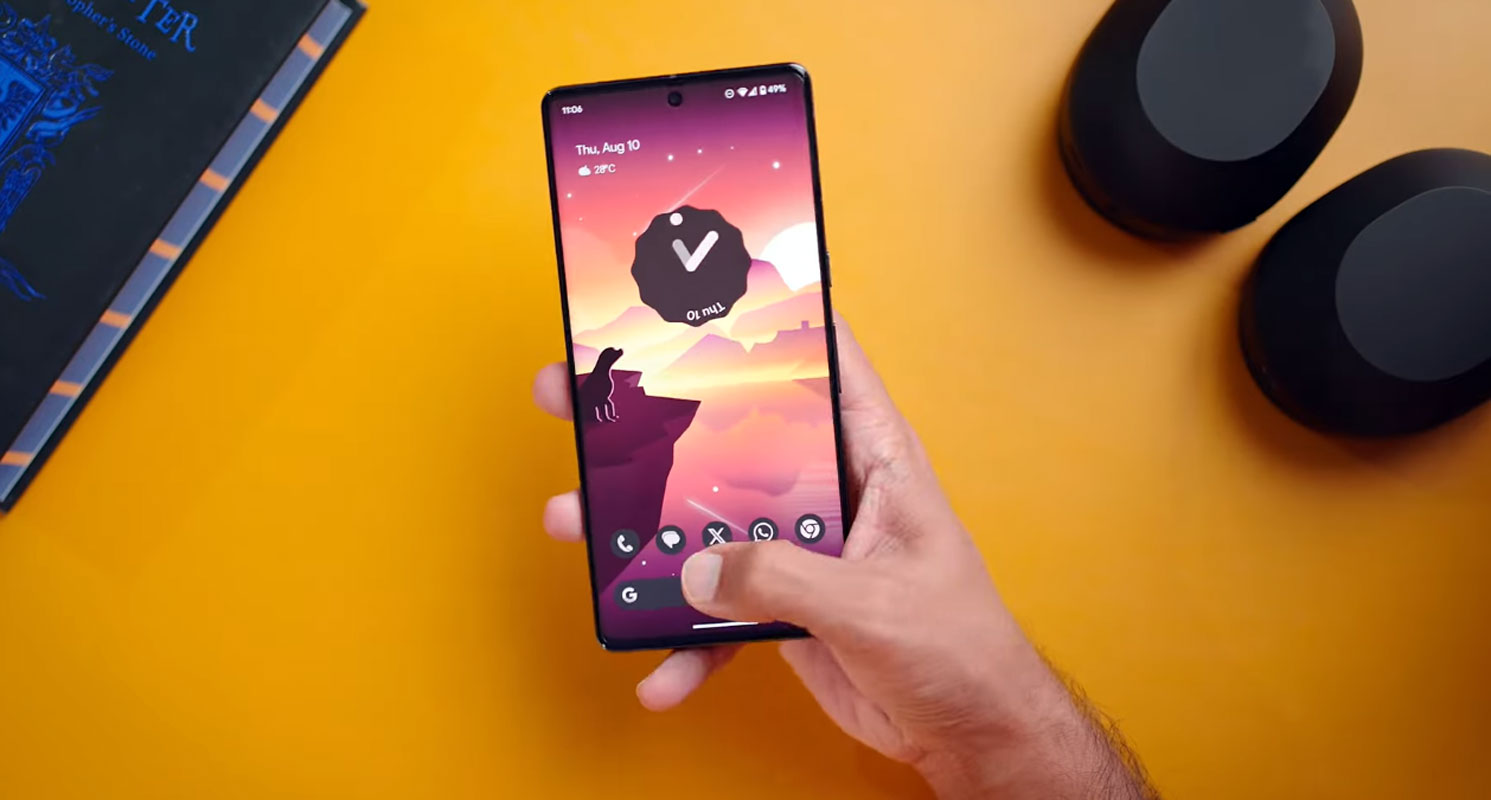 A Glimpse into the Future: Google Pixel 8 Series
The anticipation around Google's Pixel series is palpable as tech enthusiasts eagerly await the next iteration, the Pixel 8. Leaked renders, courtesy of OnLeaks and SmartPrix, have provided a sneak peek into the phone's design. While initial reactions focused on the phone's aesthetic appeal, a keen-eyed Android expert, Mishaal Rahman, brought forth a discovery that could redefine how we perceive smartphone connectivity.
Google Pixel 8 eSIM in a few Countries
Upon closer inspection, it became evident that the Pixel 8 renders lacked a familiar component—the SIM card tray. This revelation, posted by Mishaal Rahman on X (formerly Twitter), immediately ignited speculation within the tech community. However, Rahman urged caution, emphasizing that this leak should be taken with a grain of salt. If accurate, it is possible that the Pixel 8 and its counterpart, the Pixel 8 Pro, might exclusively adopt eSIM technology in specific global regions.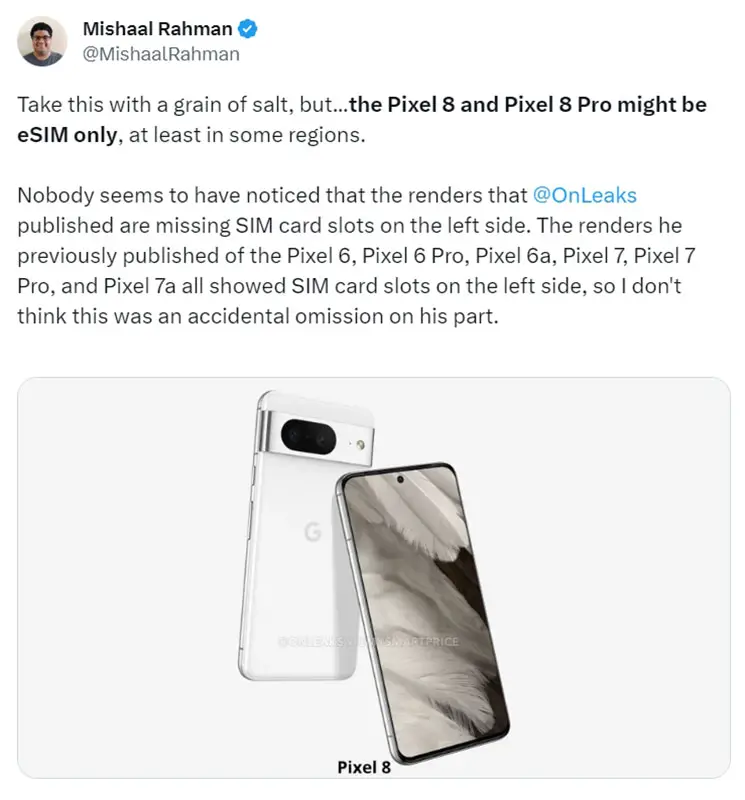 Navigating Through Design Complexity
SmartPrix's renders, developed from Computer-Aided Design (CAD) schematics, provide a comprehensive visual representation of the Pixel 8. Nevertheless, the intricate nature of design renders sometimes omits specific details. This leads to a question—Did SmartPrix intentionally omit the SIM tray from their renders to avoid committing to a speculative feature? Notably, earlier CAD designs showcased the inclusion of the SIM card tray, creating a perplexing situation.
Exploring Potential Influences: Apple's Path and Google's Plans
Comparisons with Apple's approach come to the forefront when pondering Google's potential shift to eSIM technology. Apple's decision to eliminate the physical SIM card tray in favor of eSIM technology in the United States significantly impacted the smartphone industry. Could Google be on a similar trajectory? Interestingly, Google has already disclosed its plans to enhance the transition between eSIMs and physical SIMs, as announced at Mobile World Congress (MWC) 2023.
Unveiling and Beyond What the Future Holds
The tech world awaits Google's official unveiling of the Pixel 8 series, expected to occur in October. Drawing from the company's historical patterns, there's a possibility that Google might offer a tantalizing glimpse of the upcoming devices on X (formerly Twitter) in the weeks leading up to the formal launch. As the Pixel 8's potential eSIM-exclusive nature continues to captivate minds, it's clear that Google is positioning itself to navigate the dynamic landscape of smartphone connectivity.
FAQs
What are eSIMs?
eSIMs, or embedded SIMs, are a digital alternative to traditional physical SIM cards, allowing users to switch between carriers remotely.
Will the Pixel 8 series be eSIM-only worldwide?
The potential eSIM exclusivity of the Pixel 8 is speculated to apply to specific regions, offering flexibility in adopting new technology.
How does Google plan to facilitate the transition between eSIMs and physical SIMs?
Google aims to streamline switching between eSIMs and physical SIMs, as revealed during MWC 2023.
When can we expect the Pixel 8 series to be unveiled?
Google traditionally unveils its Pixel series in October, with potential teaser glimpses on X (formerly Twitter) in the preceding weeks.
How significant is the potential shift to eSIM for consumers?
The change to eSIM technology could simplify the user experience, allowing for more accessible carrier switches and potentially paving the way for slimmer device designs.
Wrap Up
In the dynamic landscape of smartphones, innovation remains an unwavering companion, driving progress at every turn. The forthcoming Google Pixel 8's contemplation of transitioning to eSIM technology reflects a deliberate stride toward the future of connectivity. While the absence of a traditional SIM card tray in the rendered images may spark inquiries, it's crucial to approach this potential paradigm shift with a receptive perspective.
Whether Google fully adopts eSIM technology in specific regions or not, one certainty prevails—technology thrives on change, adapting, and evolving ceaselessly. Amidst these shifts, the Google Pixel 8 is a testament to the ongoing evolution of devices, underscoring the industry's commitment to shaping a more seamless and connected tomorrow.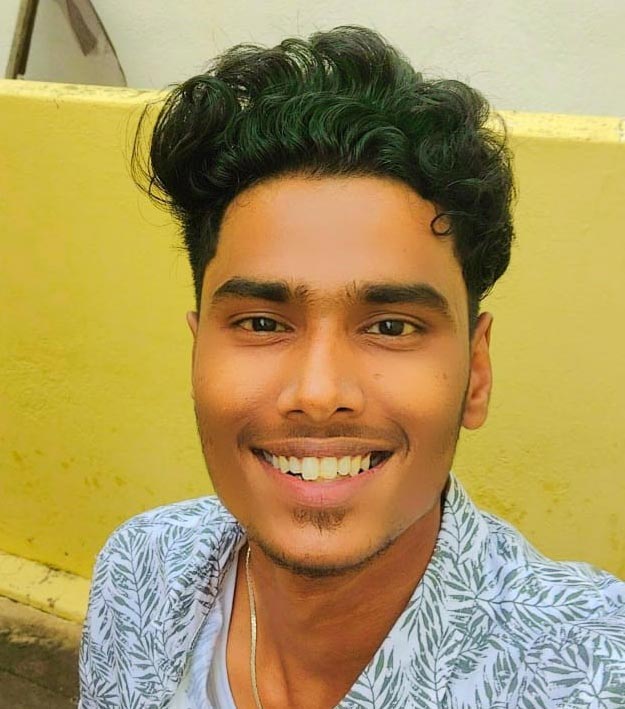 Arun Karthick is a highly skilled and versatile individual with a computer science background. He completed his undergraduate degree in this field and has since worked as an Android developer. Arun is known for his expertise in break dance and is highly regarded in this field. In addition to his dancing abilities, Arun is also a mobile hardware-level technician, making him well-rounded. He is known for his intelligence and is considered an intelligent individual in his professional and personal life.