Cloud gaming is the future. Every game based companies are slowly moving to Cloud-based tech after Google Stadia's success. Gamers always prefer hardware support in their end. But for casual users, Cloud gaming is enough. Compare with Stadia to play GeForce Now games, you need to install a specific app in your device. It is good. The app may have better optimizations. But the problem is, it is not comfortable for most of the users. But we have a way to play GeForce Now games in your Google Chrome Browser. Since it supports Chrome OS, it will surely work on most of the Chrome browsers too. All you need to do is change the user agent in your browser using the extension.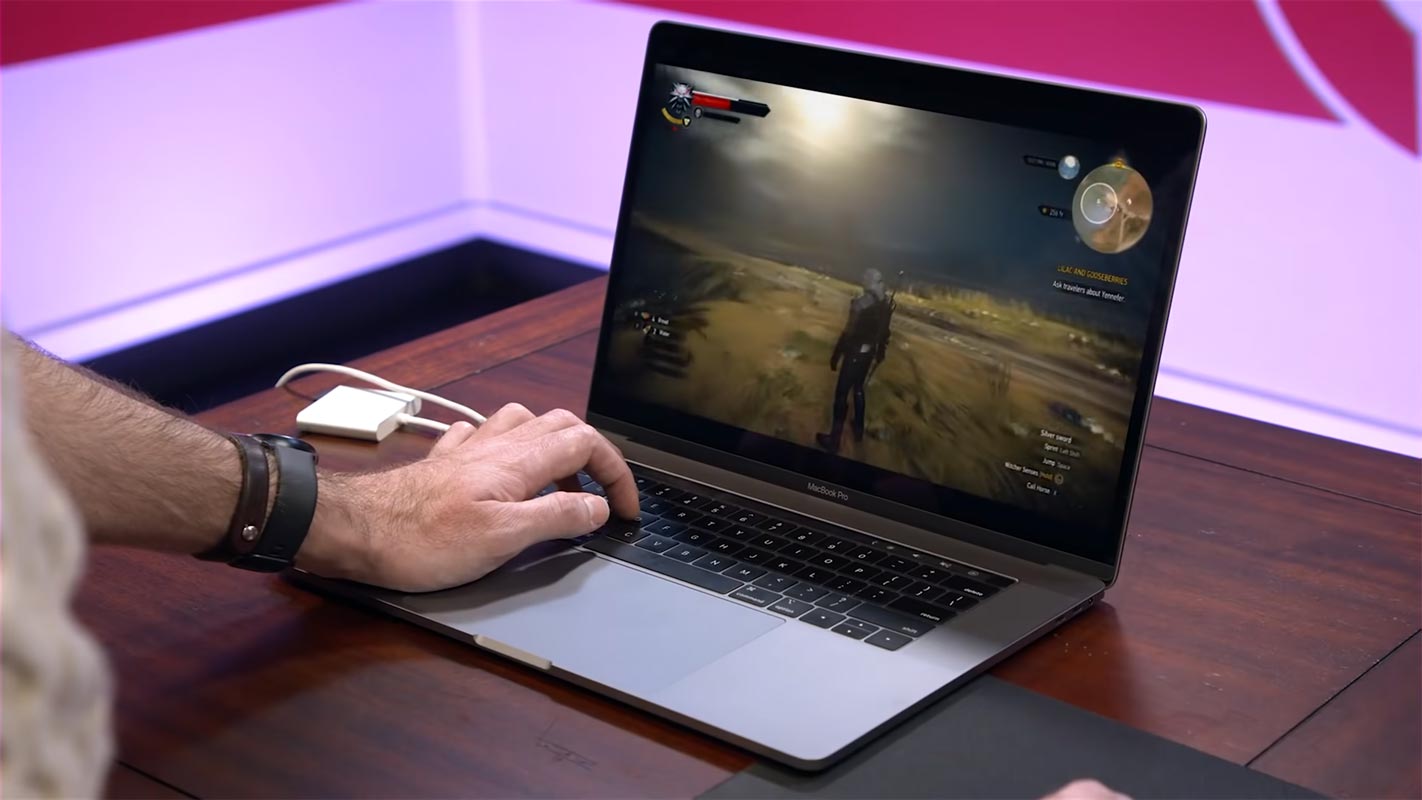 GeForce Now from Nvidia is old compare with Stadia. But GeForce Now is in the beta stage from 2015 and comes to public in February 2020. In terms of Cloud games, We have to go a long way in this path for better gaming experience compare with consoles and PCs. But Most of the companies realized people want to play games, but they don't have the interest to buy Consoles or PC setup. They want to play Games in their already existing devices.
How GeForce Now is working in Google Chrome Browser?
Unlike other platforms, Most of the Chrome OS apps are rely on Chrome Browser. Thus when we change some settings, we can run most of the Chrome OS Apps in your regular Chrome Browser. The same way goes for playing GeForce Now. But you need minimum requirements to play games like Chrome OS.  When you meet the minimum standards, and you have a subscription with GeForce Now, you are good to go.
Minimum Requirements
Chrome Browser version 77 or later.
Keyboard and Mouse for controls.
It would help if you had a minimum of 15Mbps speed for 720p and 25Mbps for 1080p resolution. The data consumption also varies depending on the recommendation.
Processor power needs like Intel Core i3 or more.
Intel HD Graphics 600 or later.
How to Play GeForce Now in Google Chrome Browser using an extension?
After Installation. Open extensions and select a three-dot icon, and you will get the extension menu. If you already pin the extension, then right-click to get the list.

Select "Options," and you will get various user agents.
On top of other user agents, You can notice an empty field for creating new user agents.
We have to create a new user agent to play GeForce Now in your Chrome browser.
In the name field, put any name. In the New Agent string value, Copy and Paste the following string.
Mozilla/5.0 (X11; CrOS aarch64 13099.85.0) AppleWebKit/537.36 (KHTML, like Gecko) Chrome/84.0.4147.110 Safari/537.36
After pasting value, It will automatically assign the Group. Copy and Paste "ASX" in the Indicator Flag.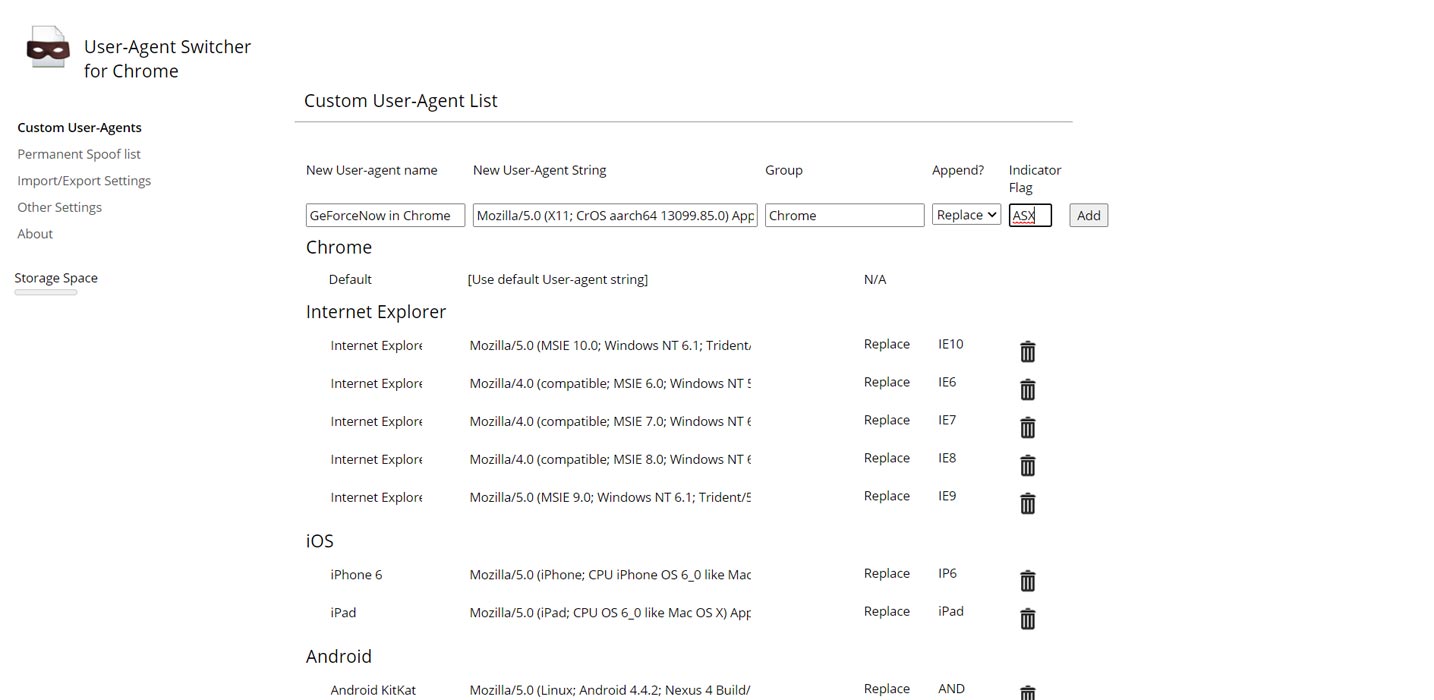 Select "Add" to create a new user agent. We will use this agent only for GeForce Now related websites. It should not affect other sites. So, Select the "Permanent Spoof list" from the left menu and add below URL and select agent as we created.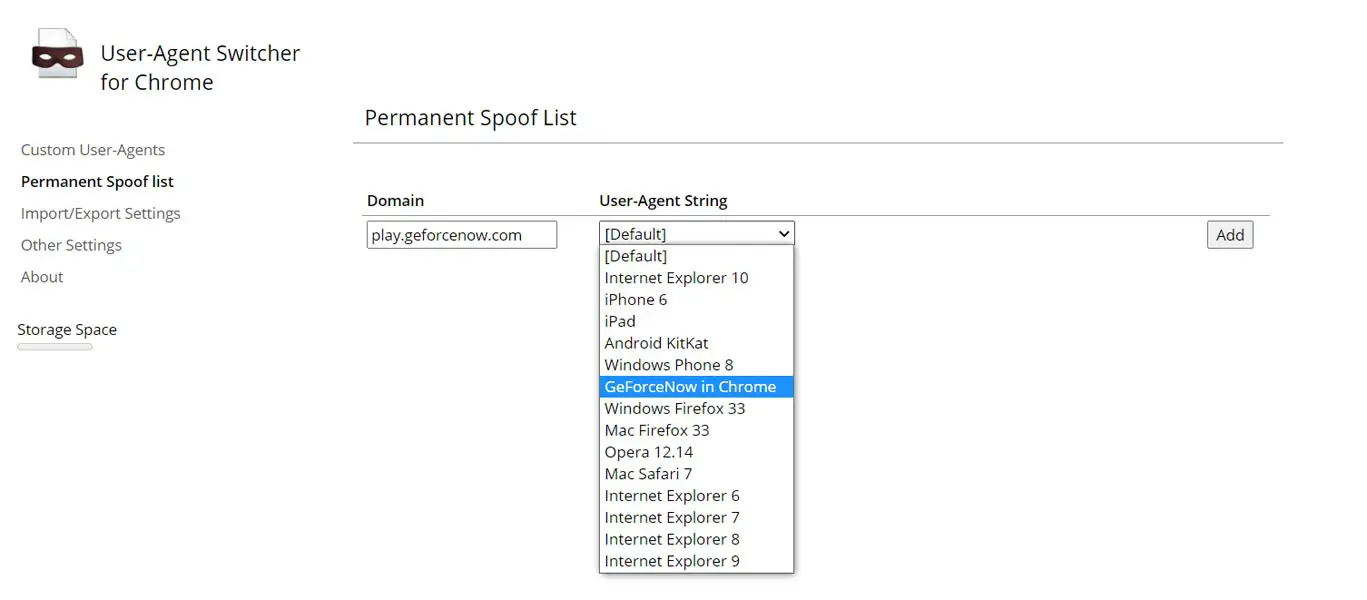 After setup everything above, choose the created agent from the extension.
Go to play.geforcenow.com and login with your account. Now you can play GeForce Now games in your Chrome Browser.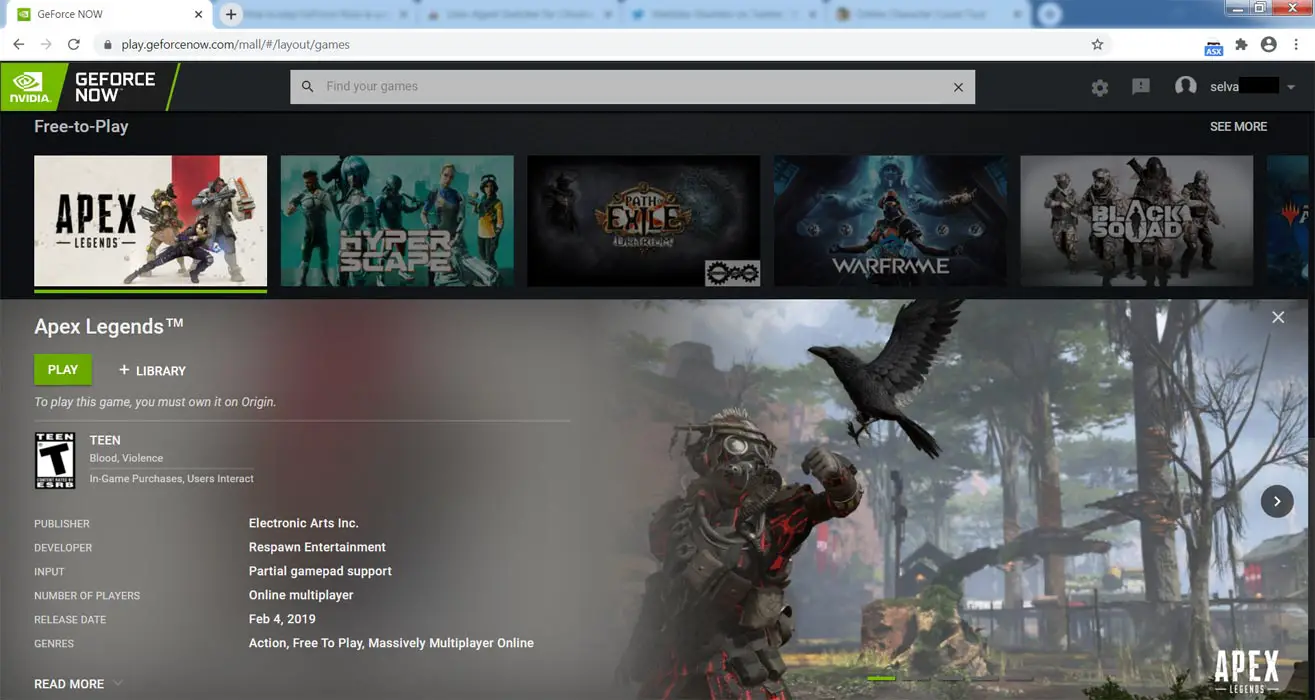 There are plenty of free games available. But they have time or sessions limit.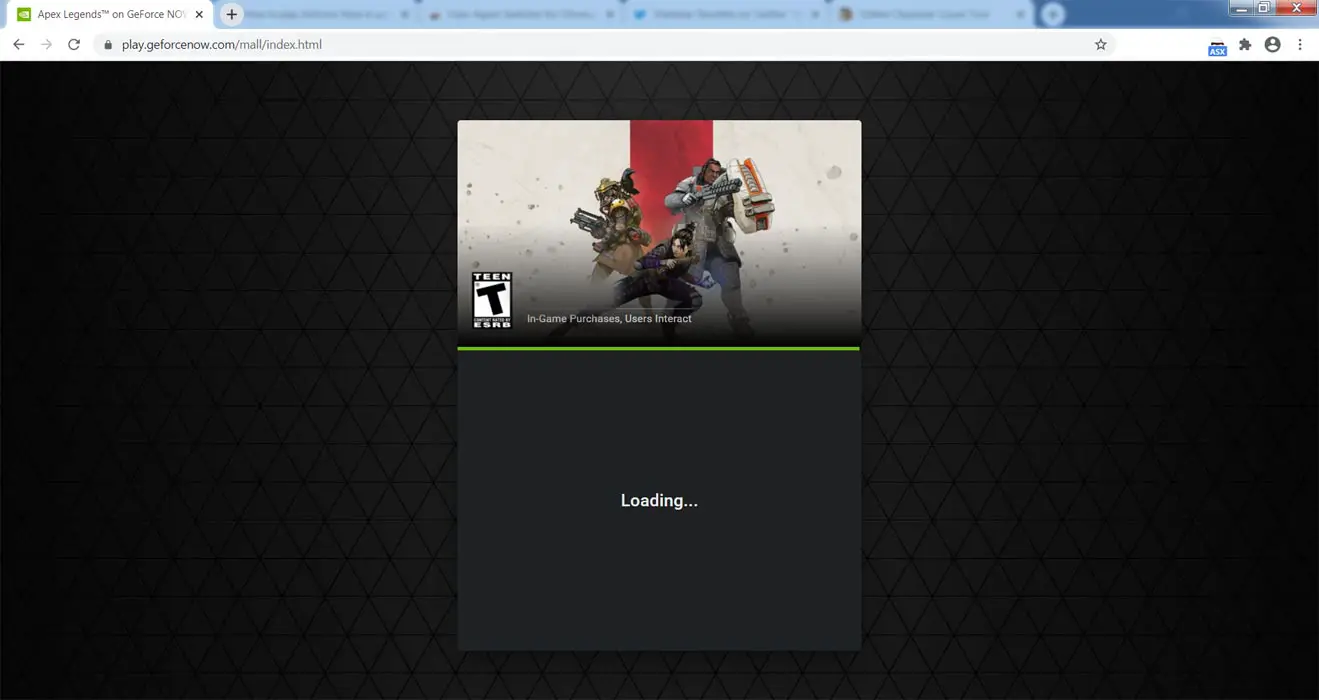 The game lag and speed is depending on the server location and your Internet speed. When you have better hardware configurations, The gameplay will be smooth compare with a regular setup.
Wrap Up
The motto of cloud gaming is making it more accessible to users. Stadia didn't need any unique apps, and it works on the Chrome browser. Nvidia has better gaming experience history compare with Google Stadia. So, they can implement better Graphics and fix some things where Stadia lag. On the other side, Google Stadia also not play regularly. They hired God of War Head Shannon Studstill to Run Stadia Studio in LA. So, Every company that starts the platform in cloud gaming is not doing it as a test. They know it is the future and try their best to reach more people.
Google Stadia already implement 1440p support in the Chrome browser. Compare with Stadia GeForce Now; games play looks like running in the flash-based platform in the old days. Since it is a new platform and reach the public recently, We can expect improvements in the upcoming days. If they roll out direct browser support, it will be useful for many users. Did you try GeForce Now in the Chrome browser using the above method? What is your experience? Comment below.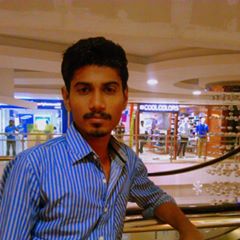 Selva Ganesh is the Chief Editor of this Blog. He is a Computer Science Engineer, An experienced Android Developer, Professional Blogger with 8+ years in the field. He completed courses about Google News Initiative. He runs Android Infotech which offers Problem Solving Articles around the globe.