Accidentally marking an essential email as spam in Gmail can be incredibly frustrating and disruptive, especially if it's from a crucial vendor or business contact. However, there is good news: you can fix this situation and guarantee that these emails are delivered to your inbox as they should be. In this article, we will walk you through the steps to restore emails mistakenly labeled as spam in Gmail. Additionally, we will share valuable tips to help you avoid similar problems in the future. By adhering to these guidelines, you can reclaim access to crucial messages and prevent them from being overlooked or misclassified.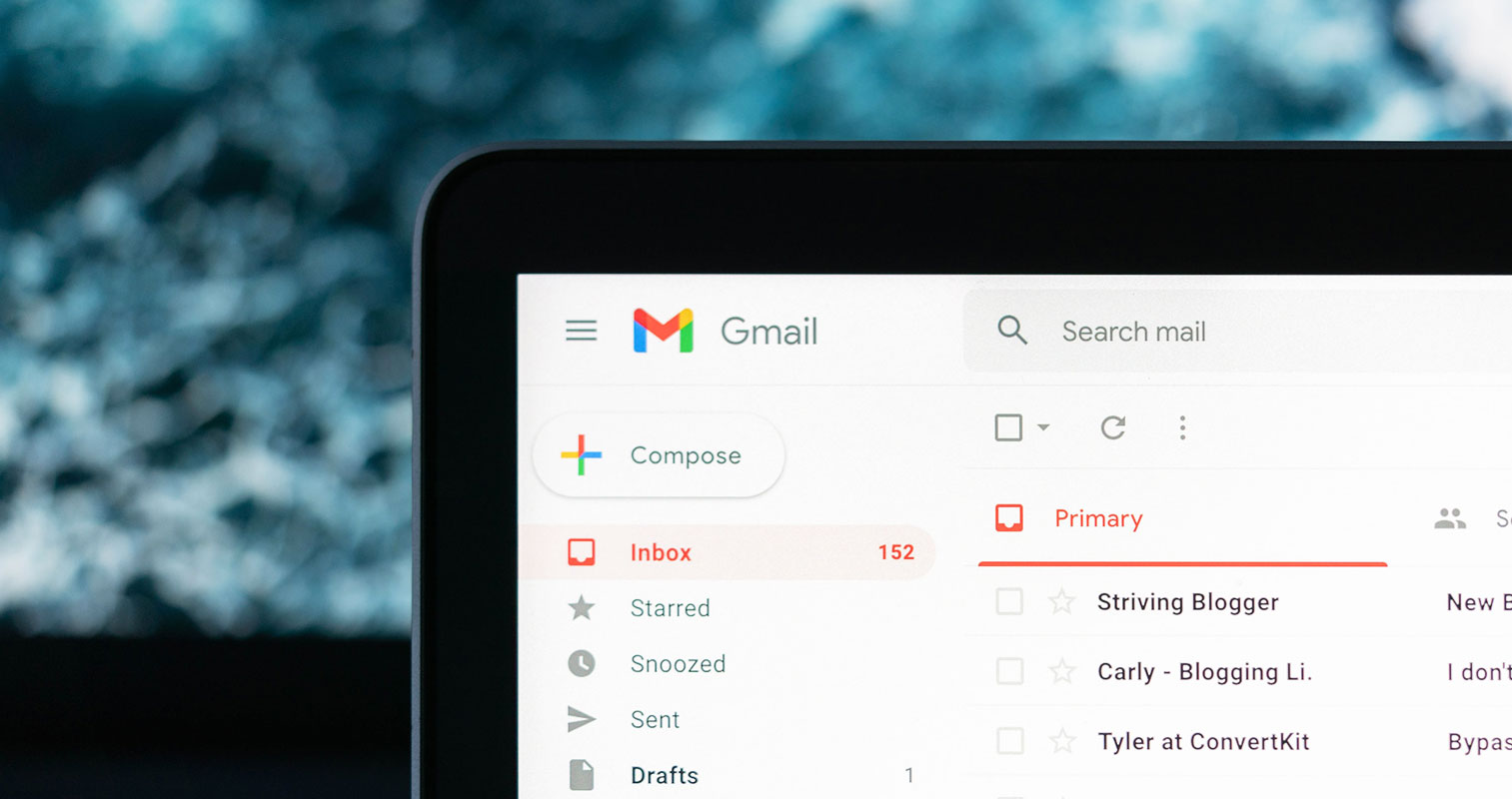 Marked as Spam in Gmail
Gmail's spam filter keeps unwanted and potentially harmful emails out of your inbox, providing a cleaner and safer email experience. However, there are instances where legitimate emails can mistakenly end up in the spam folder. If you find yourself in a situation where vital emails keep going to spam, it's crucial to take appropriate action to restore them to your inbox.
Understanding the issue: Emails marked as spam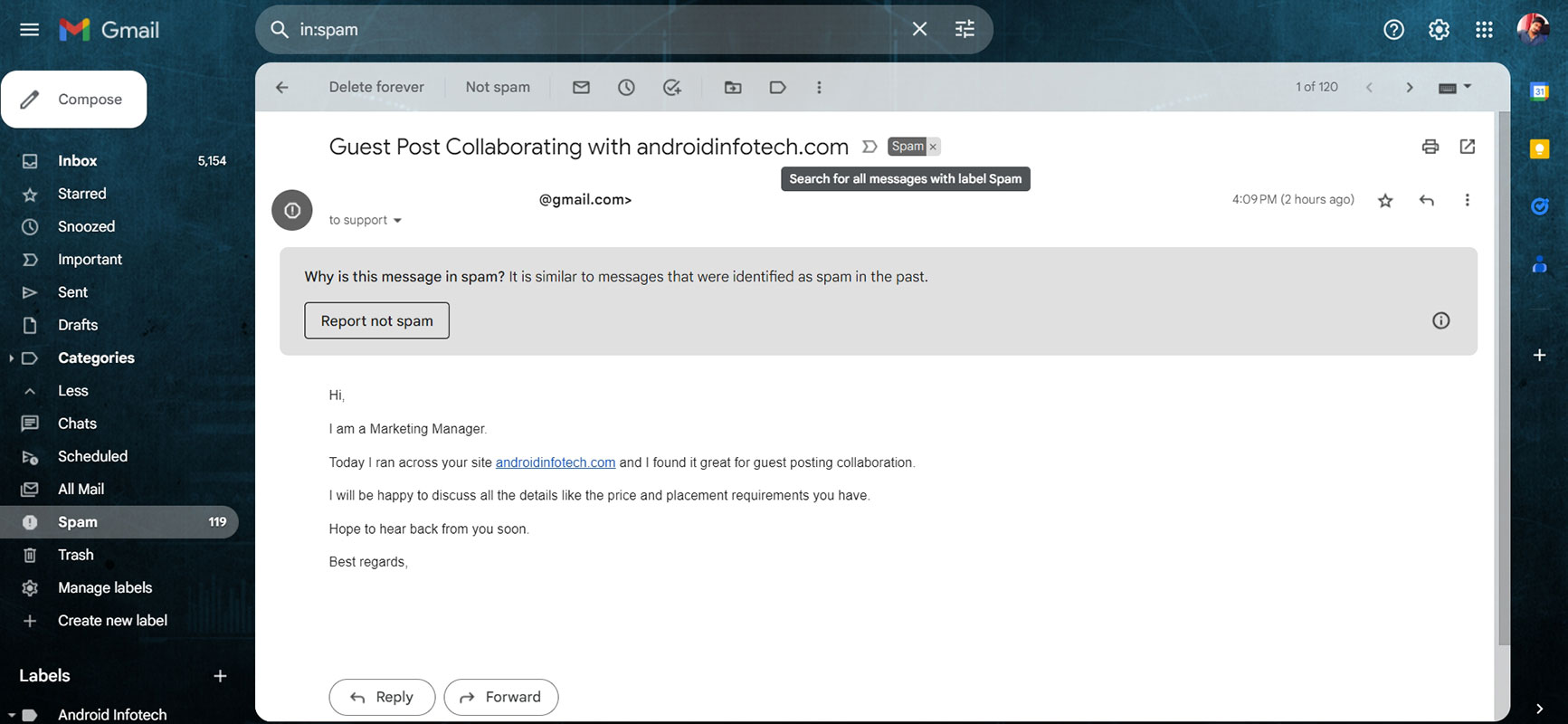 When Gmail's spam filter detects an email as spam, it automatically diverts it to the spam folder instead of delivering it to your inbox. While this mechanism effectively filters out unsolicited or malicious emails, it may occasionally misclassify legitimate ones as spam. This misclassification can lead to inconvenience, as you may miss important messages from contacts or vendors critical to your business operations.
The importance of restoring emails to the inbox
Restoring emails marked as spam to your inbox is essential to ensure you receive and respond to critical communications promptly. By taking the necessary steps to retrieve these emails, you can maintain efficient and effective communication channels, preventing potential disruptions in your business operations.
Steps to restore emails marked as spam in Gmail
Using the "Not spam" option
Gmail provides a simple method to restore emails marked as spam. Follow these steps: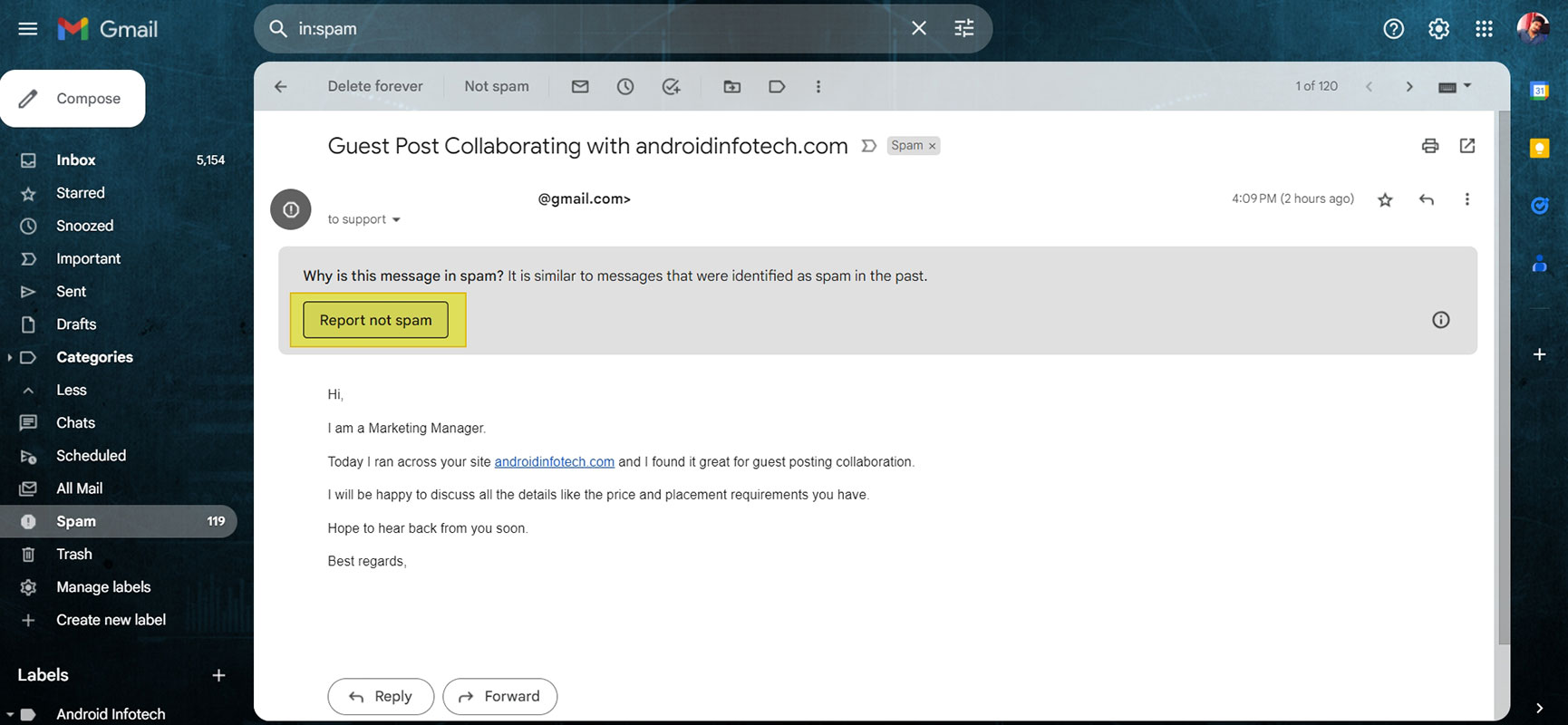 Go to the spam folder by clicking the "Spam" label on the left sidebar.
Locate the email that you want to restore to your inbox.
Choose the email by clicking on the checkbox adjacent to it.
Click the "Not spam" button at the top of the Gmail interface.
Gmail will move the selected email to your inbox, and future emails from the same sender should no longer be marked as spam.
Creating a filter to prevent emails from being marked as spam
To prevent legitimate emails from being mistakenly classified as spam in the future, you can establish a filter in Gmail. This filter will ensure that emails from specific senders or with particular characteristics are always delivered to your inbox. Follow these steps to create a filter: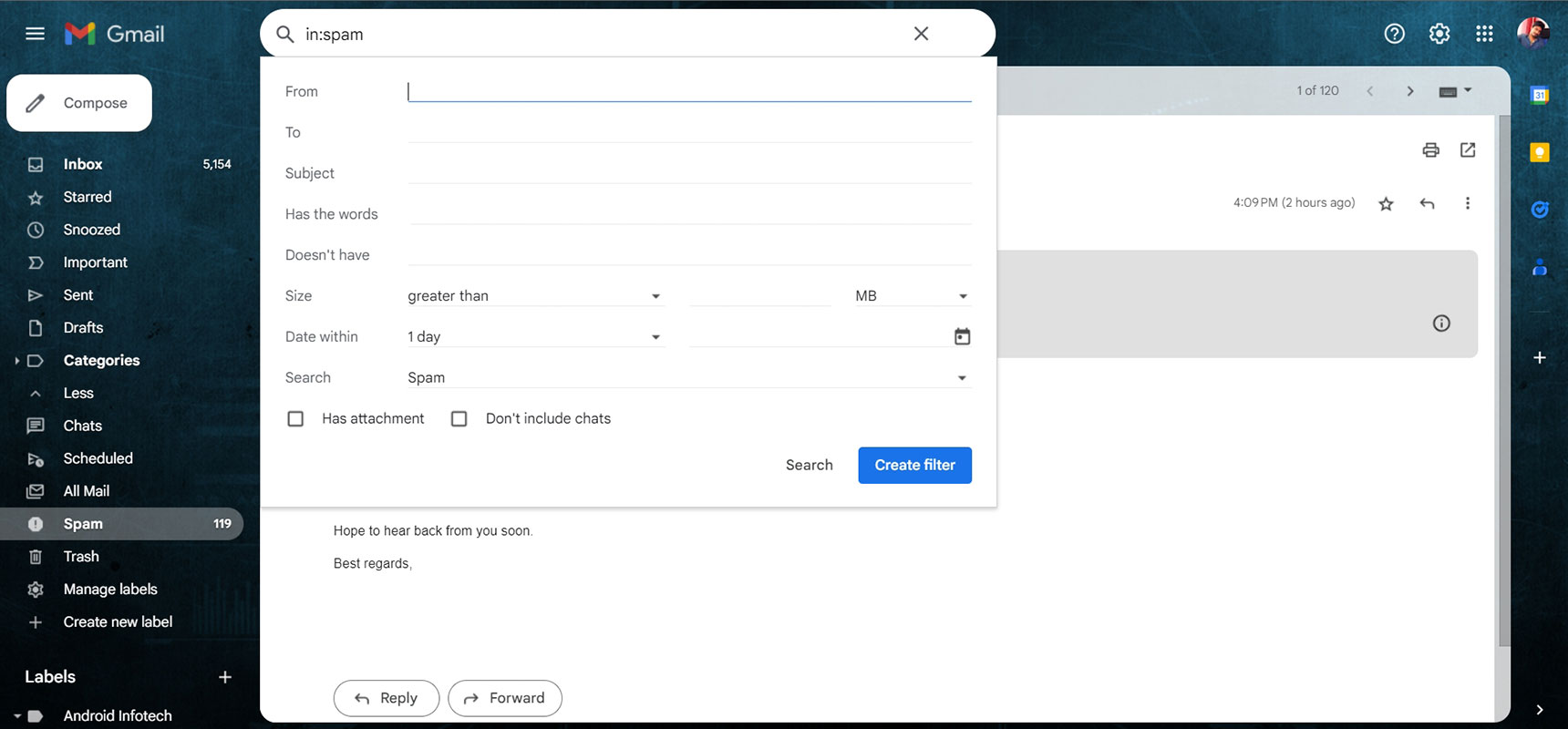 Open Gmail in your web browser.
In the top search box, click "Show search options" (photos tune icon).
Enter the search criteria that identify the emails you want to prevent from going to spam.
Click the "Search" button to see the emails that match your criteria.
Choose the action you want Gmail to perform on matching emails, such as "Never send it to spam."
Click the "Create filter" button to save the filter settings.
By setting up this filter, you can proactively ensure that essential emails bypass the spam folder and land directly in your inbox.
Preventive measures to avoid emails going to spam
Allowing senders
Allowlisting senders is an effective way to prevent their emails from going to the spam folder. By adding trusted senders to your contacts or marking their emails as necessary, you signal to Gmail that these emails should be delivered to your inbox.
Regularly checking the spam folder
Make it a habit to check your spam folder regularly. Although Gmail's spam filter is generally accurate, it can occasionally misclassify legitimate emails. By periodically reviewing the spam folder, you can spot any false positives and restore them to your inbox promptly.
Updating Gmail filters
Regularly review and update your Gmail filters. As time passes, your email preferences can change, requiring you to adjust existing filters or establish new ones to ensure that emails from important contacts are not mistakenly flagged as spam.
Reporting false positives
If you consistently receive important emails in the spam folder, you can report them as false positives to Gmail. Providing this feedback assists in enhancing Gmail's spam filter algorithms and decreasing the chances of similar emails being classified as spam in the future.
FAQs
Can I recover emails marked as spam if I delete them from the spam folder?
Unfortunately, they cannot be recovered once you delete emails from the spam folder. It's essential to restore them to your inbox or move them to a different folder before deleting them if you want to keep them.
I've tried using the "Not spam" option, but the emails still end up in spam. What should I do?
If the "Not spam" option doesn't resolve the issue, you can create a filter preventing those emails from being marked as spam. Follow the steps provided in the article to set up the filter.
Will creating a filter for one sender affect emails from other senders?
No, creating a filter for one specific sender will only affect emails from that particular sender. Gmail's default spam filter rules will continue to process other emails.
How often should I check my spam folder?
We recommend checking your spam folder at least once weekly to avoid overlooking legitimate emails that could have been misclassified.
Can I undo the creation of a filter in Gmail?
Yes, you can edit or delete filters in Gmail. To do so, go to Gmail settings, select the "Filters and Blocked Addresses" tab, and make the necessary changes.
Wrap Up
Accidentally marking important emails as spam in Gmail can be highly inconvenient, particularly when these emails hold crucial information for your business. However, there are steps you can follow to retrieve these emails and prevent similar issues in the future. One of the first measures is to check your spam folder to identify misplaced emails consistently. By regularly performing this action, you can swiftly find and restore any important emails that might have been erroneously classified as spam.
In addition, when you update your filters, you can refine Gmail's spam detection system and decrease the likelihood of incorrectly flagging essential emails. It is also important to take proactive measures to enable trusted senders, ensuring that future emails from these sources are delivered directly to your inbox. By adhering to these guidelines and practicing good email management habits, you can maintain a reliable and efficient email experience in Gmail, safeguarding essential communications for your business.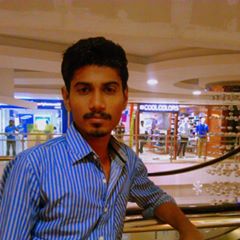 Selva Ganesh is the Chief Editor of this Blog. He is a Computer Science Engineer, An experienced Android Developer, Professional Blogger with 8+ years in the field. He completed courses about Google News Initiative. He runs Android Infotech which offers Problem Solving Articles around the globe.