Samsung- "Hey we are going to dominate Budget category with our new M series." Xiaomi– "Really..?..:))." We try to suggest you the best compatible phone for you, between Samsung Galaxy M30 Vs. Xiaomi Redmi Note 7 Pro Pro. When Samsung introduce M series, everyone thought Xiaomi would suffer because of this. But Xiaomi goes too aggressive in pricing now. Predictively, mainstream phone users will choose the Samsung based on reputation and being a premium brand but hey! Stop right there. A Samsung is not all there is to the life you know? Samsung has held to the Android crown for long enough, and it is now time for some shakeup from some brands. Xiaomi might still be a relatively new name in the smartphone world when they enter, but now it is a different story. We are pitting it's Redmi Note 7 Pro against the Samsung Galaxy M30 to see how these devices edge each other out in terms of design, performance, specifications, and features.
You are probably expecting the M30 to win hands-down. Why not grab a cup of tea; lean back and settle down to read?
Design and Display
The Samsung Galaxy M30 comes with a large enough 6.4-inch AMOLED screen that has a 1080 x 2280 pixels resolution. With a thickness of 8.4 mm, a width of 75.1mm and a length of 159mm. It weighs 175 grams. No one can beat Samsung's display. And now it supports Netflix HD content, so you can enjoy a lot of videos with its vibrant colors.
The Xiaomi Redmi Note 7 Pro, on the other hand, comes close with its 6.3-inch IPS Full High-Definition LCD capacitive touch Screen that has a resolution of 1080 x 2340 pixels. The phone has a thickness of 8.1mm with a weight of 185 grams and length of 159.2. The phone comes in a variety of intense colors of Ruby Red, Onyx Black, and Sapphire Blue. The bezel-less display is the trending thing in the smartphone world and the Redmi Note 7 Pro sports this feature comfortably. The bezel-less display of the Redmi Note 7 Pro also has a waterdrop notch. These two devices feature a fingerprint scanner which is placed at the back of the phones.
If you were already using Samsung phones with AMOLED displays, LCD displays would disappoint you. Trust me, I suffer a lot in this Scenario.
Performance
The Samsung Galaxy M30 comes with a Samsung Exynos 7 Octa 7904 while the Xiaomi Redmi Note 7 Pro comes with the Qualcomm Snapdragon 675. The Galaxy M30 also runs on the Android 8.1 Oreo Android Version while the Redmi Note 7 Pro run on the Android version 9.0 Pie. But Samsung promises Android Pie update for M30.
The Galaxy M30's octa-core processor comprises of a 1.8 GHz Dual-Core and a 1.6 GHz Hexa Core sitting on a RAM of 4GB/ 6GB and 64-bit architecture. On the flipside, the Redmi Note 7 Pro's processor comprises of 1.8 GHz Quad-Core Kryo 260 and 2.2 GHz Quad-Core Kyoto 260 alongside a RAM of 4/6 GB on a 64-bit architecture.
All these mobiles are the same in the RAM area; All have 4/6 GB RAM variants. But RAM Management purely depends on Memory management by OS. Redmi some times win in this area.
Let's not forget the Adreno 612 graphics present in the Redmi Note 7 Pro, which delivers superb graphical imagery when playing games. Samsung Galaxy M30 comes with Mali G71 MP2 GPU. Both mobiles feature a proximity sensor, light sensor, gyroscope, compass, and accelerometer. They both have similar features, and the verdict here is also to wait until the phone launches, and we can get some hands-on reviews.
Battery and Storage
The Samsung Galaxy M30 has an inbuilt storage of 64/128 GB which is expandable to 512GB while the Note 7 Pro comes with an inbuilt storage memory of 64/128 GB and expandable to 256GB. Note 7 Pro comes with 64/128 GB Inbuilt and expandable up to 512 GB external storage. Although, quite decent memory spaces in both phones, the Galaxy M30 beats the Note 7 hands down in this regard. Space lovers will favor the Samsung Galaxy M30 over the Xiaomi Redmi Note 7 Pro. But Nobody needs 512 GB expandable storage.
The Redmi also sports a non-removable 4000mAh Li-ion battery that has the Quick charge 4 feature while the Galaxy M30 has a whopping 5000mAh Li-Polymer battery with quick charge and can last for 31 hours on 2G/Talktime.
You would think that Samsung will fall short in terms of battery, but the brand went all out with the M30. They have a bigger and stronger battery than the Redmi.
Camera
Before Comparing Camera, you should know- Why Mobile camera MP size doesn't matter for Good photos. If you are someone who loves taking pictures, it may interest you that you do not have to go for the premium flagship smartphones to get a decent camera. The Redmi Note 7 Pro camera will deliver impressive shots with its dual-camera setup of 48 MP and 5MP. The camera meets all the standards of a premium mobile phone camera with its physical aperture of F1.8 and an image resolution of 8000 x 6000 Pixels. You can also tweak the camera settings to your desired preferences with features like ISO Control, Auto Flash, Exposure Compensation, Digital Zoom, Face Detection, Detection Autofocus amongst many others. It also delivers video recording resolution of 1920 x 1080 at 30 frames per second and 1280 x 720 at 30 fps. Surprised? You shouldn't be. This is perhaps the only mid-range brand that can compete with a premium brand like Samsung.
The Samsung Galaxy M30 comes with 13+5+5 MP rear Camera. It can deliver images with a resolution of 4138 x 3096 Pixels — a 16-Megapixel secondary camera against the 13 megapixels obtainable in the Redmi Note 7 Pro. The Galaxy M30 also comes with similar camera settings feature that the Redmi has and it can also shoot in two different modes which are High Dynamic Range Mode (HDR) and Continuous Shooting Mode.
If you compare two photos, you can easily understand that Redmi Note 7 Pro color is little aggressive, when M30 gives Natural color. The two phones have impressive cameras and users are more likely to lean towards the M30 because of brand reputation, but I do not expect Xiaomi to disappoint with these camera specifications and features.
Multimedia and Special Features
The two phones sport and loudspeakers for music playing and hands-free phone calls. Both come with a 3.5 mm audio jack.
They both have their fingerprint sensors at the rear of each of them. They also have two SIM card slots – Galaxy M30 uses a Nano Sim Card in both SIM card slots, and it supports all network bands from 2G, 3G to 4G in both SIM cards. However, the Sim Card Slot for SIM 2 in the Redmi Note 7 Pro is a hybrid slot. This means users can either use a Nano-SIM card or an SD Card. All other features remain the same as with The Samsung Galaxy M30.
The Xiaomi Redmi Note 7 Pro also supports USB Type-C but not micro-USB which is the same as the Samsung Galaxy M30. The two phones have Bluetooth v5.0 connectivity, and they both have A-GPS and Glonass.
Pricing
The Samsung Galaxy M30 costs INR 14,990 For 4 GB and 17,990 For 6 GB variant in India. Xiaomi Redmi Note 7 Pro will cost INR 13,999 For 4 GB and 16,999 For 6 GB in India.
Conclusion and Verdict
The comparison of these two devices may seem a bit unusual For some users, because of the reputation the Samsung brand has built over the years, and Xiaomi, a relatively new entrant into the smartphone world and quickly go head-to-head with Samsung. However, Xiaomi has proved its mettle over the last few years.
The Xiaomi Redmi Note 7 Pro and Samsung Galaxy M30 are similar in a lot of ways. Their specifications and features are almost the same except a few differences here and there. Samsung Galaxy M30 wins in terms of battery life, surprisingly while the Note 7 goes full throttle on the M30 in the Camera aspect.
For users who may seem conflicted, there is something to take away for everybody. The two devices satisfy the needs of everyday smartphone user, and for anyone who is not so fixated on big name brands like Samsung, the Redmi Note 7 Pro looks like a great deal. And even better, it is cheaper with all of those features and specifications. However, if you are a one don't like to use Xiaomi products or Redmi Note 7 Pro, the Samsung Galaxy M30 is a great option.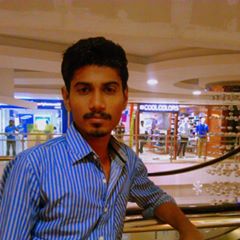 Selva Ganesh is the Chief Editor of this Blog. He is a Computer Science Engineer, An experienced Android Developer, Professional Blogger with 8+ years in the field. He completed courses about Google News Initiative. He runs Android Infotech which offers Problem Solving Articles around the globe.