Soap2day has garnered immense popularity owing to its impressive assortment of movies and TV shows, captivating users with its provision of free access to a wide range of content. This online streaming website has earned a strong reputation as a go-to destination for enthusiasts seeking a vast library of movies and TV shows, all available without the burden of subscription fees. The allure of free entertainment has undeniably played a pivotal role in attracting a large user base, as individuals eagerly seek access to a diverse range of content. Whether it's the latest blockbuster films, beloved classics, gripping TV series, or other captivating genres, Soap2day has become synonymous with the promise of unrestrained enjoyment. The convenience and appeal of such open access have undoubtedly contributed to its widespread popularity among streaming enthusiasts. Here we listed legitimate Soap2day.to Shutdown Alternatives.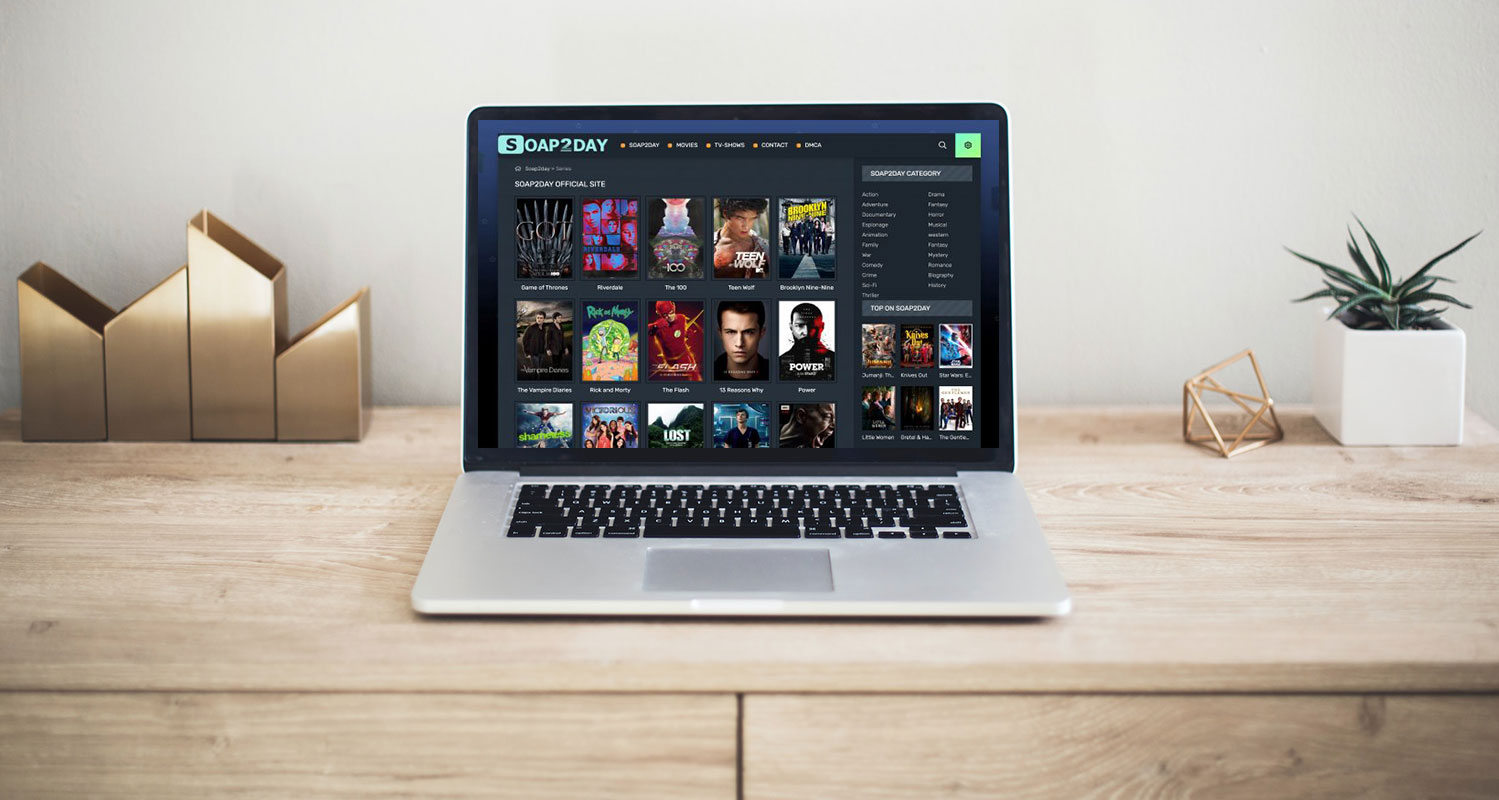 Soap2day's Popularity and Free Access
Soap2day's appeal lies in its accessibility, allowing users to enjoy popular movies and TV shows without the burden of subscription costs. This aspect has attracted a loyal user base who rely on Soap2day for their streaming needs.
Soap2day's Closure Announcement
The shocking news of Soap2day shutting down forever has sent waves of panic and disbelief among its loyal users. When attempting to access the website, users receive a prompt stating that the site is closing down. This sudden development has left many wondering about the reasons behind this decision.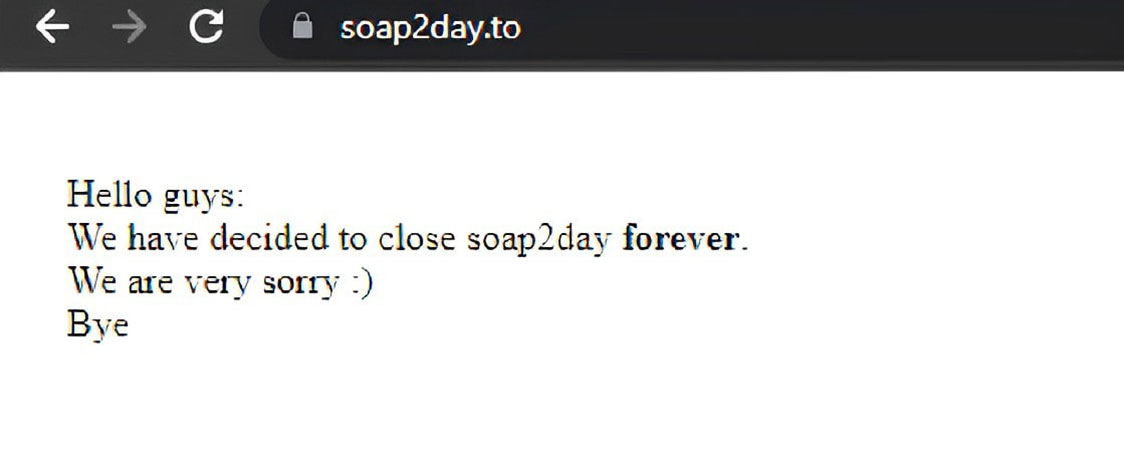 Reasons Behind Soap2day's Closure
While the exact reasons for Soap2day's closure remain unknown, it is not uncommon for online streaming websites like Soap2day to face legal challenges and issues related to copyright infringement. These legal complications often lead to the shutdown of such websites.
The Search for Alternatives
Soap2day's closure has created a void in online streaming, leaving users searching for alternative platforms to fulfill their entertainment needs. Many loyal users have expressed concerns and actively seek reliable alternatives to Soap2day.
Legitimate Alternatives to Soap2day
If you are tired of websites like Soap2day shutting down, it might be time to consider switching to legitimate streaming platforms that offer a wide variety of content. Here are some popular alternatives:
Netflix
Netflix is a renowned streaming platform that provides an extensive collection of movies, TV shows, documentaries, and original content. Users can enjoy high-quality streaming and explore various genres by subscribing to their monthly service.
Hulu
Hulu is a well-liked streaming service that presents a combination of current TV shows, timeless series, and a curated selection of movies. It offers flexible subscription options, including ad-supported and ad-free plans, to accommodate user preferences.
HBO Max
HBO Max is a streaming platform offering diverse content, including blockbuster movies, exclusive TV shows, and HBO's acclaimed series. Subscribers gain access to a vast entertainment catalog, making it a compelling alternative to Soap2day.
Disney Plus
Disney Plus has quickly become a go-to streaming service for Disney, Marvel, Star Wars, and Pixar fans. It offers a wide range of family-friendly content, including movies, TV shows, and exclusive Disney+ originals.
Peacock
Peacock is a streaming service that combines current and classic TV shows, movies, and exclusive original content. With a free ad-supported plan and premium subscription options, Peacock offers flexibility for users looking for diverse entertainment options.
The Continuous Battle Between Content Creators and Unauthorized Streaming Sites
The closure of Soap2day underscores the ongoing battle between content creators and unauthorized streaming sites. While websites like Soap2day provide free access to copyrighted content, they often face legal repercussions, leading to their shutdown. This dynamic shapes the online entertainment landscape, prompting users to seek legitimate alternatives that support content creators and respect copyright laws.
FAQs
Is Soap2day permanently shutting down?
According to the prompt on the website, Soap2day is closing down forever.
Why is Soap2day shutting down?
The exact reasons behind Soap2day's closure remain unknown, but legal challenges and copyright infringement issues are common factors leading to the shutdown of unauthorized streaming sites.
What are some alternatives to Soap2day?
Legitimate alternatives to Soap2day include Netflix, Hulu, HBO Max, Disney Plus, and Peacock.
Are there any alternate domains of Soap2day still operational?
Some users claim that alternate domains of Soap2day are still operational for streaming content, but their reliability and legality may be questionable.
Why should I consider switching to legitimate streaming platforms?
Legitimate streaming platforms offer legal access to a vast content library, ensuring high-quality streaming and supporting content creators.
Wrap Up
The closure of Soap2day has created a void in the hearts of its devoted users, who are now searching for alternative platforms to satisfy their streaming cravings. While unauthorized streaming sites may tempt users with the allure of free access to an extensive array of content, they often face insurmountable legal challenges that inevitably lead to their demise. Therefore, it becomes imperative for users to seek out trustworthy and lawful alternatives. Fortunately, several well-established and popular streaming platforms are available to fill this void.
Options such as Netflix, Hulu, HBO Max, Disney Plus, and Peacock offer captivating content for various preferences. Whether it's the vast library of movies, TV shows, documentaries, or original productions, these legitimate streaming services ensure reliable access to high-quality entertainment while respecting the rights of content creators. By turning to these reputable platforms, users can continue their streaming journey without compromising their integrity or the joy of discovering captivating content.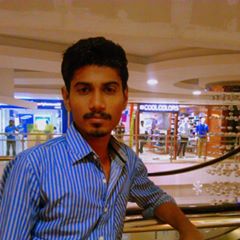 Selva Ganesh is the Chief Editor of this Blog. He is a Computer Science Engineer, An experienced Android Developer, Professional Blogger with 8+ years in the field. He completed courses about Google News Initiative. He runs Android Infotech which offers Problem Solving Articles around the globe.