After Google launched Android OS for TV, Most of the companies use the OS for Android TV. When you didn't purchase Android TV, you will miss most of the features. But for who already bought Smart TV that is not Android-based can use Android TV Boxes to convert the TV into Android TV. Xiaomi previously released Android TV boxes to do this process. In recent times it is becoming a trend to add Android TV features in streaming devices. Google is working on the Sabrina streaming device, and Xiaomi released the Mi Android TV stick. Now T-Mobile is also working on Android TV devices. From the FCC listing, The remote has the name of T-Vison, which is a TV channel service from T-Mobile. So, They are planning to integrate Android TV into their setup box.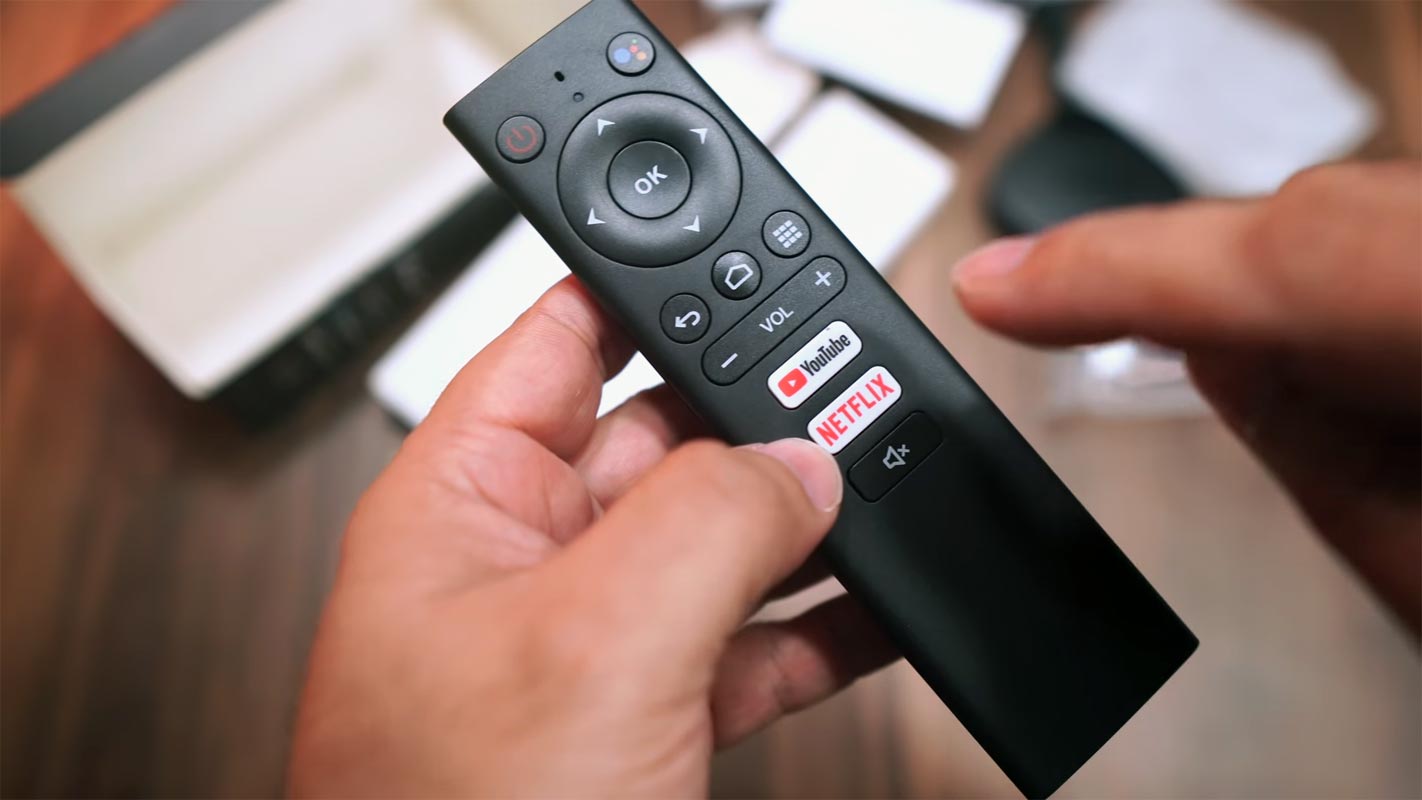 Android TV is getting a more accessible platform for streaming videos by most of the operators. T-Mobile, the USA's third-biggest telecommunication company, has entered in this race. Through FCC listings, we can assume that T-Mobile is working on a new TV device. Before discussing this assumption, let's take a precise look into Android TV and what T-Mobile has in its store before this device.
What is Android TV Devices?
Android TV is like the Android operating system.  Google developed Android TV and first launched it on 25th June 2014. Google designed it to run on Smart TV as it runs on your mobile phones. Like mobile, it supports more than 5000 apps that can be installed and run on your TV. You can install apps from YouTube to Angry birds, just like a mobile phone. Watching YouTube or playing angry birds on a 72-inch TV is fun to experience. With Android TV, you can stream the content both paid and free using various apps. You can cast your mobile on your Smart TV screen and much more.
Android TV devices are separate devices that can convert your regular TV into Android TV with the help of HDMI cable. It is like playing a PlayStation. When you open a particular port, you can access Android TV. For better understanding, it is like Roku and Amazon Fire. There are some familiar TV boxes like Nvidia Shield, and Mi TV Box is available that can convert your TV into Android TV. Not all TV boxes are Play Store compatible. You should check the box specs when you purchase them. Or Else, you have to sideload the apps instead of directly installing from the Play Store.
T-Mobile is working on Android TV device
We can assume by the leaked picture of the remote control that T-Mobile is working for some TV device. As there is a visible button of Google Assistant, it indicates it will be an Android TV. Other than the remote, there is no mention of the real Android TV device. Because there is no separate device, T-Mobile maybe integrates Android TV into their TVision setup box.
Details and Specs

From the FCC reports, we can find that T-Mobile has passed a remote controller through the FCC. T-Mobile didn't announce anything about this remote control yet, but we can judge many things from its picture. The remote control has a prominent Google Assistant button and a home button. It ensures it's an Android TV device.
Again, SEI Robotics is manufacturing this remote control. As we know, SEI Robotics is very well known for its Android TV devices like AitTV Mini and TiVo Stream 4k. So, we can assume that T-Mobile is working on Android TV device for streaming Netflix, HBO Max, Hulu, and others. Assumedly this new Android TV device will replace the set-top box that comes with TVision.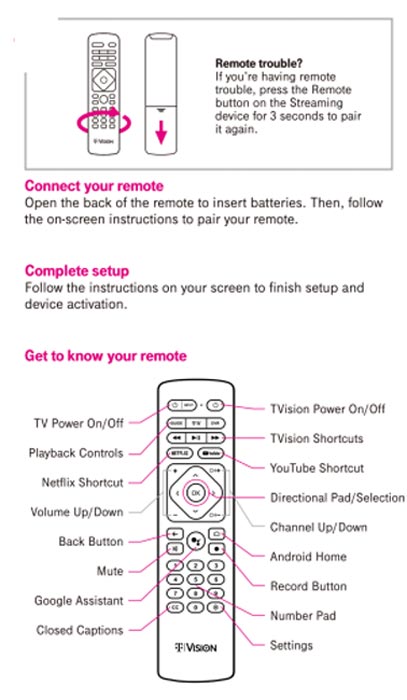 Three shortcuts are apparent on the remote controller, the TVision app, a channel guide, and a DVR. There we can see two dedicated buttons, one for YouTube and one for Netflix. Volume control and channel buttons are also visible. All these are proving it an Android TV using TVision service for streaming YouTube and Netflix and on-demand videos.
T-Mobile is going to use Android TV in TVision
T-Mobile is offering streaming services to its customers through TVision. TVision is a home TV service launched by T-Mobile on 14th April 2019 in some specific regions, including Chicago, Dallas-Fort Worth, Los Angeles, New York City, Philadelphia, San Francisco, Washington, DC, and Longmont. The service costs $90/month for live TV and access to almost all famous channels like Netflix, HBO Max, Hulu, and others. TVision is equipped with a set-top box that connects with TV and receives data through the internet. Many operators have replaced this set-top box with a TV stick for compactness.
When can it come?
T-Mobile didn't declare any launch details of this remote controller. So there is no specific date when you can use it for controlling your streaming videos. But in the future, for the TVision setup box, T-Mobile is undoubtedly going to use this device.
Wrap up
T-Mobile is a growing giant in the field of telecommunications. T-Mobile already successfully done a merger with Sprint. As assumed that T-Mobile is working on an Android TV device to see the remote controller picture. There may be some direct Internet data connection that comes with the already available service. So, If you get this Android TV device, you won't need any other operator for your internet and streaming needs. When you didn't have separate Android TV, these features will help you. When you already have Android OS TV, then it may not give you that much experience compares with your TV hardware. What do you think about this T-Mobile Android TV device? Do tell us in the comments below.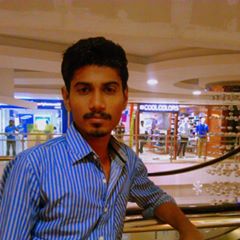 Selva Ganesh is the Chief Editor of this Blog. He is a Computer Science Engineer, An experienced Android Developer, Professional Blogger with 8+ years in the field. He completed courses about Google News Initiative. He runs Android Infotech which offers Problem Solving Articles around the globe.