When a Social platform has huge user space, They have to keep providing new features to their platform to prevent users migrate to other platforms for new features. , All leading tech platforms have their own Video call platforms. But when it comes to high volume usage, Zoom got more users because of its simplicity and other features. After the success of Zoom, other platforms now begin to add new features. Twitter is one of the non-replaceable social media tools now. Most Celebrities using their Twitter account to share information officially. Other than simple Tweets, Twitter always trying new things. Now Twitter rolled out a new Live Audio Conversation add-on called Space.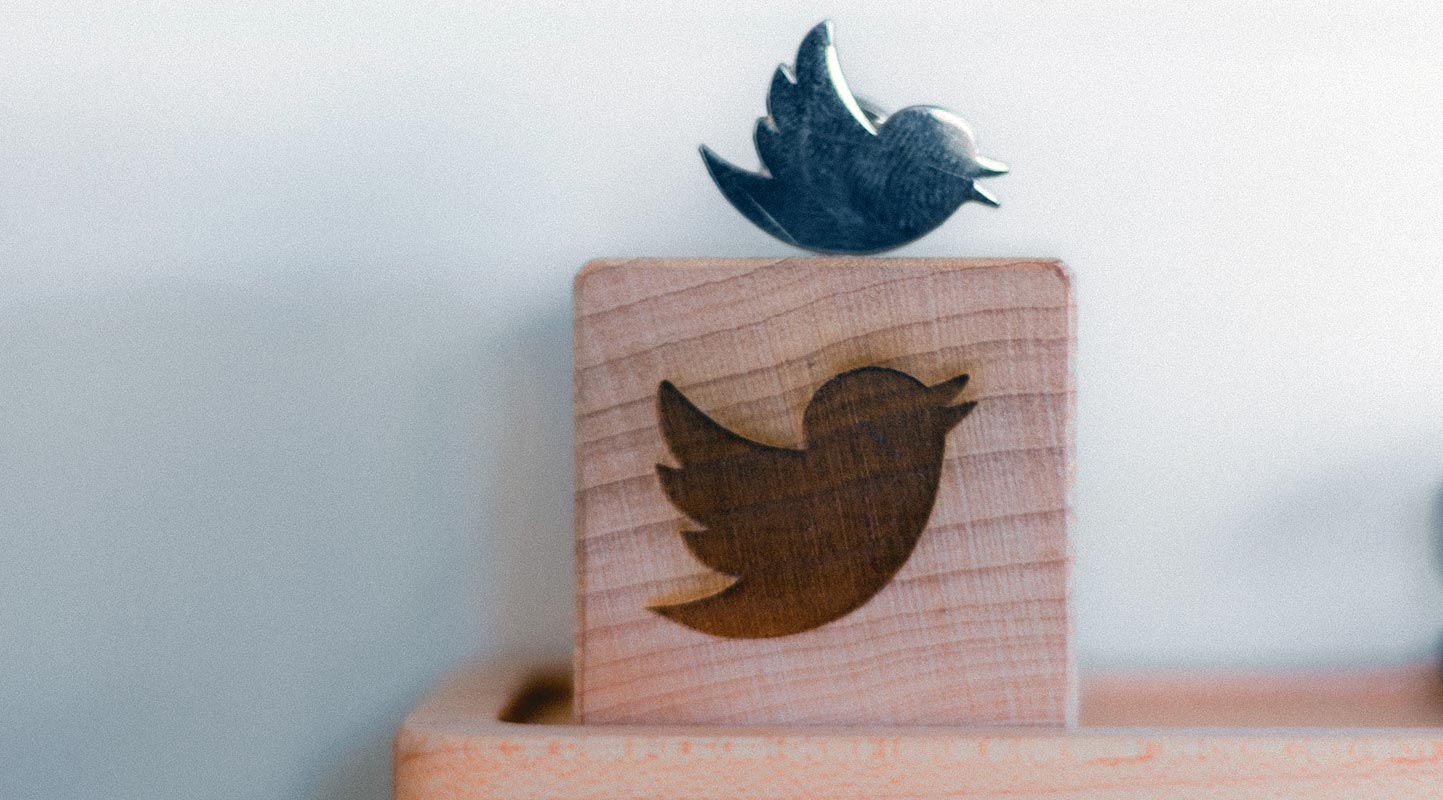 It's normal in this current age; when a new social media comes on with unique features, the big names will copy the new features to stay relevant and not lose much of their users to the new one. TikTok made Facebook and Twitter step up their game in allowing users to create short, fancy clips. Now, Clubhouse is pulling many users off Facebook and Twitter, and it seems Twitter is ready to combat the platform.
Not so long after Clubhouse became very popular, Twitter launched "Spaces," a new feature that integrates Twitter users' TL, adding support for drop-in-drop-out voice chatrooms to the platform. With Twitter Spaces, users can create and join voice-only chatrooms, just as with Clubhouse. However, the feature is not yet available for everyone. First, it started rolling out for iOS users, but now it's coming to Android and rolling out rapidly.
What is "Twitter Spaces"?
Spaces by Twitter is a new clubhouse-like feature available to Twitter users. It allows Twitter users to interact with each other by engaging in audio-only chat rooms. A chatroom can comprise two or more people.
More so, according to news sources, Spaces will appear alongside fleets at the top of your TL. Thus, when someone you follow creates a Space chat room, you'd see it alongside the person's fleet, and you can join if you wish.
As expected, Space chat room creators (hosts) can regulate how participants can join and speak.
Twitter first introduced this new feature to iOS in the last months of 2020; however, the official Spaces handle (on Twitter) tweeted that Android users can join in a Beta program.
Twitter Spaces for Android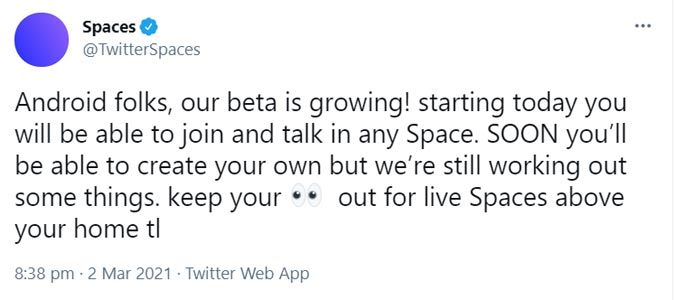 The tweet via @TwitterSpaces: "Android folks, our beta is growing! Starting today, you will be able to join and talk in any Space. SOON you'll be able to create your own, but we're still working out some things. keep your Eyes  out for live Spaces above your home tl."
The news was announced on March 2 on the official Twitter handle of Spaces. Android users that wish to get the feature can join the beta program after filling a form.
However, just recently, news sources have it that Spaces is now more widely available to Android device users. You can check if you got the feature by following the steps below.
How to Use Twitter Spaces in Android and iOS?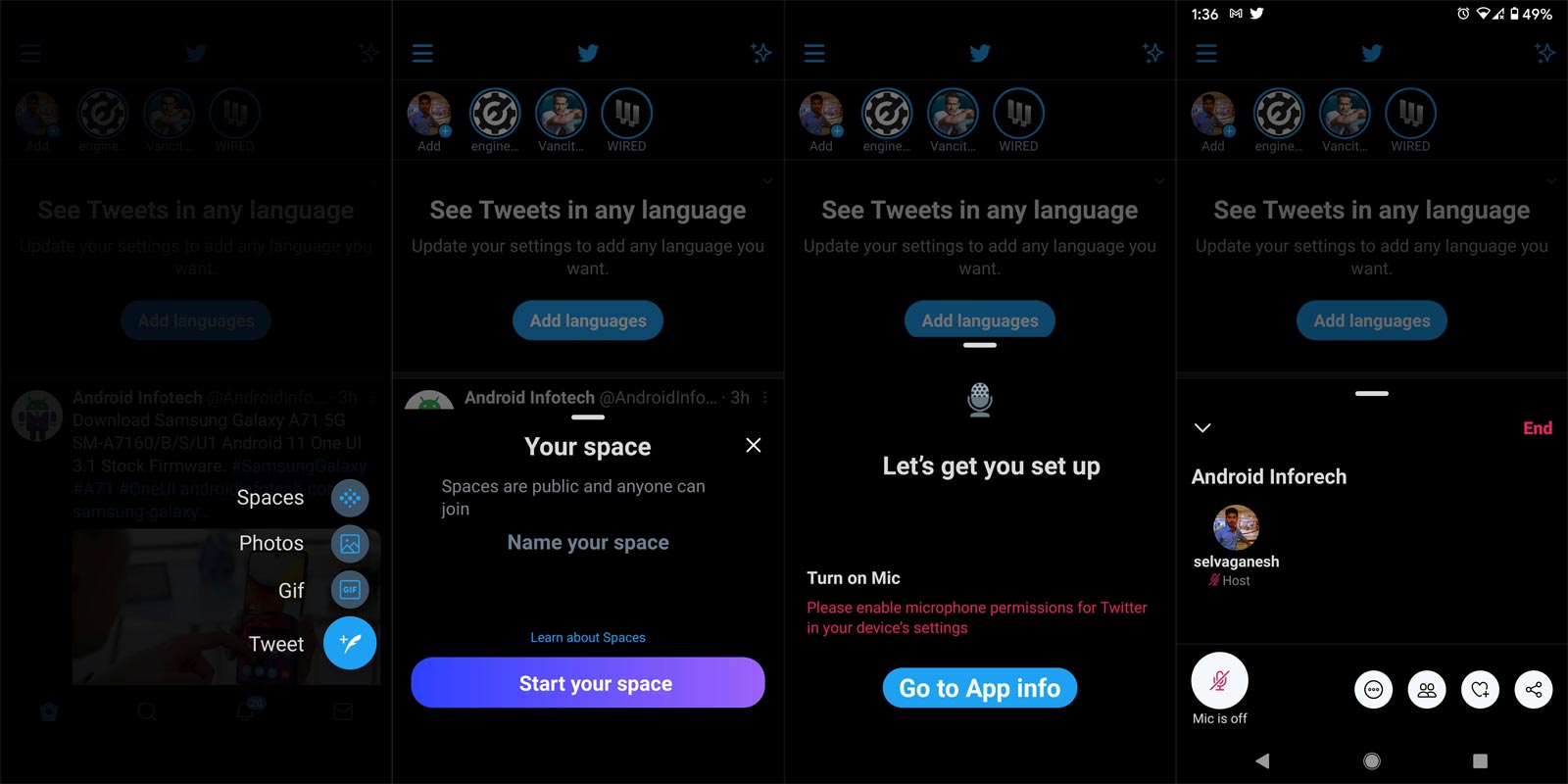 Firstly, you should update your Twitter app to the latest version
Tap the "Compose" button and expand the options section; if you got Spaces, it'll appear as one of the options in the expanded tab.
Now Select Spaces, Name your Twitter Spaces, and allow Mic permission in your App Settings. That's all. Now you can invite people. Or your followers can add themself to the Spaces and listen to your Live Audio.
Quite a lot of Android users testified to seeing the feature; maybe you should check and see if you got it, too.
Wrap Up
Twitter Spaces is simply bringing the Clubhouse experience to the platform. It is now available for iOS users and Android users, and Twitter will improve the app. In the meanwhile, go and check if you've got the feature already. Twitter always does things that are not consuming your time and makes the platform valuable whenever use. You may wonder, Why they didn't roll out the Video feature. Podcasts are becoming a trend, and most people love to listen rather than watching Videos. Maybe in the Future, Twitter may rollout Video related features. But until now, We can use Twitter Spaces to connect with more people in Live. What are your thoughts about Twitter Spaces? Did you feel it will be useful for users? Share your thoughts.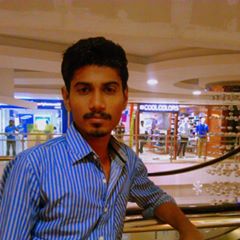 Selva Ganesh is the Chief Editor of this Blog. He is a Computer Science Engineer, An experienced Android Developer, Professional Blogger with 8+ years in the field. He completed courses about Google News Initiative. He runs Android Infotech which offers Problem Solving Articles around the globe.