Adopting new technology is the only way to survive in the Tech industry. Accepting reality and moving towards a vast user base is the key to success in technology-related products. In recent days, Microsoft made many changes that promise they take the reality and begin to open the barriers. They shut down Microsoft Explorer and moved towards Chromium-based Edge browser. Also, They begin to Adapt Android Apps via Samsung Galaxy Mobiles Link to Windows feature. Now with Windows 11, They made huge features like Android Apps Native support and Complete UI changes. Before flashing Windows 11 on your PC, You can check whether your devices can support Windows 11 or Not. Using the below methods, You can find Windows 11 Compatibility in Windows 7, 8, 8.1, and 10 PCs.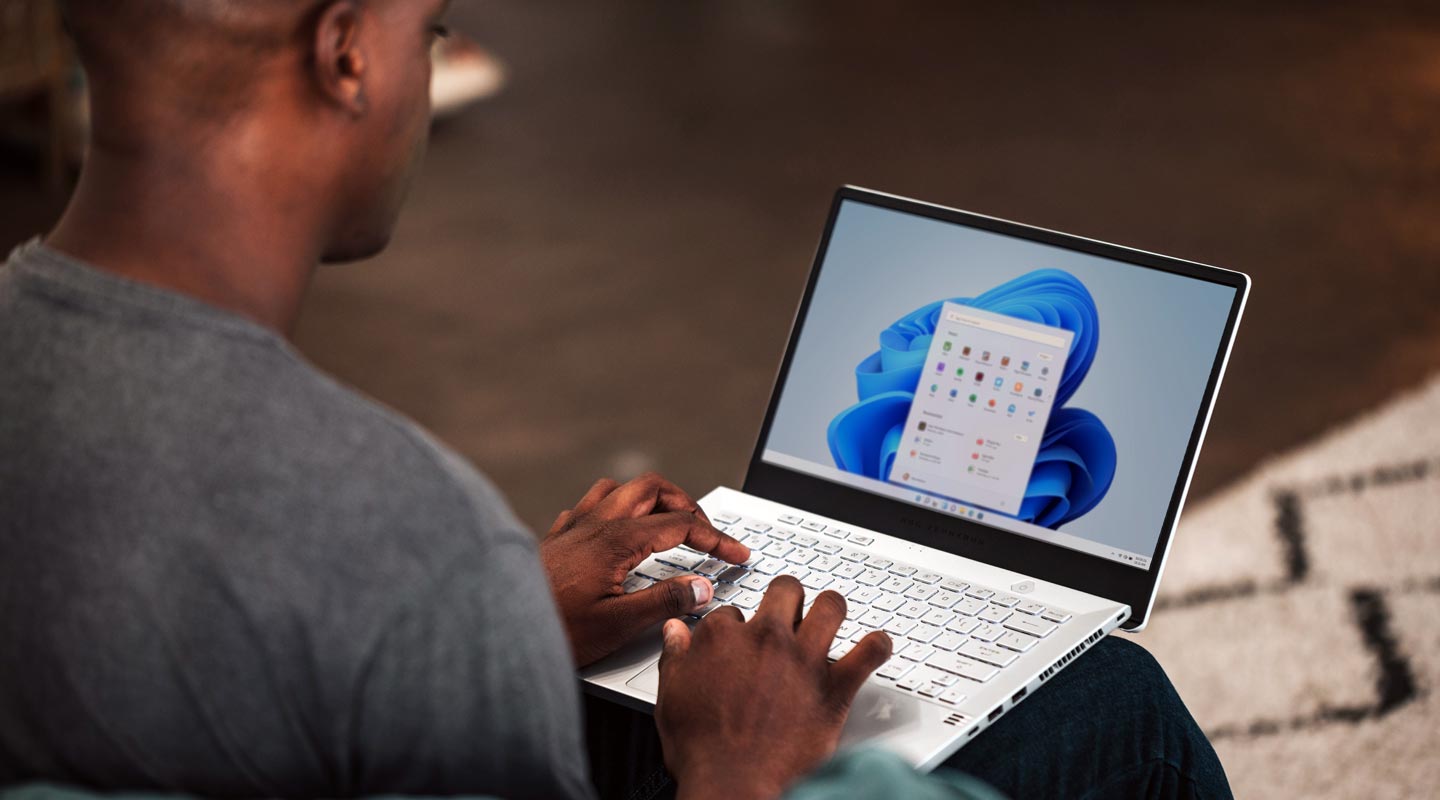 Windows 11
Windows 11 was introduced in June 2021, and it has since received several feedback and comments from different "Insiders." In a recent blog from Microsoft, we were able to find helpful information on how to check if your Windows PC is compatible to run the new Windows 11 OS, which is already rolling out to Windows PC users.
As usual, Microsoft will withdraw support for Windows 10 in the coming years. However, from now until the end of 2022, we are sure that Microsoft will keep updating Windows 10 OS. That aside, here's everything you need to know about upgrading to Windows 11.
What's New With Microsoft Windows 11 OS?
As expected, Windows 11 promises to be much better than the previous Windows OS versions. It comes with a more simplified interface, and all the built-in apps feature a redesigned appearance. There's also an all-new Microsoft Store where you can install any app you need to run on your PC.
More interestingly, for the first time, Microsoft integrates Android apps – you can access and install Android apps on your Windows 11 PC directly from the Microsoft Store. Put, there are a lot of aspects that Microsoft touched in the new Windows 11, and you love to see it.
Well, to check if your computer is compatible with running Windows 11, you need to use a built-in tool.
Windows 11 Minimum System Requirements
Microsoft had clearly outlined the factors it considered to set the "System Requirements" for its new Windows 11 OS. According to the company, the elements were deemed to be based on feedback and comments from its Windows Insider community members and OEMs.
Initially, Microsoft had released that the minimum requirements to run Windows 11 are a compatible 64-bit processor, 4GB of memory, 64GB of storage, UEFI secure boot, graphics requirements, and TPM 2.0. However, the latest blog post from the company hints that They updated the list of supported processors to include specific Intel 7th gen processor models.
The newly added processors are Intel Core X-series, Xeon W-series, and Intel Core 7820HQ (on select devices shipped with modern drivers).
Also, Microsoft says it'd be updating the PC Health Check app to see these newly added processors as "Compatible" models. As it stands now, neither Windows 11 or the new version of the PC Health Check app is yet available to all Windows users.
Full System Requirement List
Processor: Intel 7th gen or newer, 64-bit architecture, at least 1 GHz speed; AMD Ryzen 3 or more unique; Qualcomm Snapdragon 7c or higher
Storage: at least 64 GB free space
Firmware: UEFI, Secure Boot capable
TPM: Trusted Platform Module (TPM) version 2.0
Graphics: Direct X12 or higher; WDDM 2.0 driver or newer
Display: at least 720P display, 9-inch diagonal, 8-bits per color
How to Check If Your Windows PC Can Run Windows 11 using PC Health Check app?
You need to install the PC Health Check app; it scans your PC drivers and tells you if your computer is compatible with the new Windows 11 OS when you run the app. This app was first released to Windows Insiders but is available to all users in no distant time.
Interestingly, if you run the app and your PC is not compatible with Windows 11, it would show you why it believes your PC cannot run the OS. Well, even if your computer doesn't meet the minimum requirement, you could still be using Windows 10; the most we know, it takes Microsoft up to 3 years to withdraw support for its older OS version when a new one is released.
So, you'd have until 2024 or even 2025 to get a new computer that meets the requirements to run Windows 11 OS. Follow the guide below to check your PC's compatibility with Windows 11 using the PC Health Check app.
Note: Before you can download the PC Health Check app, you must be on Windows Insider Program. This is because the app is not yet fully developed for all users. If you're already on the Insider program, download the app here./Offline Version.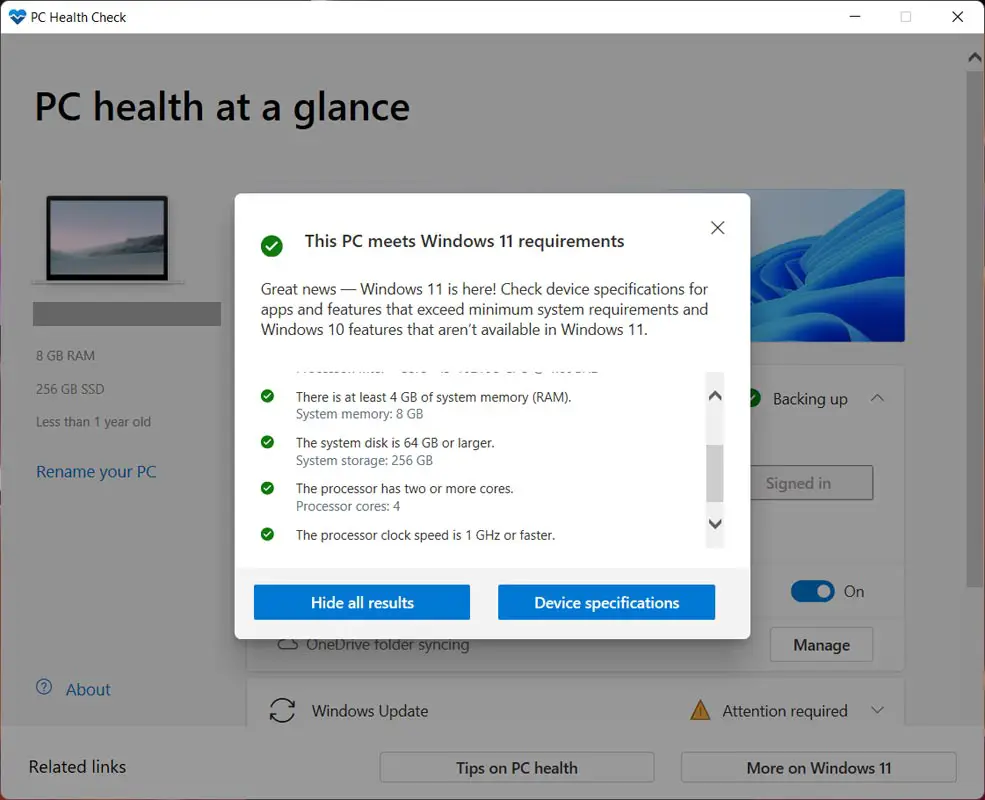 After installation, launch the PC Health App and click on "Check Now" (the blue button on the top area.
The moment you click the Check Now button, wait for seconds, and the results will appear.
You'd be able to see if your PC is compatible or not, and even if your PC is not consistent, It will indicate the unsupported components or features with either an Orange marking or a Red marking.
Well, there are other tools for checking Windows 11 compatibility. So, if you're not a Windows Insider, you can get any of these tools to check if your PC can run Windows 11 when it's finally released for everyone.
Other Tools to Check Windows 11 Compatibility
1. WhyNotWin11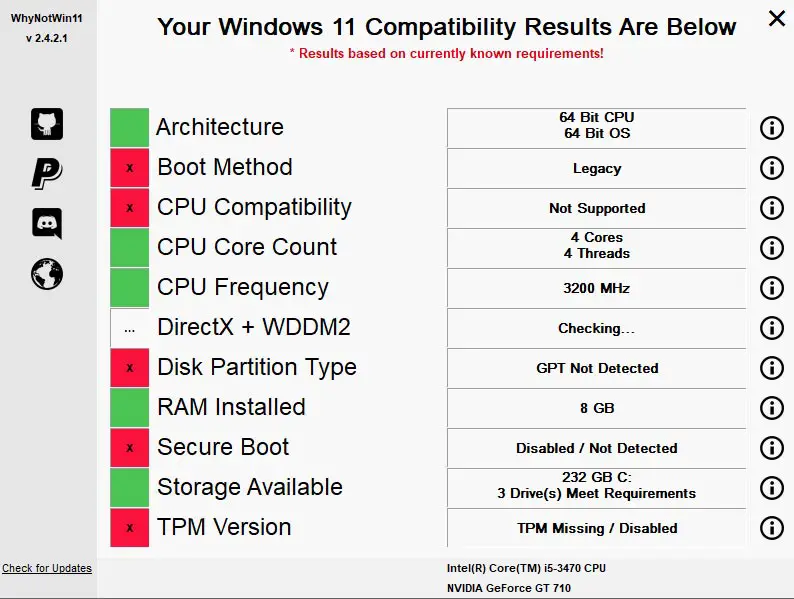 GitHub guys developed this tool. It is a standalone application that runs on Windows OS. WhyNotWin11 is based on WMIC (Windows Management Instrumentation command-line utility). You can download it from the Github page and use it to check if your PC would run Windows 11 when it finally goes live for everyone.
Steps
Download WhyNotWin11. Extract it and install it on your PC.
It will Automatically show the result after the process.
2. Windows 11 Compatibility Check Script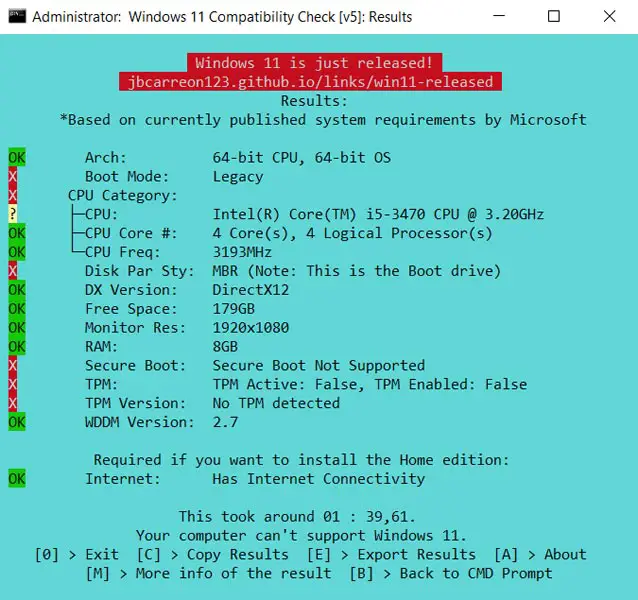 This is another tool that allows you to check your PC's compatibility with Windows 11 OS. It is free and runs as a Windows batch file, which means you need to execute it through PowerShell or Command Prompt (as an Admin). You can find more info about this script on the official forum page.
Steps
Download Windows 11 Compatibility Check Script.
Run the Script As Administrator. Wait for the Results.
Wrap Up
Microsoft begins to realize its stage and capacity. Instead of keeping up the pride and losing users, They start to listen to what user wants. They have already shut down their Physical Store and moved to a Complete Online shop. Windows 11 will soon be available for everyone that has a compatible computer system. However, Windows 10 would still be receiving official support from Microsoft until October 14, 2025. So, even if your current PC does not support Windows 11, you can start now to get a newer model that meets the specifications. Microsoft did a lot of upgrades on Windows 11, and you'd find them interesting.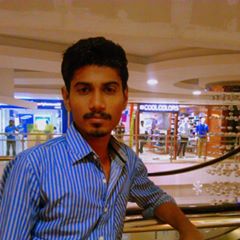 Selva Ganesh is the Chief Editor of this Blog. He is a Computer Science Engineer, An experienced Android Developer, Professional Blogger with 8+ years in the field. He completed courses about Google News Initiative. He runs Android Infotech which offers Problem Solving Articles around the globe.