The benefit of buying products using a centralized Software Store is we have lots of controls on the purchase and return of the product. Also, The Store will take care of security and other must-need features. One of the reputed and high-user base Gaming Apps is Steam. It is a PC games library. Most Game studios have a tie-up with Steam, which acts like a bridge between the user and the Game companies. Steam allows users to get a Refund when the game is purchased Within 14 Days, and We have below 2 Hours of Play Time.
Third-Party Sites vs. App Stores
When we download the apps or games from third-party sites, We don't know if the files are safe and how we can get a refund for the product when it didn't meet our expectations. Compared with other games and apps, PC games are always high in cost. So, When we find the game is not up to expectation, or it doesn't support some features on our PC, We have to return the product and request for refund.
What is Steam, and How Does it Work?
Steam is to gaming what Netflix and Amazon Prime Video are to TV. . Steam, a platform by Valve that allows you to buy, play and create PC games online, is where you can also discuss them. You can find thousands of games from major and minor developers, including DLC (downloadable content) and mods (user-generated features).
Steam is a cloud-based gaming platform. Steam's most notable feature is its ability to allow users to use any computer to download or buy games to their Steam accounts. Users can store an extensive game collection on their computers without too much memory. Steam requires that you download the Steam engine or app to your computer. After that, you can access all the games, software, forums, and other content.
Refund Policy for Steam
Before you request a Steam refund, there are some things you should remember. You can request a refund for any game purchased on Steam. However, you must have bought it less than 14 days ago. It's impossible to ask for a refund on games you bought years ago but never played. They will always be part of your library.
Steam states that it will consider requests regardless of whether they meet these requirements. This depends on the reason.
Which reasons are there to claim refunds?
Technical issues or gameplay.
It is not possible to access bonus content or DLC.
My retail CD key is not working.
It wasn't what I expected.
This was an accidental purchase.
I want to remove this game from my account permanently.
How do I get a refund?
Navigate to Steam Help (help.steampowered.com) and log in with your Steam account.
Click on the purchase that you wish to cancel and locate it. If your purchase isn't listed, it is too far out of our refund window, so you are not eligible for a refund.
Choose the problem that you are experiencing with the product.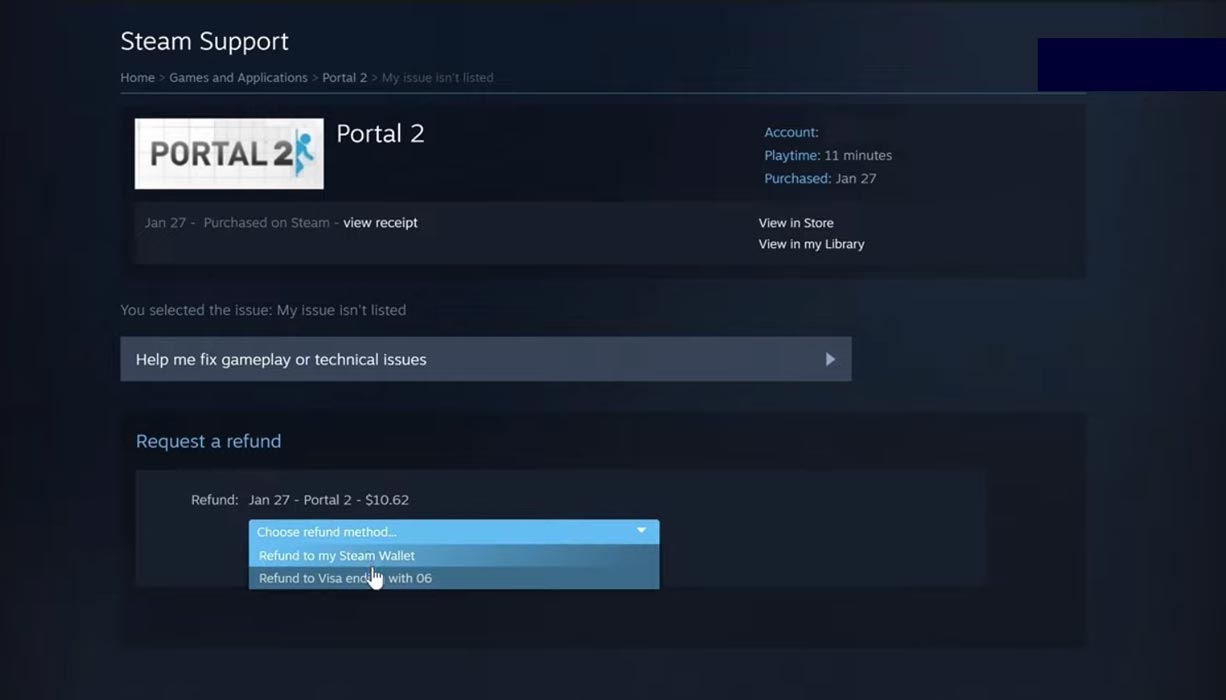 Next, click on I'd like a refund.
Complete and submit the form.
Please click the drop-down menu to select Steam Wallet or the original payment method.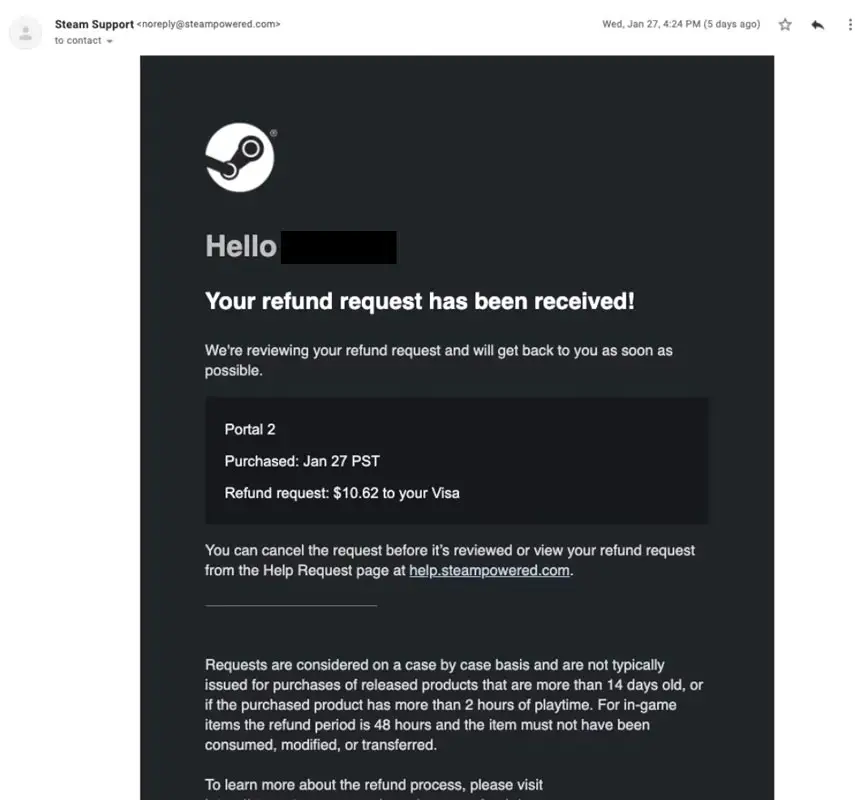 A confirmation email should be sent to you confirming that your request has been submitted successfully.
FAQ
What is the process for requesting a refund after approval?
Approved refunds may take up to seven days to appear in the account. However, international payment methods and refunds may take longer. Please contact the bank to inquire about pending refunds if your refund does not appear within seven days.
Are there any restrictions on refunds?
If you believe you are fraudulently using the refund system, Steam has the right to deny access.
Can I refund Gifted Games?
You can also request a refund for gifted games through Steam. First, you must meet the requirements. This means you need not have played the game for more than 2 hours or keep it in your account for less than 14 days. If this is the case, you can request a refund.
Wrap Up
The advantage of buying through reputed portals is the money is safe, and we can trust the process. Sometimes the direct purchase through official sites may be low, But The support and the refund process may not be up to the mark like Steam. In some cases, even though the restrictions like 14 Days passed, You can still apply for a refund. If Steam feels the reason is essential, they may initiate the refund. Did the Refund process of Steam satisfy you? Share your thoughts below.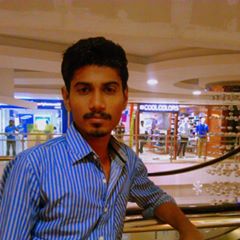 Selva Ganesh is the Chief Editor of this Blog. He is a Computer Science Engineer, An experienced Android Developer, Professional Blogger with 8+ years in the field. He completed courses about Google News Initiative. He runs Android Infotech which offers Problem Solving Articles around the globe.