In the ever-evolving world of technology, innovation often comes with a hefty price tag. This has been particularly evident in foldable smartphones, where cutting-edge design and functionality have translated into premium costs. However, a glimmer of hope is emerging for those who have long desired the convenience and novelty of a foldable phone without breaking the bank. The rumor mill is buzzing with whispers of "Affordable Samsung Galaxy Fold FE Models" on the horizon. Let's dive into the details of this intriguing development.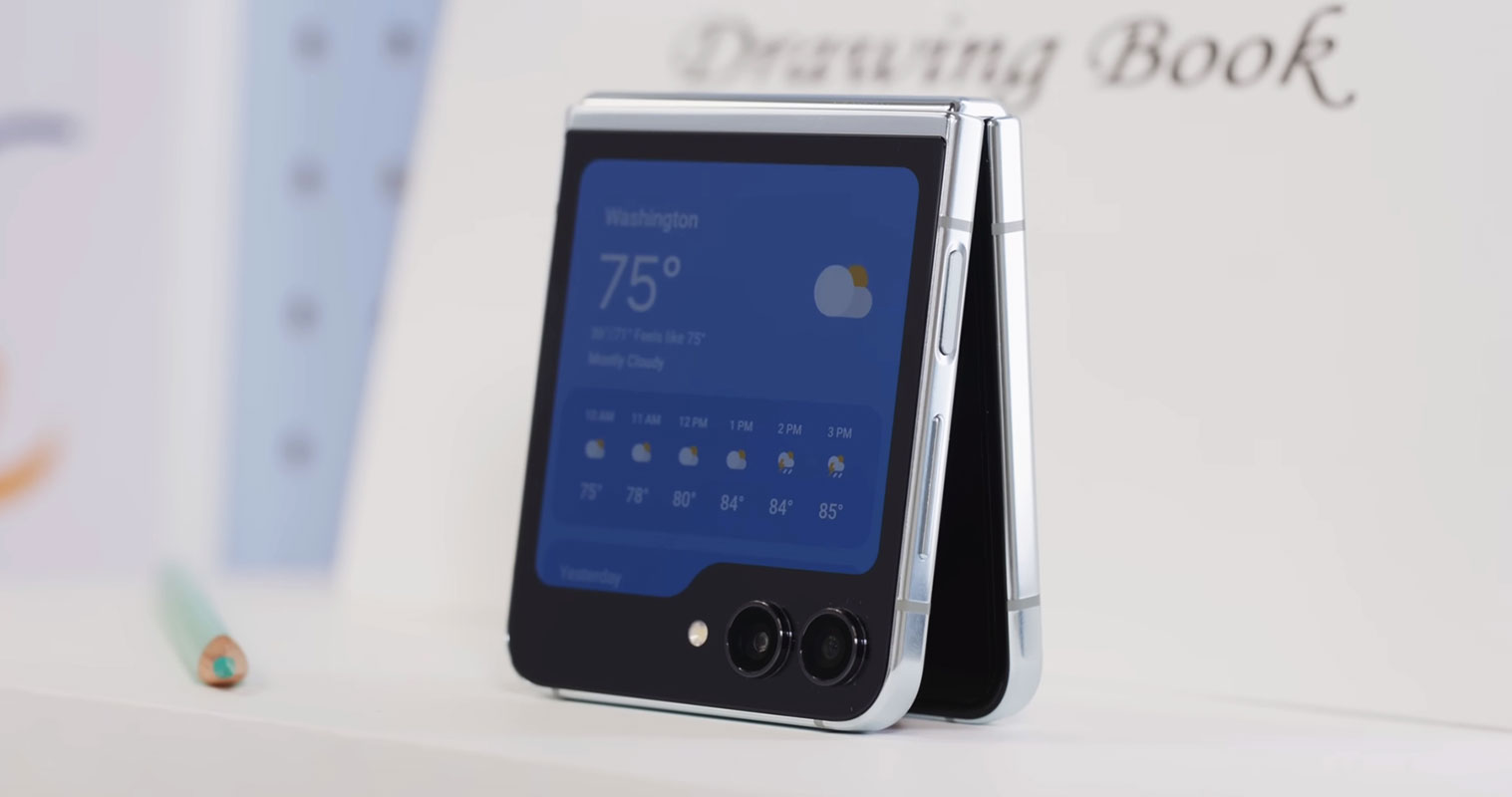 Affordable Samsung Galaxy Fold FE Models
Foldable smartphones, once a futuristic concept, have now become a reality. However, despite their impressive technology and sleek design, their high cost has kept them out of reach for many consumers. Samsung, a trailblazer in the world of mobile technology, has been at the forefront of foldable phone innovation, introducing models like the Galaxy Z Flip 5 and Galaxy Z Fold 5. But now, there's a tantalizing rumor suggesting that an affordable variant might be on its way.
The Evolution of Foldable Phones
Before we delve into the details of Samsung's potential affordable foldable model, let's take a quick journey through the evolution of foldable phones. These devices represent a fusion of cutting-edge engineering and futuristic design. Expanding a smartphone's screen size without compromising portability has been a game-changer, opening up new possibilities for multitasking, entertainment, and productivity.
Samsung's Commitment to FE Products
Samsung's "FE" lineup, "Fan Edition," has garnered attention for offering flagship-level features at more accessible price points. This dedication to providing high-quality products without the premium cost has been well-received by consumers. The FE series has already seen success with models like the Galaxy S21 FE and rumors of a Galaxy Tab S9 FE in the pipeline. With this track record, it's only natural to wonder if a foldable FE model is in the works.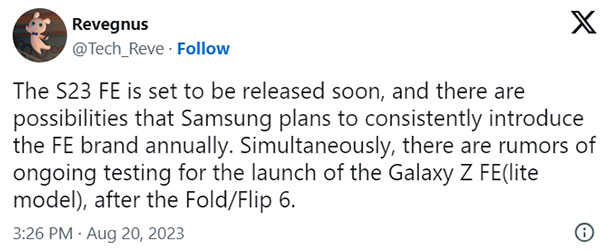 The Hint of a Galaxy Z FE
Rumors and leaks often serve as breadcrumbs leading to major tech announcements, and this time is no different. A leaker known as Revegnus has hinted at the possibility of a Galaxy Z FE joining Samsung's foldable phone lineup. According to this source, the prospective release could follow the Galaxy Z Fold 6 and Z Flip 6 launch in 2024. While the details remain mysterious, the mere prospect of a more affordable foldable option is enough to set tongues wagging.
The Price Factor
One of the defining characteristics of Samsung's FE series is its ability to balance performance and affordability. For instance, the Galaxy Z Flip 5 starts at $999. If a foldable FE phone materialized, it would likely aim to undercut this cost. Given that the FE series is all about delivering flagship features at a more reasonable price point, an estimated price of around $800 or even slightly lower seems within the realm of possibility.
A Closer Look at Revegnus' Claims
It's worth noting that while the prospect of an affordable Galaxy Z FE is exciting, the veracity of Revegnus' claims remains unverified. The tech community has seen its fair share of rumors that didn't materialize, and as such, it's wise to approach such leaks with a healthy dose of skepticism. However, considering Samsung's focus on the FE series and its commitment to diversifying its product lineup, the idea of a foldable FE device does have a ring of plausibility.
The Future of Samsung's FE Series
A pattern emerges if we step back and survey the landscape of Samsung's FE series. The company seems dedicated to expanding this lineup, bringing affordable yet feature-rich devices. The upcoming release of the Galaxy S23 FE, as hinted by Revegnus, aligns with this trajectory. If this pattern holds, it wouldn't be far-fetched to imagine a foldable FE model in the future, catering to those who crave innovation without breaking the bank.
FAQs
What does "FE" stand for in Samsung's FE series? 
FE stands for "Fan Edition," indicating a product lineup offering more affordable flagship features.
How much does the Galaxy Z Flip 5 cost? 
The Galaxy Z Flip 5 starts at $999.
Who is Revegnus, and why should we pay attention to their claims? 
Revegnus is a leaker known for sharing insider information about upcoming tech products. While their claims should be taken cautiously, they have a history of accurate leaks.
What is the main focus of Samsung's FE series?
Samsung's FE series aims to deliver flagship-like features in more reasonably priced devices.
When might we expect to see the rumored Galaxy Z FE?
According to the leak, Galaxy Z FE might launch post-Galaxy Z Fold 6 and Z Flip 6 in approximately 2024.
Wrap Up
The emergence of budget-friendly Samsung Galaxy Fold FE models marks a remarkable advancement in foldable smartphones. Although the precise particulars of this innovation are currently veiled in secrecy, the underlying concept harmonizes seamlessly with Samsung's dedicated endeavor of furnishing top-notch commodities at affordable price junctures through its celebrated FE series. Whether Galaxy Z FE becomes real or not, envisioning a cheap foldable phone heralds an inclusive tech era, democratizing innovation beyond elites.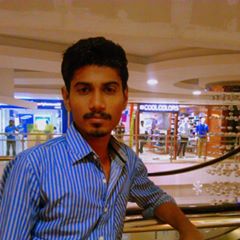 Selva Ganesh is the Chief Editor of this Blog. He is a Computer Science Engineer, An experienced Android Developer, Professional Blogger with 8+ years in the field. He completed courses about Google News Initiative. He runs Android Infotech which offers Problem Solving Articles around the globe.