Maintaining privacy in our mobile is the ultimate task in the new digital world. When a person asks for a call from your mobile, They will not only make calls. If they have some time, they always go through our gallery and view our stuff. We can avoid this situation when the person is a stranger. But when a person is our close one or family member, We can't force them to do this. But We have our Private life. We don't want to share it with others until it is necessary. Some apps are available in the Play Store to hide the gallery. But Everybody can know you are hiding something. To avoid this situation, Samsung Introduced AltZLife Ultimate Private Mode in Samsung Galaxy A71 and A51.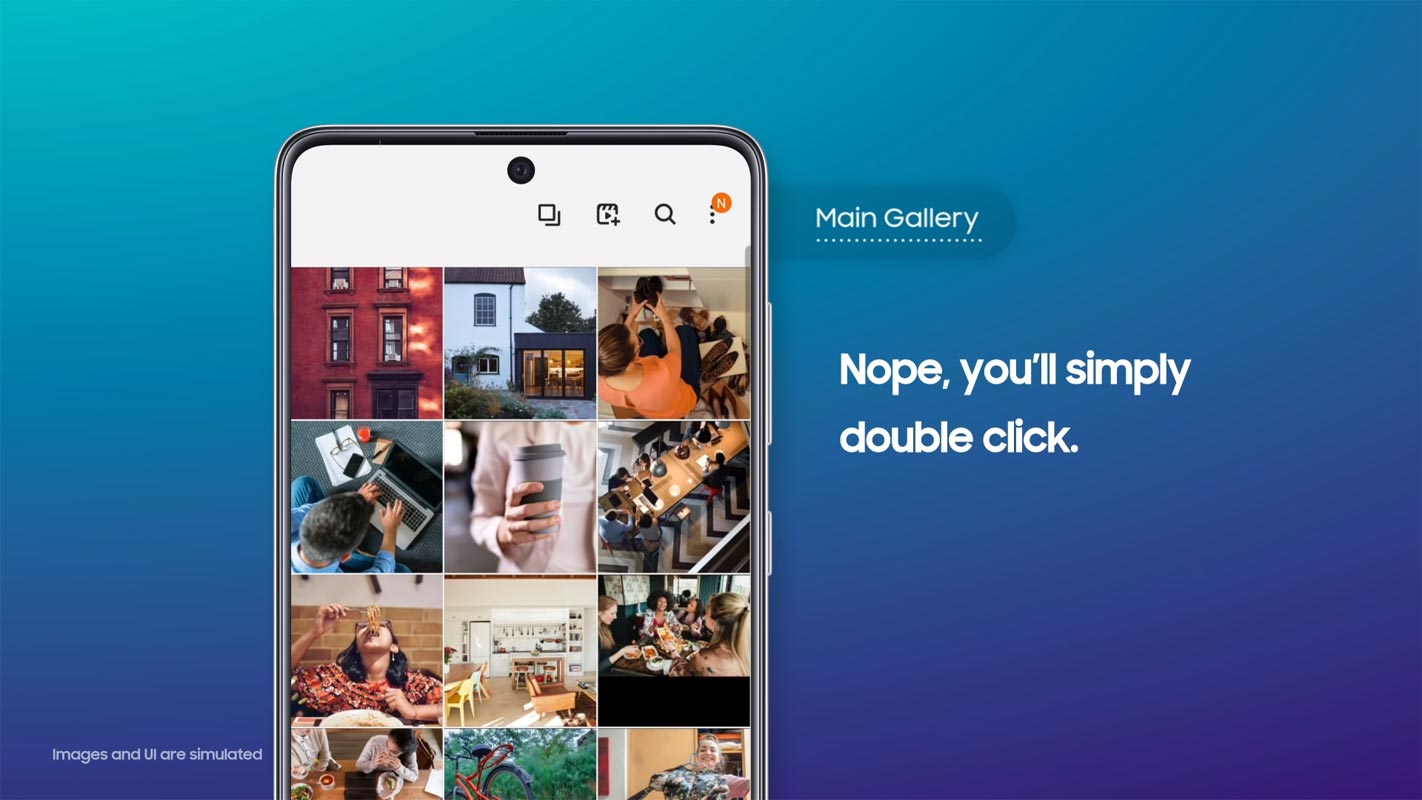 Why AltZLife in Samsung Mobiles?
Samsung conducted research and found that 79% of Gen Z consumers have private content like images, videos, personal chats, and some applications on their phones. These consumers do not want others to see their content on their phones. AltZLife is the Indian solution for keeping this privacy more secure n tight.
You can enable AltZLife By tapping two times in the power button; You can switch between your Private Mode and Regular Mode. Samsung added this new feature with the software update. Samsung is not only innovative but caring too. Caring the young customers, Samsung introduced AltZLife. A unique feature of caring for the life of Samsung's young customers belonging to Gen Z. This feature enables the user to keep personal images, videos, or other content, safe and secure.
What is AltZLife Ultimate Private Mode in Samsung Galaxy A71 and A51?
Samsung is the second-largest selling phone brand in India. To maintain and grow, Samsung has introduced many features as part of the 'Make for India' project. A team of young-engineers from Samsung R&D Institute in Bangalore developed this feature, considering the need of young Indian customers.
Earlier this year, Samsung has introduced AI-based features on galaxy A series devices. Most of the mobile manufacturers nowadays using AI in Cameras. Also, other features like the Artificial Intelligence (AI) featured included a Multilingual Keyboard, Smart Crop. Useful Cards and Finder. The customers highly appreciated these features. Now the new feature AltZLife is based on the in-built AI feature of the phone. In-built AI doesn't need any cloud storage or server for processing secure data. It provides you privacy and security within the device, in two ways, Quick Switch, and Content Suggestions. Let's take a look one by one.
Quick Switch to toggle Ultimate Private Mode
Generally, every consumer, and especially Gen Z consumer, have public and private content on their mobile phone. Quick Switch gives them the facility to switch between public and private aspects instantly. This switching from a regular gallery to a private gallery is standard by using various security apps. But AltZLife enables you to switch from regular app to individual app too. Samsung Knox, in secure folders, protects the data of these separate apps. You can do this switching by pressing the power button twice.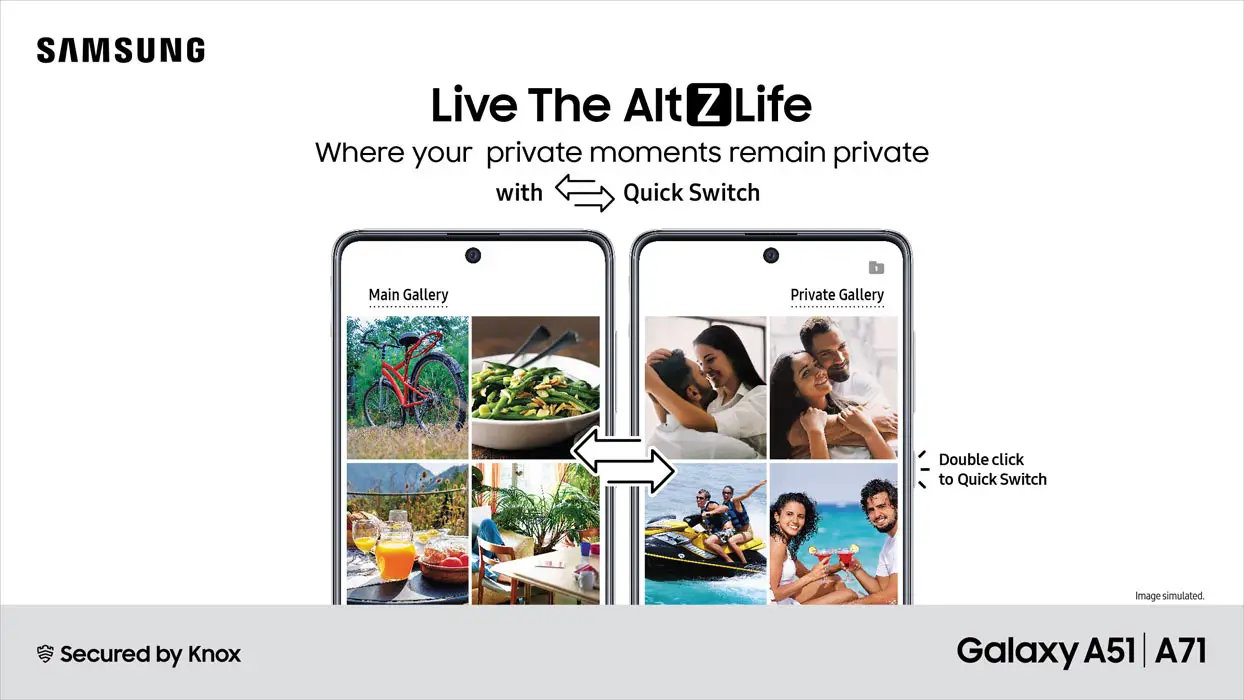 When you press the power button twice in normal mode, it requires authentication, which is different from unlocking the phone. You don't need the authentication when switching from private to normal mode. It works for apps too.
Content suggestions
It is a compelling feature of AltZLife based on AI. The in-built AI automatically moves the private content into the secure folders. To get the suggestions, you have to tag the faces or images as private initially. Then the AI engine searches the gallery and moves the matching content to the secure folders accordingly. AI is a built-in feature on the device, so it doesn't need any cloud storage or internet server to process the data. It means no private content can go outside your phone to ensure your privacy.
Supporting phones
Samsung officially announced to offer this feature on only two models, Samsung Galaxy A51 and Samsung galaxy A71. Both of these are flagship-grade budget phones launched in April 2020. Samsung A71 should have A715FXXU2ATGK or above build number, and A51 should have A515FXXU3BTGF or high build number. When you want this feature, and you have rooted mobile alternatively, you can flash the Samsung Galaxy A71 stock firmware using Odin.
How to use AltZLife Ultimate Private Mode in Samsung Galaxy A71 and A51?
Samsung calls AltZLife as the "Ultimate Private Mode." You will get this feature through an update by Samsung not later than August 10. Hopefully, it will be an upcoming feature for most of the mobiles under the Samsung Galaxy list. The process has three significant steps.
1. Setup Secure Folder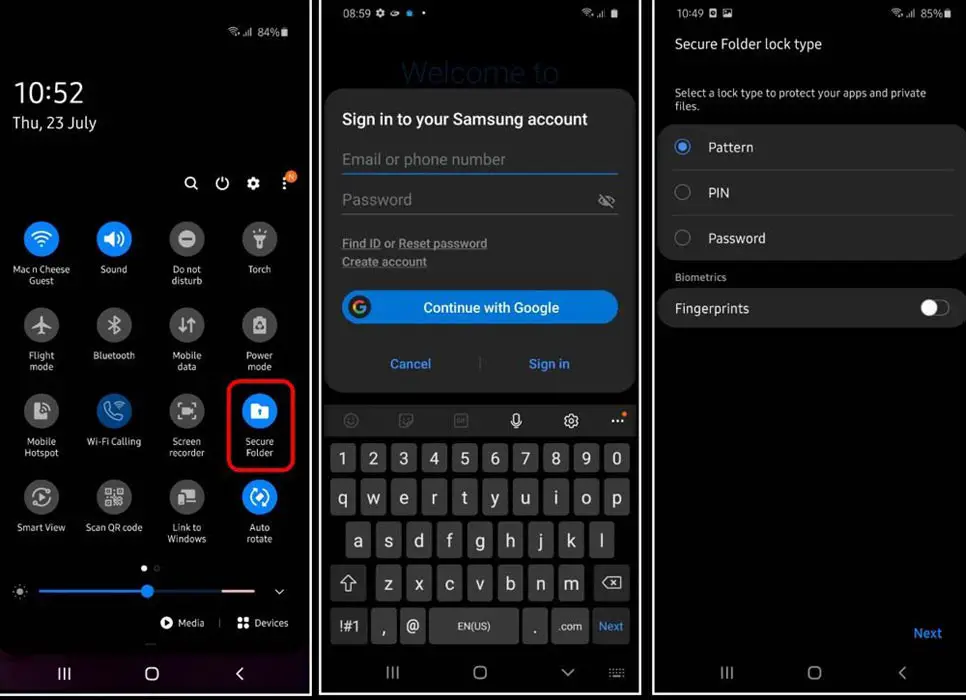 Open the Secure folder using the Notification Panel or in the Settings.
Log in with your Samsung Account. You can signup your account using an email ID or Google Account.
After setup the account with your details, You have to set up security for opening secure folders.
You can set up a simple PIN, Pattern, or Password. When you set up a fingerprint, it is wise to set up the PIN as backup protection.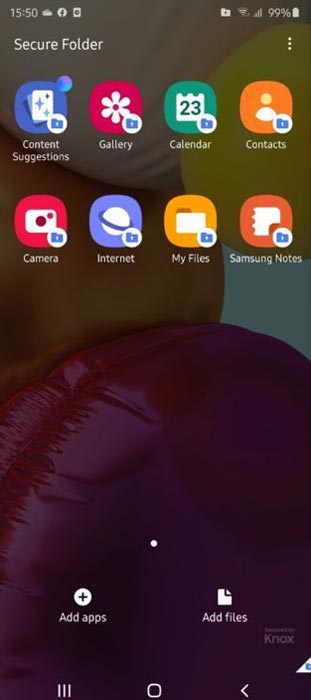 After the setup, You will get the Home Page of Secure folder with available apps. You can also hide individual folders from the file manager. It is like using two apps versions like Parallel space. The hidden apps will come under the Secure folder, while you can use regular releases in the non-secure folder. After selecting apps, you have to set up the quick Switch to switch the secure folder when someone asks your mobile immediately.
2. Quick Switch enable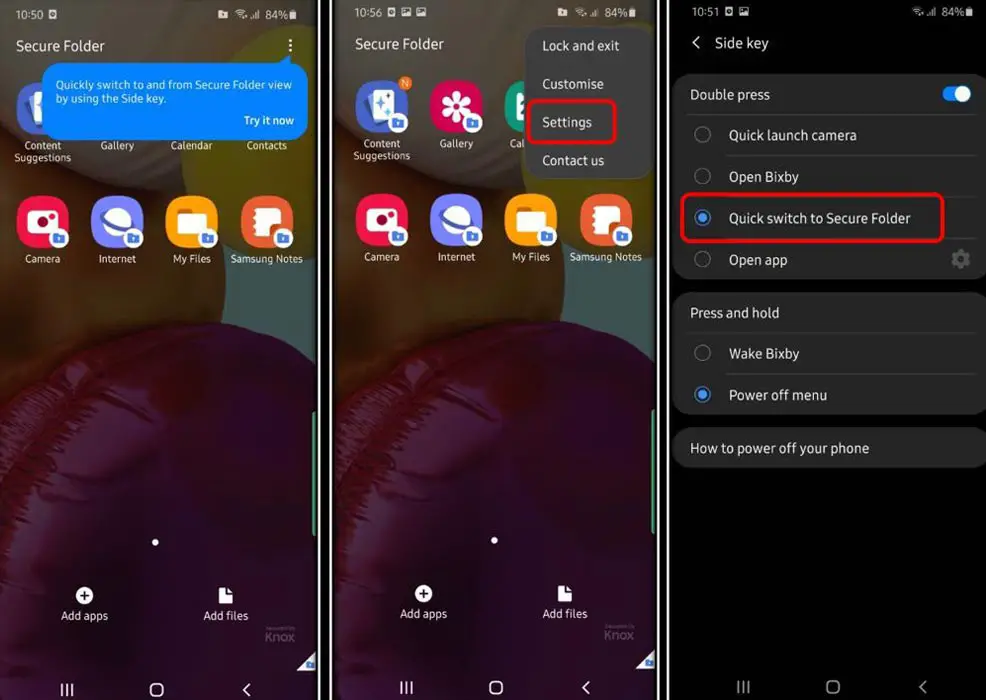 Setup Quick Switch is essential. You can toggle between regular apps and secure folder by pressing a simple key. To set up the Quick Switch, follow the below steps.
After selecting apps and folders in the secure folder, Select the three-dot icon, and choose "Settings."
In the Side Key option enable Doube Press. Then select "Quick Switch to Secure folder."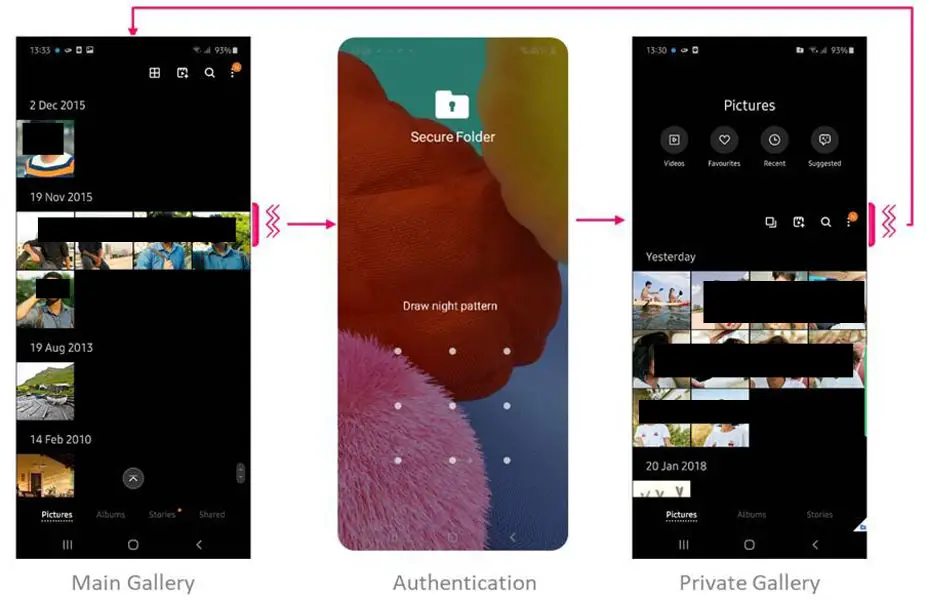 Hereafter when you want to turn on the secure folder, then you have to double click the power button. When you want to release a secure envelope, you have to do the same.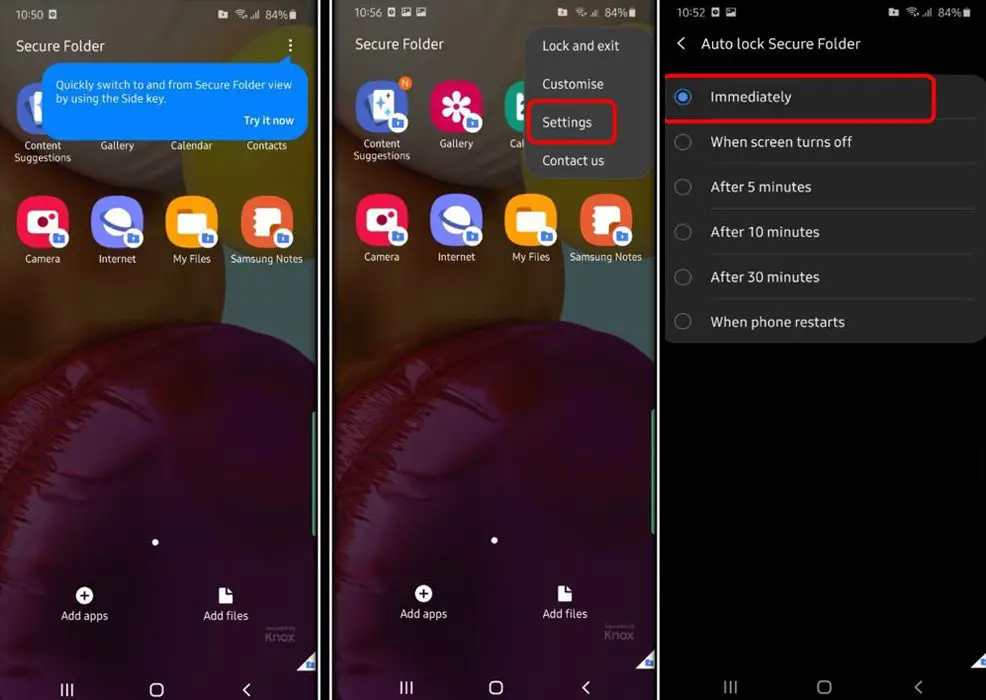 The double click should lock your folder immediately. To set up the timing again, Select the three-dot icon and choose "Settings." Select "Immediately" under "Auto-lock Secure Folder."
3. Setup Content Suggestions
Content suggestions are not necessary. But it is wise to use this feature. Because sometimes, you may accidentally leave some photos in your gallery. It may lead to no use of using Secure Folder. When you enable content suggestions, It can identify the same set of photos you are hiding; then, it can run automatically out those images ion the Secure folder. The content idea will not connect with any cloud or contact with any server. The identification happens within your mobile.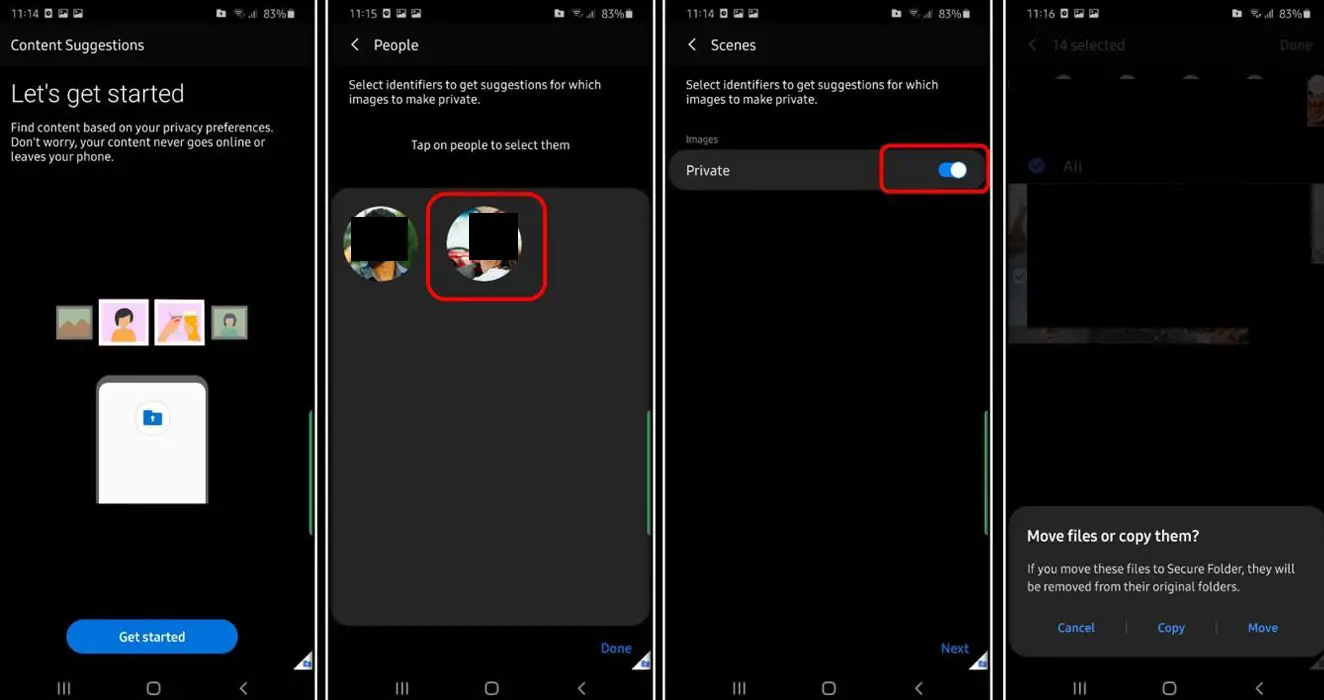 You can view the content suggestion app in the Secure folder section.
Select the Content Suggestion app.
Initially, it will identify the faces and some details based on your already available media files.
You can also manually add the images to the folder. Select the move option after selecting images. Copy option will keep the photos in the regular folder. In the long run, it can automatically identify and move the images to Secure Folder. So, After everything set up, Check with the double press in the power button to ensure everything works great.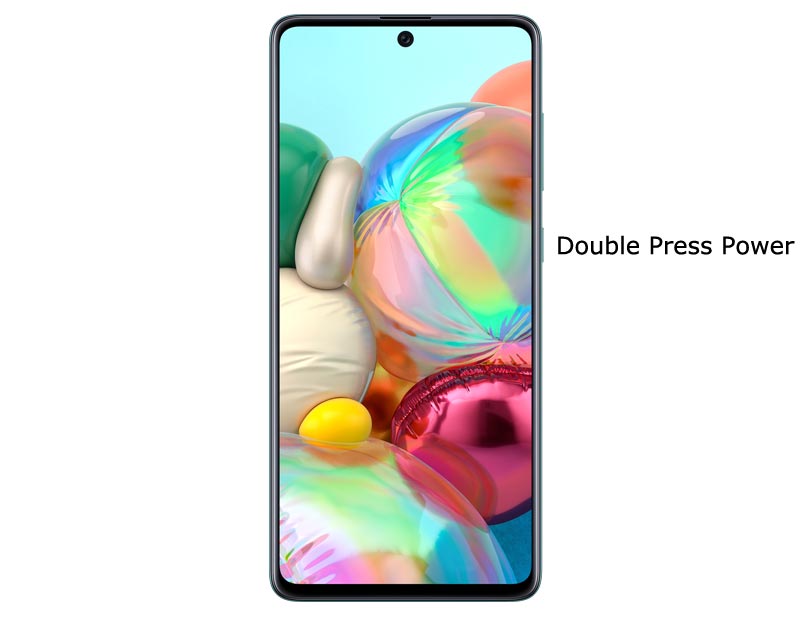 Wrap up
Samsung is a bestselling and trusted brand phone. Most of the Android mobiles are the same in specs. To differentiate them compare with other phones, they have to release better software features. Samsung is already rolling out Running Android Apps in Windows feature in High-end devices. They can't do the sam in mid-range mobiles because of the hardware limitations. AltZLife Ultimate Private Mode in Samsung Galaxy A71 and A51 is one of them.
For building more trust, Samsung can secure you by just double-clicking the power button. The AltZLife feature will develop more confidence in the user to the company. Additional to the secure folder, It is a significant step to use two-factor authentications apps to secure your accounts. Do you have anything to hide from your friends and family? You can share it in the comments below.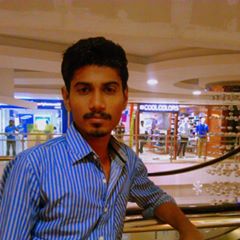 Selva Ganesh is the Chief Editor of this Blog. He is a Computer Science Engineer, An experienced Android Developer, Professional Blogger with 8+ years in the field. He completed courses about Google News Initiative. He runs Android Infotech which offers Problem Solving Articles around the globe.