Finance related transactions have a lot of risks. When your app handles this category, you should comply with a lot of regulations, including the country your service is available. Based on the country, the rules will vary. But it is your job to maintain the service under the law, management. WhatsApp released a payment service while ago. You can send and receive Money like other payments. It is widely available in most countries. Recently Brazil Central Bank Suspends WhatsApp Payments. If you don't know, all banks within a state will work under one Bank for control and regulations purpose. It is like RBI in India. The same goes for Brazil-Central Bank is the primary sector that controls financial-based payments. The reason for the suspension is Central Bank believes there are some policy-related issues. So, Until further notice, You can't use Whatsapp Payments in Brazil.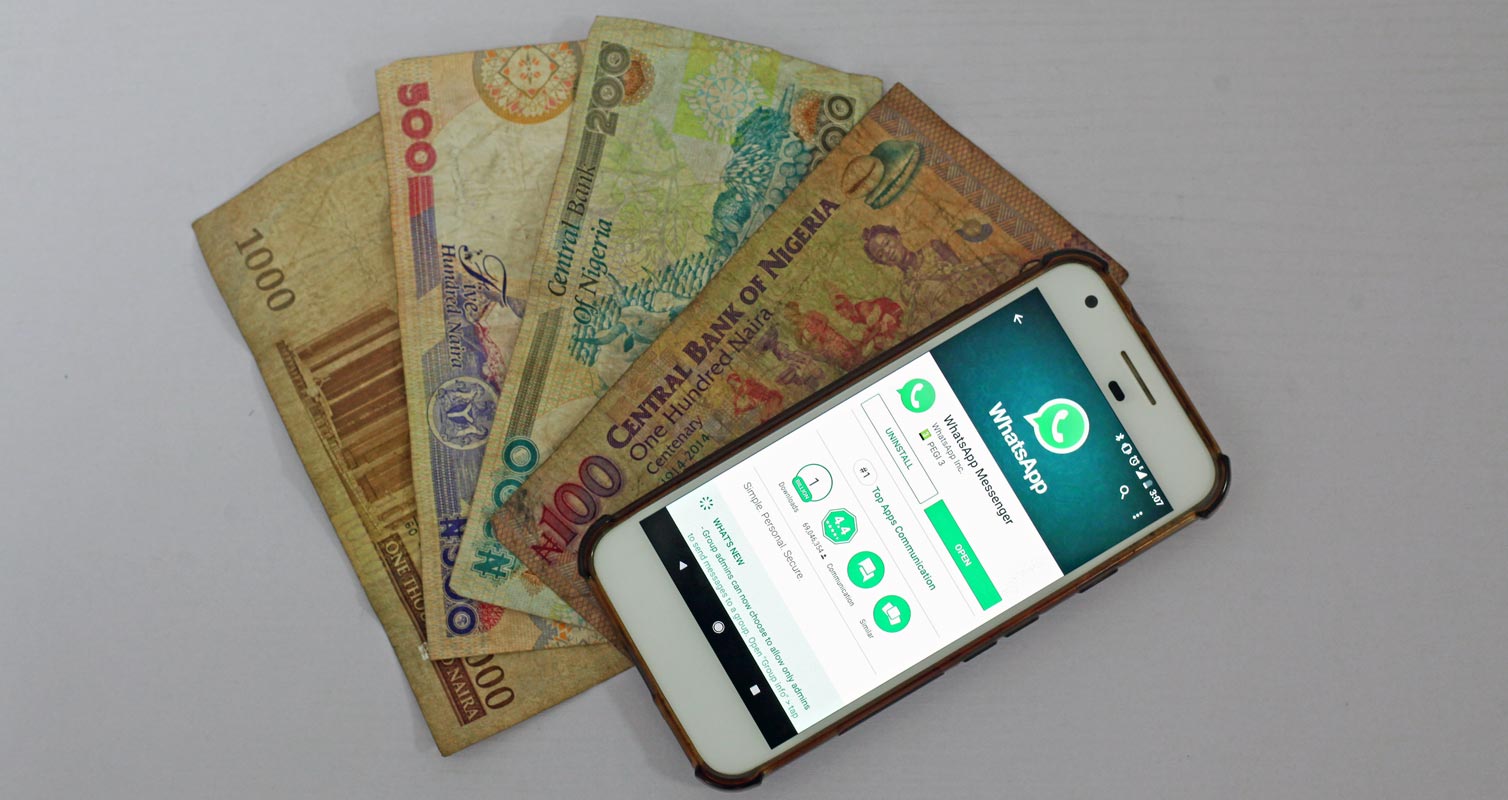 WhatsApp is a messenger service used for seamless communication, sending voice messages, texts, pictures, and videos to your friends, family, or anyone in your contact list having a WhatsApp account. Now WhatsApp supports video calls up to 8 people. WhatsApp is much more than a messenger now.  In February 2014, Facebook bought this giant messaging service and brought many enhancements in it. Facebook is the world's largest social media app having more than 2.6 billion active users. On 19th November 2019, Facebook announced its first-ever money transaction service with the name 'Facebook pay.'
WhatsApp Pay is supported by Facebook Pay
Facebook pay is the platform you can use to send or receive money on Facebook, Whatsapp, Instagram, and Messenger. You can use it on any of these platforms individually. It transfers the payments through bank channels without any risk of cash handling. Along with PayPal and Stripe, Facebook allows all major credit and debit cards too. Google is recently working on its physical debit cards.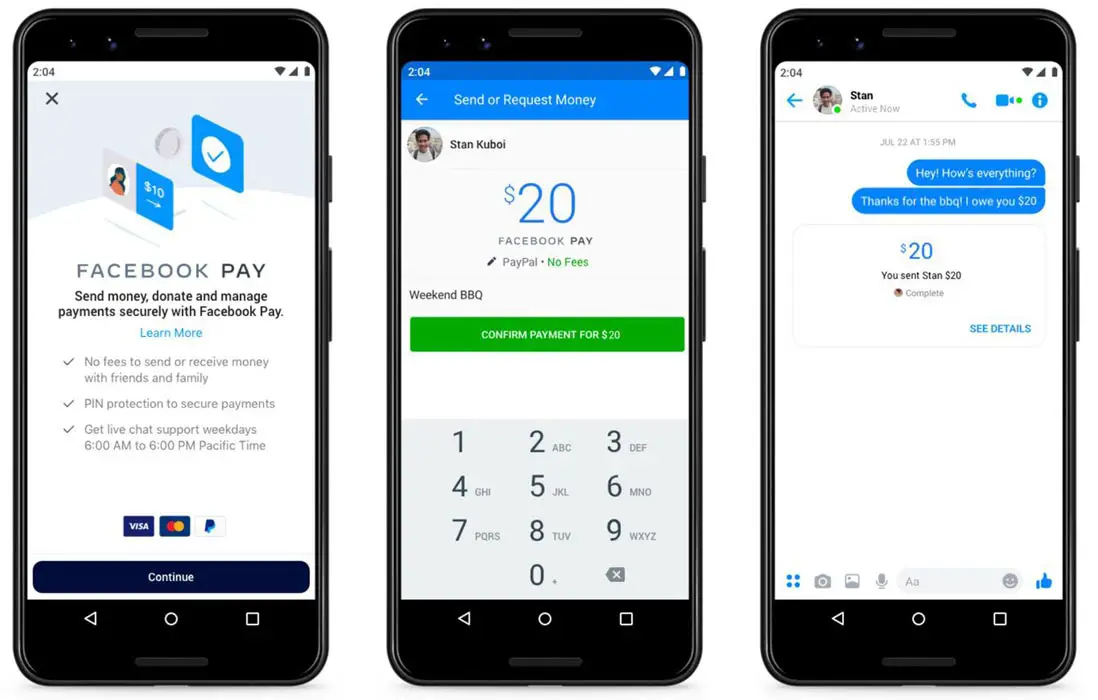 All you have to do is, enter the payment methods and the details of your debit or credit card, and that's it, you get to join this giant money transaction service run by Facebook. You can keep track of all your transactions individually. For a more secure experience and fraud-free transactions, you can set up a six-digit pin code or your fingerprint.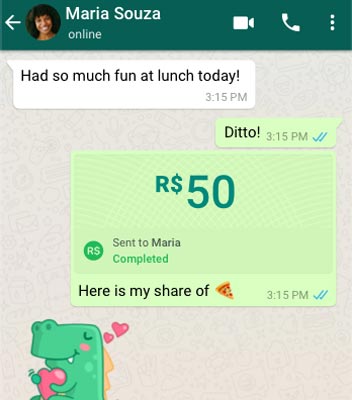 On 15th June, WhatsApp announced to start digital payments for its 120 million users in Brazil; that is around half of Brazil's population. It made it easy for people of Brazil to send Money or purchase from any local business with just one click. Brazilian people can purchase from more than 10 million small and micro enterprises working in Brazil. These WhatsApp transactions are supported by Facebook pay, and are done using the cards issued by Banco do Brasil, Nubank, and Sicredi, on visa or MasterCard network. Also, a six-digit pin or fingerprint scan secures every transaction.
WhatsApp Payments stopped in Brazil
Everything was smooth after the launch of digital payments by WhatsApp in Brazil but soon on 24th June. But, after nine days of its launch, WhatsApp digital payment services got suspended by the two major agencies of Brazil, Brazil's Administrative Council for Economic Defense (CADE) and the Central Bank of Brazil. This decision was based on the concern to ensure healthy competition with local monetary departments.
This decision is no less a jolt for Facebook or WhatsApp, as they operated every transaction under the guidance of the Central Bank of Brazil.  It seems a temporary suspension as both the agencies want to get more information about the transaction model of WhatsApp and after Valuation WhatsApp Payments may come again. No wonder, this action has affected more than half of Brazil's population that used WhatsApp digital payments for their everyday transactions.
In Future WhatsApp planned to use Brazil Central Bank Instant Payment
If you are in India, You know WhatsApp utilizes the UPI Payment. UPI is a centralized digital payment platform by the Government. Third-Parties can use the platform with the API, and it is a direct transaction. Money is not stored in any form of wallet. The Money debited from the Bank and credit to the Bank. Like this, Central Bank in Brazil planned to roll out instant payments in November 2020.
This suspension will affect both the companies, Facebook and Cielo S.A., which is the most significant Brazilian credit and debit card operator. To remove this suspension, both companies have to appeal against the CADE's decision. Facebook has already announced that WhatsApp plans to use the Central Bank Instant Payment, known as PIX, shortly with its partners. This shall help in promoting an open model for digital payments. Both decisive authorities may impose some fines against the companies for not integrating their digital payment system with PIX, which is the central Bank's payment system.
Wrap up
WhatsApp has both personal and business accounts. For Business account payments, they charge a 3.99% fee. Brazil has enormous Business accounts. So, the fee payment policies should be considered separately. WhatsApp Payment works under Facebook pay, and they have some issues with the procedures. So, When WhatsApp utilizes Instant payments in Brazil. It may work like UPI. If it succeeds, most of the companies, including Google Pay, can use the platform.
This unexpected suspension by Brazil's decisive authorities has surprised Facebook and its partners as well. Not just that, but a massive number of WhatsApp users in Brazil are also suffering from this suspension. Hopefully, maybe after some penalties or fines and integration with the Central Bank's digital system (PIX), people of Brazil may again enjoy the one-click digital payment system by WhatsApp. What do you think about all this? Tell us in the comments.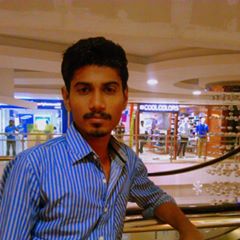 Selva Ganesh is the Chief Editor of this Blog. He is a Computer Science Engineer, An experienced Android Developer, Professional Blogger with 8+ years in the field. He completed courses about Google News Initiative. He runs Android Infotech which offers Problem Solving Articles around the globe.