In the rapidly evolving realm of technology, Android fans have ample cause for celebration as Google stands poised to unveil an innovative feature that revolutionizes connectivity across Android devices tethered to a solitary Google account. Taking a page from Apple's playbook with its beloved Continuity feature catering to iPhone enthusiasts, this ingenious offering aspires to dissolve the barriers separating diverse devices, fostering a realm of effortless interaction. As we embark on this exploration, prepare to plunge into the captivating intricacies of this imminent breakthrough destined to reshape the fabric of device interaction.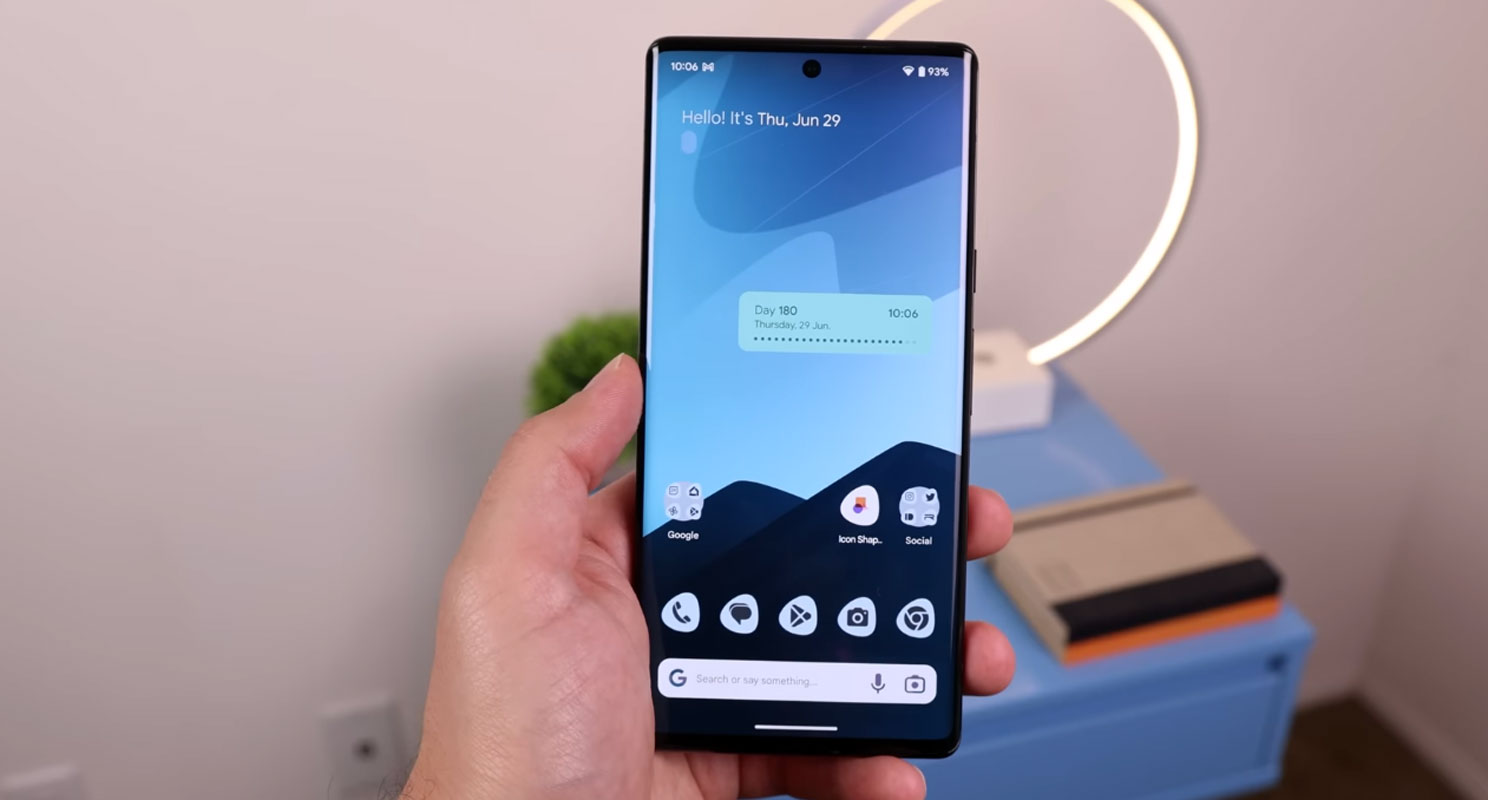 Device Syncing Coming Soon to Android
According to an Android expert closely monitoring Google's movements, the tech giant is gearing up to launch a new feature to enhance Android device connectivity. Drawing parallels with Apple's Continuity feature, which enables users to seamlessly transition between their iPhones and Macs for tasks like call-taking, Google's offering aims to provide a similar level of convenience to Android users.
The Power of One Google Account
Imagine having all your Android devices intricately linked to one central Google account. This innovation will usher in many exciting functionalities, including Call Switching and Internet Sharing. The former is straightforward: it enables users to switch calls between their devices effortlessly. Whether on your smartphone or tablet, Call Switching lets you seamlessly switch conversations, ensuring a smooth experience.
Sharing Connectivity with Ease
The allure of the latter feature, Internet Sharing, lies in its simplicity. This feature lets you generously share your primary device's network connection with your other Android devices. Think of it as your mobile hotspot without the hassle of toggling multiple devices or dealing with complicated settings. Internet Sharing links devices to one network, eliminating manual connections and offering seamless internet access across devices.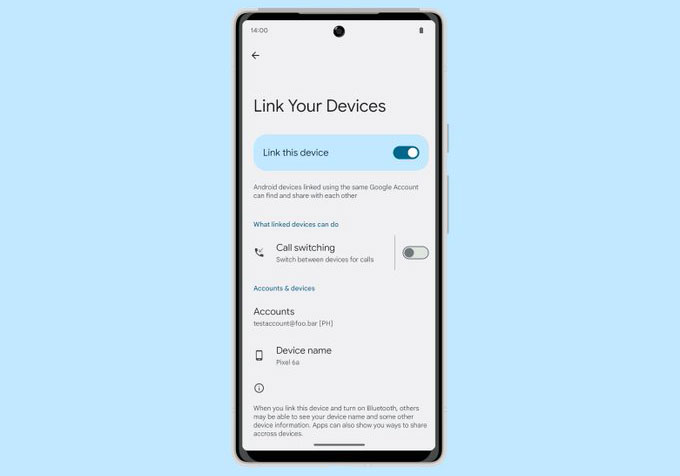 A Glimpse into Functionality
Interestingly, a leaked screenshot has provided a glimpse into the Call Switching feature's functionality. Unlike Apple's Continuity, which confines call-taking to iPads, Macs, and MacBooks, Google's innovation seems to extend the capability to various Android smartphones. This broader scope of compatibility is sure to be a delightful surprise for Android enthusiasts who crave a more interconnected experience.
A Sneak Peek into the Future
While Google has yet to officially announce this groundbreaking feature, Mishaal Rahman, a respected voice in the Android community, has hinted at its arrival. He suggests that the "Link Your Device" feature will appear in the Settings menu, within the Google section, specifically under the Devices & Sharing sub-menu. This impending addition to the Android ecosystem promises users a more integrated and convenient experience.
FAQs
When can we expect this feature to be launched?
Currently, Google has not provided an official release date for this feature. However, given the buzz in the tech community, it's safe to assume that its arrival is imminent.
Will this feature be available on all Android devices?
Leaked info suggests wider Android phone compatibility but wait for official confirmation on device support.
Can I switch calls between Android and non-Android devices?
 The feature's primary focus is on enhancing connectivity among Android devices. The extent of its compatibility with non-Android devices remains to be seen.
How secure is the Internet Sharing feature?
Google is known for prioritizing user security. The feature will likely contain safeguards to ensure Internet Sharing is secure and controlled.
Will this feature require any additional settings or configurations?
Currently, there are no exact details. Google aims to keep the user experience intuitive and hassle-free. This suggests that the feature might require minimal additional settings for setup.
Wrap Up
As technology inevitably continues its evolution, the eagerly anticipated horizon hosts the prospect of simplified device syncing, a concept that has Android users brimming with excitement for its impending debut. With Google's dedication to an interconnected ecosystem, this feature could redefine device engagement, enabling smooth task switches across gadgets.
With the future extending an inviting hand, fervent Android enthusiasts stand poised to embrace a realm where the confines of individual devices dissolve, paving the way for a triumphant era of unified connectivity to claim the spotlight.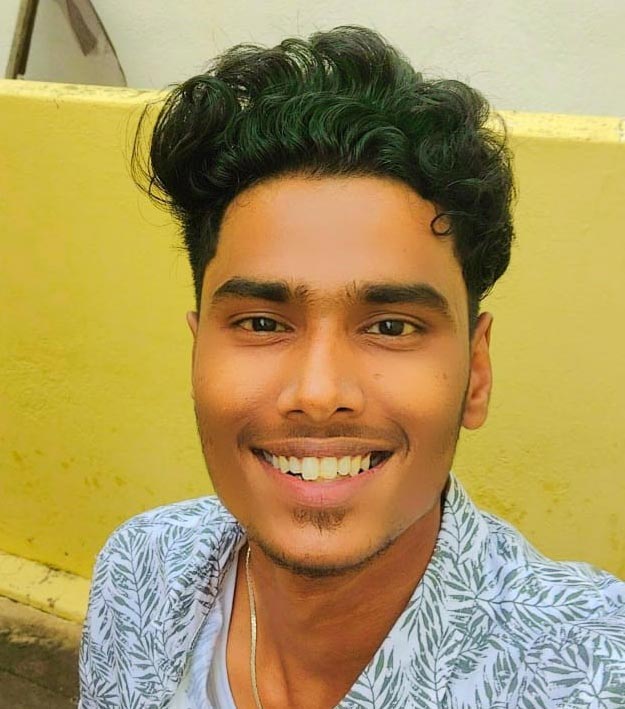 Arun Karthick is a highly skilled and versatile individual with a computer science background. He completed his undergraduate degree in this field and has since worked as an Android developer. Arun is known for his expertise in break dance and is highly regarded in this field. In addition to his dancing abilities, Arun is also a mobile hardware-level technician, making him well-rounded. He is known for his intelligence and is considered an intelligent individual in his professional and personal life.