Google's recent overhaul of Messages' home screen marks a notable shift in the user interface. The trusted hamburger button, a hub for diverse navigation choices, is now conspicuously absent. For those yearning for its convenience, there's a solution at hand. You can reinstate the familiar hamburger button by reverting to an older version of Google Messages through a download and sideload process. It's important to note that this method doesn't affect your existing messages. This workaround provides a bridge back to the comfortable, established interface for users who found solace in the simplicity of the previous design. Embracing change is commendable, but sometimes, a touch of the familiar can go a long way in enhancing user experience.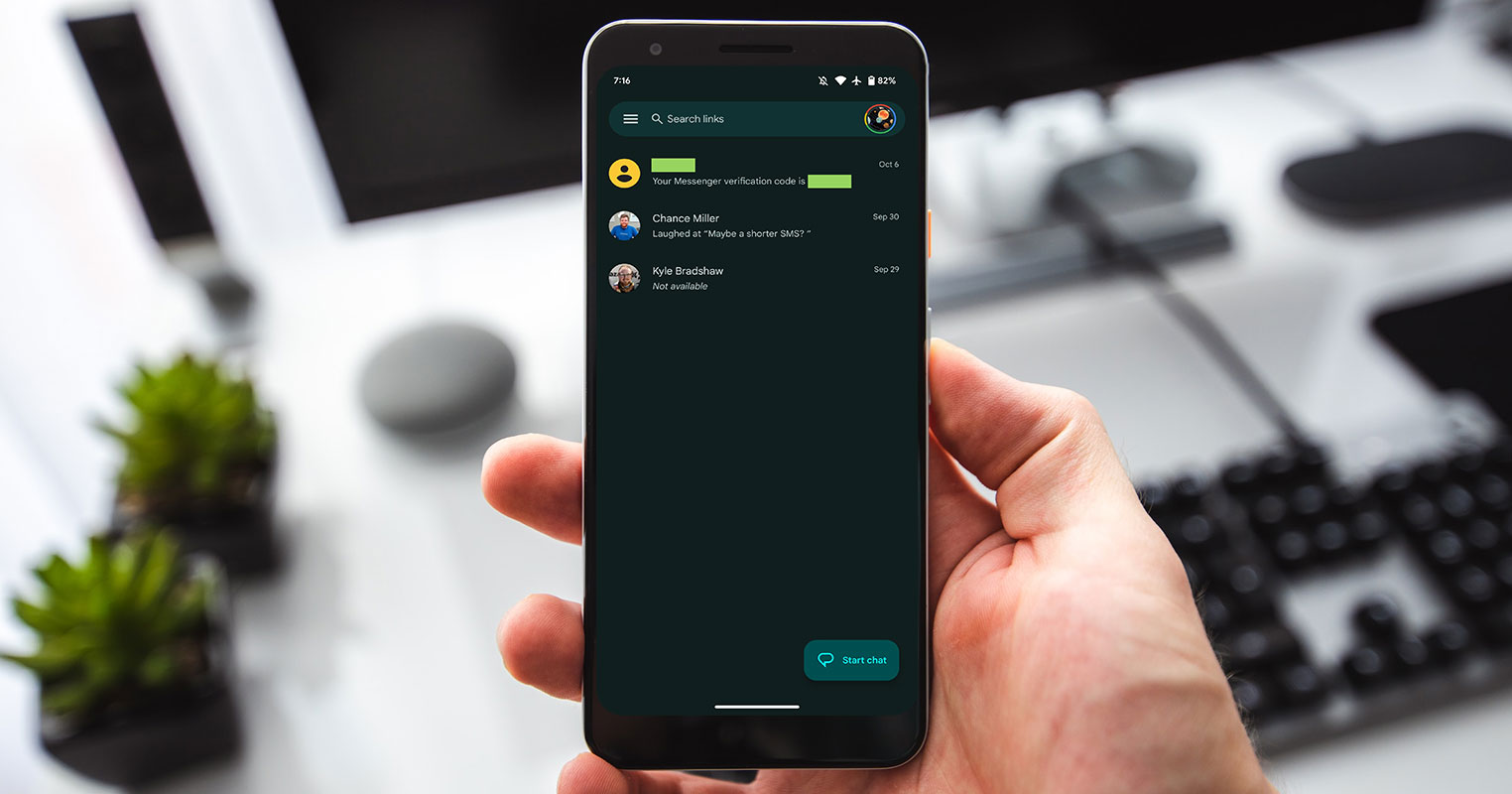 Understanding the Google Messages Hamburger Button Redesign
In June, Google initiated testing for a new home screen layout for Messages. After months of beta testing, it's now being rolled out widely to stable users. The redesign emphasizes Google's branding, featuring the iconic four-color "G" logo followed by "Messages" and a magnifying glass icon instead of the conventional search field.
Navigating Without the Hamburger Button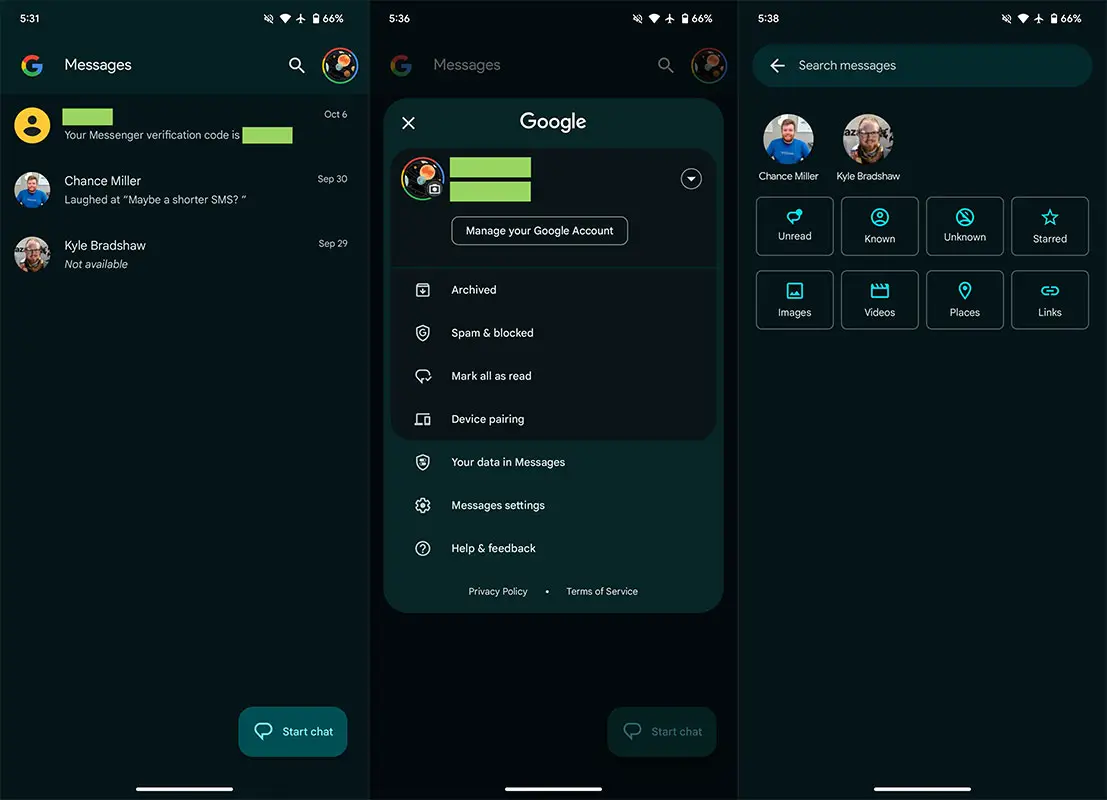 The most noticeable change is the absence of the navigation drawer, a design choice aimed at modernizing the app. Accessing features like Archived, Spam & blocked, Mark as all read, and Device pairing requires tapping your profile avatar in the top-right corner. A helpful, prompt bubble guides users to this new location, highlighting how all these options are now conveniently consolidated.
Redefined Search Functionality
The search function has also transformed. Instead of the previous carousel, users are presented with a categories grid, providing a more intuitive search experience. Additionally, a shortcut to Starred texts/chats and filters for various message types have been introduced, making it easier to locate specific content.
Changes in Message Organization
With this redesign, the Message organization feature introduced last year has been removed. Tabs for All, Personal, and Business are no longer present, though the option to "Auto-delete OTPs after 24 hrs" remains available in settings.
Get Back the Hamburger Button in Google Messages
If you're yearning for the return of the hamburger button, there's a workaround. You can revert to an older version of Google Messages by downloading and sideloading it. It's important to note that this process won't affect your existing messages.
Unfortunately, you cannot roll back apps to their old versions from the Google Play Store; you can only download the old version from a trusted APK site and install it on your device. Many older versions of Google Messages still work perfectly and function as the newer version; the significant difference is that you may not get the Chat feature on the old version you downloaded.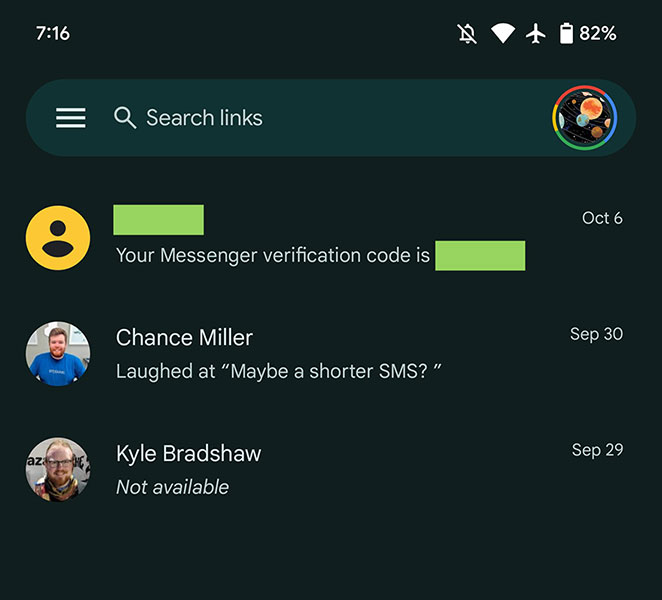 You should not uninstall the old app. You can sideload the app. It will replace the currently installed version.
You will not lose any data during the installation. But it is wise to back up your mobile before the process.
FAQs
Is it safe to sideload an older version of Google Messages?
Yes, sideloading an older app version is a safe process that won't compromise your existing messages.
Will I lose any data when I sideload an older version?
No, sideloading only replaces the app's current version and won't affect your stored messages.
Can I undo the sideloading process if I change my mind?
Yes, you can reinstall the latest version of Google Messages from the Play Store at any time.
Will Google Messages prompt me to update after sideloading an older version?
The app may prompt you to update, but you can ignore it if you prefer the older version.
Are there any other ways to customize the Google Messages interface?
You can explore the app's settings for additional customization options, such as notification preferences and display settings.
Wrap Up
Google's redesign of the Messages app introduces a sleek, modern interface with improved navigation. While this revamp offers a refreshing experience, some users may long for the familiarity of the trusty hamburger button. The good news is there's a workaround. You can revert to a previous version, regaining that comforting feature. Follow the steps and seamlessly customize your messaging experience to align with your preferences.
This flexibility ensures that users can mold their app interface to their liking, balancing embracing innovation and cherishing the tried-and-true. It's a testament to Google's commitment to user satisfaction, acknowledging that individual preferences vary and providing the means to cater to those differences. So, whether you're drawn to the new or find comfort in the old, Google Messages accommodates your unique messaging style.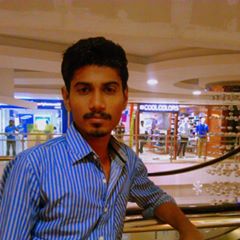 Selva Ganesh is the Chief Editor of this Blog. He is a Computer Science Engineer, An experienced Android Developer, Professional Blogger with 8+ years in the field. He completed courses about Google News Initiative. He runs Android Infotech which offers Problem Solving Articles around the globe.