Google Bard, the AI chatbot created by Google, has undergone a noteworthy expansion in its latest update on July 13, 2023. This update introduces a range of new features and support for multiple languages, amplifying the capabilities of Google Bard. One of the notable additions is the image upload functionality, enabling users to share images and enhance their conversations with visual content quickly. The chatbot now possesses read-aloud functionality, allowing it to communicate text-based responses to users audibly. These new features elevate the user experience, promoting creativity and fostering a more personalized interaction with Google Bard.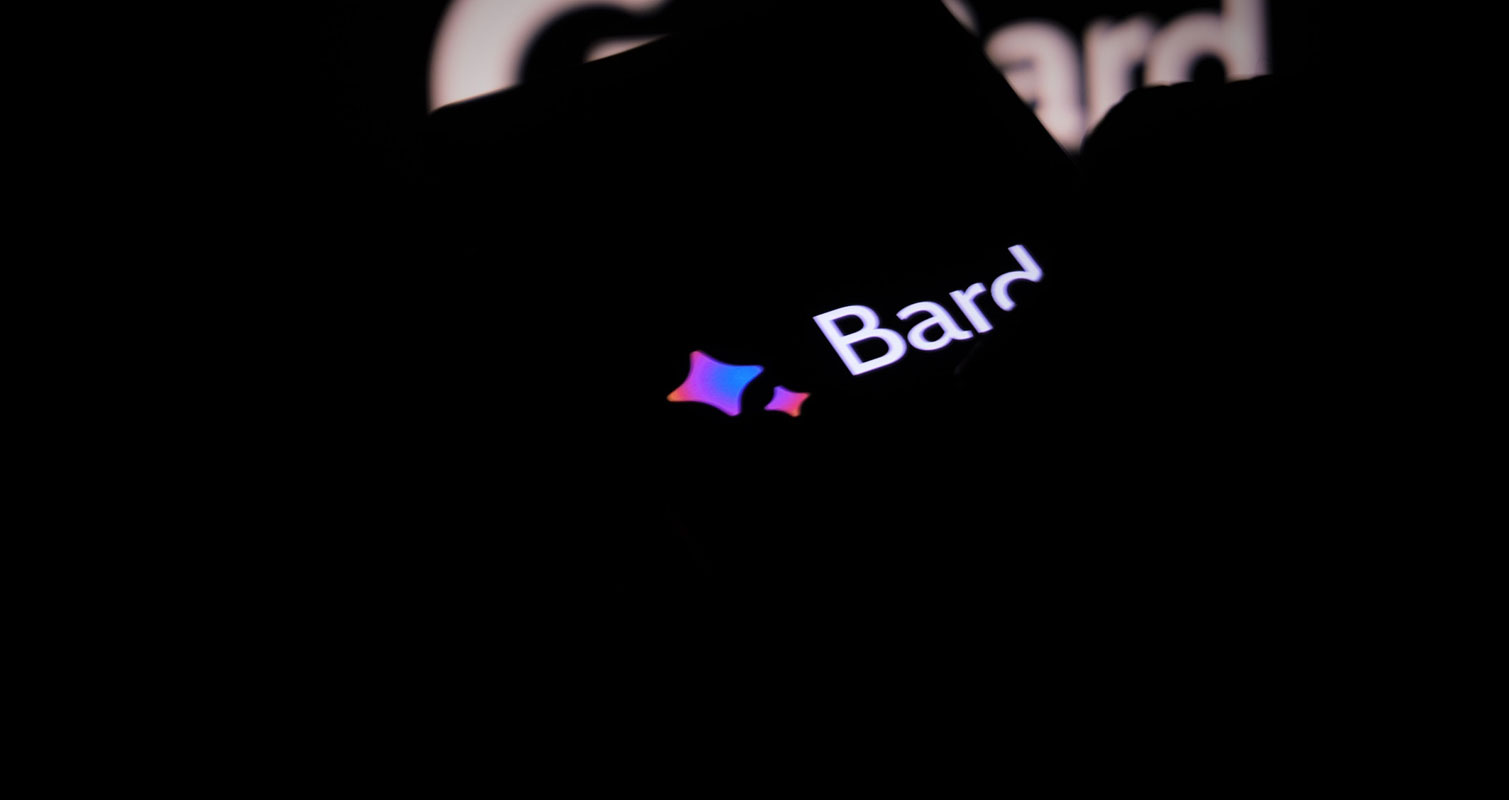 Google Bard July 13, 2023 Update
Initially available in several countries, Google Bard has expanded its reach to Europe and Brazil. After engaging with experts, policymakers, and privacy regulators, Google successfully launched Bard in all 27 European Union (EU) countries and Brazil. This expansion demonstrates Google's commitment to providing access to its AI chatbot across diverse regions.
Increased Language Support
With this update, Google Bard now supports over 40 languages, including Arabic, Chinese (Simplified/Traditional), German, Hindi, Spanish, and many more. Adding these languages further strengthens Bard's global presence and enables users worldwide to interact with the chatbot in their preferred language. Google's previous experience with English, Japanese, and Korean support has allowed them to expand language coverage responsibly.
Image Upload with Google Lens Integration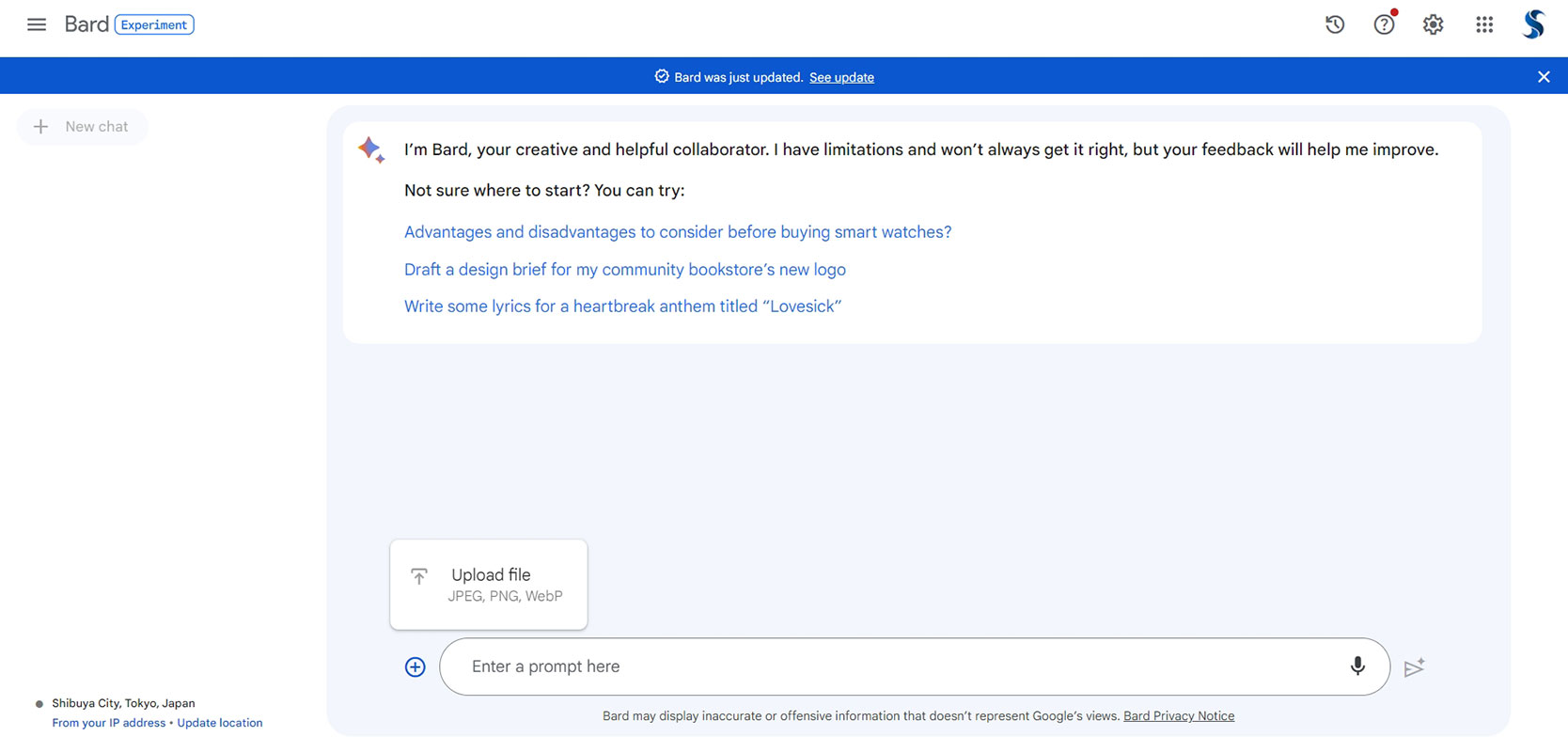 One of the significant enhancements in this update is the ability to upload images in conversations with Bard. This integration brings the power of Google Lens to Bard, allowing users to explore new dimensions of imagination and creativity. Users can gather more information, find inspiration, or even create funny captions by uploading images. Initially available in English, this feature opens up exciting possibilities for visual interactions with Bard.
Read Aloud Capabilities in Multiple Languages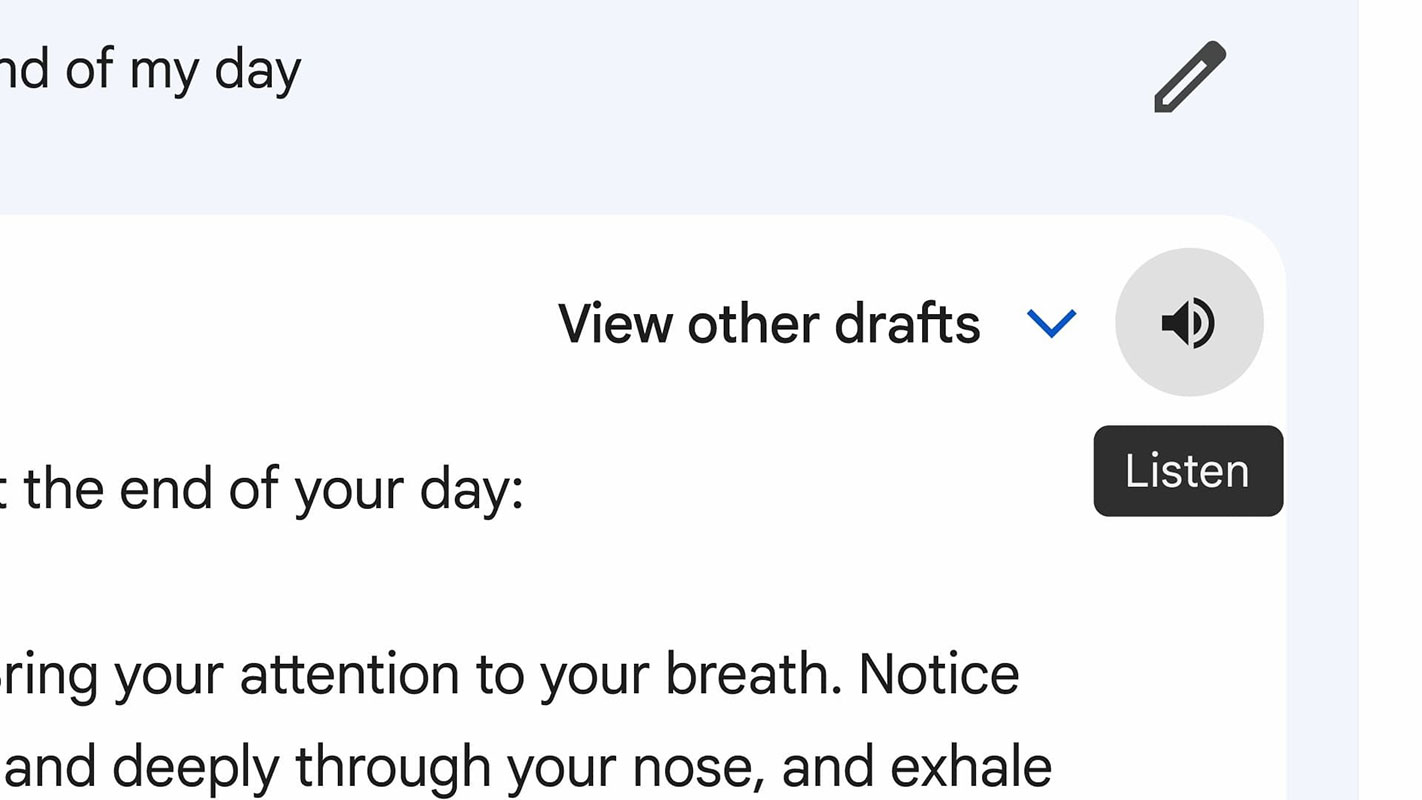 To enhance the user experience and encourage different ways of engaging with Bard, Google has introduced text-to-speech capabilities in over 40 languages. Whether it's Hindi, Spanish, or US English, users can now listen to Bard's responses instead of reading them. This feature enables users to bring ideas to life in new and imaginative ways, leveraging the power of auditory perception to spark creativity.
Pinned & Recent Threads for Improved Organization
Google Bard now offers improved organization features to help users manage their conversations effectively. Users can pin meaningful conversations, rename them, and have multiple conversations simultaneously. These additions let users pick up where they left off and maintain a seamless creative process. As the best ideas often take time to develop, the ability to organize and prioritize threads ensures a smooth workflow.
Shareable Bard Conversations
In this update, Google has made it easier for users to share their Bard conversations with others. Shareable links allow users to share a portion of their chat, including any associated sources. This feature enables effortless collaboration and the exchange of ideas. Sharing creations and insights generated through Bard becomes a simple and inspiring process, unlocking creativity and fostering innovation.
Modifying Bard's Responses
Google acknowledges that sometimes a response may require slight adjustments. Bard offers five new options to modify responses to cater to this need. Users can tap to make a reply simpler, longer, shorter, more professional, or more casual. This functionality ensures that Bard's responses align more closely with users' desired outcomes, allowing for a tailored and customized experience.
Exporting Python Code to Replit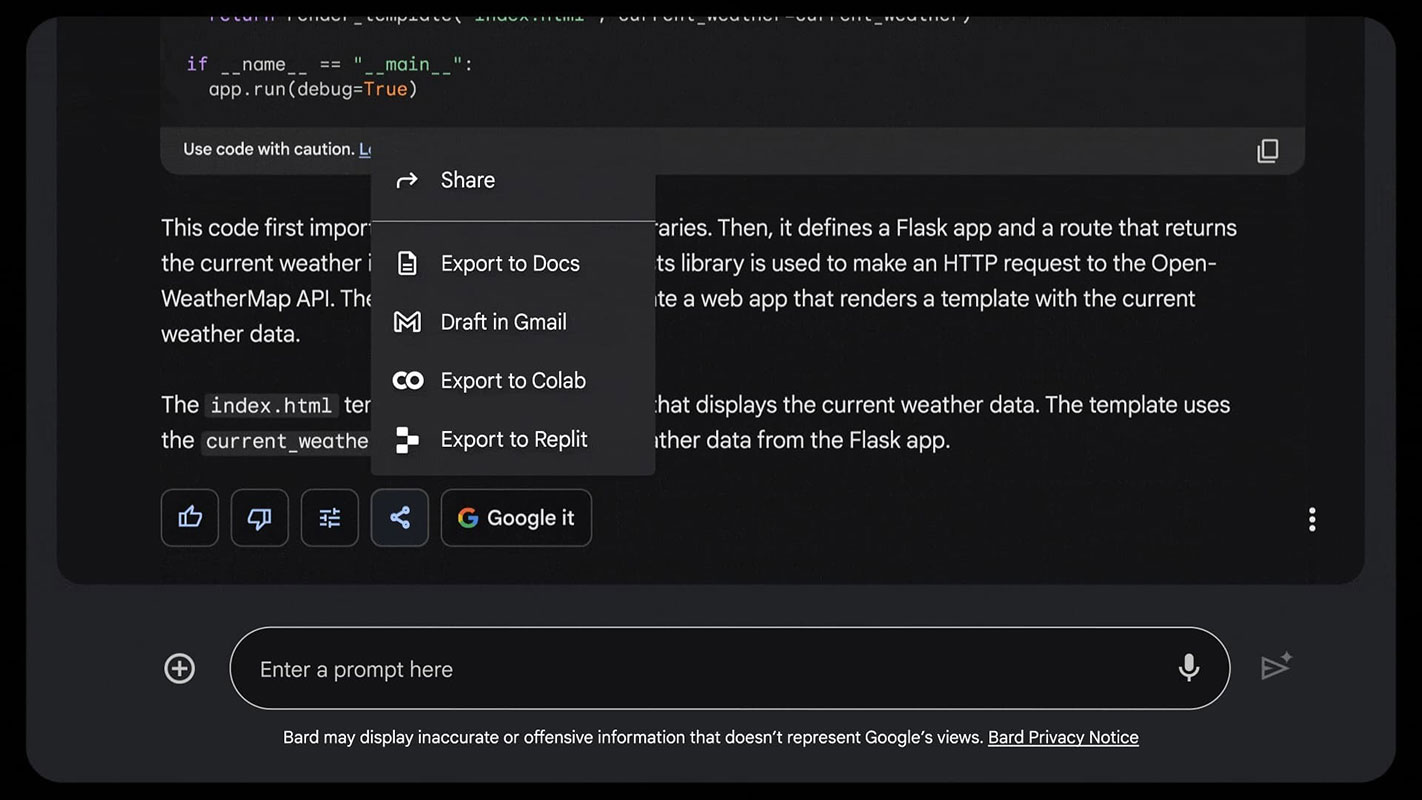 For users involved in programming tasks, Google Bard offers expanded export capabilities. In addition to Google Colab, users can export Python code to Replit. This integration streamlines workflow and enables users to continue their programming tasks seamlessly. By transferring Bard interactions to Replit, users can maintain their focus and momentum while working on coding projects.
FAQs
How can I access Google Bard?
To access Google Bard, visit the official Google website or use the dedicated Google Bard app available on various platforms.
Can I use Google Bard in languages other than English?
Yes, Google Bard now supports over 40 languages, including Arabic, Chinese (Simplified/Traditional), German, Hindi, and Spanish.
Can I share my conversations with Bard?
Yes, Google Bard lets you share your conversations by providing shareable links. This feature enables you to easily share your ideas, creativity, and collaboration with others.
Can I modify Bard's responses to suit my needs?
Absolutely! Depending on your preferences, Bard offers five options to modify its responses, allowing you to make them simpler, longer, shorter, more professional, or more casual.
Which programming platforms can I export Bard interactions to?
In addition to Google Colab, you can now export Python code generated during your interactions with Bard to Replit, providing a streamlined workflow for programming tasks.
Wrap Up
Google Bard July 13, 2023 update introduces several noteworthy features and enhancements. The expansion of Bard to Europe and Brazil, along with the increased language support, reflects Google's dedication to providing global access to its AI chatbot. Adding image upload capabilities and Google Lens integration opens up new creative possibilities for users. Furthermore, the read-aloud functionality, improved conversation organization, shareable chat links, and response modification options contribute to a more personalized and engaging experience. Google continues to refine and expand Bard's capabilities, enabling users to explore, create, and collaborate effectively.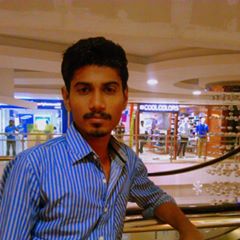 Selva Ganesh is the Chief Editor of this Blog. He is a Computer Science Engineer, An experienced Android Developer, Professional Blogger with 8+ years in the field. He completed courses about Google News Initiative. He runs Android Infotech which offers Problem Solving Articles around the globe.