We lived in a year where when you'd drop the mobile, it is over. We have to replace our display. After that, Tempered Glass came. The problem with Tempered glass is they are heavy, and some of the time, they can't save screen. Finally, Corning begins to make its Gorilla Glass Displays, which can survive in regular user drops. Year by year, they keep improving the strength of the glass. Mobile manufacturers begin to install this display to avoid accidentally drop cracks. Now Corning announced Gorilla Glass Victus that can survive from a 2-meter drop, which is safer when you drop the mobile in Steps directly fall from high charger stations. Also, It can survive with heavy scratches compare with its previous versions.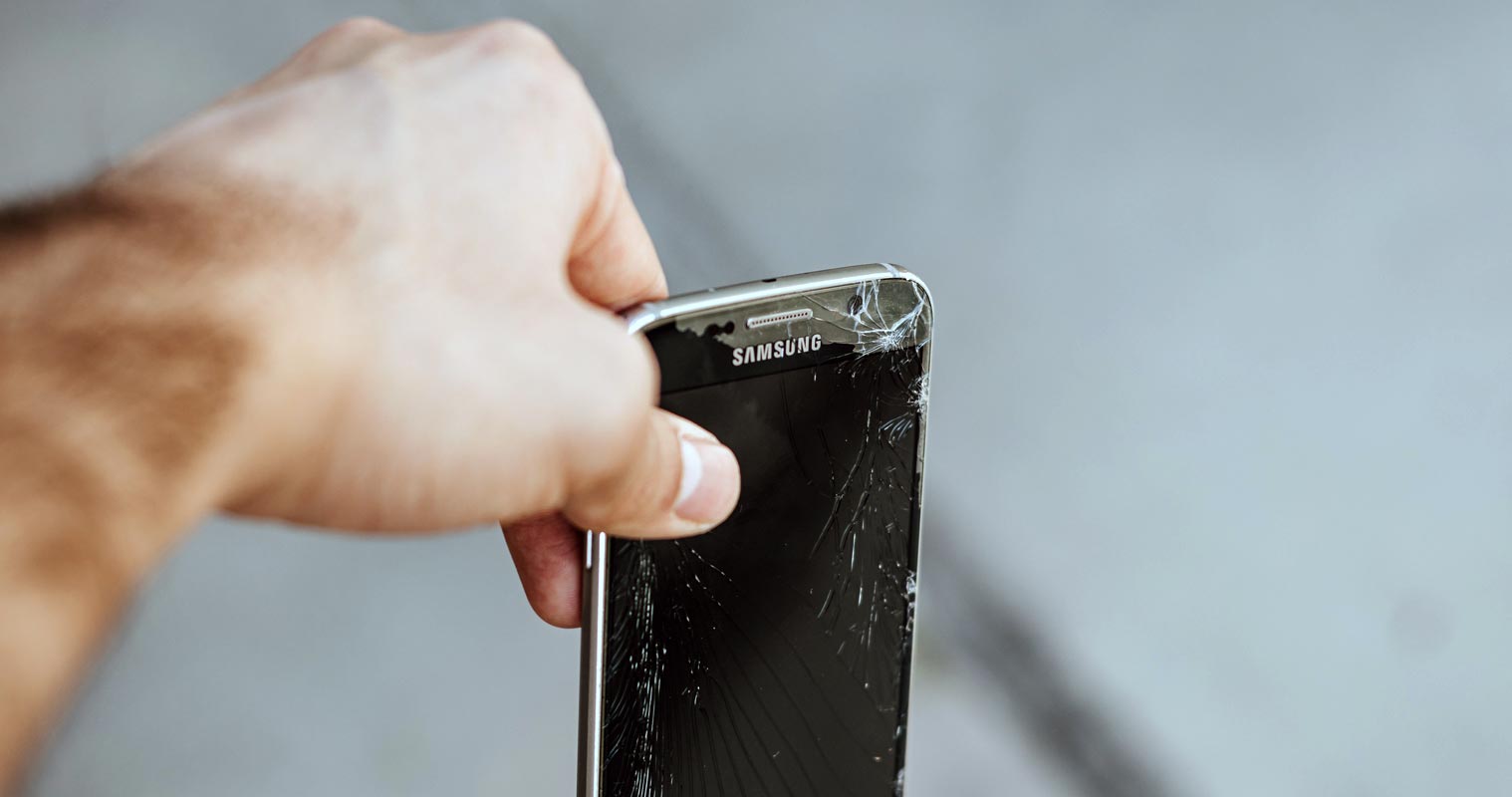 Corning, the maker of the world's most robust glass for mobiles and laptops, launched the Gorilla Glass Victus this Friday, July 24, 2020. Victus is the next generation of the aluminosilicate glass with improved drop and scratch performance than its predecessors Gorilla Glasses. Also, its performance is much better than the other aluminosilicate glasses manufactured by its competitors.
Durability is a significant concern
The united states, china, and India are the three largest smartphone markets in the world. Corning researched these countries and found that durability is the primary concern of users when buying a new smartphone after the brand name. They also found that purchasers are going to pay a premium amount for this durability. They also found that's users take the strength, twice crucial than the screen size, resolutions, and other features.
What is Gorilla Glass?
Gorilla Glass is the most hardened glass product by Corning to protect the screen of mobile phones, tablets, and some touch screen laptops like Chromebooks. It provides high scratch resistance and durability with minimal thickness. This Gorilla Glass is lightweight and compatible accommodates the touchscreen technologies of various manufacturers. Because of its toughness and lightweight, apple first implemented it in 2007, in its original iPhone.
Aluminosilicate is a significant part of Gorilla Glass made from, which is chemically strengthened alkali. It is a multi-layered product. The upper layer comprises of tightly compressed ions, which makes it scratch-resistant and prevents severe breaks if dropped. Vickers Hardness Rating of 622-701 and low-caste keeps it at the top of its competitors.
What is Corning Gorilla Glass Victus?
Victus is the latest product of Corning in the line of Gorilla Glasses. Gorilla Glass 6 was the latest Corning product before Victus. Unlike the android, which changed its product from desert name to numbering, Corning changed from numbering to name, Victus. Corning's claims that Victus has improved twice the drop-resistance and four times the scratch-resistance to its predecessors. Some of the companies still use the old versions of Gorilla Glass to cut down the cost. OnePlus Nord has Gorilla Glass 5. Having excellent protection on display is better.
How is Victus better than previous generation Glasses?
Victus is better in everyday compare with its predecessors. The previous generation glasses are safe in a drop test. But In real-world usage, most of them are not that much scratch resistant with keys. Victus is better in scratch-resistant and other features.
Better survival-rate when dropping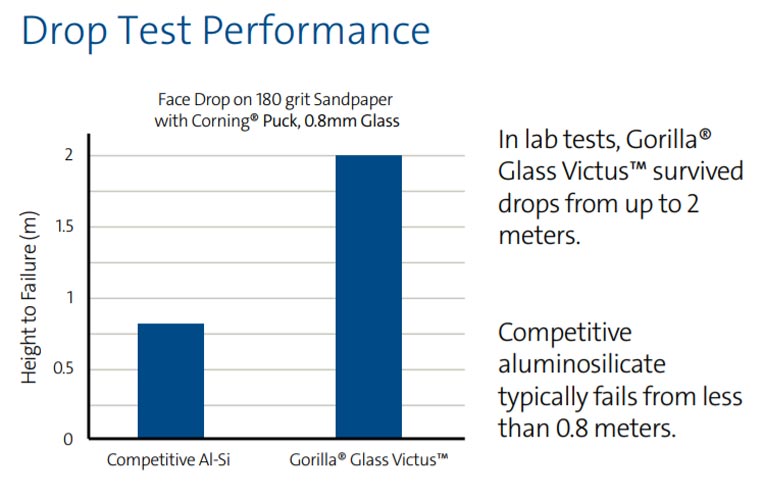 Victus has improved the drop-survival rate. Gorilla Glass 5 had 80% survival chances from a 1.6-meter drop, which Gorilla Glass 6 upgraded to a 100% rate for a drop from 1.6 meters. Victus has a 100% survival ratio from an accidental slip of 2 meters. In comparison, the other competitors couldn't achieve this survival-rate for height more than 0.8 meters.
Improved scratch-resistance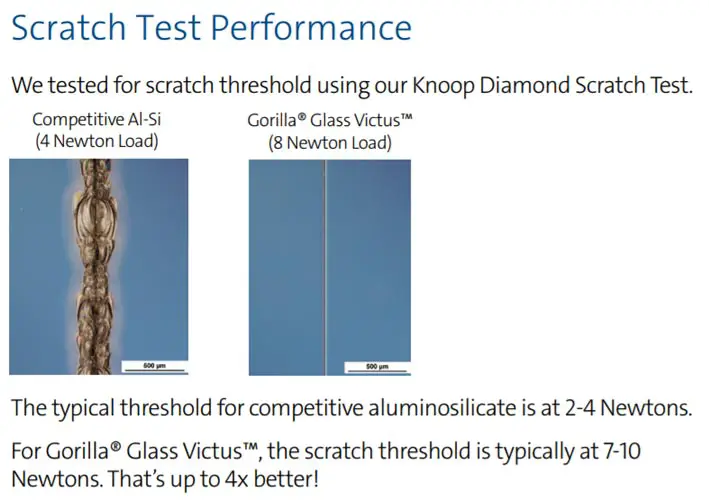 Knoop Hardness Test measures the force applied to scratch using a diamond. The previous generations of Gorilla Glass and other aluminosilicate products have 2-4 Newton load while scratching. Corning, with the help of 1,000 alchemists, designed Victus to bear 8 Newton loads, which is the highest ever in screen glass production.
Same cost with improved features
Corning said that they didn't make any significant changes in the process. They did only minor tweaks to get the enhanced product. So, its cost is the same as the previous versions of Gorilla Glasses. But we can expect a price increase by the manufacturers to cash this benefit.
RoHS compliant
Victus is fully recyclable and compliant with the Restriction of Hazardous Substances Directive (RoHS).
When can you experience Gorilla Glass Victus?
Samsung will be the first customer to launch a smartphone with Victus, announced by Corning. We can expect the Samsung Note 20 series may come with Victus. There are some rumors are going that the launch of Note 20 may be on August 21, 2020.
Wrap up
Accidental drops will happen every time with mobiles. Even if we put a hard case in our mobile When it hit in a corner, the display may break or crack. The mobile should have safe from inside. Gorilla Glass from Corning is doing a pretty good job here. But it is the mobile manufacturers' responsibility to utilize this kind of display. Companies like Xiaomi, making cost-effective phones. So, they go for other alternatives than Gorilla Glasses. Manufacturers always focus on sales and don't worry about after services like regular patch updates and mobile protection. Manufacturers should change their view about mobile sales and should give better usage mobile, instead of fancy many camera mobiles.
Victus will increase mobile life, which was supposed to end with a drop. It may affect the sale of new mobile phones as supported by the report, which says that the mobile replace period has increased from 2 to three years. What do you think about the Victus? Do tell us in the comments below.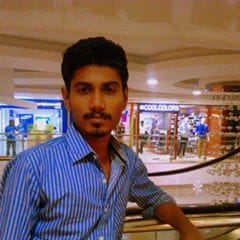 Selva Ganesh is a Chief Editor of this Blog. He is a Computer Engineer, An experienced Android Developer, Professional Blogger & addicted Web Developer. He runs Android Infotech which offers Problem Solving Articles around the globe.