When you love your job and can't go as per your ay in terms of progress, Anyone may get frustrated, and in the end, they have to make a big decision instead of tolerating everything. John Carmack, CTO of Meta leaving the platform because the progress is not as per plan or the platform can't get what it wants. In the leaked Memo, He mentioned, "We constantly self-sabotage and squander effort." After the leak of the internal Memo, He released his thoughts on his Facebook post.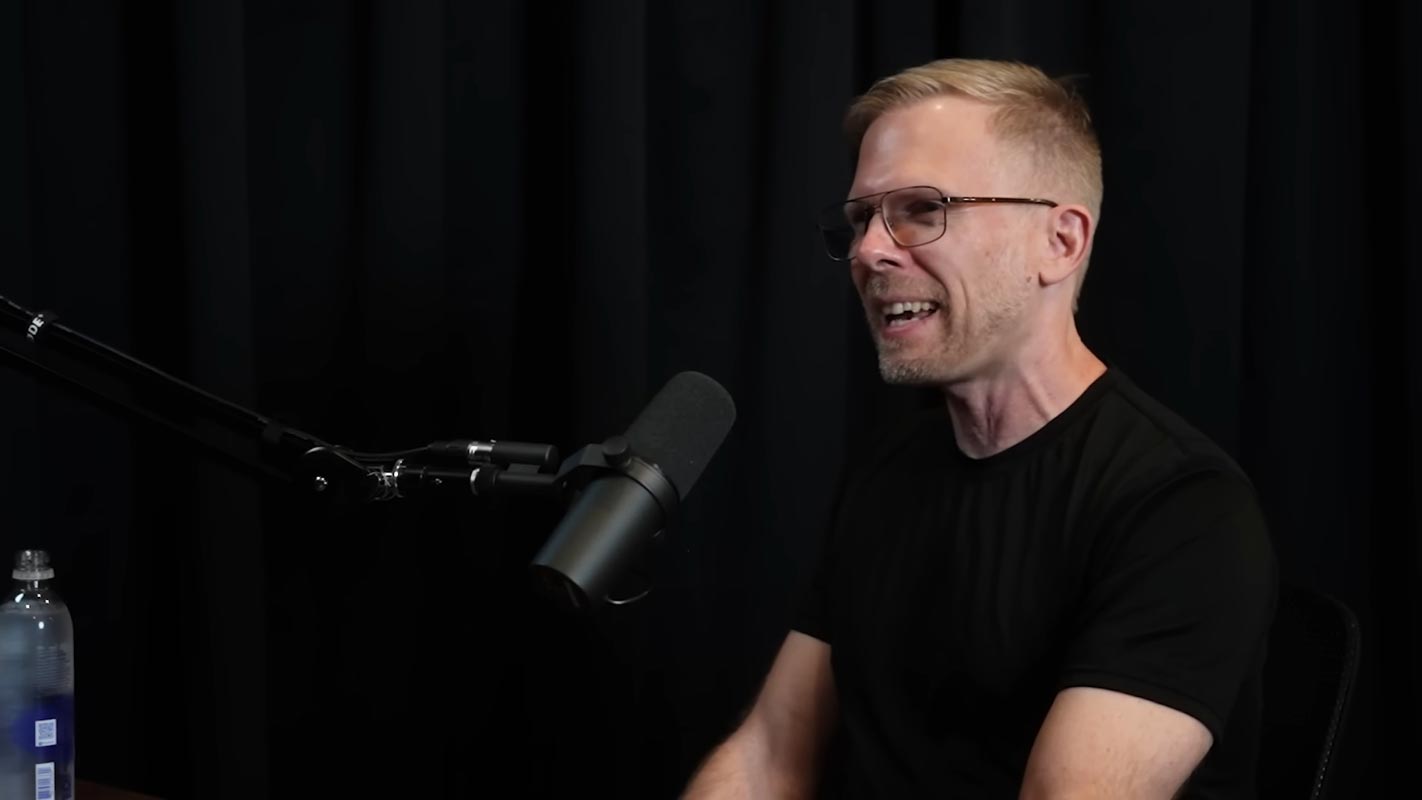 John Carmack Leaving Meta
John Carmack, the virtual reality pioneer, left Meta after the $2B acquisition. The first reported Carmack's departure, citing people familiar with the company. He also published parts of an internal memo that contained criticisms of Meta and its efforts in augmented and virtual realities. After The New York Times reported Carmack's departure, he confirmed his resignation on Twitter and Facebook. He even sent a note to employees.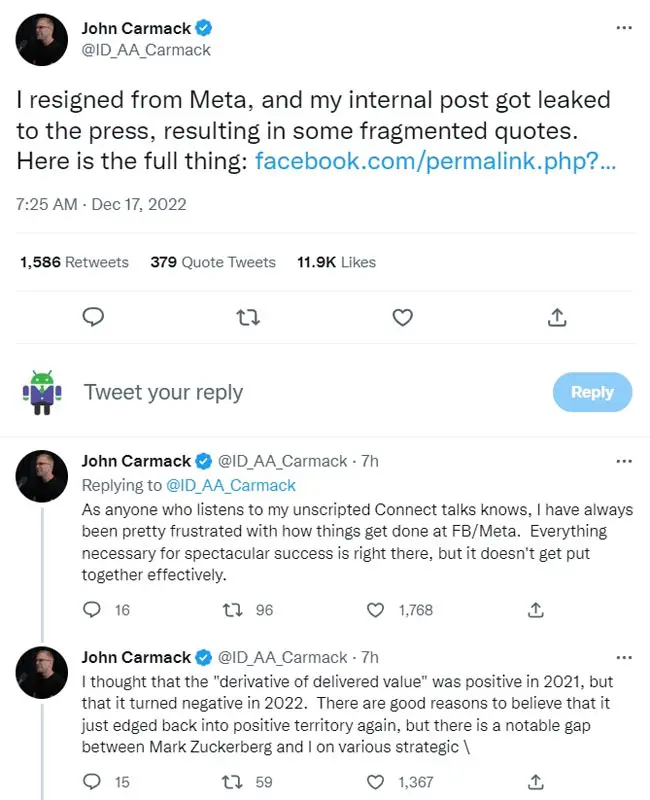 He praised the Quest 2 headset for being precisely what he wanted to see, with its inside-out track, optional PC streaming, and cost-effectiveness. It also has a nearly 4K screen. He argued, however, that it could have happened faster and gone better if different decisions had been made.
John Carmack's Path to Meta
In 1991, Carmack founded id Software with his partner, Quake and Wolfenstein 3D. In 2009, ZeniMax Media, Bethesda's owner, purchased the studio. ZeniMax Media and id sued Oculus and Luckey in 2014 over allegedly misappropriating trade secrets. The complaint often noted Carmack's role in helping Oculus while still employed at ZeniMax. In 2018, the parties settled.
When Facebook bought Oculus, he joined Meta. He took a break from Oculus in 2019 and was only acting as CTO in a consulting capacity. This allowed him to concentrate on Artificial General Intelligence, or AI, which can perform human tasks. Keen Technologies is his startup, and he's currently developing this type of AI system.
Exact Reason For Leaving
Meta's biggest problem seems to be Meta's efficiency, or at least, according to Carmack's memo, its lack thereof. He wrote in the post, "We have an inordinate amount of people and resources, but we continually self-sabotage or squander efforts." "It is impossible to overstate this. I believe our organization operates at half the effectiveness that would make us happy."
Facebook Post
According to Carmack's open letter of departure for Meta employees, which he shared on his personal Facebook page, it seems that he is unhappy with the current state of affairs at Meta. He wrote that things had been a "struggle" and that despite having a voice at the top levels and feeling like he should be able "to move things," he realized he was not persuasive enough.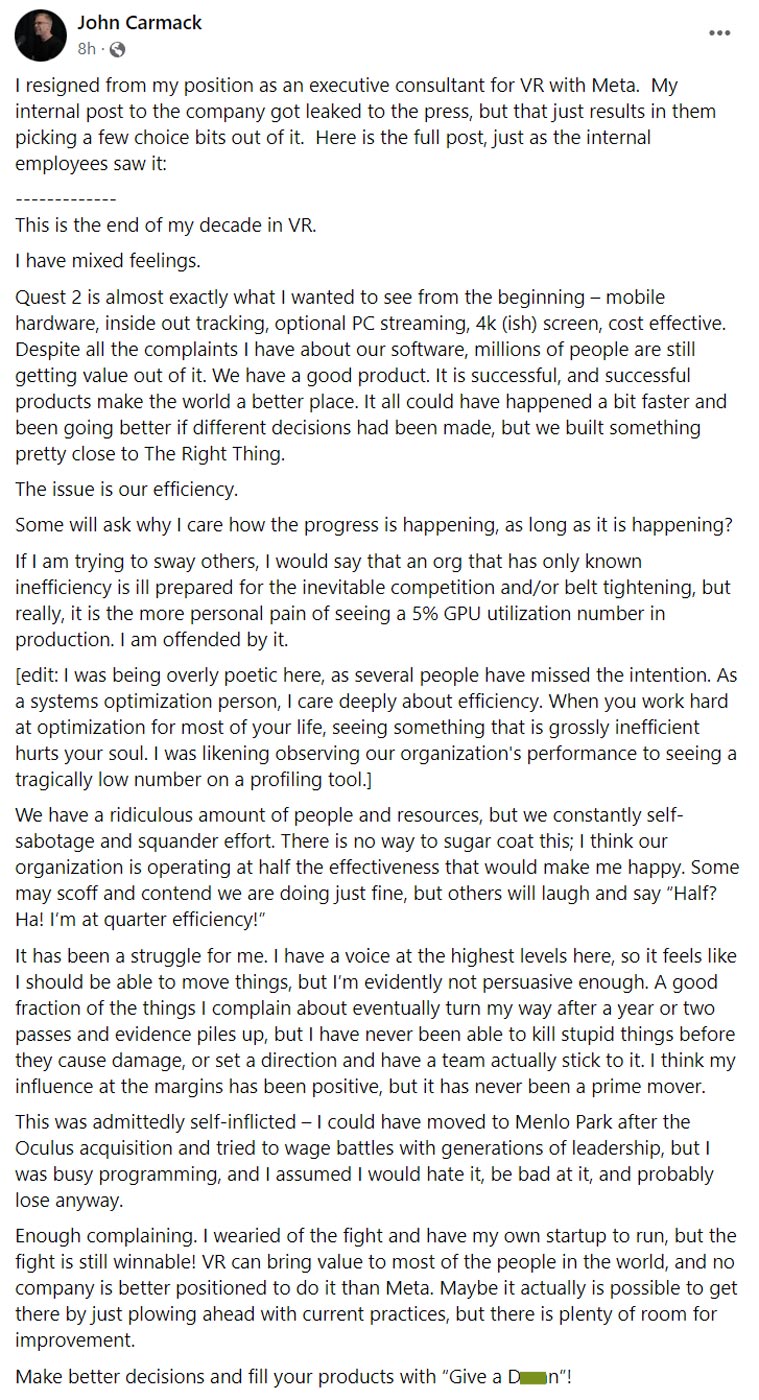 Response from Meta Executives
According to the executive, he felt that he had "A voice at high levels" and should have been able "to move things along," but he wasn't "evidently persuasive enough." Although he did not give specific examples, Carmack said that many of the complaints he made only came to his attention after the evidence had accumulated over the years. He added that he has never been able "To kill stupid things before they cause harm, or to set a direction and have a group stick to it." Near the end of his memo, Carmack said he was tired of the fight but still believes "VR can benefit most people in the world and that Meta is the best company to do so."
Wrap Up
Whatever is happening in Meta about the performance or progress should be improved a lot as per the John Carmack Statement because Meta is already attracting leading companies like Nike to work on Metaverse Shoes. Companies begin to believe there is a massive chance of Business in the Metaverse. Som Meta should work along with it. Negative News like leaving leading completeness and the question about progress will affect the attraction. What are your thoughts about John Carmack Leaving Meta? Share it below.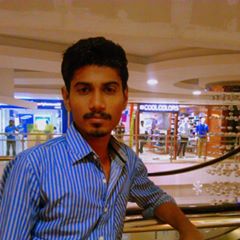 Selva Ganesh is the Chief Editor of this Blog. He is a Computer Science Engineer, An experienced Android Developer, Professional Blogger with 8+ years in the field. He completed courses about Google News Initiative. He runs Android Infotech which offers Problem Solving Articles around the globe.