We are getting new technologies in mobiles often. We are slowly moving towards powerful mobiles that can stand up to the PC level. You may know about Samsung Dex, Which can be used as a PC. But one problem is following in every mobile device is battery backup and charging time. Companies try their best to give better-charging methods and reduced time. Wireless Chargers are becoming a comfortable method. But the problem is they are slow, and you can't use them in a comfortable way like Wired charging if you want to charge and use it simultaneously. To reduce these hurtles, Xiami announced they are working in Wireless Charging through Air. After Xiaomi, Motorola also working on Wireless Charging through Air.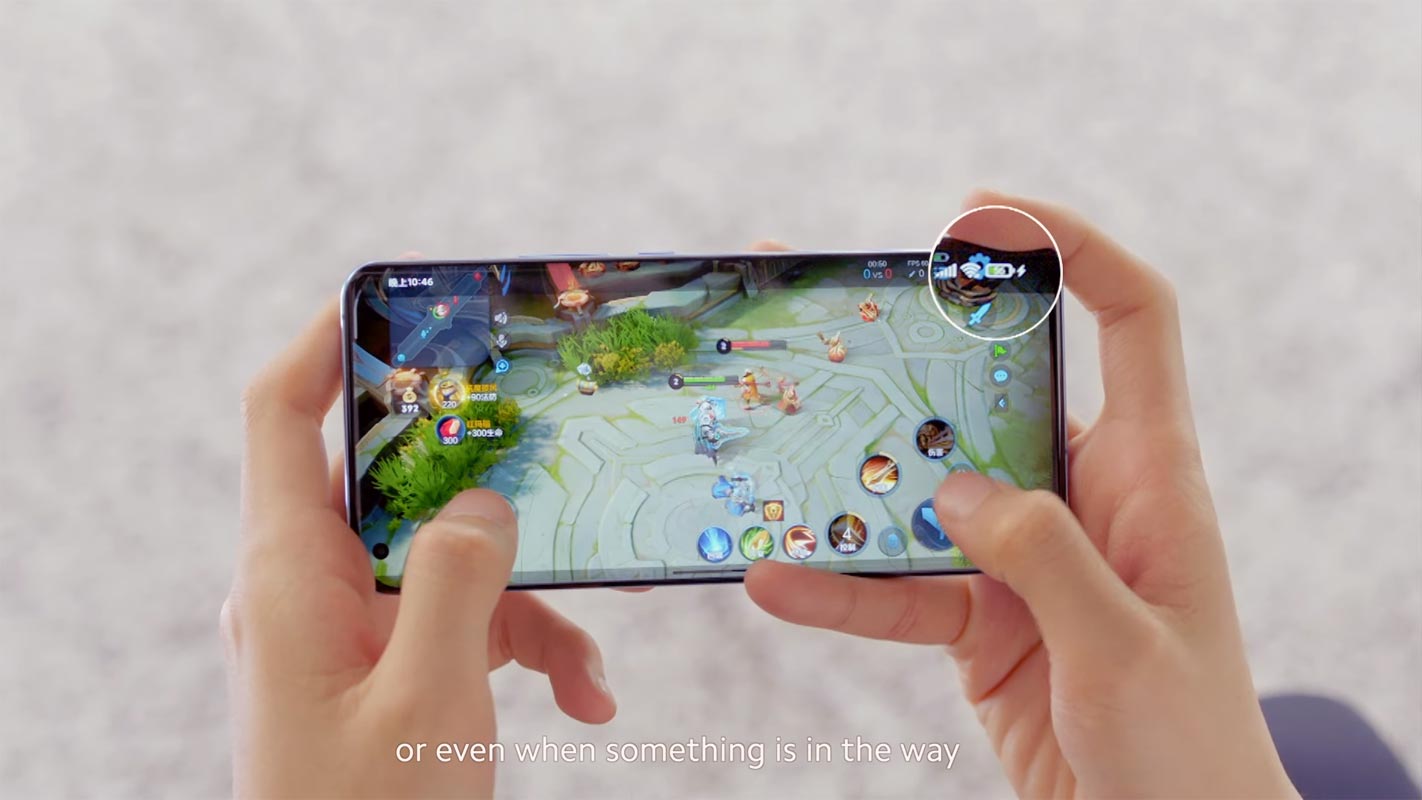 The journey of mobile phone charging started from wired slow speed chargers, has reached up to 125W fast charging; on the other hand, wireless charging pads have touch 50W capacity. This race has entered into the new era of Contact-less Charging; the one Xiaomi demoed as Mi Air Charge technology through a video.
Motorola is also an active participant in this contact-less charging race, and it debuted its Wireless charging technology through a demo video on Weibo. In the demo video, Motorola practically described its contact-less charging but no words on the technology used.
Features of Motorola Wireless Charging Through Air
Answer to Xiaomi's Mi Air Charge Technology, Motorola demonstrated its remote charging technology through a video of juicing up two mobile phones distant from the charging hub. The charging hub labeled as Motorola One Hyper appears to be charging two Motorola Edge mobile phones in the video.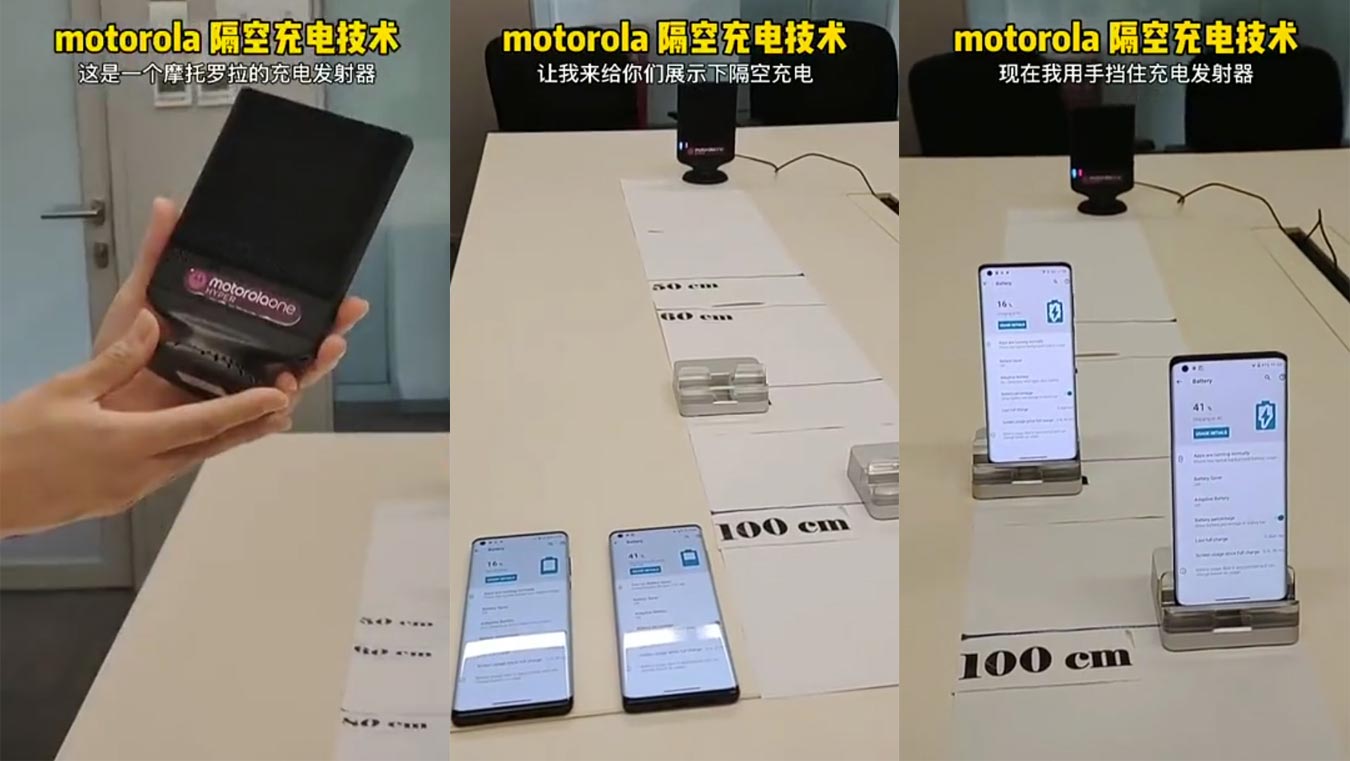 Can Charge Up To 100cm Distant
The first Edge is placed at 80cm and the second at 100cm, far from the remote charging device. As soon as the demo person puts the phone in front of the charger, it starts charging instantly. It is not clear whether these Edge phones are modified to receive the energy beam or not.
Can Charge Multiple Devices
The demonstration video shows that the two phones are charging simultaneously with the same Motorola One Hyper charger. It shows it can charge multiple devices.
Can Charge Only in the Line of Sight
It is evident from the demo video that Motorola's contact-less charging technology can charge devices placed in the line of the charger's sight as both mobile phones seem placed in Infront of the charger in the same line. That shows the beaming waves are probably from the millimeter waves spectrum. It also shows the limitation that you cannot use this contact-less charging while in motion, as it is uni-directional.
Cannot Pass through Obstacles
In the demo video, the mobile phone stops charging as the demo person hides the charger with their hands. Some observers say that it is the security feature to avoid any hazard for humans, but it shows the mmWave spectrum's limitations. As you know, mmWave cannot penetrate obstacles.
How is it Different from Xiaomi Technology?
Xiaomi also introduced its Mi Air Charge technology through a video like Motorola. Still, Xiaomi video elaborates the technology used to remotely charge the devices also the method used to overcome the motion phenomenon. Simultaneously, Motorola didn't say a word about the technology used to propagate the energy towards remote phones.
Space positioning and energy transmission are the core technologies of Xiaomi Mi Air Charge, whereas, in Motorola contact-less charging, it is assumed that mmWave is used to beam the energy. It means Motorola contact-less chagrining cannot support the motion charging.
Motorola remote charging cannot pass through obstacles, as shown in the video, whereas Xiaomi clearly mentioned that obstacles could not affect remote charging.
According to the Motorola demo video, you can charge your device up to 100cm whereas, Xiaomi claimed that you could charge up to "several meters" with Mi Air Charge technology.
As for charging capacity, Motorola didn't mention any details, but Xiaomi Air Charge technology is currently limited to only 5W.
Availability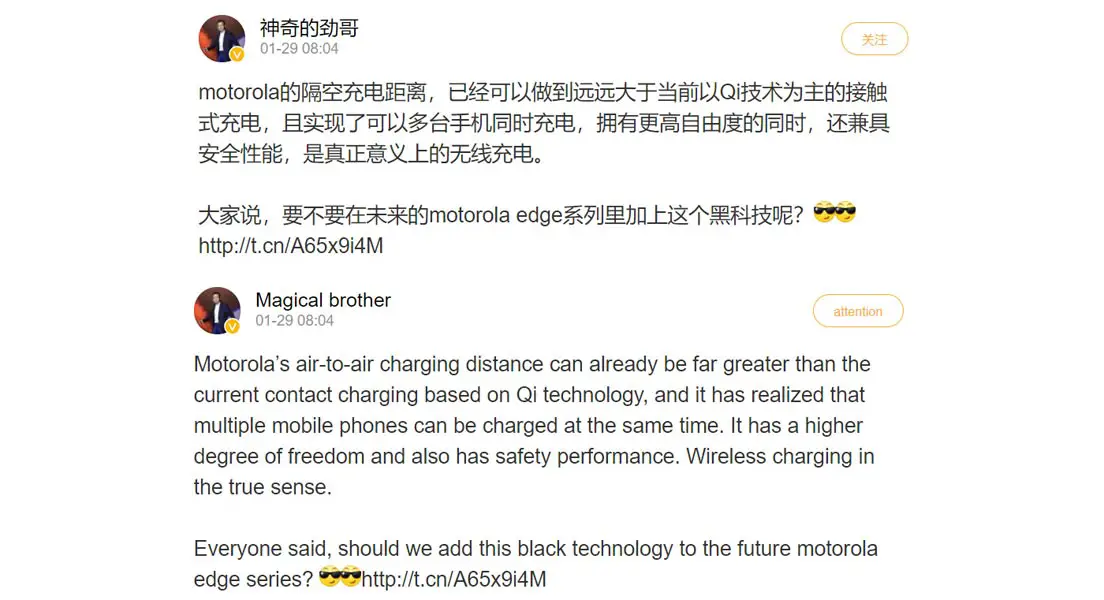 Rumors are rife that the next Motorola Edge phone will be equipped with air-to-air charge technology. Still, Motorola officially didn't say any words about how and when they launched this tremendous technology.
Wrap Up
It seems useless in the early stage of Wireless charging, as it was terribly slow and took hours to charge your empty phone fully. Now companies have improved wireless charging, and you can get up to 80W Wireless Charging, which is still faster than ordinary wired chargers. But Wireless charging is still limited as you have to place your phone on the charging pad; it stops you from using your phone till it is on the wireless pad. In the next phase of charging technology, you won't have to stop using your phone while charging. The contact-less or air-to-air charging is the next generation.
Many companies are working on this next generation of wireless charging, and as a result, after Xiaomi, Motorola also introduced its own contact-less charging technology. It is the initial phase, and Xiaomi claimed to charge up to 5W with Air Charge Technology. But race has begun, and soon you will get the truly Wireless room without any outlets or wires. Do tell us in the comments about your views on this developing Motorola Wireless Charging Through Air technology.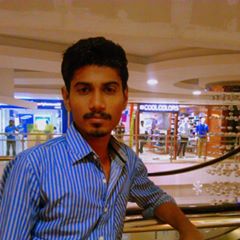 Selva Ganesh is the Chief Editor of this Blog. He is a Computer Science Engineer, An experienced Android Developer, Professional Blogger with 8+ years in the field. He completed courses about Google News Initiative. He runs Android Infotech which offers Problem Solving Articles around the globe.