In a recent announcement, WhatsApp unveiled a significant enhancement to call security by introducing the optional "Protect IP Address in Calls" feature. This innovative addition empowers users to conceal their IP addresses by directing calls through WhatsApp servers, providing an extra layer of privacy during conversations. By enabling this feature, users can rest assured that their IP addresses remain undisclosed, catering to the heightened security needs of privacy-conscious individuals. This move reinforces WhatsApp's commitment to user privacy. It marks a proactive step in addressing concerns related to the exposure of sensitive information during calls, further solidifying its position as a secure platform for private communication.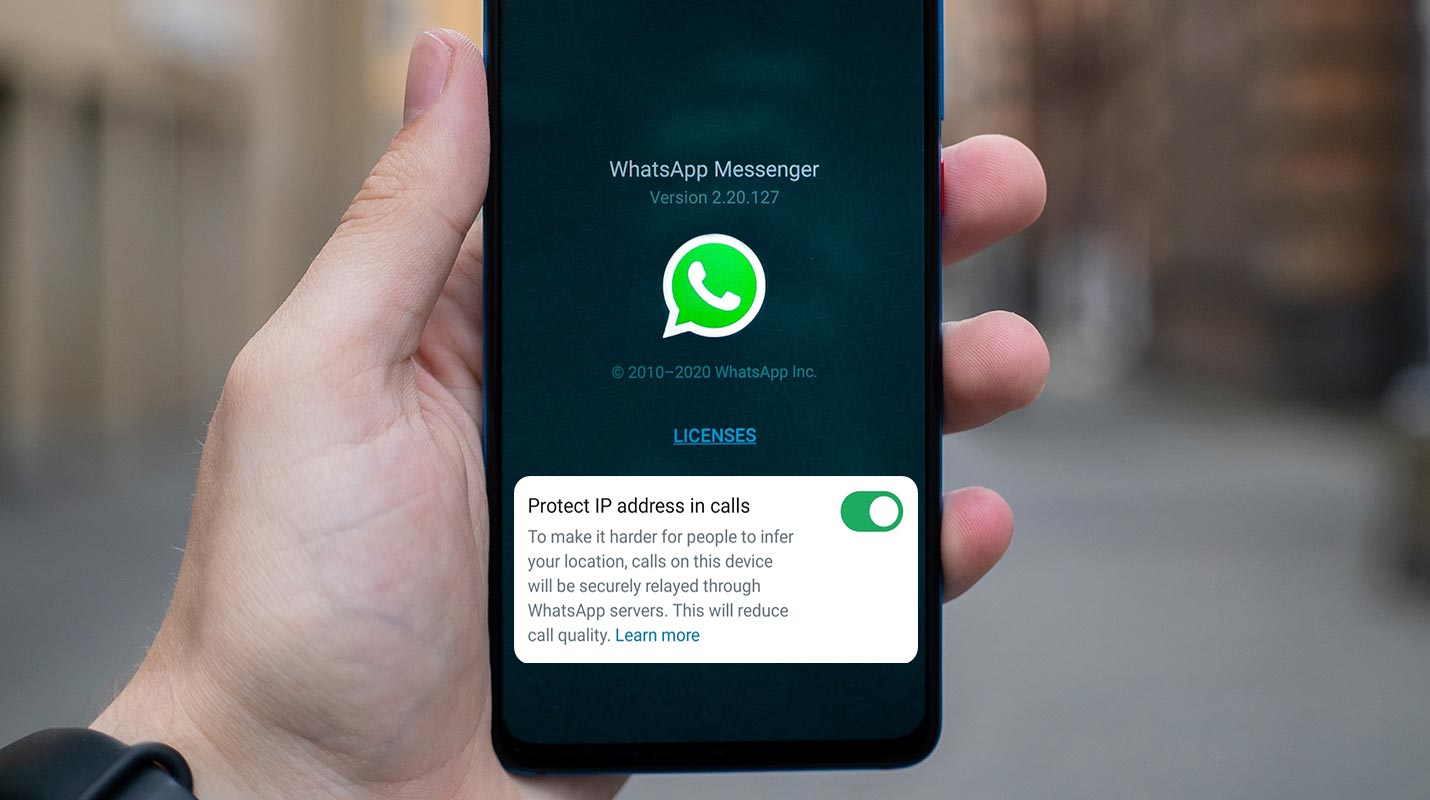 Protect IP Address in WhatsApp Calls
To activate this feature, follow these simple steps:
Tap on "Settings" in your WhatsApp application.
Navigate to the "Privacy" section.
Toggle the "Protect IP address in calls" option on or off, depending on your preference.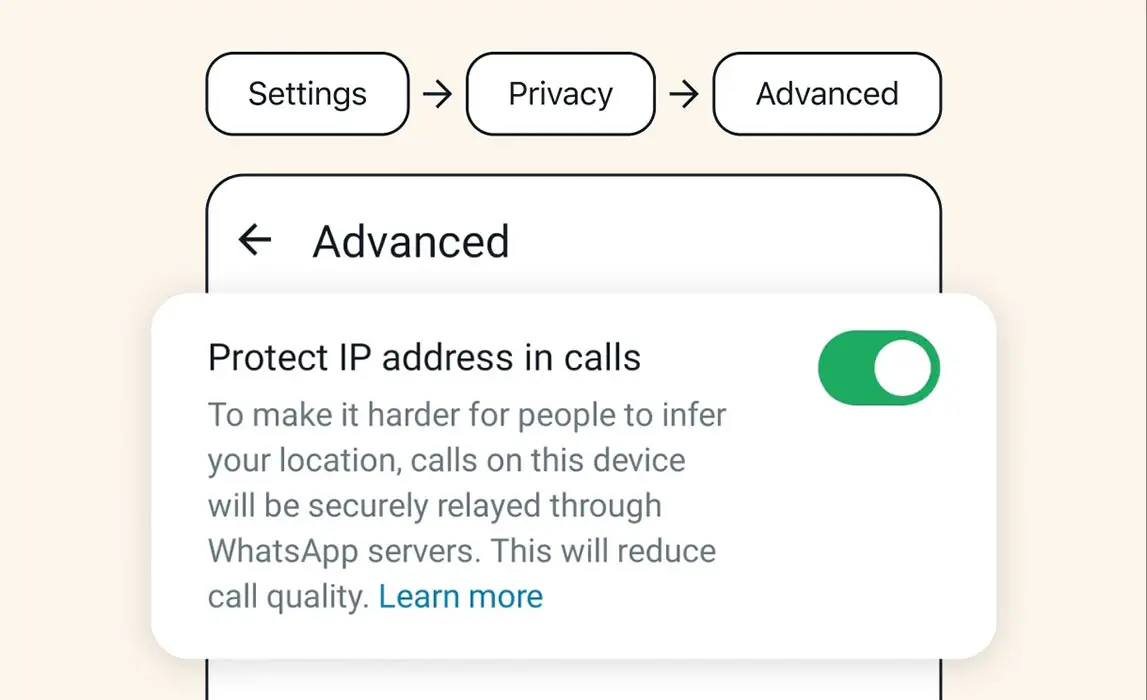 Advanced Settings
For users curious about the location of this feature within the app's settings, it can be found in the "Advanced" section of the Privacy settings. Toggling this option has implications for your call quality, as the call will be relayed through Meta/WhatsApp servers.
Call Quality Considerations
While the added privacy is commendable, it's essential to note that call quality may be affected due to the relaying process. WhatsApp acknowledges that the new setting may reduce call quality, a tradeoff users must consider when prioritizing privacy over call experience.
End-to-End Encryption
It's reassuring that WhatsApp maintains its end-to-end encryption even with the relayed calls. This means the content remains secure despite the call being routed through servers, and neither WhatsApp nor Meta can listen to your calls.
Privacy Concerns and Benefits
The new feature addresses privacy concerns associated with peer-to-peer connections, where participants traditionally exchange IP addresses. Concealing this information adds a significant layer of security, especially for users who are cautious about sharing such details.
Tradeoffs and User Awareness
Users must weigh the advantages of enhanced privacy against potential reductions in call quality. WhatsApp emphasizes that user awareness is crucial, and the impact on call quality should be considered before enabling the "Protect IP address in calls" option.
Silencing Unknown Callers
In addition to the IP protection feature, WhatsApp introduces an option to silence unknown callers to prevent spam disturbances and enhance cybersecurity defenses.
WhatsApp's Commitment to Security
WhatsApp underscores its commitment to user privacy and security. The new security features, including the "Protect IP Address in Calls" toggle, complement existing safeguards, ensuring a secure environment for private communication.
Locating the Protect IP Toggle
For users looking to enable this feature, the "Protect IP address in calls" toggle is conveniently located in the Privacy section of WhatsApp's settings.
User Feedback
WhatsApp encourages users to provide feedback on the new feature. Creating a community where users can share their experiences and concerns fosters a collaborative effort in refining and improving these security measures.
FAQs
Is my call still secure even with the IP address protection?
Yes, WhatsApp maintains end-to-end encryption, ensuring the security of your calls.
Will enabling this feature impact call quality significantly?
There might be a reduction in call quality, as mentioned by WhatsApp. Users should weigh the privacy benefits against potential tradeoffs.
How can I provide feedback on the new feature?
Users can share their experiences and concerns within the app or on WhatsApp's official community forums.
What other security measures does WhatsApp have in place?
WhatsApp employs various security features, and the new IP protection complements existing measures to ensure comprehensive security.
Can I turn off the IP protection feature if I experience issues with call quality?
Users can toggle the "Protect IP address in calls" option based on their preferences and experience.
Wrap Up
Introducing "Protect IP Address in Calls" enhances WhatsApp privacy, a commendable stride for bolstering user security in the app. Despite possible call quality compromise, its crucial security is paramount for users, valuing safeguarding their IP address confidentiality. This development underscores WhatsApp's commitment to evolving its features in alignment with user safety, positioning it as a trailblazer in secure communication.
The tradeoff between call quality and enhanced privacy is a calculated move, acknowledging the nuanced needs of privacy-conscious individuals. As WhatsApp continues to prioritize the security of its users, this latest feature serves as a testament to its ongoing efforts to provide a secure and private communication platform for millions across the globe.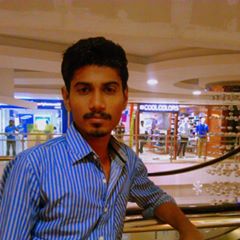 Selva Ganesh is the Chief Editor of this Blog. He is a Computer Science Engineer, An experienced Android Developer, Professional Blogger with 8+ years in the field. He completed courses about Google News Initiative. He runs Android Infotech which offers Problem Solving Articles around the globe.